Whole30 Meal Plan and Workout Guide (Week 4)
August 30, 2020 | Author: Ashley McCrary
Are you overwhelmed with starting a Whole30? I have you covered with my FREE Whole30 Meal Plan and Workout Guide (Week 4)
This post contains affiliate links
If you are gearing up or currently on a Whole30, I have designed an easy to follow meal plan. Welcome to Week 4 of my FREE Whole30 Meal Plan. It includes 7 days of recipes with clickable links along with an easy to follow workout plan!
I recently completed my 18th round and it truly gets easier each time. Through my journey, I have created the most delicious recipes that will make your 30 day reset a piece of cake. All of the meals in this plan are clickable and will direct you straight to the actual recipe.
Drinks:
Black coffee with frothed Nutpods
Unsweetened tea
Green tea
La Croix OR Topo Chico sparkling water
Coconut water
Unsweetened Tazo Passion Tea with Nutpods (Makes a creamy "Pink Drink")
Meat:
As for the meat this week, I purchase most everything through Butcher Box. All their sausage and bacon is compliant, which can be super hard to find. If I don't order through Butcher Box then I will buy at Sam's Club. Remember, all meat DOES NOT have to be grass-fed or organic. Do the best you can, especially if you are on a budget!
CLICK HERE TO ORDER YOUR BUTCHER BOX TODAY and get FREE GROUND BEEF FOR LIFE! (Affiliate Link)
Side Dishes:
I am a gal who LOVES leftovers. If I have steak, chicken or fish leftover, I will heat up the nest day for lunch or dinner and serve with one of these side dishes below. Remember, don't make it too complicated. Simple is best. If these look too complicated, then simple steam your favorite veggie or even heat up a sweet potato as an easy side.
Day 1:
Meal 2: Pulled Pork Bowl (See bottom of post for recipe)
Meal 3: Air Fryer Shrimp
Day 2:
Day 3:
Day 4:
Day 5:
Day 6:
Day 7:
Pork Bowl Recipe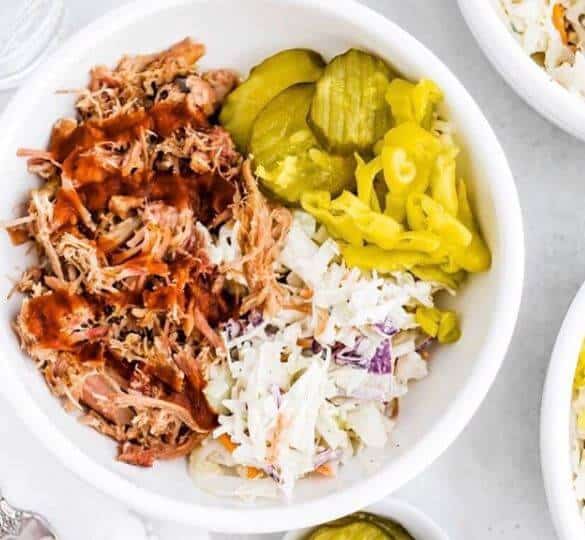 BBQ Bowls
Ranch Coleslaw
1/2 cup of my Whole30 compliant Ranch dressing
4-5 cups coleslaw mix
Add the coleslaw mix along with the ranch and mix together with a spoon until combined.
All of the meals that are included in the PDF guide below included clickable links that will direct you straight to the recipe page.
Shop My Whole30 MUST Have Items!

Be sure to save my 7 Day Whole30 Meal Plan to your Pinterest Board:
Be sure to grab weeks 1-3 meal plans below: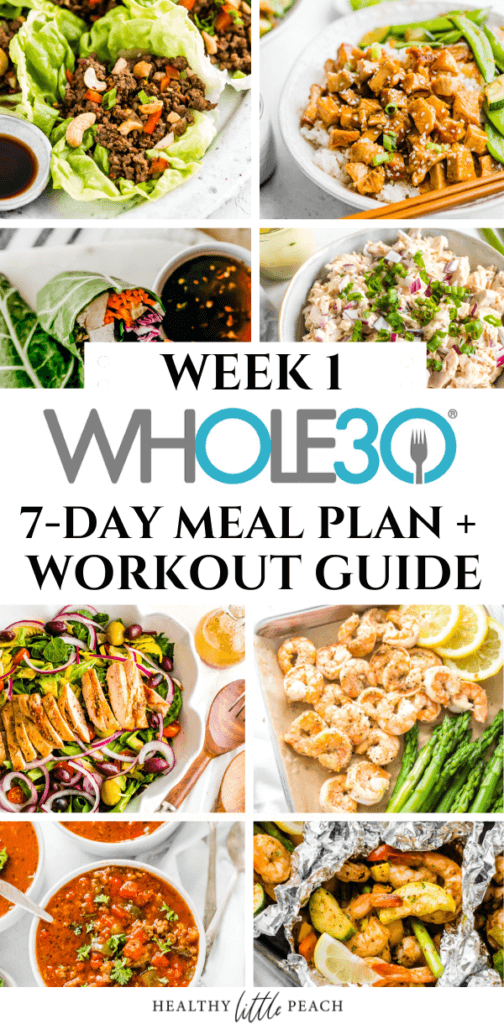 Be sure to check out my other Whole30 resources below:
Want more Whole30 Recipes? Be sure to buy my cookbook out now, Clean Family Paleo Cookbook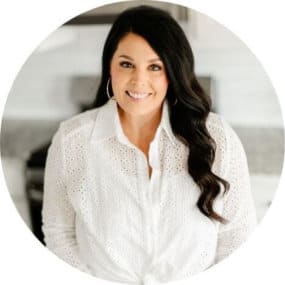 About Me
Welcome to Healthy Little Peach. I'm Mac, the lady behind the recipes. I believe in living a healthy lifestyle that consists of a mix of healthy whole foods, and full-fat comfort meals. Life is too short not to enjoy good food while maintaining a healthy body and mind. Here you will find gluten-free, dairy-free, paleo, keto, and even full-fat comfort recipes. Let's have fun in the kitchen together!