The Ultimate Keto Thanksgiving Menu
This post may contain affiliate links. Please read our disclosure policy.
If you are looking to stay Keto this holiday season, I've got you covered with a full Ultimate Keto Thanksgiving Menu. Everything included in this menu is low carb and will help you stick to your Keto lifestyle. These recipes are so delicious you won't even mess the traditional versions, I promise.
MY ULTIMATE KETO THANKSGIVING MENU
WHAT'S INCLUDED IN THIS ULTIMATE KETO THANKSGIVING MENU?
My Bacon Ranch Deviled Eggs are a twist on the traditional recipe using my homemade ranch dressing, bacon and fresh dill. These eggs are Whole30. Paleo, Keto and dairy free. They are great for family gatherings, BBQ's and even easy grab and go snacks.
Need the perfect appetizer? I got you covered with these crispy and savory Bacon Wrapped Zucchini Fries that are exploding with flavor. To make them complete, be sure to dip in ranch dressing.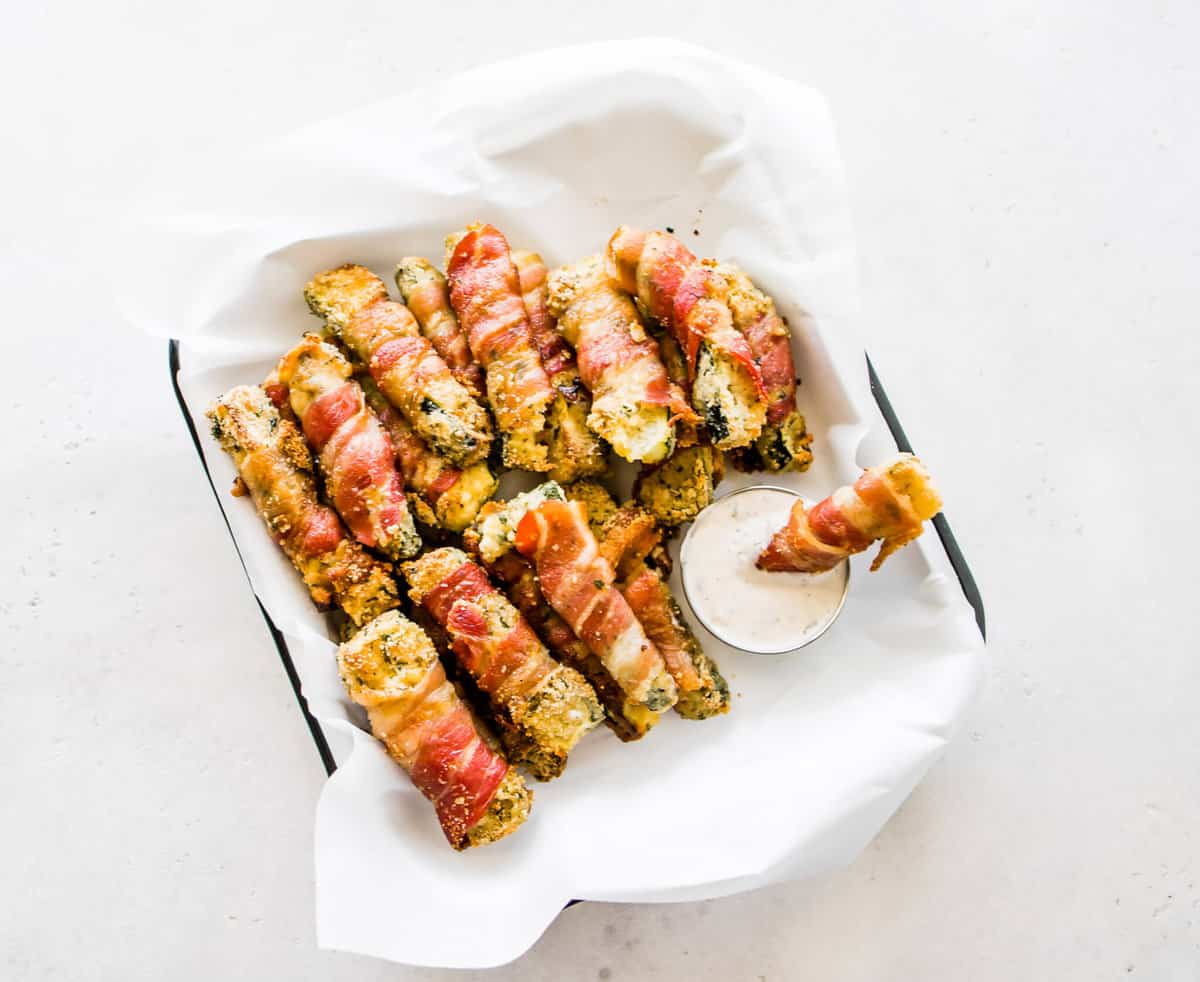 The perfect Smoked Garlic Herb Butter Turkey that can be on the dinner table in 3 hours. The turkey is covered in ghee, fresh sage, rosemary, thyme, Italian seasoning and salt/pepper. Whole30, Keto, Paleo and Gluten Free.
These Keto "Cheesy" Garlic Herb Biscuits only have 4 NET carbs per biscuit and include simple ingredients such as almond flour, eggs, ghee, herbs, baking powder and nutritional yeast. Paleo, Keto, Dairy Free and Gluten Free.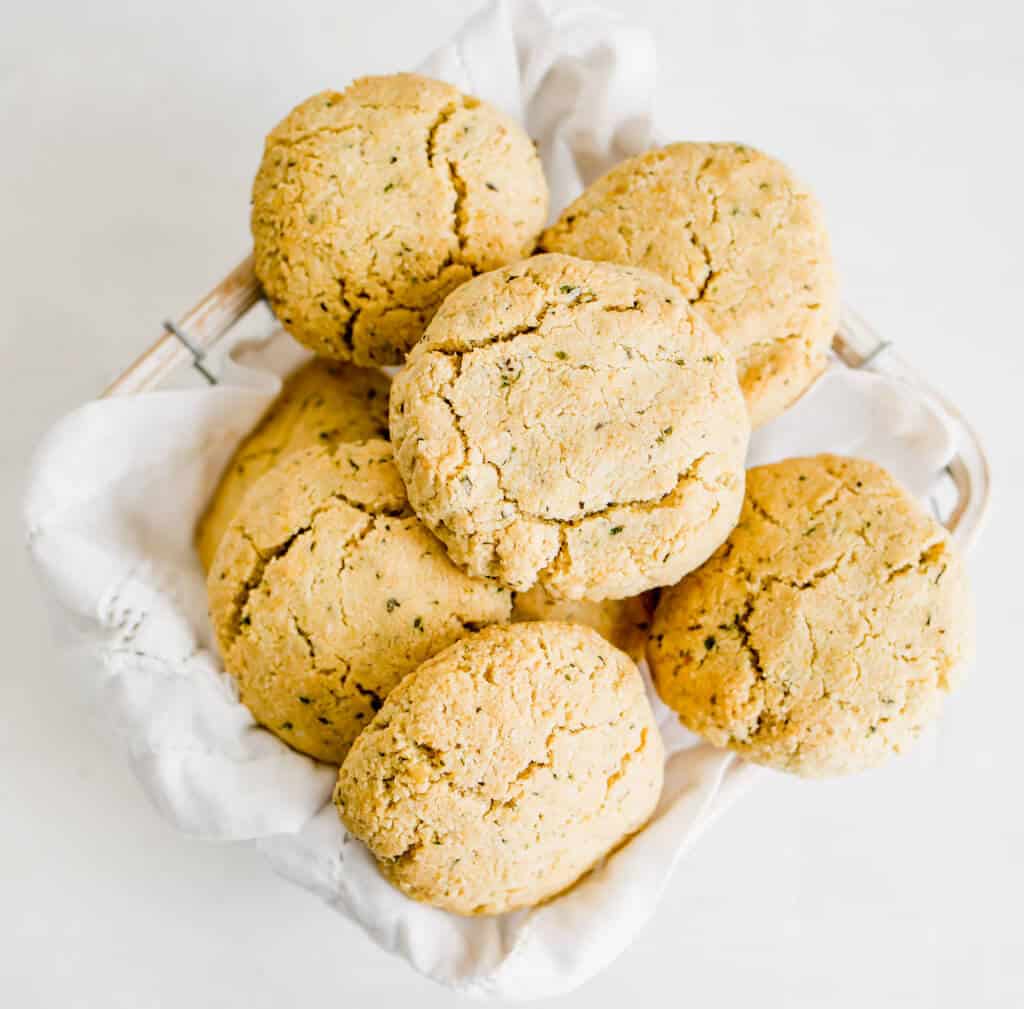 The most delicious side dish you will ever have. Blanched Asparagus covered in creamy Hollandaise Sauce. This side dish pairs nicely with breakfast or dinner. It is Whole30, Keto, Paleo and Dairy Free. 
This Keto Brown Gravy only requires 6 ingredients and can be ready in under 5 minutes. Pour over cauliflower mash or turkey. Only 1 NET CARB. Whole30, Keto, Paleo and Gluten Free.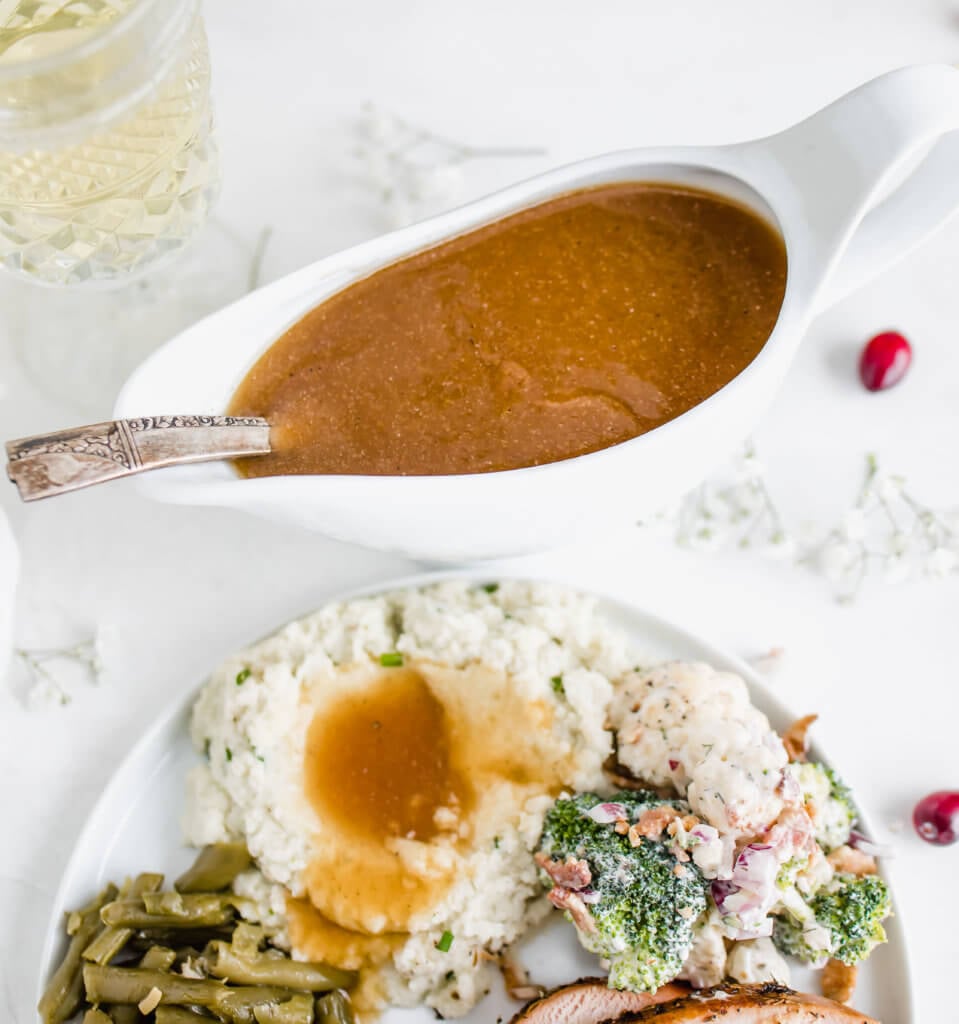 A creamy and delicious asparagus casserole that is sure to please a crowd. I have included a Whole30, Paleo and Dairy Free version along with my Grandma Sue Sue's full fat version. Give the same old green bean casserole a break and give my asparagus casserole a try.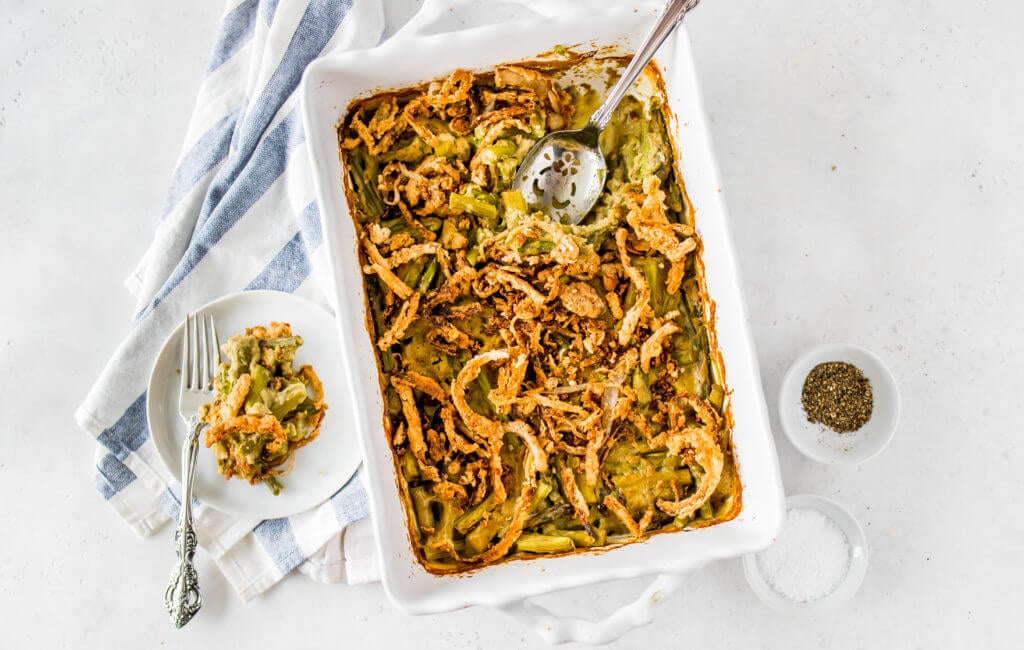 My Southern Green Beans are so good you can eat them as an entrée. They are slow cooked all day with bacon, ghee, onions and garlic. The best healthy side dish that will go with any meal.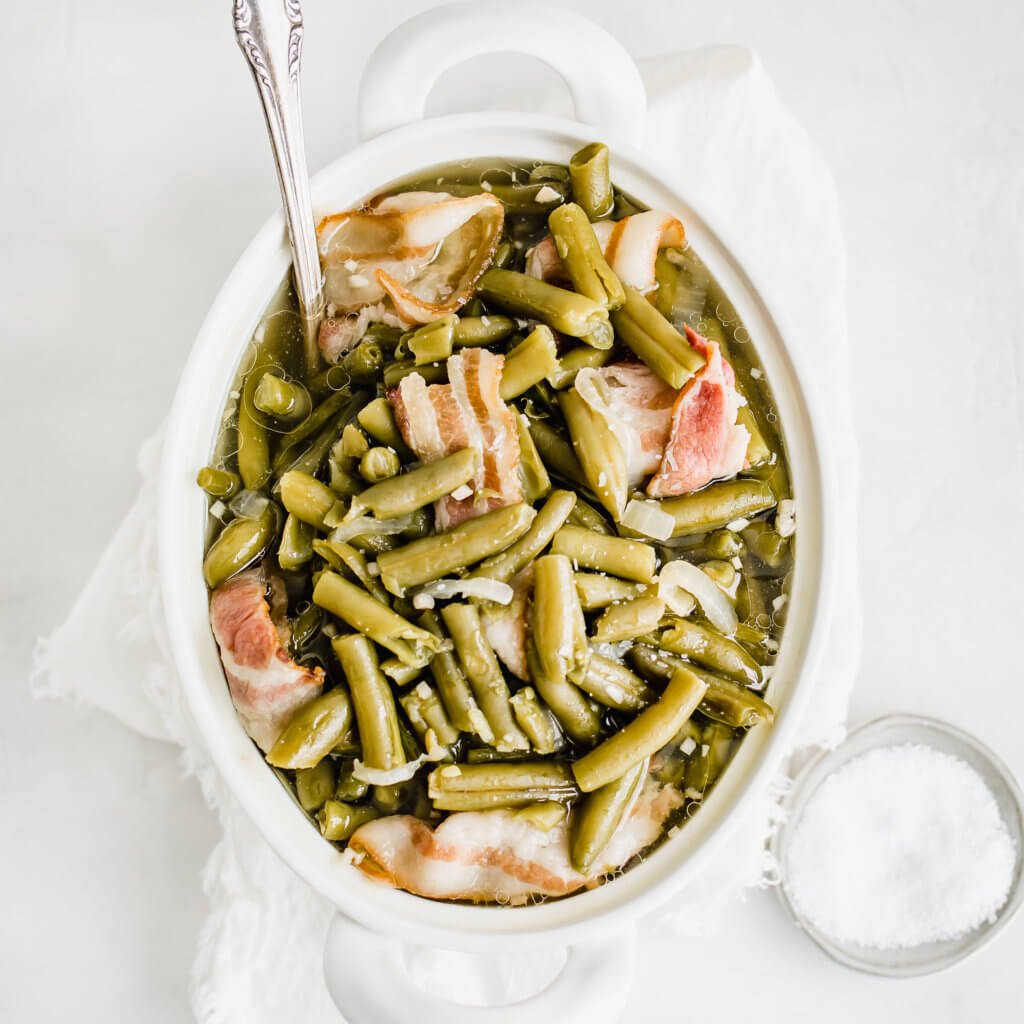 My Garlic and Bacon Mushrooms are so full of flavor. They are tossed with sautéed garlic, shallots, crispy bacon and ghee and finished with parsley, along with salt and pepper to taste. Whole30, Keto, Paleo and Gluten Free
This Keto Bacon Ranch Cauliflower & Broccoli Salad is so easy to make and is filled with bacon, homemade ranch, red onions, greens onions, broccoli and cauliflower. Whole30, Keto and Paleo.
Creamy Mashed Cauliflower filled with coconut milk, ghee, garlic, salt/pepper and topped with chives. It's Keto, Whole30 and Paleo compliant.
This Keto Pumpkin Pie Crisp is better and easier than making an actual pumpkin pie. The middle is a creamy and sweet pumpkin pie filling and topped with a crispy and buttery almond flour mix. Best served warm with dairy free vanilla ice cream. Paleo, Keto and Dairy Free.
This Keto Blueberry Cobbler is the perfect sweet treat that won't ruin your diet. The filling consists of fresh blueberries, all-natural sweeteners, lemon juice and xanthan gum and is topped with a nutty crumble and baked to perfection. Keto, Paleo, Gluten Free, and Dairy Free.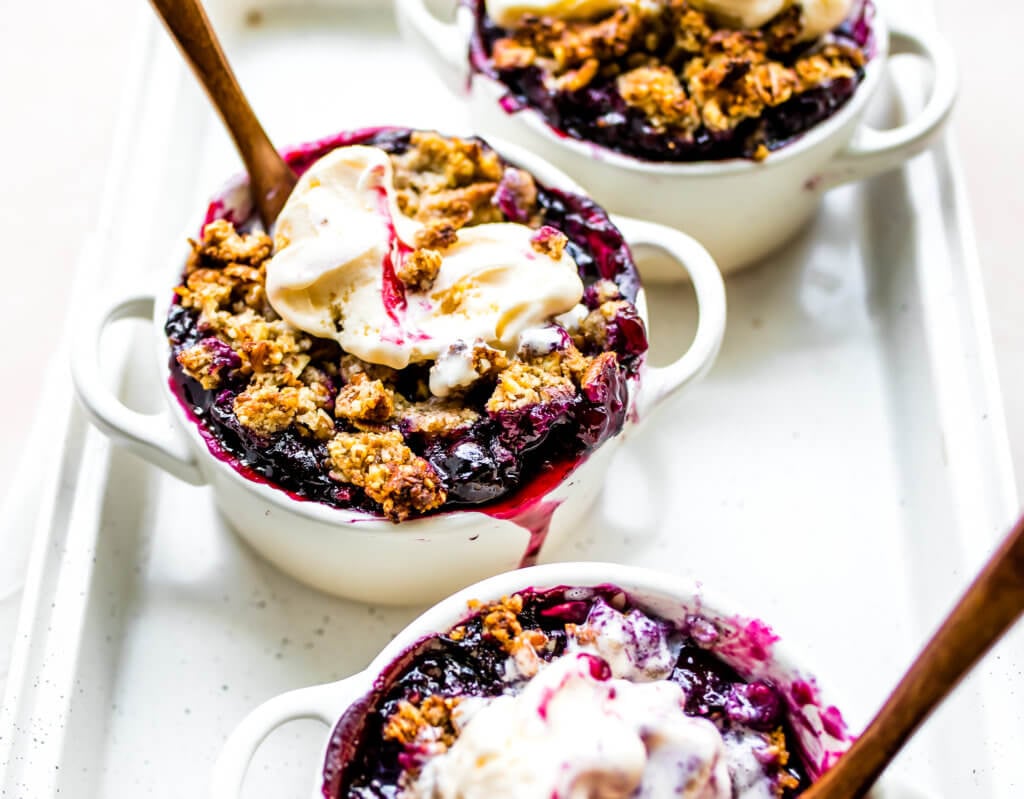 PIN THIS ULTIMATE KETO THANKSGIVING MENU
WANT MORE HEALTHY RECIPES?