This post contains affiliate links
Homemade mayo is something you will always find in my fridge. Store bought mayo has nothing on this recipe. We go through a lot of mayo at my house and I wouldn't have it any other way. I use it in a lot of recipes and also as the main base for all 4 of my Majestic Sauces that bring life to boring food.
If you are living the Paleo and Keto lifestyle or are completing a Whole30, then mayo is a must have item that is in your fridge at all times. There are so many great ways to use mayo that really adds a lot of flavor and texture to recipes and dishes.
What about the raw egg in the mayo?
All Recipes states the folowing,
"According to the American Egg Board, your chances of cracking open an infected egg is about 0.005% (five one-thousandths of a percent). Scientists conservatively estimate only one out of every 20,000 eggs produced might contain the salmonella bacteria.
Even if an egg does contain the bacteria, the amount in a freshly laid egg probably will be small, and if the egg is properly refrigerated and handled, will not multiply enough to cause illness in a healthy person. However, children, pregnant women, the elderly, and anyone with a compromised immune system should take special care to avoid the risk of salmonella food poisoning."
I have always consumed raw eggs in my mayo and it has not bothered me. However, I may start pasteurizing my own eggs because it looks super easy to do. Here is a great recipe on how to do that.
Why can't I get my mayo to thicken?
This seems to be a common problem when you first start making mayo. I always say practice makes perfect, but I do have one tip that usually works every single time. When using an immersion blender, it is important to keep the blender on top of the egg yolk and count to 10 Mississippi until the mayo starts to thicken. If you are using a regular blender, it is important to have it on medium speed and slowly pour in the olive oil.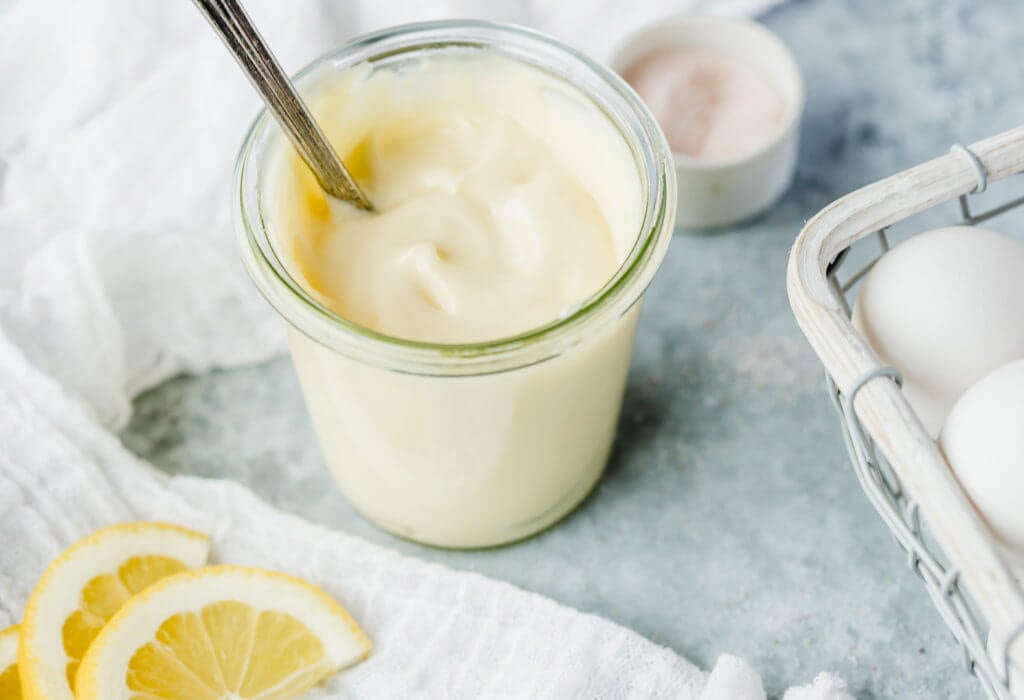 Can I use an immersion blender or regular blender to make mayo?
You can use an immersion blender, blender or even a food processor. I personally like using an immersion blender because I don't have to transfer my sauce once it is made. I will make it in a wide mouth mason jar and put a lid on it and store in the fridge. For the blender and food processor method, add everything to in the blender or processor and turn it on medium speed. Slowly being to add the light olive oil. Keep adding until it becomes thick and the olive oil is gone.
Shop my Post:

---
Don't forget to pin this recipe to your Pinterest board: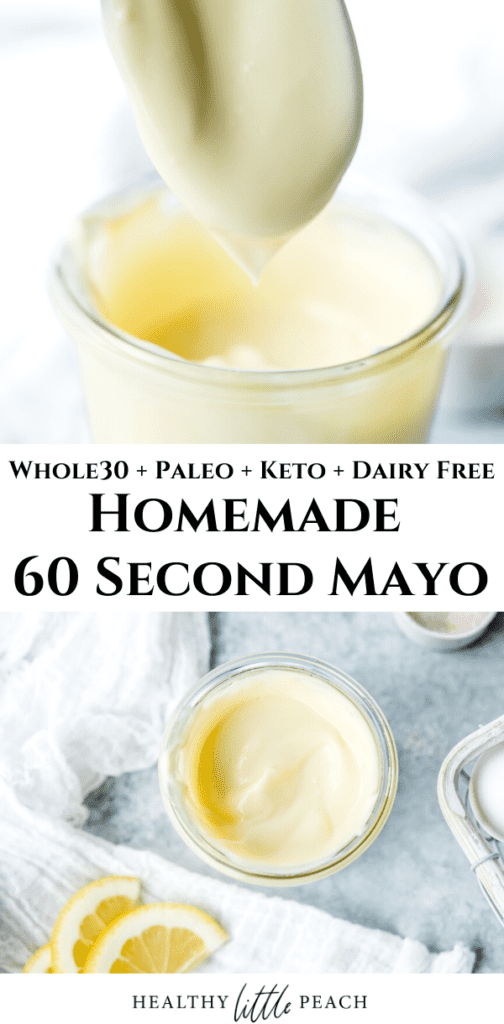 Print
Whole30 60 Second Mayo
---
Author:

Ashley McCrary

Prep Time:

1 minute

Cook Time:

3 minutes

Total Time:

4 minutes

Yield:

1 cup

1

x
Description
---
Scale
Ingredients
1 cup

light olive oil

1

large egg

1/2 tsp

ground mustard

1/4

–

1/2

tsp salt (depending on taste)

1/2 tsp

lemon juice
---
Instructions
Add all the ingredients to a wide mouth mason jar. The jar needs to be wide enough to fit the immersion blender.
Place the immersion blender over the top of the egg and turn the blender to low speed. Leave the immersion blender here and don't move it until the mixture begins to turn white.
Increase the speed of the immersion blender and begin to slowly lift the blender up. Blend, taking the immersion blender up, down and to the side until all the oil is completely emulsified. This process can take up to 1 minute.
When creamy and the oil is completely emulsifies, remove the blender.
Serve immediately or store in an air-tight jar and store up to 7 days.
Notes
Must use LIGHT olive oil, EXTRA LIGHT olive oil or Avocado oil.
This will last up to 1 week in the fridge
This recipe contains raw egg. We recommend that pregnant women, young children, the elderly, do not consume raw egg. Learn more about how to pasteurize your egg here if you are concerned of consuming raw eggs and want to kill all bacteria.
Category:

Sauce

Cuisine:

American
Keywords: Mayo, Immersion Blender, Homemade