BBQ Ranch (Whole30, Keto, Paleo)
Published Oct 10, 2019 Updated Mar 12, 2020
This post may contain affiliate links. Please read our disclosure policy.
If you have followed me for very long, you know by now that I am a BIG sauce gal. I love adding a little sauce to a lot of my recipes, just to give them a little "oomph." My Whole30 BBQ Ranch is truly magical and will bring any salad, protein or veggies to life.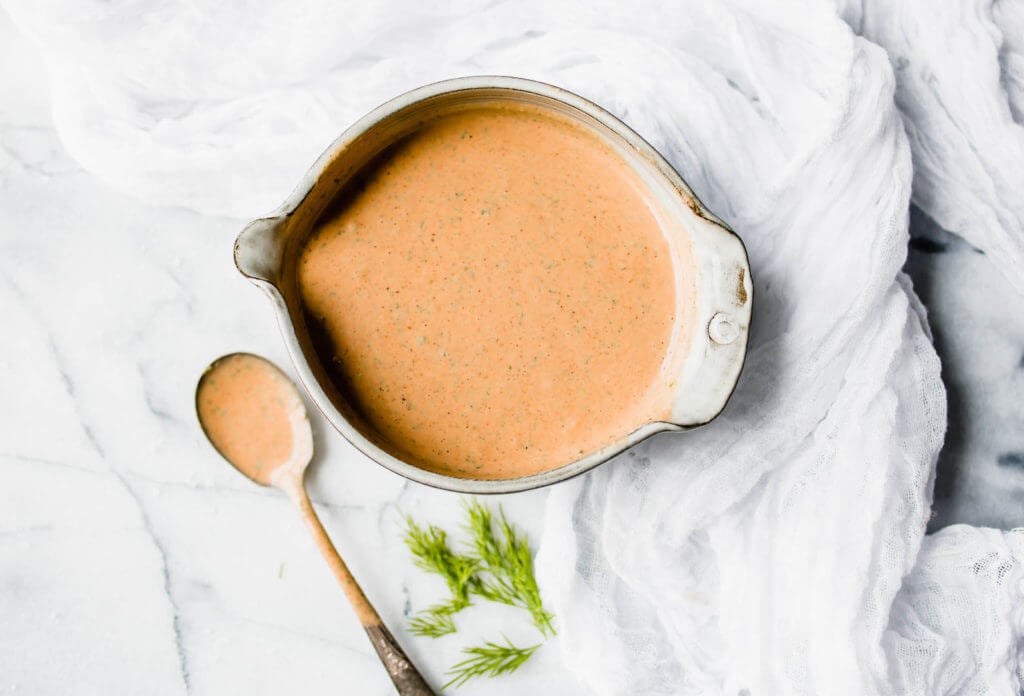 Some people assume that making homemade sauces take too much time and that's simply not true. I can whip up my basic ranch dressing in under 2 minutes and it is even better than the store bought version. I love making my own because I know exactly what is in it and there are no hidden additives and ingredients. It's clean, simple and delicious.
Can I buy a Whole30 compliant BBQ Sauce for this BBQ Ranch instead of making my own?
Yes, you absolutely can. I have 2 brands that I really love and that taste like legit BBQ sauce without any additional additives or sneaky sugars. You can find The New Primal's BBQ Sauces at Whole Foods and really any health food stores. As far as Tessemas, you can also get at Whole Foods and Target. Click on the pictures below to shop these brands from Amazon.

How long will this BBQ Ranch last in the fridge?
The BBQ Ranch will last in the fridge for up to 1 week. I will seal tight using my Weck Jars and it stores so well. It is important to always throw this out after 7 days due to the egg used in the recipe. If you are worried about using a raw egg, feel free to use pasteurized egg.
However, if you use the homemade BBQ sauce, this can store for up to 4 weeks in an air tight jar. I always store all my sauces in a Weck Jar because they seal great.
Shop My Post

Click on the photo below to save this recipe to your Pinterest board: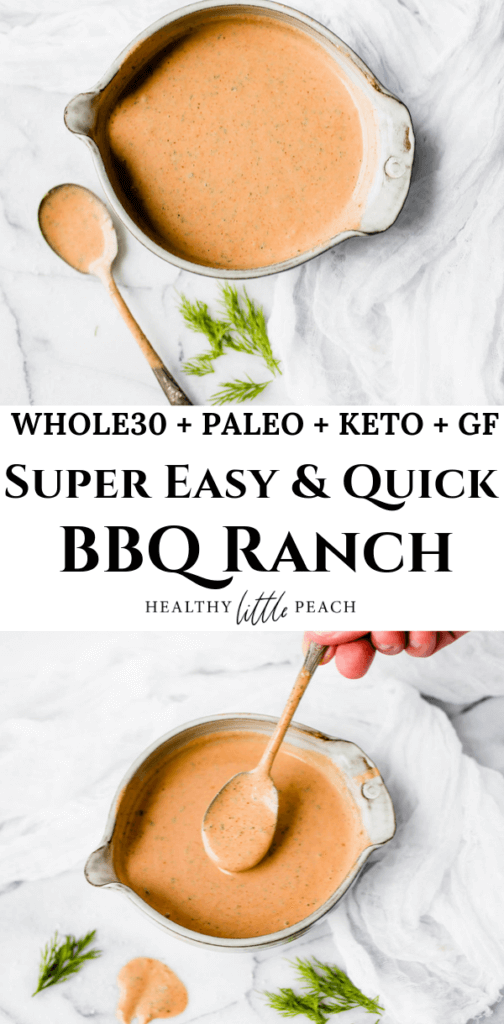 If you dig this recipe, be sure to check out my other sauces below.
[wpurp-searchable-recipe]Whole30 BBQ Ranch – A creamy and flavorful BBQ Ranch dressing that is the perfect flavor addition to salads, protein, and veggies. Not only is it bursting with amazing flavors, but it is also dairy-free, Whole30 and Paleo. For Keto, substitute a sugar-free BBQ sauce. – BBQ Ranch: mayo, salt, dill weed ((add more if desired)), apple cider vinegar, white wine vineger, coconut milk canned ((Unsweetened)), dried parsley, dried chives, onion powder, garlic powder, black cracked pepper, BBQ Sauce ((use my recipe below or use a compliant brand such as The New Primal or Tessemaes)), BBQ Sauce (Yields 2 cups): can tomato sauce, can tomato paste, dates ((soaked in hot water 10 minutes, to soften) *see notes for KETO), balsamic vinegar, apple cider vinegar, coocnut aminos, Dijon Mustard ((I use Annies)), chili powder, onion powder, paprika, salt, pepper, , BBQ Ranch: Add the mayo into a mason jar. Here is my recipe for homemade mayo (1 cup of light olive oil, 1 egg, 1/2 teaspoon mustard powder, 1/2 teaspoon salt, 1/2 tsp lemon juice) Add all your ingredients to a mason jar and use your immersion blender to mix together until thick and creamy.
In a separate bowl add in all of your seasoning and mix together.
; Transfer the seasoning mix to the mayo. Add in the coconut milk and vinegar. Here you will add less or more depending on the consistency you like. Put the mason jar lid on and shake. Add 3 tbsp of the BBQ Sauce and mix together with a spoon until combined well. ; BBQ Sauce: Add all the ingredients to a blender and turn on high speed and mix together for 30 seconds. Transfer BBQ sauce to a sauce pan and heat over low heat until warm (not boiling); Transfer to a mason jar and store in the fridge for up to 4 weeks.; ; – <ul>
<li>To make the BBQ Sauce KETO sub 2.5 tbsp Monk Fruit in place of the dates</li>
<li>To make this ranch KETO– Sub a sugar free BBQ sauce of choice. </li>
<li>Store any leftover BBQ Sauce in the fridge for up to 3 weeks in sealed jar.</li>
<li>Store any leftover BBQ Ranch in the fridge for up to 1 week. </li>
</ul> – Sauce – Keto – Paleo – Whole30 – BBQ Ranch – dairy free – paleo – ranch – Salad Dressings – sauces – whole30 – Whole30 Sauces[/wpurp-searchable-recipe]
Print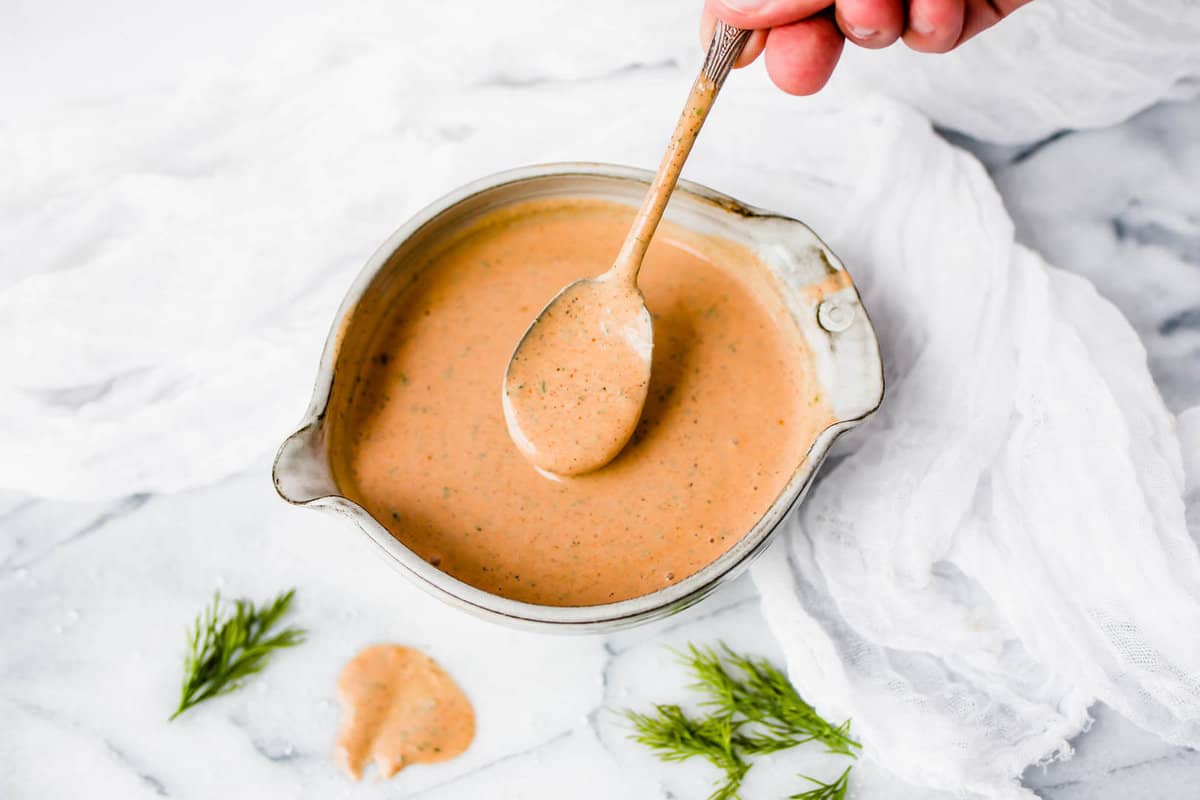 Whole30 BBQ Ranch
Total Time:

11 minutes

Yield:

1.5 cups

1

x