Clean Keto: Week One Review
This post may contain affiliate links. Please read our disclosure policy.
I can't believe we have already hit week one of The Clean Keto Challenge. Since this past summer I've been dealing with a ton of PCOS (polycystic ovarian syndrome) and have spent thousands of dollars on blood work and doctor's visit. I felt inflamed and blurry for almost 6 months without change. Before the challenge I had put on 18 pounds and was losing my hair in chunks. I felt awful and hopeless again. I thought that I had my PCOS symptoms under control and then BAM! They cam e flooding back in June and I felt hopeless again!
The last time I spoke to my endocrinologist he highly suggested that I live a low carb paleo lifestyle. So that's why I created this challenge. To embark on a journey to feel better and to have more energy. 4 years ago I lost almost 80 pounds with Whole30 and clean eating. However, this past summer my body stopped responding to this style of eating. Although I was eating clean, I was gaining weight every single week and I couldn't figure out what was going on. After a ton of bloodwork and lots of chats with my doctor, I'm doing this challenge to see if the low carb aspect of clean eating will help my symptoms.
Well guess what folks? I've got good news as of now. Just one week in and I feel amazing. Seriously AMAZING! I haven't felt this good in the past year. The fog has lifted and I can see clear. It's such a weird feeling going from feeling like your living in a cloud to feeling the sunshine on your skin. It's the best feeling in the world!
Energy Level
My energy level is incredible. I used to have to drink pre-workout to get through my workouts. Now I'm drinking a cup of black coffee before hitting the gym and I bust right through my workouts, with no pre-workout. In addition, I feel like my energy level is pretty even throughout the day with no afternoon slumps.
Appetite
Living with PCOS, I'm constantly hungry. Like ALWAYS hungry! I began noticing a difference on day 3 of the program. My appetite just went away completely. My cravings for sweets doesn't exist right now. Some meal I won' even finish everything on my plate because I get full so fast. This is my favorite part about the program so far because I'm not constantly thinking about food. I have clarity and listen to my body and eat when I'm hungry.
Weight loss
I know it's not all about the scale for some people, but this round it is about the scale for me. Since this summer I have put on 18 pounds. So far I'VE LOST 7 POUNDS and it's just the first week. Y'all the scale has not moved down for me in the past year. My body is responding and I am over the moon with excitement. I'm not going to primely focus on weight loss because I really want to feel better overall. However, I won't be mad if I lose the last 11 pounds.
Sleep
I've always been a night owl and one that struggles with falling asleep. I usually have to take a sleep aid to help me stay asleep. Over the past week I have seen a major improvement in my sleep. In addition to clean keto, I've also been using Equilibria CBD which I feel like is GAME CHANGER in my stress levels and sleep. It has helped tremendously. It did take a good 2 months before I saw improvements.
EQUILIBRIA CBD: If you want to give them a try, use my code: "healthylittlepeach" at checkout for % off your first order!
Skin
My skin is beginning to clear up. I still have a lot of problem areas around my jawline. This is something I have always struggled with and is the main symptom for PCOS. It's not near as bad as it was. I also think all the water I have been drinking has helped!
What I've Been Eating This Week
I have keto things super super simple and have not tried to create 5 star meals. I think overcomplicating the process kind of makes it harder. Below are all the meals I have eaten this past week!
Breakfast: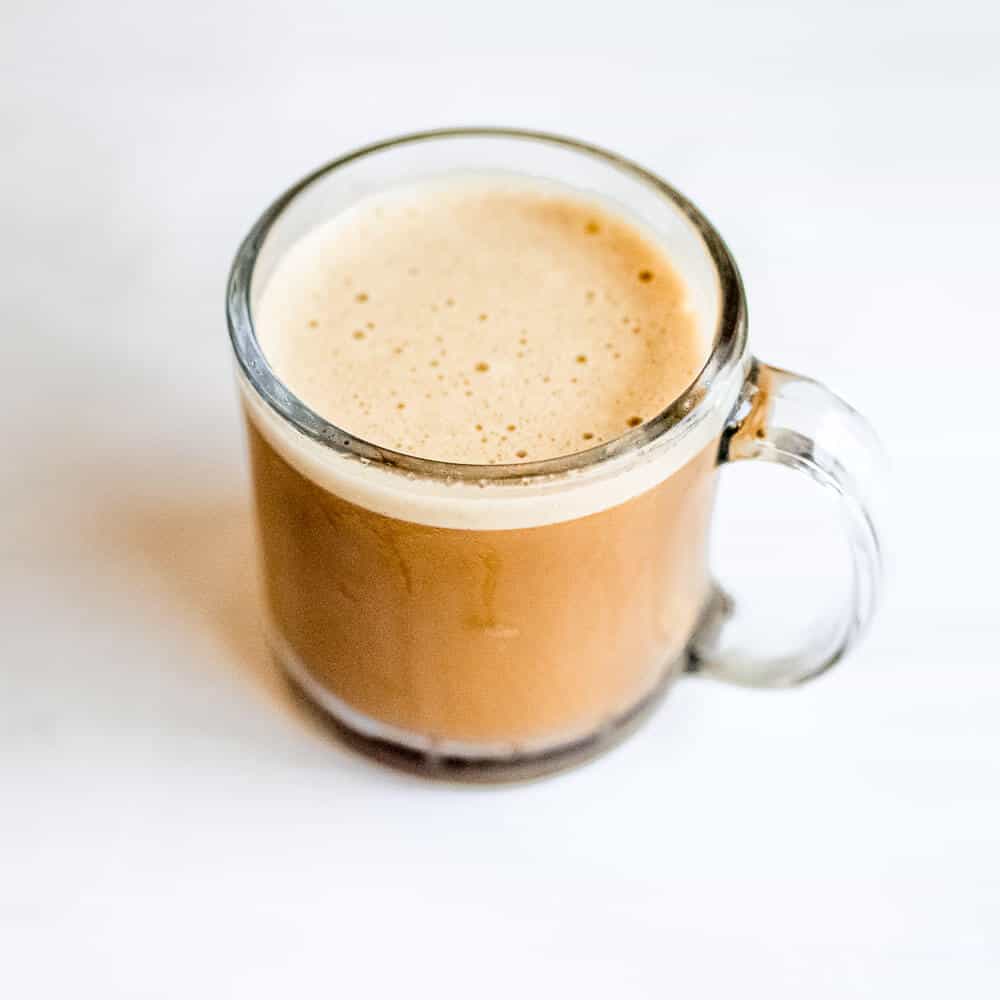 Bulletproof Coffee- 1 tablespoon of MCT oil, Toasted Marshmallow Nutpods blended. I have kept my breakfast the exact same every single day. I wake up and I'm not hungry, so I just keep it simple.
Lunch:
Lettuce Wraps- Applegate Lunch Meat, romaine lettuce, my homemade mayo, avocado, a bacon slice and pickles with a side of bone broth.
Tuna Salad Stuffed Peppers & bone broth
Bone Broth with ghee, half an avocado and 2 hard-boiled eggs
Shredded Chicken on top of coleslaw with my new Asian dressing (not out on the blog just yet), avocado and a pickle
Chicken topped with Mac's Awesome Sauce and green beans
The Bone Broth I use is Kettle and Fire. My discount code is "HP15" if you want to save 15% off at checkout.
Dinner:
Butter Chicken with my homemade Keto Biscuits
Steak and side salad with my homemade ranch OR asparagus/Green Beans
Shredded Pork Bowls with ranch coleslaw and pickles
Tacos- My taco meat recipe with dairy free Forager sour cream, tomatoes, red onions and shredded lettuce wrapped in a coconut wrap.
Chicken breast with ranch coleslaw
Snacks:
I honestly didn't snack a whole lot this week. I just wasn't hungry for it daily. A few times I grabbed the following.
Tazo Passion Tea unsweetened with Nutpods
3 Strawberries and a Chomps Beef Stick
Hard-boiled egg and a small handful of pecans
Drinks:
Unsweetened tea
Tazo Passion Unsweetened Tea
Dandelion Root Tea
Topo Chico Sparkling Water
Bubly Sparkling Water
Bulletproof Coffee
Black Coffee
My favorite Clean Keto recipes from my blog:
Pin Clean Keto: Week One Review to your Pinterest Board: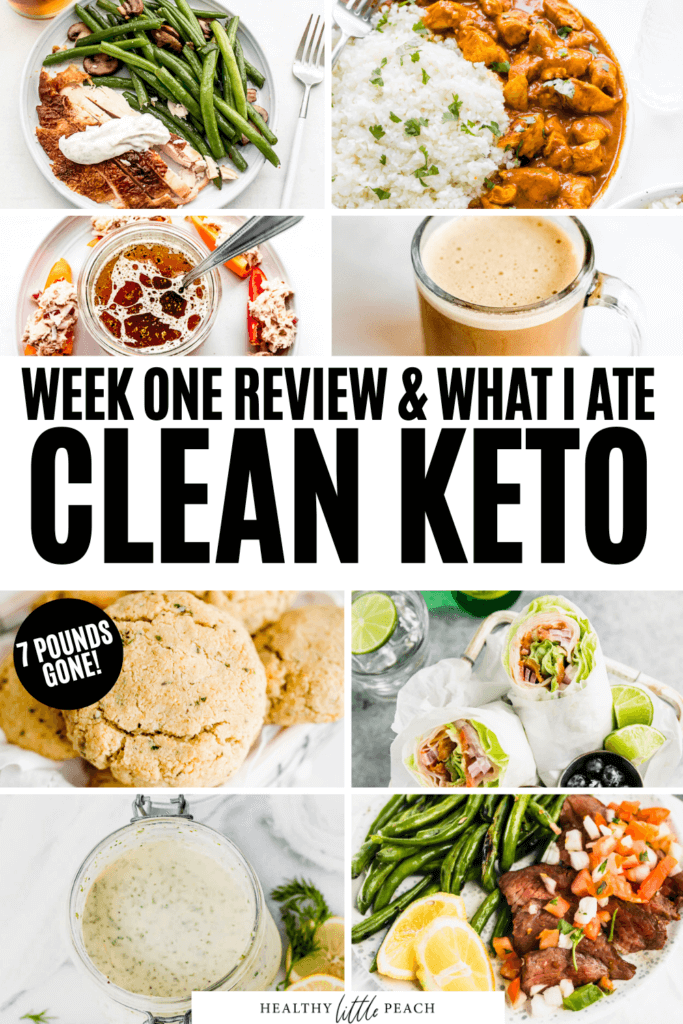 Need More Keto Resources?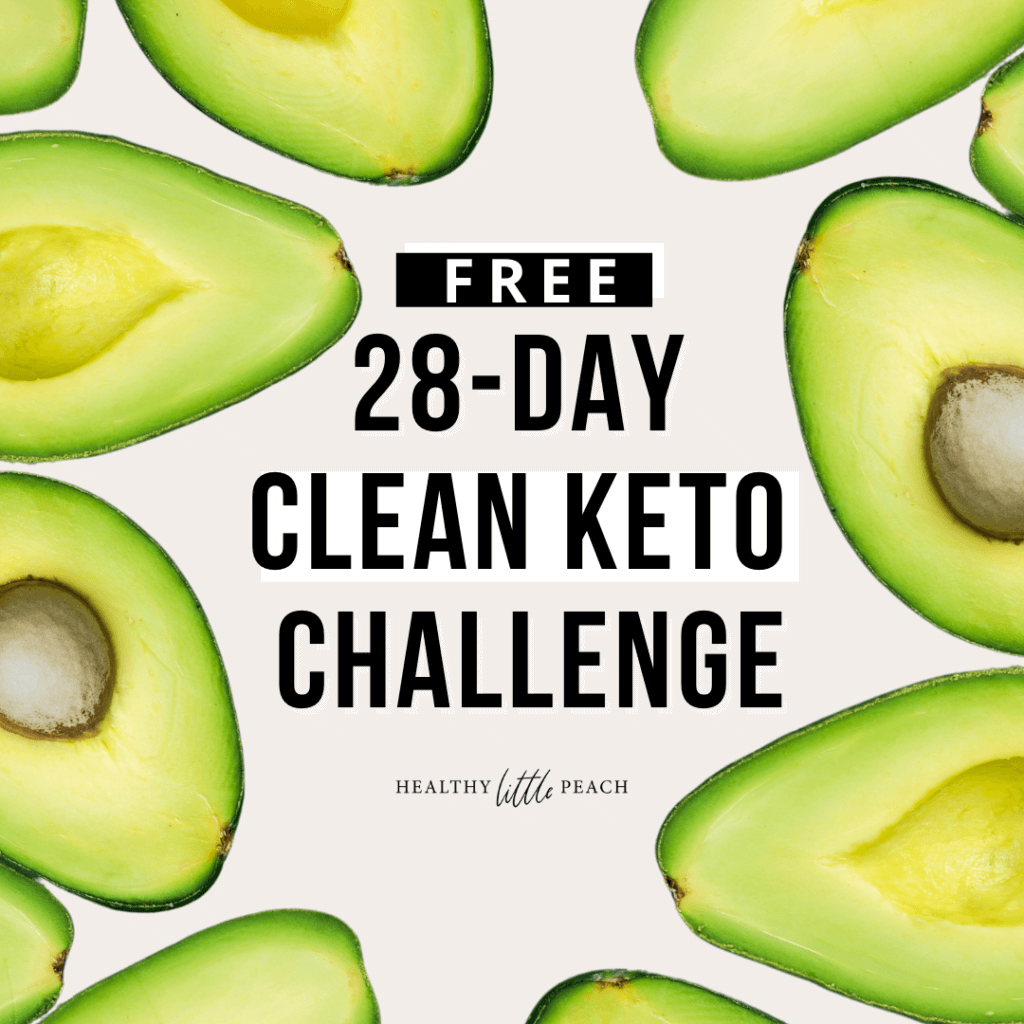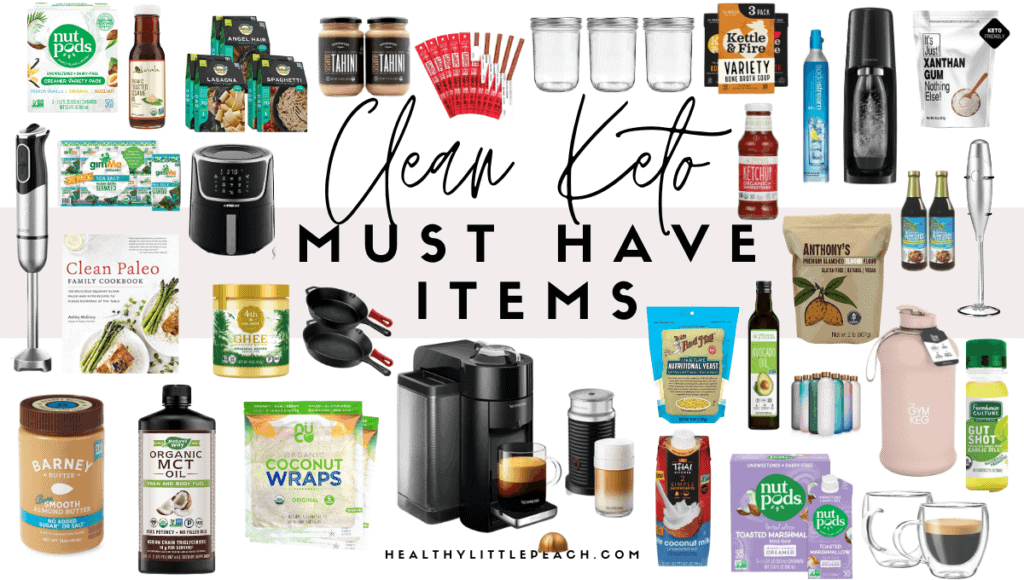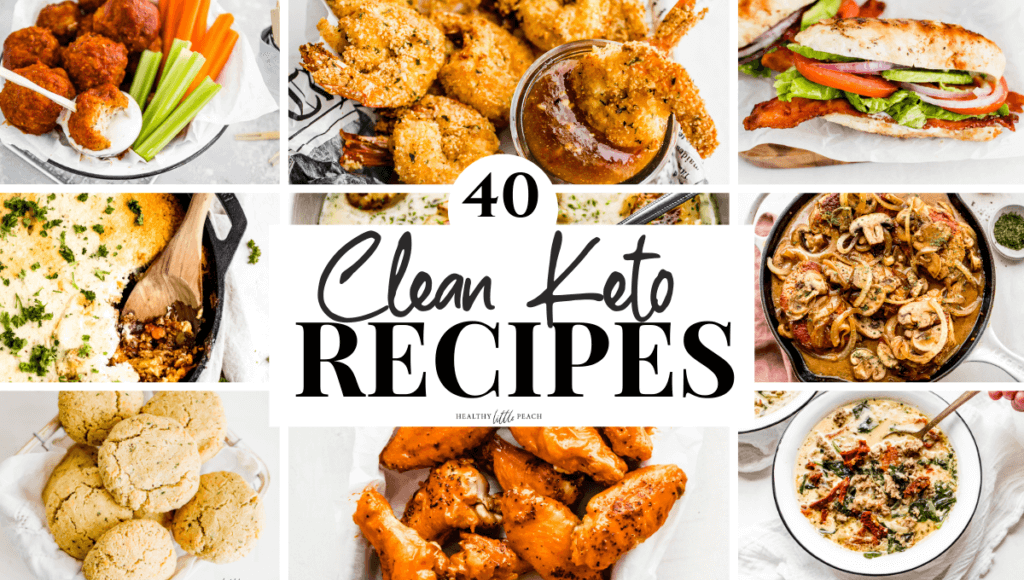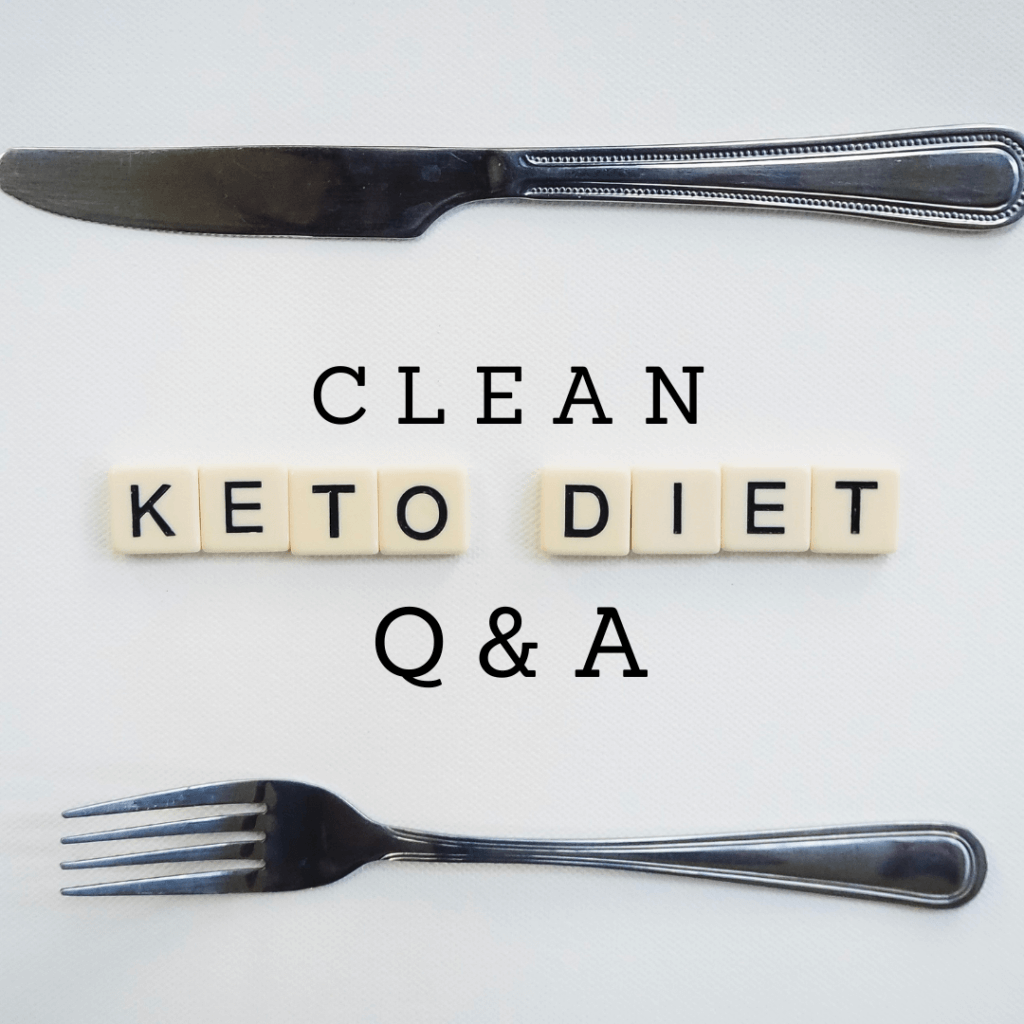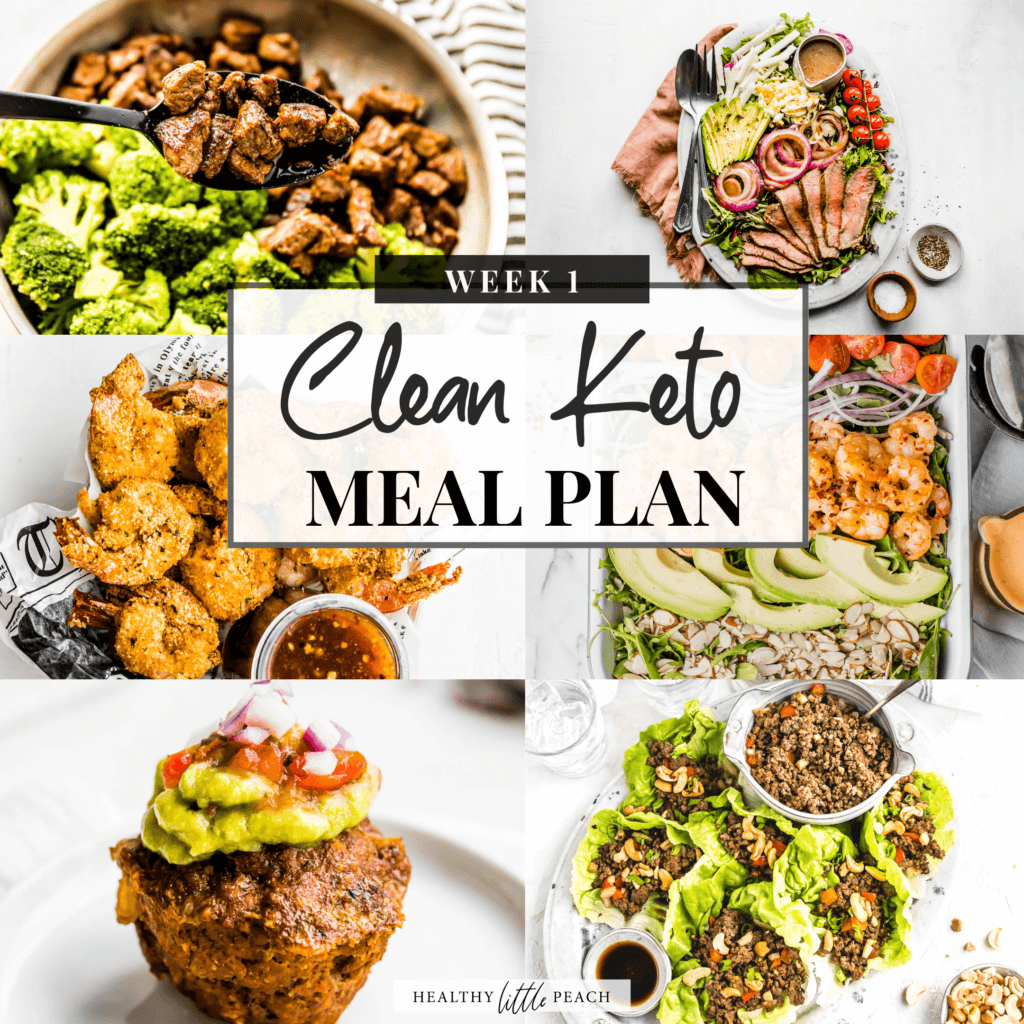 Need workout inspo? Grab my Peachy Fit eBook