Clean Keto: Common Questions, Answered
This post may contain affiliate links. Please read our disclosure policy.
CLEAN KETO: COMMON QUESTIONS:
When I talk about Clean Keto, I usually get a blank stare and tons of questions. So in this blog post, I've rounded up your top questions and provided in depth answers for each. If you still have questions after you read this, be sure to add them in the comments and will keep adding them as they come in.
What is the difference between Clean Keto Challenge and Whole30?
I get this question a lot! Whole30 and Clean Keto are really quite different in so many ways even though it may seem similar on paper. There is a different emphasis within the 2 programs. They both do require you to eat clean, but Clean Keto's main goal is to get your body into ketosis in order to burn fat. Whole30 is designed to help you find underlying foods that may cause your body problems. Both require clean eating but do have different end goals.
The main difference with Whole30 is your not getting your body into ketosis, which is considered fat burning. In addition, you can eat fruit and starchy veggies, such as sweet potatoes, potatoes, etc. Further, you can even incorporate Lara Bars and R Bars which have a high number of natural sugars and carbohydrates that can in some cases hurt your end results.
Additionally, Melissa is an advocate for eating 3 meals a day, even when your body isn't that hungry for it. With Clean Keto, you should listen to your body and eat when you are hungry, not just because it is "breakfast time."
Do I have to stick to 25 Net Carbs a day or can I go higher if I don't want to lose weight?
If weight loss is the goal, it is vital to stick to 20-25 net carbs daily. Doing this will get your body into ketosis. The whole point of "keto" is to switch your body from burning carbs as fuel to burning fat as fuel. This is the most important part of the program.
However, some people can eat up to 50 net carbs a day and be in ketosis. It really depends on your body. If you are not wanting to get into ketosis or to lose weight, then you could increase your carb intake. At this point though, you would really just be eating a clean paleo diet and not specifically keto.
What if I slip? Do I have to start the program all over?
This challenge is not meant to be a punishment but rather a time to reflect and grow in your health. If you are out and about and accidentally grab a "dirty keto" option, then it's not the end of the world. You DO NOT have to start the challenge over, but just make note on how to do better next time.
This does not include grabbing a candy bar. If you do this, it will throw your body out of ketosis and you won't get the results you want. Try to stick to the guidelines as closely as possible. But remember, its all about learning and growth.
How do I eat out on Clean Keto?
Do your research ahead of time and check out menus before heading out the door. Have a plan in place and know all the restaurants that have clean options that will cater to this clean keto plan.
Here are some examples below:
Chipotle-Whole30 Carnita Bowl
Any Steakhouse such as Applebees, Chili's, Cheddar's Scratch Kitchen, Longhorn or- Order a steak, grilled chicken breast or salmon with veggies, no butter or seasoning. Pack some ghee in your purse or bag and add your own.
Order a salad with a protein and remove the cheese and dressing. Bring your own dressing to add. Tessemaes has great travel dressing packs.
When eating out, be sure to be specific regarding your needs. Most all restaurants are happy to accommodate your request.
What if I'm not seeing the results I want?
Stick with it. So many times we want to see results in a week, but that's not how our bodies work. You may however, see a ton of results in the beginning due to water weight and it might slow down as the program progresses. That is ok. Results that stick are long term. Remember, you don't eat the fruit the day you plant the seed. Change takes time and effort.
How is Clean Keto helpful for someone with PCOS?
One of the many possible symptoms of PCOS is insulin resistance. Eating dairy and carbs can lead to higher levels of insulin in your body. The excess insulin causes your cells to absorb too much glucose from your blood and causes the liver to release less glucose which creates a dangerous low blood sugar condition called hypoglycemia. Having too much insulin can also cause your ovaries to produce more androgens, such as testosterone. An increase of testosterone in a woman's body can suppress normal menstruation and ovulation.
Can I do Intermittent Fasting with Clean Keto?
Yes! However, this will depend on the person. For me, when I add in fasting and tell myself that I can't eat until noon everyday, it becomes too restrictive. This brings back a lot of issues with my past easting disorders.
Some people swear by fasting and it does wonders for their bodies. I'm just not one of those people. I love listening to my body and eating when I'm hungry. So if I wake up starving, I don't want to punish myself and wait 5 hours until I can eat. If I wake up not hungry then I have the option to wait until I am. For me, it's too much pressure on my already fragile mind. Waking up and listening to what my body wants work way better than setting a time frame around food.
How to order coffee at Starbucks for Clean Keto?
This can be really hard because a lot of their dairy-free milk options do have added sugar. It is best to stay away from adding those in during the 28 day challenge. Feel free to pack some Nutpods and MCT oil in your purse or bag to add a little something extra to your coffee.
Below is my favorite orders for clean keto.
Unsweetened Passion Tea- Be sure to specify no cane sugar added. When I am wanting something a little more, I will add a couple of tablespoons of French Vanilla Nutpods.
Black Nitro Cold Brew. NO Cold Foam. Just black
Iced Coffee Unsweetened. Feel free to add your own Nutpod flavor of choice.
Black Iced Tea, unsweetened
Black Brewed Coffee
Why do I have to remove all artificial sweeteners?
Removing added sugar and artificial sweetener for the duration of 28 days will help with cravings along with gut health. Quitting sugar and artificial sweeteners can also aid in more energy, balanced hormones, especially insulin levels and clearer skin!
Can I eat Clean Keto on a budget?
Absolutely! Although eating grass-fed and organic is always the best option, it is not a must for the challenge. Here are some other tips and tricks to stay on a budget with clean keto.
Create a plan and menu and stick to it.
Assess what you have before going to the grocery store to buy more.
Eat more eggs as your main source of protein. They are super cheap and filling. I love making a frittata some nights for dinner. It is a yummy and cheap meal.
Shop at ALDI- They have organic and fresh produce at half the price of normal grocery stores.
Use cash ONLY. Put back a number each month and don't go over that.
Simplify your meals. Every recipe does not have to be Pinterest worthy. Make good enough, good enough
How do I track my carbs?
There are a ton of apps that will track your net carbs. Below are my favorites
How can I eat Clean Keto with my kids?
Yes! You absolutely can. Change is hard, but keep giving healthy choices and the kids will come around. You don't have to make them eat Clean Keto just because you are, but you can still build their plates with the keto meals that you are already making. Feel free to add cottage cheese or a yogurt as their side dish.
I think it's also important to build a healthy foundation for your children at a young age. Once you set boundaries and train your kids to make healthy choices, not only have you won the battle but you are setting your kids up with the knowledge they need to make healthy choices as they grow up.
This is something I did not have as a child and really struggled growing up with eating disorders and body dysmorphia. Instead of preaching to them about healthy eating, I want to teach them and be the role model.
Can I have dairy-free nut cheese, cream cheese and sour cream if the ingredients are clean?
Absolutely! Nut cheeses are delicious and can add a ton of flavor to boring meals. As long as the ingredients are clean then go for it. I add it to casseroles, proteins and even soups. It really does come in handy when you get bored with bland foods. Just be careful and don't go overboard.
Kitehill Plain Cream Cheese
Nush Cheese Natural
Pamela Creamery Creamy Nutcheese Original
Forager Sour Cream
What do I do after the challenge? How do I maintain my health?
The main goal with Clean Keto is to teach you healthy eating habits by eating nutritious and whole foods. It's important to keep these habits for the long term. However, you can add carbs back in slowly if you wish to do so.
The occasional treat meals and treats are what life is all about. You should for sure add these back in when you are ready and in moderation. Don't replace your water intake with alcohol and assume that your results will stick. You have to live healthy the majority of the time. The challenge is meant to change daily habits that will support sustainable healthy living long term.
I'm breastfeeding. Can I do the Clean Keto Challenge?
Honestly, I can't answer this questions. I highly recommend consulting your doctor if you are breastfeeding or pregnant. I did eat lower carbs during my pregnancy and when I tried breastfeeding, but I was unable to produce milk. It's always best to ask your doctor before doing anything drastic like keto if you are pregnant or breastfeeding.
Isn't Keto just another fad diet?
In my opinion, eating clean isn't a fad. I think it's what you make it. If you eat "dirty keto" and lose weight and then put it right back on, then that means you really didn't learn healthy eating habits.
Doing the challenge correctly is what makes the change stick. The whole goal is to train your body to want to make healthy decisions on a daily basis that will lead to sustainable healthy living long term.
People do see this as a fad diet as a "short term" fix. However, if you are doing it for the right reasons, then it's just part of the growth process.
Non-Egg Breakfast Ideas:
Bone Broth with a half avocado and a Chomps Beef Stick
Chicken salad over greens
Chicken apple sausage over sauteed spinach
Sausage patties, berries and roasted Brussels sprouts
What are the best compliant snacks?
Nuts: Almonds, Cashews, Pistachios, Pecans, and Walnuts
Chomps Beef Sticks
The New Primal Beef Sticks
Fruit & Almond Butter
Homemade Ranch and cucumbers or carrots
CLEAN KETO MEAL PLAN (WEEK 1)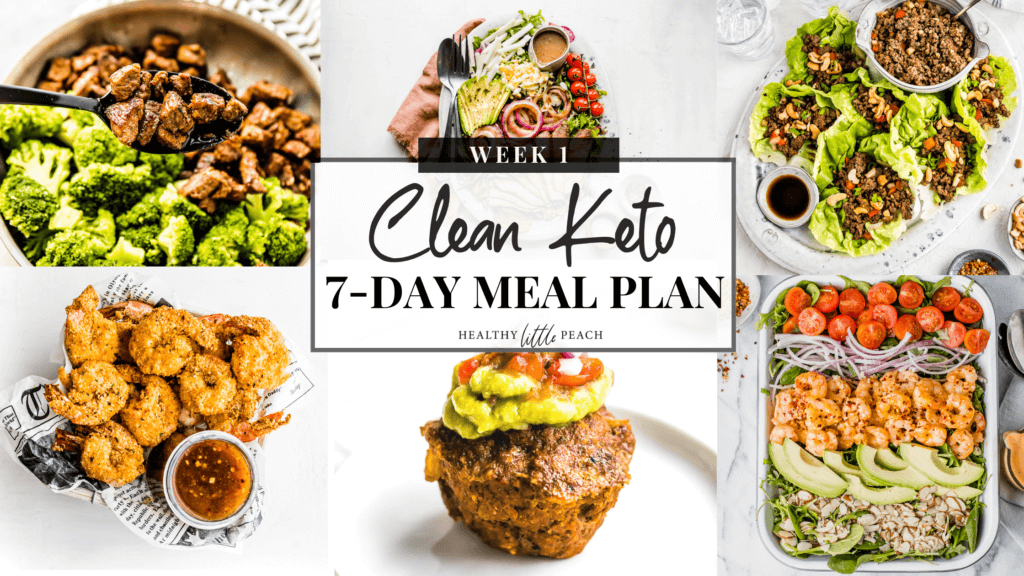 Favorite Must Have Keto Items
Farmhouse Culture Gut Shots: These have so many amazing benefits and are Whole30 and Keto compliant. These are an amazing probiotic for gut health, immune system and metabolism. USE CODE: "20PEACH" FOR 20% OFF
Natural Heaven Veggie Pasta: Veggie pasta made from Hearts of Palm. Tastes identical to real pasta and is Whole30 and Keto compliant. CODE: "NATHEAVEN10" for 10% off.
PIN THESE CLEAN KETO COMMON QUESTIONS TO YOUR PINTEREST BOARD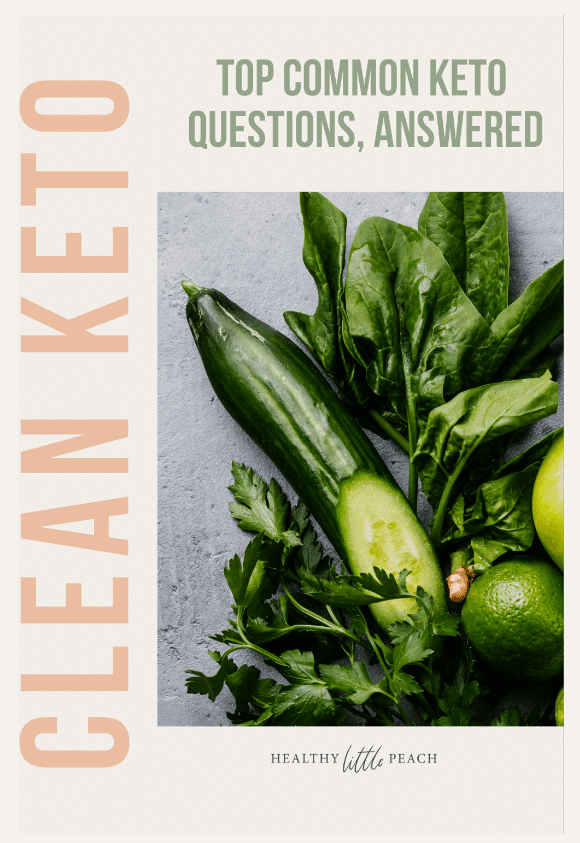 Need more inspo? Be sure to check out my Peachy Fit eBook: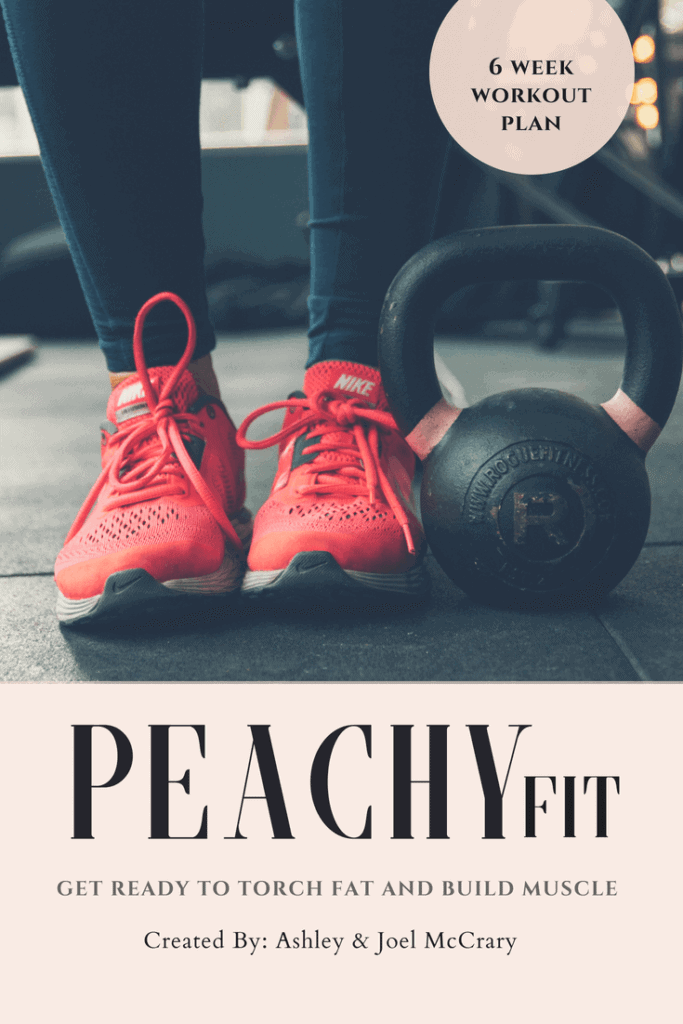 Be sure to consult your doctor before beginning any new program. I'm not a licensed physician. This is based on my opinion.