Air Fryer Whole Chicken
Published Feb 02, 2022 Updated Jul 11, 2023
This post may contain affiliate links. Please read our disclosure policy.
This garlic herb, Rotisserie-style air fryer chicken is melt-in-your-mouth delicious. Crispy, buttery skin with layers of tender, perfectly juicy chicken underneath. This versatile dish can be used as a main entree, in salads, sandwiches, casseroles, or pretty much anything that calls for tasty and delicious chicken!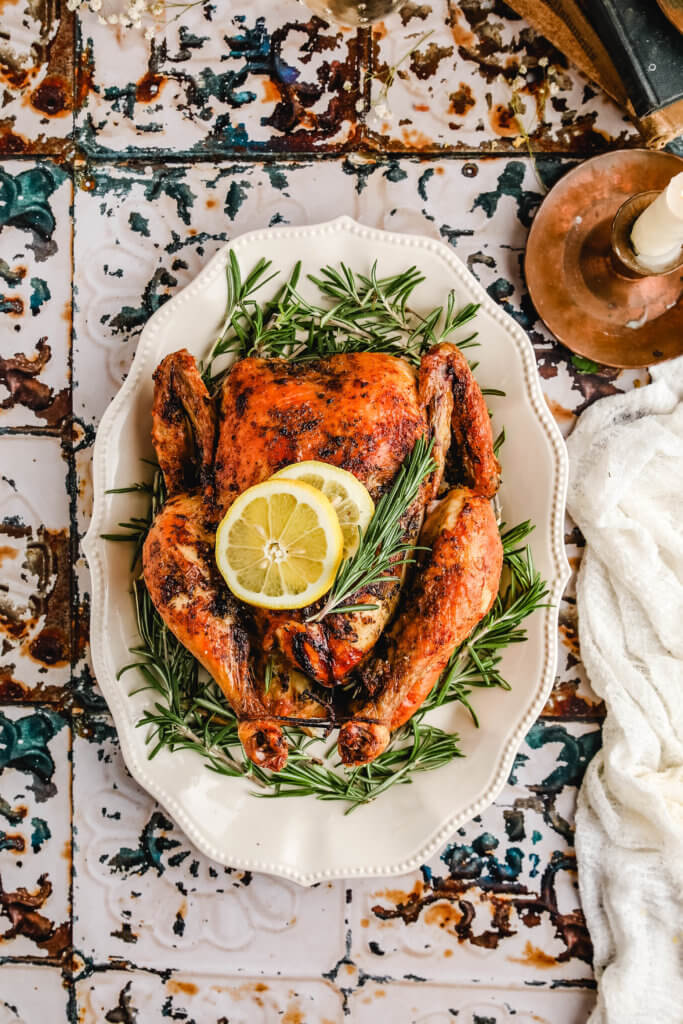 The Yummiest Garlic Herb Air Fryer Chicken
The thing I love about rotisserie chicken is that crispy skin seasoned perfectly, with the most tender chicken throughout. Never dry, and just plain delicious. The air fryer is the perfect kitchen tool to use to get that crispy rotisserie outer skin, without drying out the chicken.
For this whole chicken recipe, I generously rub garlic herb butter around the skin of the chicken to create an amazing flavor and keep that flakey, buttery skin nice and crispy.
How to Air Fry a Whole Chicken
Air Fryer Rotisserie Chicken
Air frying chicken has never been easier! With only 10 minutes of prep and one simple flip in the air fryer, you will have the most perfect chicken in no time! The best part? Super easy cleanup, and chicken for a variety of meals!
All you need is a whole chicken, butter, lemon, herbs, spices, and your beloved air fryer, and you'll have yourself the yummiest air fryer chicken the whole family will love!
Garlic Herb Butter Rub
This savory herb and garlic butter is a delicious, flavorful way to get the perfect chicken. Simply combine room temperature butter, herbs, and spices into a paste, and rub generously around the skin of the whole chicken.
How to Serve Air Fryer Chicken
The options for serving this air fryer rotisserie-style chicken are endless! One of my favorite parts of making a whole chicken is that there's really something for everyone. My girls love the drumsticks, which are so kid-friendly and fun to eat. You also get thigh meat which is dark meat and the breast which is white meat. So many options, depending on what you're in the mood for.
I serve my chicken with the skin on alongside some of my absolute favorite sides:
The BEST Creamy Mashed Potatoes
Ways to Use Leftover Rotisserie Chicken
Need some ideas with what to do with any leftover air fryer rotisserie chicken? Here are some amazing recipes to check out!
Creamy Buffalo Chicken Casserole
Mac's Awesome Sauce Chicken Salad
Tips & Tricks
Butter Swaps: If you don't want to use butter, you can omit and use 3 tablespoons of avocado oil instead. Mix with the seasoning to make a paste just as you would the butter. If you'd prefer a different butter alternative, you can sub ghee for Paleo or vegan butter for dairy-free.
Flipping the Chicken: Be sure not to skip the step of flipping the whole chicken after 40 minutes in the air fryer. This is an important step that ensures air frying a whole chicken will really achieve that crispy rotisserie skin!
FAQs
Is this air frying whole chicken method also considered Rotisserie chicken?
While it's not cooked on an actual rotisserie, this chicken is made in the style of rotisserie chicken with its crispy skin, flavorful spices, and juicy meat. When you flip the chicken after 40 minutes, this serves the same purpose as a rotisserie, getting all sides perfectly and evenly cooked. Air frying whole chicken is so easy and has such a similar result as rotisserie chicken.
Is this air fryer chicken keto-friendly?
Yes! All the ingredients in this air fryer chicken recipe are keto-friendly. Be sure to choose keto-friendly sides to complete your low-carb meal!
Can I make bone broth with the chicken carcass?
Yes! Bone broth has amazing health benefits and since you're making a whole chicken with this recipe, you can use the leftover carcass to make your own homemade bone broth! Take a look at this recipe to get you started!

Herb and Garlic Air Fryer Whole Chicken
This rotisserie-style air fryer chicken is rubbed with garlic herb butter and air fried to crispy skin perfection. Tender, juicy, mouthwatering chicken!
Ingredients
1 5-6

pound

whole chicken

giblets removed

`1/3 cup butter* room temperature

2

teaspoon

salt

1/2

teaspoon

pepper

1

teaspoon

lemon zest

2

teaspoon

parsley

1

teaspoon

oregano

1

teaspoons

chives

1

teaspoon

rosemary

1/2

teaspoon

garlic powder

1/2

teaspoon

onion powder

1

lemon

cut in half

2

fresh rosemary sprigs
Instructions
Combine all of the seasonings and lemon zest with the room temperature butter. Mix together to make a paste.

Stuff the rosemary sprigs, and lemon inside of the chicken and tie the legs together. Rub the herb butter all over the chicken, both sides and under the skin.

Spray the air fryer basket with cooking spray. Place the whole chicken, breast side up in the basket. Cook at 365F for 55 minutes. Flip the chicken over at the 40-minute mark.

Once the breast meat has an internal temperature of 165F. Squeeze lemon juice over the top of the chicken, carve and serve.
Notes
Sub ghee for paleo or vegan butter for dairy free.
If you dont want to use butter, you can omit and use 3 tablespoons of avocado oil instead. Mix with the seasoing to make a paste just as you would the butter
Nutrition information is automatically calculated, so should only be used as an approximation.