Mac's Awesome Sauce Chicken Salad
Published Aug 17, 2019 Updated Mar 12, 2020
This post may contain affiliate links. Please read our disclosure policy.
I am such a fan of chicken salad, I love it so much I can even eat it for breakfast. I sometimes need a break from the traditional chicken salad, so I have developed a new recipe to add to my rotation. My Awesome Sauce Chicken Salad is bursting with flavor and gets better as it sits in the fridge.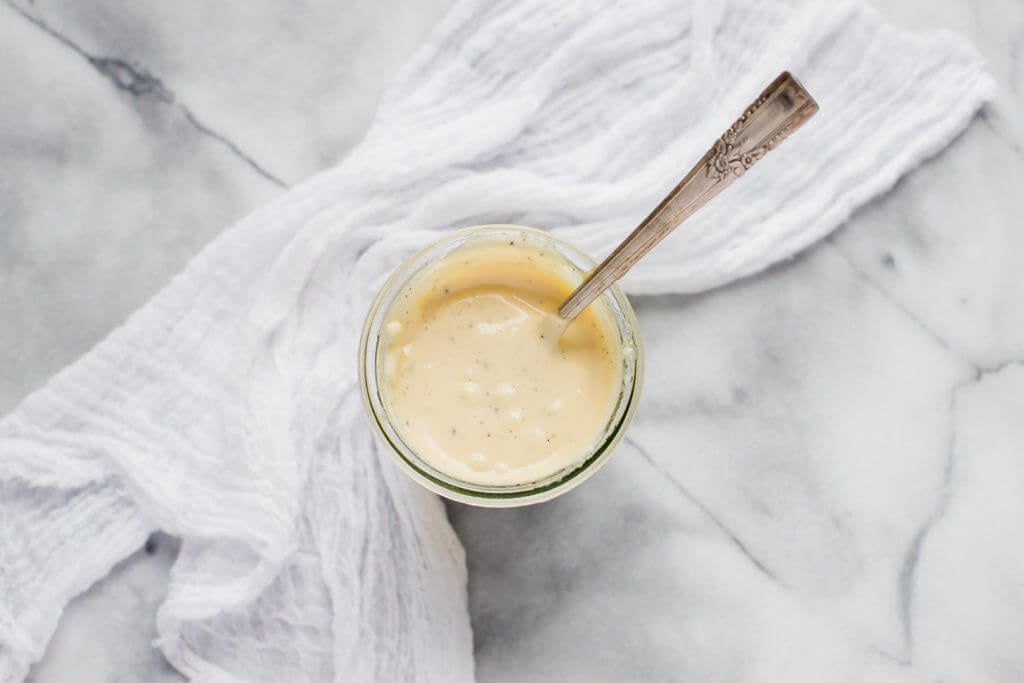 This chicken salad is creamy and filled with super simple yet flavorful ingredients. Chopped chicken combined with my creamy Awesome Sauce topped with fresh chopped green and red onions is the perfect lunch…and even breakfast.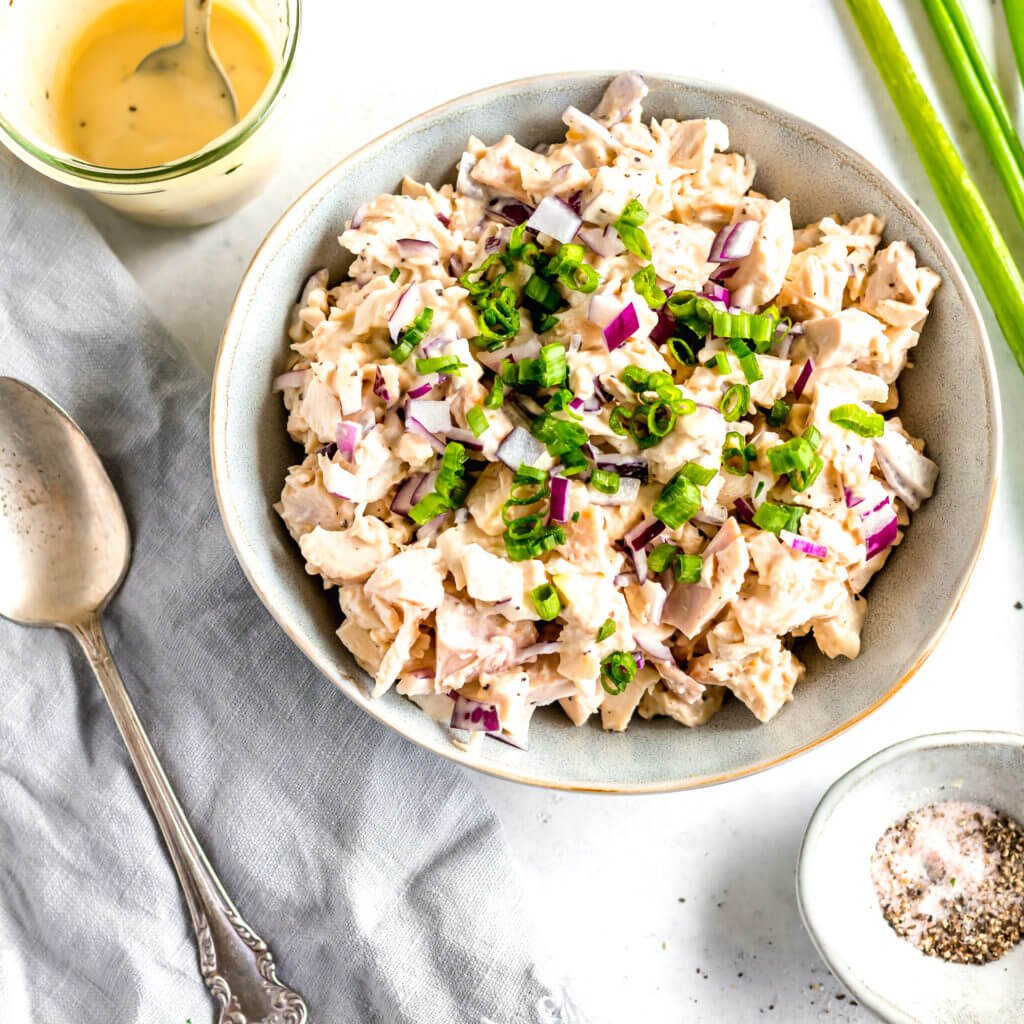 A great way to serve this salad is stuffed in an avocado or scooped up with mini multicolored peppers. It is light yet filling and can be whipped up at the beginning of the week and used throughout the week for meals or even a quick snack .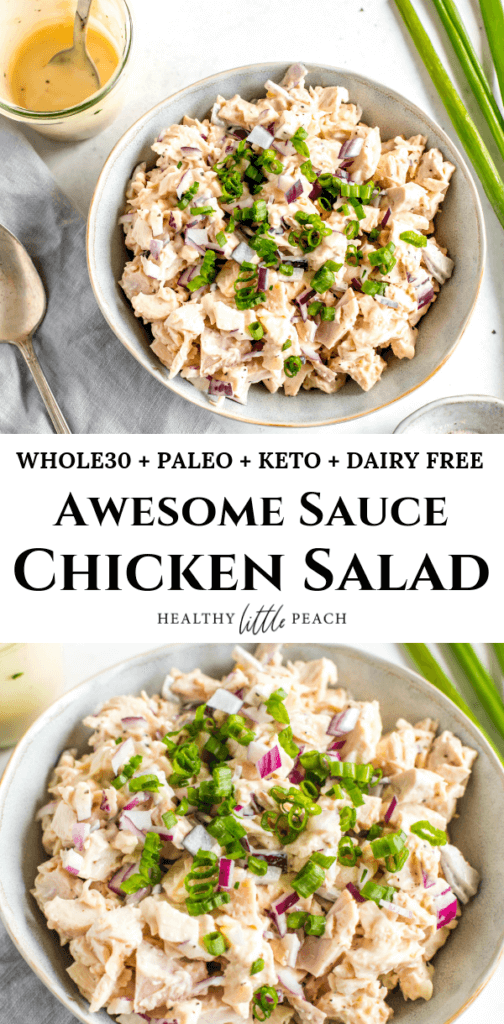 Shop the post:

If you like this quick recipe, be sure to check out some of my other favorite below:
[wpurp-searchable-recipe]Mac's Awesome Sauce Chicken Salad – This Awesome Sauce Chicken Salad is super quick and perfect for meal prep. filled with super simple yet flavorful ingredients, such as, chopped chicken, a cream mayo base sauce and red and greed onions. Its' Whole30, Paleo and Keto compliant. – Chicken Salad: chicken breast ((cooked and chopped into small cubes)), Mac's Awesome Sauce, plus 1 tbsp diced red onions (divided), lemon juice, pepper, salt (add more to taste), Mac's Awesome Sauce: homemade mayo (*see notes), finely chopped red or yellow onion, coconut aminos, pepper, salt (*add another 1/4 tsp if needed), , Chicken Salad: 1.Place chicken breast in a large pot and bring to a boil over medium-high heat. Once water is boiling, reduce heat to low and cover with a lid. Allow the chicken to continue cooking on low for 15 minutes or until chicken has reached temperature. Make sure to always check with a meat thermometer. For chicken, it should be 165 degrees Fahrenheit. ; 2. Remove the chicken from the hot water and allow to cool on a cutting board. Once cool, dice into small cubes.; 3. Transfer the chopped chicken to a large mixing bowl along with the Awesome Sauce and the rest of the ingredients for the salad. ; 4.Use a spoon to mix until well combined. ; 5.Garnish with fresh green onions and 1 tbsp of diced red onions. ; Mac's Awesome Sauce: Place 1 cup of mayo in a wide mouth mason jar or medium size bowl. Add in the coconut aminos, onions, salt and pepper. Stir with a spoon until combined.
; ; – <p><a href="https://healthylittlepeach.com/recipe/mayo/" target="_blank" rel="noopener">Click here</a> for my 60 second mayo recipe. </p> – Appetizer – Main Dish – Salad – Keto – Paleo – Whole30 – chicken – chicken salad – keto – Mac's Awesome Sauce – paleo – whole30 – whole30 chicken salad[/wpurp-searchable-recipe]
Print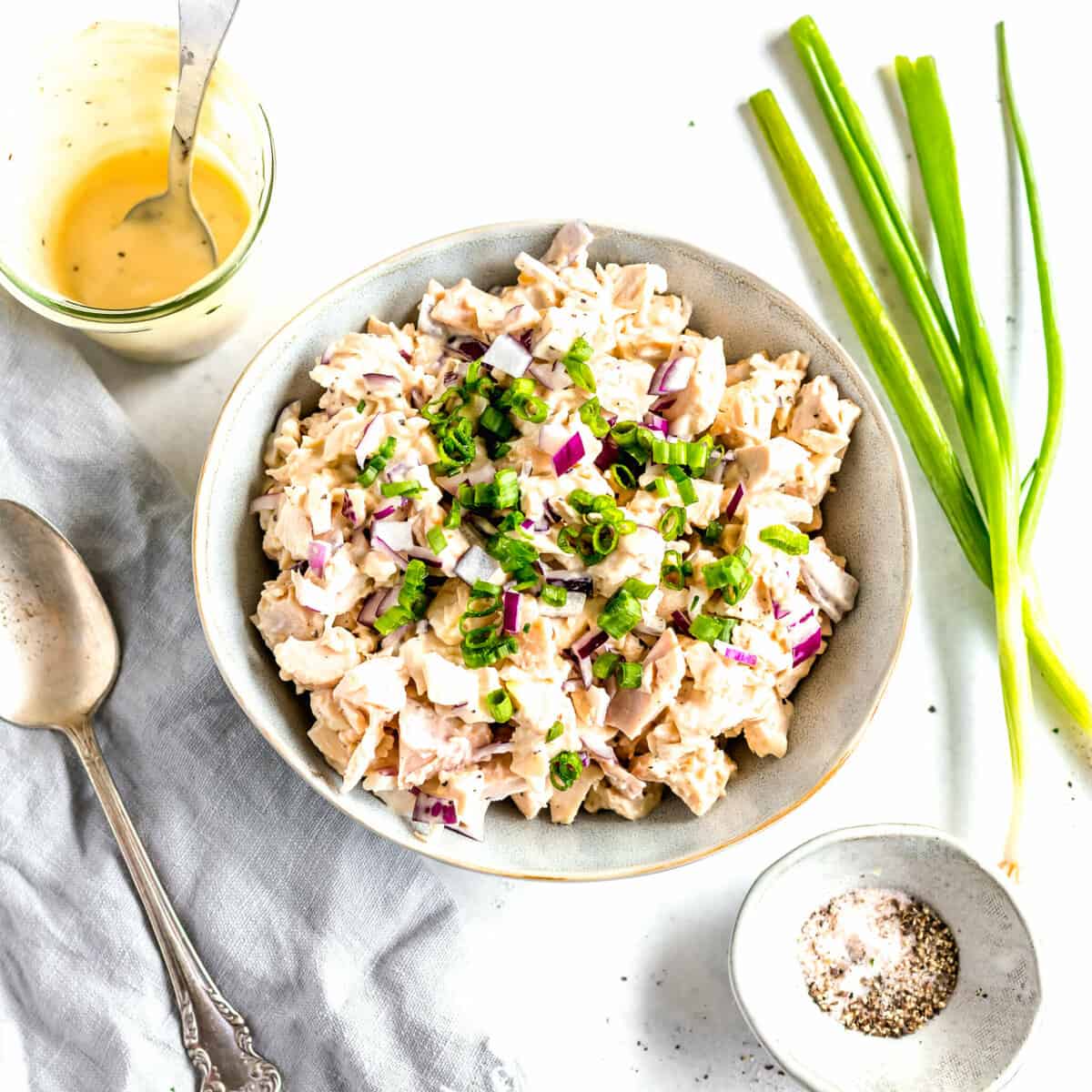 Mac's Awesome Sauce Chicken Salad
Total Time:

20 minutes

Yield:

4 cups

1

x