Life seems to fly, especially during the busy work week. When we have a busy week ahead of us, I love adding one skillet meals to our menu. Clean up is easy and I can be in and out of the kitchen in less than 25 minutes. My Butternut Squash Chicken Pasta is not only super easy to whip up, but it's also super clean and considered Whole30, Paleo and Gluten Free.
Butternut squash can sometimes be intimidating if you are not familiar with how to use it. I'll have to admit, when I use to stroll the grocery store, I would always walk right past it and never think twice about using it to develop new recipes. From the first time I made butternut squash noodles, I loved it. The texture is identical to pasta and is a delicious alternative to the real thing.
How do you spiralize a butternut squash into noodles?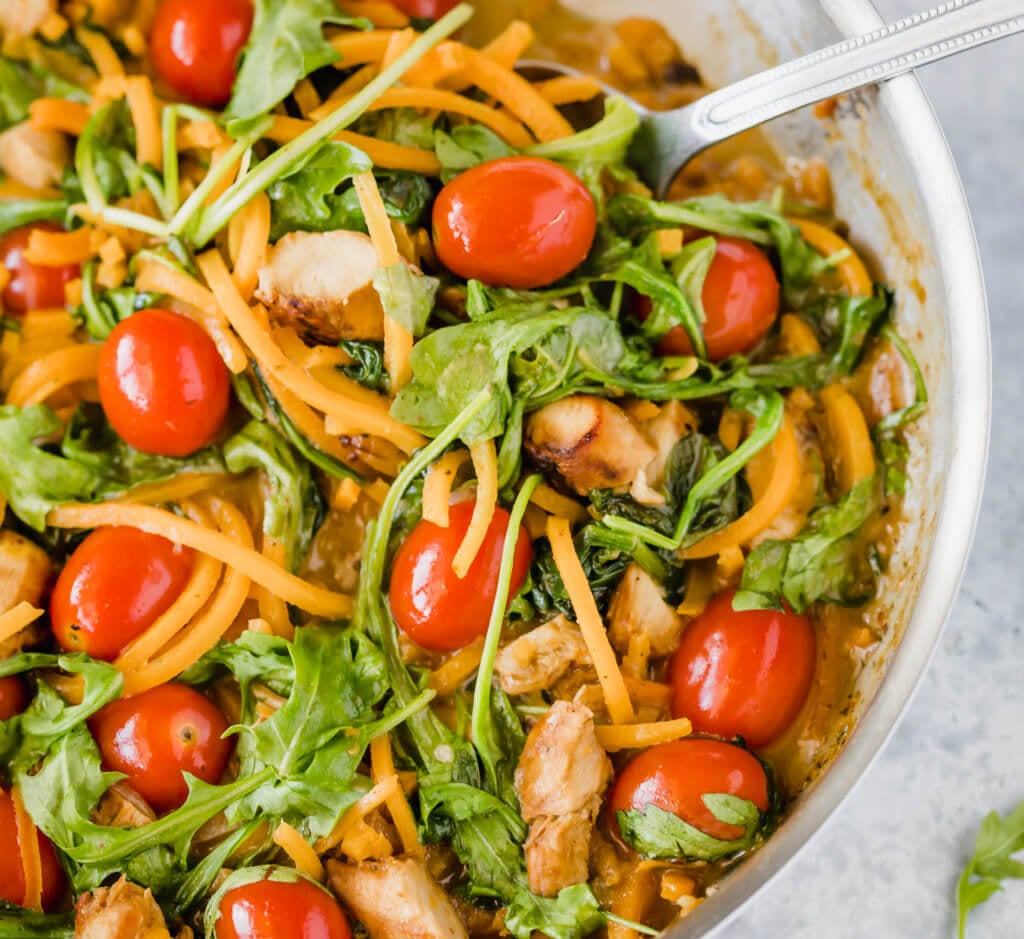 In addition, adding in big handfuls of spinach and arugula to the butternut squash zoodles is a great way to give this dish a nice peppery kick that really brings it to life. Not to mention, the chopped chicken and heated cherry tomatoes that sit in a cream sauce is what makes this dish so filling.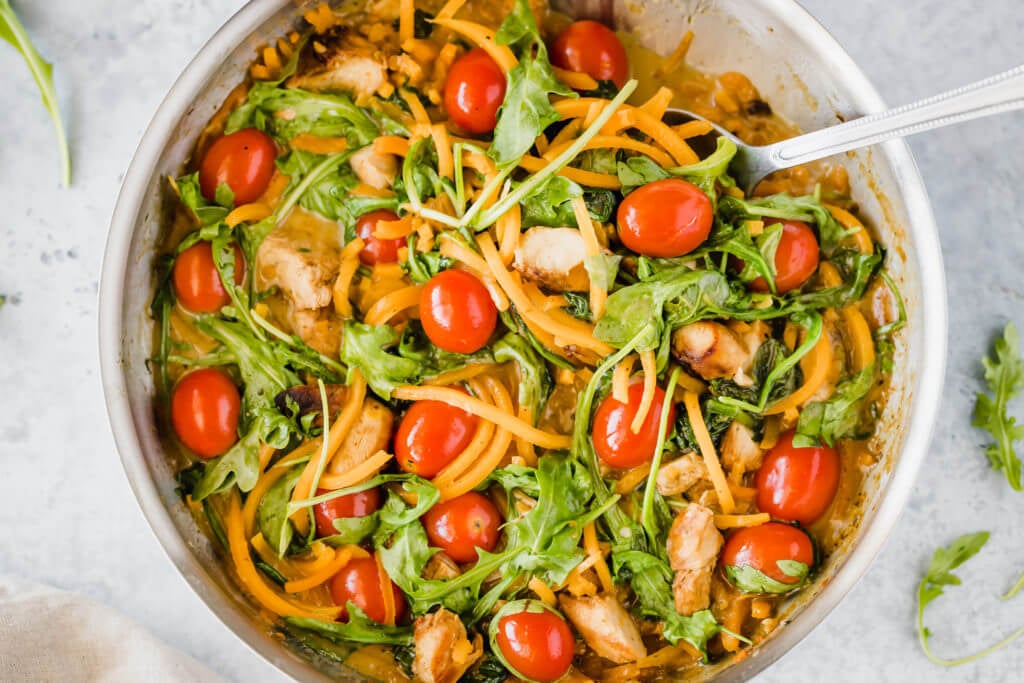 The best news about my Butternut Squash Chicken Pasta, is it's budget and family friendly. Additionally, it serves as a great leftover option for busy weekday lunches.
What are the different ways you can cook the butternut squash noodles?
There are a few different methods when cooking butternut squash. Here are the 3 different ways I recommend; roasting in the oven, boiling on the stovetop and sautéing . All 3 of these methods are great, but I usually get the best noodles when I add to the oven.
The oven method:
This method is pretty much fail proof and will deliver beautiful, crisp butternut squash noodles every single time.
Pre-heat the oven to 400F. Coat a baking sheet with cooking spray or olive oil.
Add the spiralized butternut squash to the pan and drizzle with olive oil and sprinkle with a little salt and pepper.
Roast for 10 minutes or until tender.
Boiling:
Bring a pot of water with a little salt to a boil over high heat.
Add in the butternut squash noodles and allow to boil for 4-5 minutes.
Remove the butternut squash noddles and drain water.
Serve immediately.
Sautéing:

I also really love this method, but you have to be gentle.
Heat a skillet over medium/high heat with olive oil and minced garlic.
Add the zoodles in and cook for 7-10 minutes or until tender.
Can you use precooked chicken for the Butternut Squash Chicken Pasta?
Yes, the chicken can be precooked. Using leftover chicken, or if you are in a real hurry, feel free to use a store-bought rotisserie chicken. In addition, feel free to buy pre-spiralized butternut squash, or even spiralize your own the night before to save time.
Click on the photo below to save this recipe to your Pinterest board
Shop My Post
Click below to check out more of my easy recipes that are perfect for a busy weeknight or lazy weekend.