Chicken is usually something that is on our weekly menu at least 2 to 3 times a week. If I am not careful, plain chicken can get boring real quick and leave my family running from the dinner table. My new Grilled Lime Chicken Breasts with Mango Pineapple Salsa is sure to save you for from the same boring chicken dinner.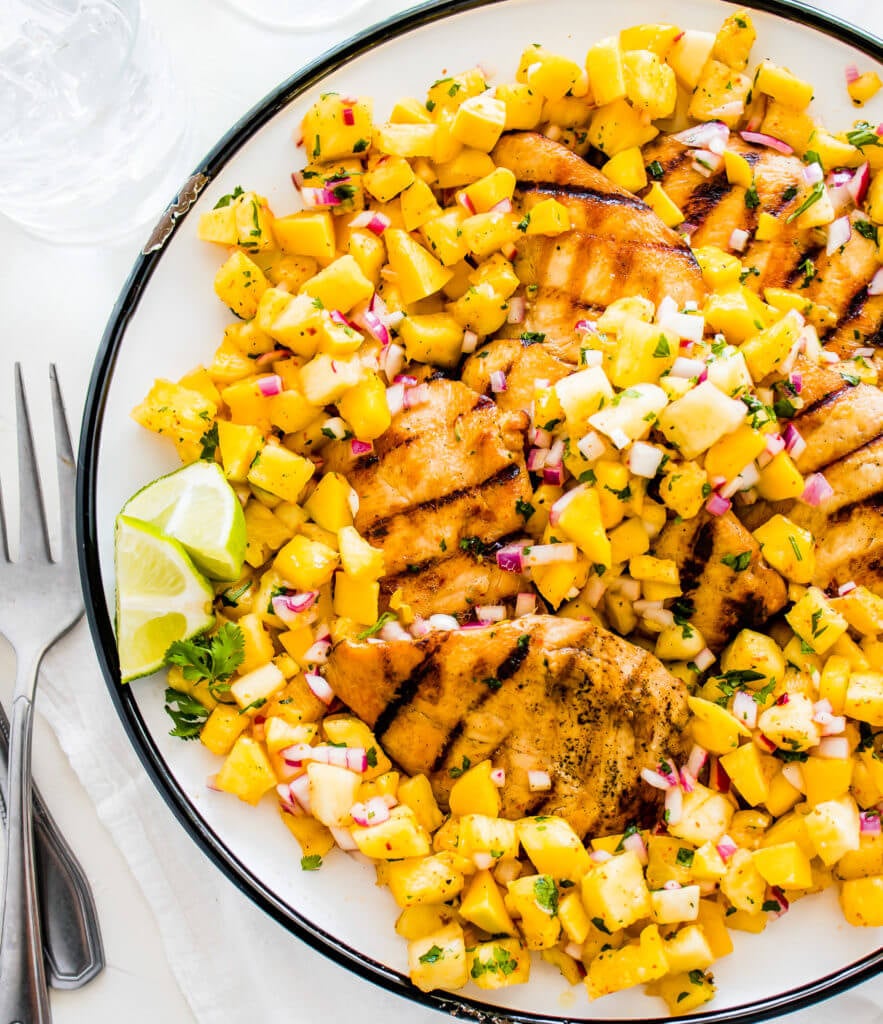 This recipe is both savory and sweet and serves as the perfect light summertime lunch or dinner. Not only does this salsa pair nicely with chicken, but it is also great with pork chops, steaks and even plantain or tortilla chips.
In addition, I have been know to grab a spoon and sit down and eat it like a meal….It's that addicting and yummy. But the possibilities really are endless with this salsa. Pop it on protein, top it on salads, or eat it with a spoon, you can't go wrong.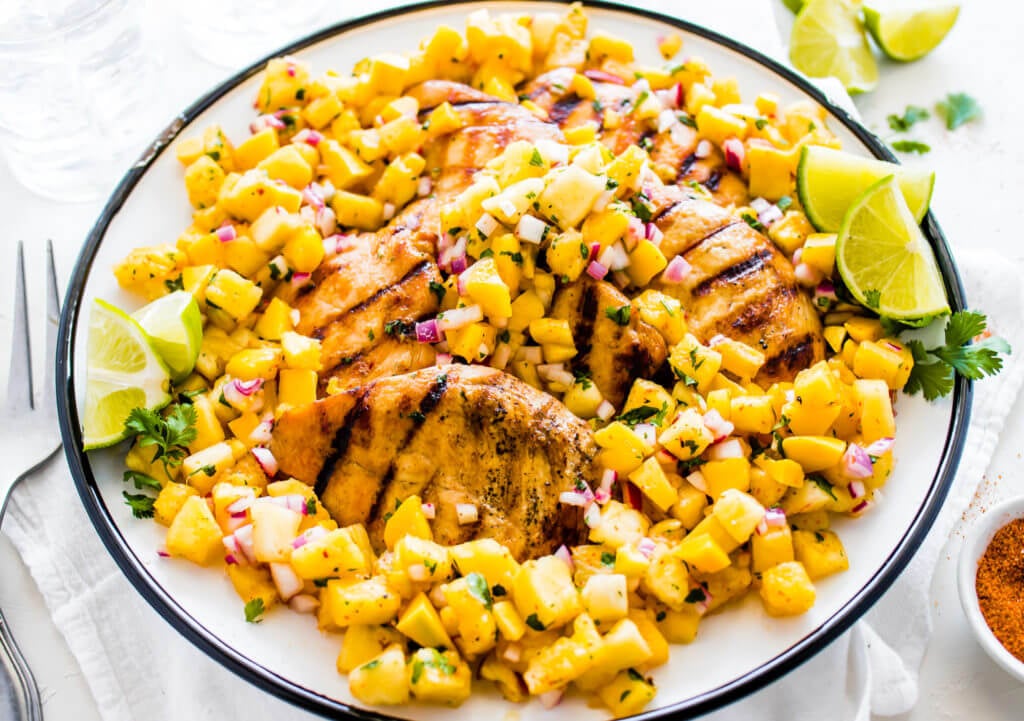 Like I mentioned earlier, plain chicken can get really boring and can lack flavor. I like to shake things up by marinating my chicken in different marinades overnight that infuses the meat with a ton of great flavor. Not only does the marinade add flavor, but it also allows the chicken to be super tender and juicy after cooking.
The marinade I used for Grilled Lime Chicken Breasts with Mango Pineapple Salsa is super simple, yet powerful in flavor. I combined olive oil, a whole lime, juiced, Tajin seasoning and a couple of garlic cloves.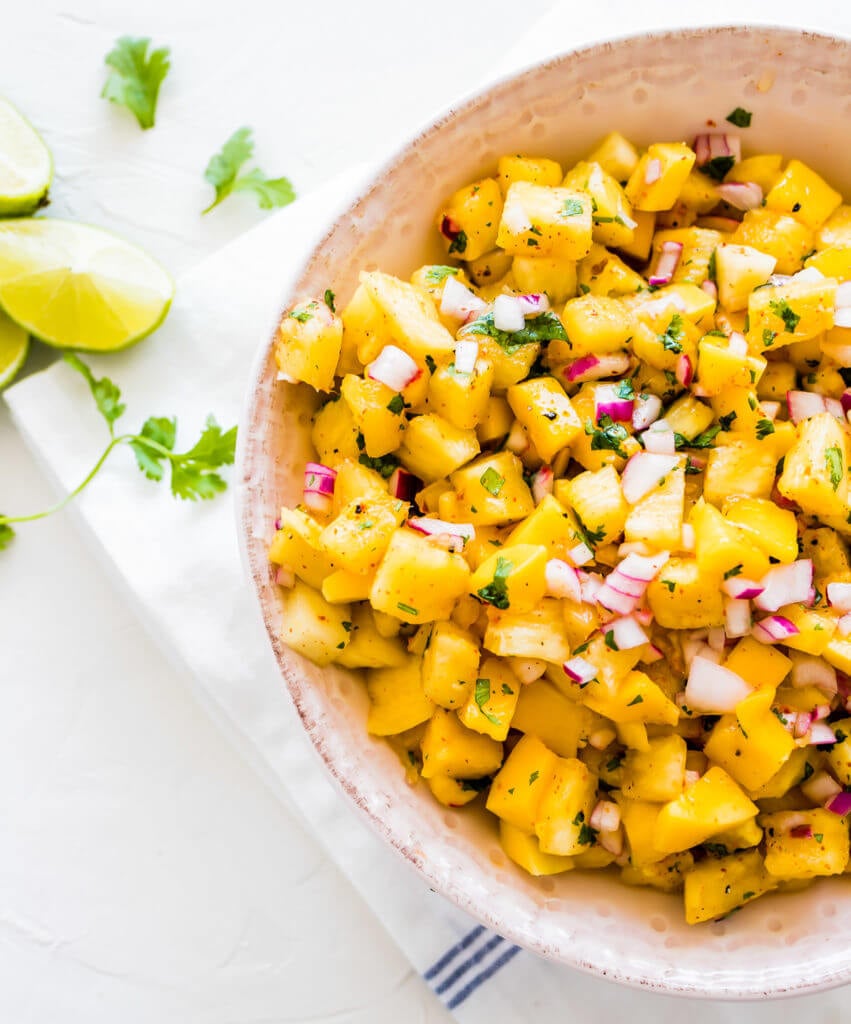 How long will the Grilled Lime Chicken Breasts with Mango Pineapple Salsa last in the fridge?
Storing the salsa and chicken separately will allow this recipe to be enjoyed longer. For the salsa, I would say store no longer than 4 days and no longer than 7 days for the chicken. This recipe would actually serve as a yummy grab and go lunch to enjoy throughout the week.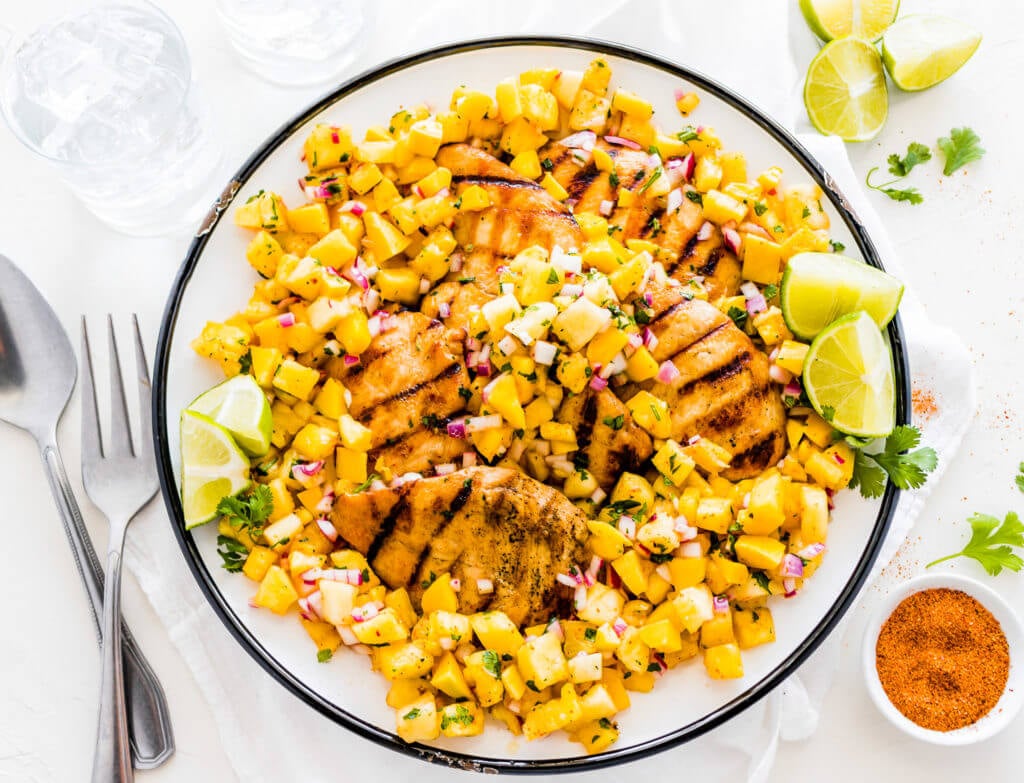 Is it necessary to marinate the chicken overnight?
This is where all the flavor comes from. Giving the meat time to soak up flavorful liquid allows it to be more tender and juicy once cooked.
In my opinion through experience, using a marinade can add a lot of flavor to any protein, especially chicken. In this case I'm using the marinade mainly for flavor. I'd recommend marinating the chicken for 6 to 12 hours or overnight for optimal flavor and taste.


Which one of your Majestic Sauces would pair great with this dish?
I love all my sauces, but my Chili Lime Sauce would pair amazing with this dish. Click on the photo below to grab that recipe to kick this meal up a notch.
Shop my post:
Be sure to click on the photo below to save to your Pinterest Board
If you love this recipe, be sure to check out more of my favorites below:
Tags : Grilled Lime Chicken, Grilled Lime Chicken Breasts with Mango Pineapple Salsa, Mango Pineapple Salsa