25 Clean Keto Crockpot Recipes (Slow Cooker)
Published Sep 30, 2021 Updated Mar 22, 2023
This post may contain affiliate links. Please read our disclosure policy.
If you're looking for easy, healthy, low-carb, and keto-friendly recipes you can cook in your slow cooker or crock pot, this list has you covered! This list of easy keto crockpot recipes is complete with soups, stews, roasts, wraps, entrees, sides, and more! There's truly something for everyone!
Why A Slow Cooker (Crock Pot)?
There is nothing better than coming home after a long day of work and smelling your delicious crockpot or slow cooker working hard for you while you were away. With your slow cooker, eating the keto diet has never been easier!
The best thing about slow cooker/crockpot recipes is being able to prep your ingredients, throw them all together in the crockpot, set it to low, and wait! No standing over a hot stove or pre-heating the oven, and there's minimal cleanup, too!
I've compiled 25 Clean Keto & Low Carb Crock Pot Recipes that are low-carb, gluten-free, dairy-free, and absolutely delicious. Perfect for a busy weeknight or a large gathering, let your slow cooker do all the work!
This list of keto crockpot recipes includes soups, stews, roasts, wraps, shredded chicken, Italian sausage, ground beef, pork, entrees, side dishes, and more! These keto meals include all your favorite low-carb comfort foods, slow-cooked, flavorful, and delicious! Use them to meal prep for the week, and enjoy! 
What is "Clean" Keto?
Eating keto/low carb is a lifestyle choice that works so well for so many. People boast of newfound energy, better sleep, weight loss, and better overall health. A ton of low-carb keto recipes are considered "Dirty," meaning they might be low in carbs, but they're full of processed ingredients and aren't necessarily "healthy."
Clean Keto takes this lifestyle a step further, and while it maintains the low-carb aspect, it also encourages real, whole foods that are free of dairy, gluten, and added sugar.
So get your slow cooker ready, these keto slow cooker recipes will keep you fit, full, and healthy!
How to Make Recipes "Clean"
Dairy-Free: If you find a keto recipe that you really love, substituting non-dairy products can be super easy! If a recipe calls for cream cheese, use non-dairy cream cheese by Kite Hill, Trader Joe's, or your favorite brand. You can also find replacements for butter, cheese, milk, cream, and more. Check your local grocer for non-dairy replacements.
Gluten-Free: Since Keto mostly stays away from products containing wheat, this should be easy to skip. However, if you do come across gluten in an item, swap it for a similar gluten-free product.
Sugar-Free: An easy way to replace sugar in a recipe is to use Monkfruit sweetener. This is a 1:1 sugar replacement and has 0 calories and 0 carbs!
Equipment: I use an 8qt slow cooker/crock pot because I like to make bigger portions for meal prep and to feed my whole family. You can use any size you have. If you have an instant pot, there's also a slow cooker function on that!
25 Clean Keto Crockpot Recipes!
If you try any of these keto crockpot recipes or find one you would like to share, please rate and leave a comment below!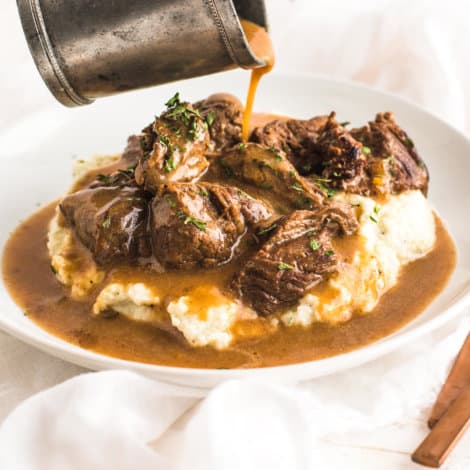 Follow on Instagram
Don't forget to turn on notifications.
Follow Me