Top Whole30 Essentials List (Daily Must Have Items)
This post may contain affiliate links. Please read our disclosure policy.
WATCH MY FULL YOUTUBE VIDEO: Top Whole30 Essentials List
After completing 18 rounds of Whole30, I'm here to bring you my Top Whole30 Essentials List. The items below will make your Whole30 easier and more enjoyable.
In addition to this blog post, I've created a YouTube video that goes more into depth about each item and how to use them correctly. Be sure to click on the video below to give it a watch. Through years of experience and success on the program, I'm here to guide and support you. I not only lost 80 pounds with the program, but I now have a positive relationship with food.
1. My Cookbook: Clean Paleo Family Cookbook

My cookbook, Clean Paleo Family Cookbook includes 100 healthy Paleo-inspired recipes that your whole family will love. Most all the recipes in this cookbook are Whole30 compliant. If it is labeled "Clean Paleo," that means it is compliant. There are some of my recipes, including the dessert section that is not included in the program. Be sure to read what each recipe is labeled.
2. Coconut Aminos

Coconut aminos are a soy-free alternative to soy sauce, tamari, and Worcestershire. Made from aged coconut sap, they're great for sauces, dressings, marinades, and anything else you can think of. You can find this at most all health food stores and Amazon.
3. Tapioca Flour, Arrowroot Flour & Xanthan Gum

All 3 of these can be used as a thickening agent. Instead of using cornstarch, these are all great alternatives. My favorite is Xanthan Gum because a little goes a long way and it has less carbs than Tapioca or Arrowroot. You can also find these at all health food stores along with Amazon.
4. LIGHT Olive Oil & Avocado Oil

These two oils will save you during your Whole30. LIGHT Olive is the main ingredients in most all cream base sauces and homemade mayo. Regular olive oil WILL NOT work for a homemade mayo. It must say LIGHT or EXTRA LIGHT.
You can also use Avocado Oil for mayo along with searing meat at a high temperature. Avocado Oil has a high smoke point and it won't burn your meat or smoke up your house like other oils will.
TIP: Buy your LIGHT Olive Oil at Sam's Club or Costco in bulk. I buy the big container and it's not only cheaper, but it lasts forever! If you are making your own sauces during your Whole30, which is what I recommend, then you will need a lot of Light Olive Oil.
5. Almond Flour

Almond Flour is great to keep on hand to use as a sub for bread crumbs. I will toss it with chicken and shrimp to give it a nice crunchy coating and also use as a great topping on my favorite casseroles. Be sure to click on my favorite Whole30 recipes below that use Almond Flour.
6. Ghee or Clarified Butter

In most ALL Paleo and Whole30 recipes, it will require ghee. Ghee and Clarified Butter are pure butterfat, but ghee is cooked slightly longer than clarified butter and has a nuttier taste. Both can be used in place of butter and are dairy free. Ghee is available to purchase at Walmart, Aldi, Trader Joes, most all Health Food Stores, and Amazon.
7. Natural Heaven Hearts of Palm "Pasta"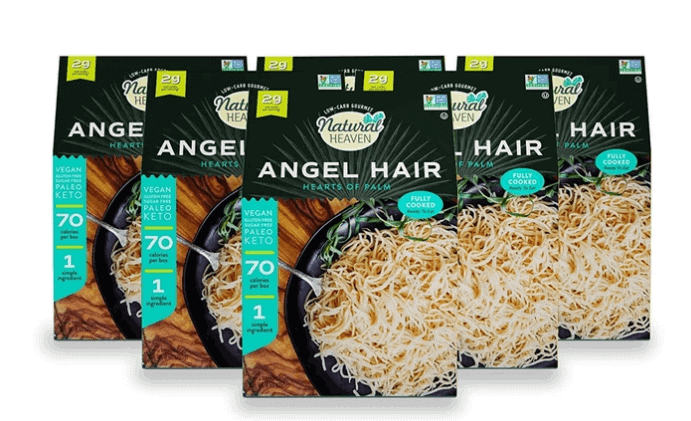 I'm super excited I found Hearts of Palm Noodles. They are literally life changing and tastes so much like real noodles and they are Whole30 compliant. They aren't mushy and really hold their shape well. In my opinion, they are the closest thing to noodles out there. I buy fromNatural Heaven and absolutely love their product and mission. They carry Angel Hair, Lasagna and Spaghetti.
ONLY 70 CALORIES PER BOX and 11g of carbs per box, No Sugar.
ALL NATURAL, the hearts of palm noodles have only ONE ingredient, Hearts of palm shredded in shape of pasta that guarantees a texture similar to regular al dente pasta
BETTER THAN REGULAR PASTA, comparing to the other pasta Angel Hair hearts of palm pasta is 93% fewer caloric than regular pasta
Use code "healthylittlepeach" to get 10% off your purchase over at Natural Heaven.
8. Topo Chico, LaCroix or Bubly Sparkling Water

Topo Chico LaCroix, and Bubly are great alternatives to sodas. If you are tired of drinking just regular water, gives these a try. I love pouring a Lime Topo Chico over crushed ice with 2 lime slices and the rim of the glass coated in Tajin Seasoning. It serves as a great mocktail.
9. Chicken, Beef and Vegetable Broth
Chicken, beef and vegetable broths are a must have pantry item to keep on hand. Be sure to always check the ingredients because some will sneak in sugars. You can find Whole30 complaints brands at Walmart, Target, Aldi and most all health food stores.
10. Bone Broth

Bone broths are hearty enough to be sipped straight from a mug, but they also make great bases for soups or stew. You can buy them in a powder form and make mix your own or you can buy it already mixed. I drink bone broth daily and it has helped so much with my arthritis along with my skin, hair and nails.
11. Franks Hot Sauce
Franks Hot Sauce is life at my house and I'm so happy that it is Whole30 compliant. I add it to eggs, protein, salads and veggies. The possibilities are endless. In addition to having it in my pantry, I keep a mini bottle in my purse. There are other hot sauce brands that are also compliant. Just be sure to read the instructions.
12. Nutpods

Nutpods are literally life saving during a round of Whole30. I use the flavored ones in my coffee and tea. I will froth it in my milk frother and it comes out thick and creamy every single time. The original unflavored comes in handy with soups and casseroles. These really are a MUST HAVE!
13. Milk Frother

If you are wanting a coffee house experience at home, then a Milk Frother is a MUST BUY! I will add in unsweetened coconut milk or Nutpods and it will froth it cold or hot. It adds the perfect touch to any cup of coffee or tea. It will really make your next round of Whole30 so much easier.
14. Canned Unsweetened Coconut Milk

Canned unsweetened coconut milk is a substitute for heavy whipping cream. It is in a lot of soup and casserole recipes and adds a nice creamy texture. Don't worry if you aren't a coconut fan. It is really mild coconut flavor and doesn't overpower a dish. Always buy the full fat and steer clear of the "lite
15. Canned Tuna
This is a great cheap protein option to keep on hand. I love mixing it with my 60 Second Mayo and wrapping it in lettuce.
Safe Catch Tuna
Trader Joe's Albacore Tuna in Water
Wild Planet Wild Albacore
There are a lot of other brands compliant too. I even found that the great value brand is compliant at my Walmart. Always make sure to read the ingredients for sneaky sugar and soy.
16. Unsweetened Tea/Tazo Passion Tea
I always keep a big gallon of unsweetened tea and Tazo Passion Unsweetened Tea in my fridge during my Whole30 rounds. They are so flavorful and gives you a needed break from water. I will also add the Tazo tea over ice with some Nutpods. It's so delicious. You can find both of these items at any grocery store.
17. Wide Mouth Jars

Having wide mouth jars on hand is super important during a round of Whole30. I always make my own sauces using a wide mouth mason jar and an immersion blender. This method is simple and easy and doesn't mess up multiple dishes. You can make the sauces right in the jar, add a lid and you're done. The wide mouth is important so that the immersion blender fits in the jar.
18. Immersion Blender

An immersion blender is one of my all time favorite kitchen gadgets. I use mine to make sauces, soups and drinks. The possibilities are endless and it's a must have while doing a Whole30.
19. Chomps Beef Steak

Chomps Beef Sticks are great to keep on hand for an easy grab and go snack. You can also pair it with a veggie and a cup of bone broth for a complete meal. My kids even love taking these in their lunch boxes.
20. Rx or Lara Bars

Rx Bars and Lara Bars are great to have on hand for emergency situations. I never recommend eating these on a daily basis because they can take the place of a candy bar or a sweet tooth craving. Use with caution and only in emergency situations. Also, be sure to read the ingredients to make sure they are compliant.
21. Almond Butter

Almond butter is great to have in a jar or in travel packs. You can eat it with fruits or veggies as a great snack on the go.
I hope my Top Whole30 Essentials List will be helpful during your planning process. I highly recommend planning at least a couple week ahead just so you are succesful. If you are in need of Whole30 Meal Plans, be sure to click below.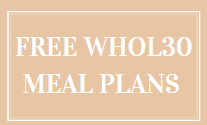 SHOP MY AMAZON STORE WITH ALL OF THESE LINKS



CHECK OUT MY FAVORITE WHOLE30 RECIPES ON MY BLOG:
PIN MY TOP WHOLE30 ESSENTIALS LIST TO PINTEREST