The BEST Sugar Cookies | with Royal Icing
Published Dec 18, 2021 Updated Dec 18, 2022
This post may contain affiliate links. Please read our disclosure policy.
The Perfect Sugar Cookie
Regardless of the season, baking and decorating sugar cookies is an unforgettable pastime. Bringing families together for decades, the perfect sugar cookie is a reason itself to celebrate! I have labored over this recipe, testing and re-testing to make sure that the fond memories I hope you create are enjoyed with delicious, scrumptious cookies, and decorated to the nines with my famous royal icing.
My family has been enjoying these recipes for years, and I am so thrilled to share them with all of you! Decorating cookies with royal icing is just so fun and creative, and perfect for big kids, little kids, and adults too! Now pick up your favorite holiday cookie cutters, and get your camera ready- it's time for cookie making!
How to Make Sugar Cookies with Royal Icing
The best sugar cookies don't actually have a ton of ingredients. In fact, while the ingredients matter a ton, it's the process that really counts this time. These sugar cookies are easy to make with a few pro tips to help you out! I have thought of every last detail to help you re-create this recipe like a pro in your kitchen! I can't wait to see your sugar cookies with royal icing decorations in such cute holiday cookie cutter shapes! Make sure you tag me on Instagram or comment below so I can see your works of art!
My recipe for royal icing is in the printable recipe below, but for more tips & tricks, and an awesome how-to video, click here for the full royal icing recipe!
What You'll Need
Sugar Cookies
All-Purpose Flour: Measure the flour exactly. Do not pack the flour into the measuring cups. Instead, spoon the flour into the cup for more accurate measuring. When you pack it in you can get a ton of extra flour that will dry out the cookies.
Salted Butter: Use real butter, as this recipe will not work with margarine. Make sure the butter is softened to room temperature. The butter should sit out at room temp for 45 minutes to an hour before you're ready to use it. Give it the fingertip test, by pressing down on the butter. If it leaves an indention, you are good to go. If the butter comes off onto your fingers, that means it's too soft. Don't soften your butter in the microwave as this can ruin the dough.
Egg: Let your egg come to room temperature before using it in the recipe. This will ensure that the ingredients combine easily in the dough.
Granulated Sugar
Baking Powder
Royal Icing
Meringue Powder
Warm Water
Powdered Sugar
Corn Syrup (Optional)
Note: Icing your cookies is totally optional, but if you want to see the super helpful how-to video for this icing recipe to decorate your sugar cookies and so many other treats, click here for my famous Royal Icing!
Easy Sugar Cookies Step-by-Step Guide
As always, more detailed instructions are in the printable recipe below, but here's a quick overview of the steps to make these sugar cookies!
Make the Dough | Remember, it's super important to make sure your butter and egg are at room temperature for this step! Also, be careful not to over-measure any flour as this will dry out your cookies.
Roll out your dough | Knead the dough together, and use a little extra flour here if it's too sticky. Cut the dough in half and place each one on top of a large sheet of parchment paper. Additionally, place a piece of plastic wrap over the top and begin to roll out using a rolling pin. This method will help prevent it from sticking. Remember, the more the dough is rolled, the more it will warm and become soft. Feel free to throw it in the fridge if it's too soft.
Chill your dough | After you've rolled out your dough, chill it in the refrigerator for 20 minutes.
Cut out shapes | Remove from the fridge or freezer and cut desired shapes using a cookie cutter of choice.
Bake your dough | Place all of your beautiful shapes about 1 inch apart on a lined baking sheet and bake for 7-9 minutes! Let cool completely.
Decorate | Get your family together and decorate your sugar cookies with my Royal Icing recipe!
Tips for the Perfect Sugar Cookies
Don't overmix the dough. As soon as it begins to clump together into a dough, it is ready.
Don't over knead the dough. This will make the cookies spread and not hold their shape. If you over-knead you will melt the butter and the dough will become too soft when baking.
Use parchment paper under the dough when rolling out. This will help with sticking. Additionally, add a piece of plastic wrap over the top of the dough to ensure no sticking to the rolling pin.
Re-roll the dough only once. As you roll it will begin to warm up and become too soft to work with.
Roll the dough evenly so you get the same size cookies throughout.
Chill the dough for 20 minutes in the fridge or 10 minutes in the freezer before cutting.
Shaping the Dough with Cookie Cutters
Dip the cookie cutters into flour so they won't stick and make a mess if you choose not to chill the dough before cutting.
Baking the Cookies
Don't Overbake. I always pull my cookies out of the oven at around 7 minutes. I watch the edges and take them out before they start turning golden-brown because I like my cookies to be a little softer and cake-like.
Step-by-Step Royal Icing with Meringue Powder
In just a few steps, you will have the most delicious Royal icing for sugar cookies, cakes, muffins, decorations, etc!
*Please note that these pictures below show a basic overview. For more detailed, printable instructions, scroll down to the recipe card below or click here for my royal icing how-to video!
Royal Icing vs. Other Icing Recipes for Sugar Cookies
It's all about the drips! Other icing recipes for sugar cookies are often made thinner and softer than royal icing and don't set as hard, or take at least 24 hours to set, sometimes leaving you with drippy, messy frosting.
While royal icing does take a bit more patience, it holds up much better, and dries in just 1-2 hours! Ingredients like meringue powder help the royal icing harden to make your beautiful decorating stay put, which helps with the mess!
Because it hardens on the cookie, Royal icing is much easier to travel with too. So keep a small batch of sugar cookies for yourself, and put together a few tins for your neighbors and friends, without worrying about any mess or drips!
I have the most amazing royal icing recipe to decorate these cookies. It's a keeper, and will totally come in handy for other baking recipes too!
Common Reader Questions
How long do sugar cookies last?
Sugar cookies will last up to two weeks if stored in an airtight container on the kitchen counter or pantry. You can also freeze in an airtight container for 6 months.
Can you freeze decorated cookies?
Yes, you can freeze sugar cookies decorated with royal icing. Simply place parchment paper between each layer of cookies in an airtight container or freezer-safe ziplock bag. Thaw on the counter on top of parchment paper until room temperature.
How long does cookie dough last in the fridge and freezer? How do you know if it's bad?
Cookie dough will last up to 3-5 days in the fridge before cooking. You can wrap the dough in plastic wrap and freeze it for 5-6 months. Be sure to write the date on the wrap. You will know cookie dough has gone bad by observing the edges. If they are darker than the interior, it's gone bad. It may also have a bad smell.
How to keep sharp edges with no spreading?
Make sure to incorporate the butter at room temperature and have accurate measurements for the other ingredients. Also, cooking the cookies at a higher temp such as 375F will allow them to set quicker. Also, no opening the oven and peeking. When you open the oven door, it will lose heat and affect the shape of the cookies.
How thick should the rolled dough be?
Most people say 1/4-3/8 of an inch. I like my cookies a little thicker so I usually go with 1/2 inch or 3/4. I find that they have a more u0022cake-like consistencyu0022 when thicker.
Can I change the flavor with different extracts?
Yes, you can use almond extract, lemon extract, or any of the flavors you would like. I would suggest less is more in this case as you don't want the extract to overpower your batter!
The dough is sticky and/or crumbly. What can I do?
If the cookie dough becomes sticky or crumbly when mixing, there is an easy fix. Simply add in a little cornstarch. Start slowly by adding a teaspoon at a time and then combining. You only want to add this in if the dough is a little sticky, not a hot mess sticky.
Can I use flour on the surface when rolling out the dough?
I recommned using powdered sugar on the surface when rolling dough. If you add a lot of flour it will change the ratio for the dough and the cookies will spread?
Do you have a rolling tip so the dough doesn't stick to the rolling pin?
Yes! On top of a large sheet of parchment paper, add the dough. Additionally, place a piece of plastic wrap over the top of the dough and begin to roll out using a rolling pin. This will ensure there is no sticking to the rolling pin.
Related Recipes
Royal Icing for Sugar Cookies (& More!)
Shop My Post

Print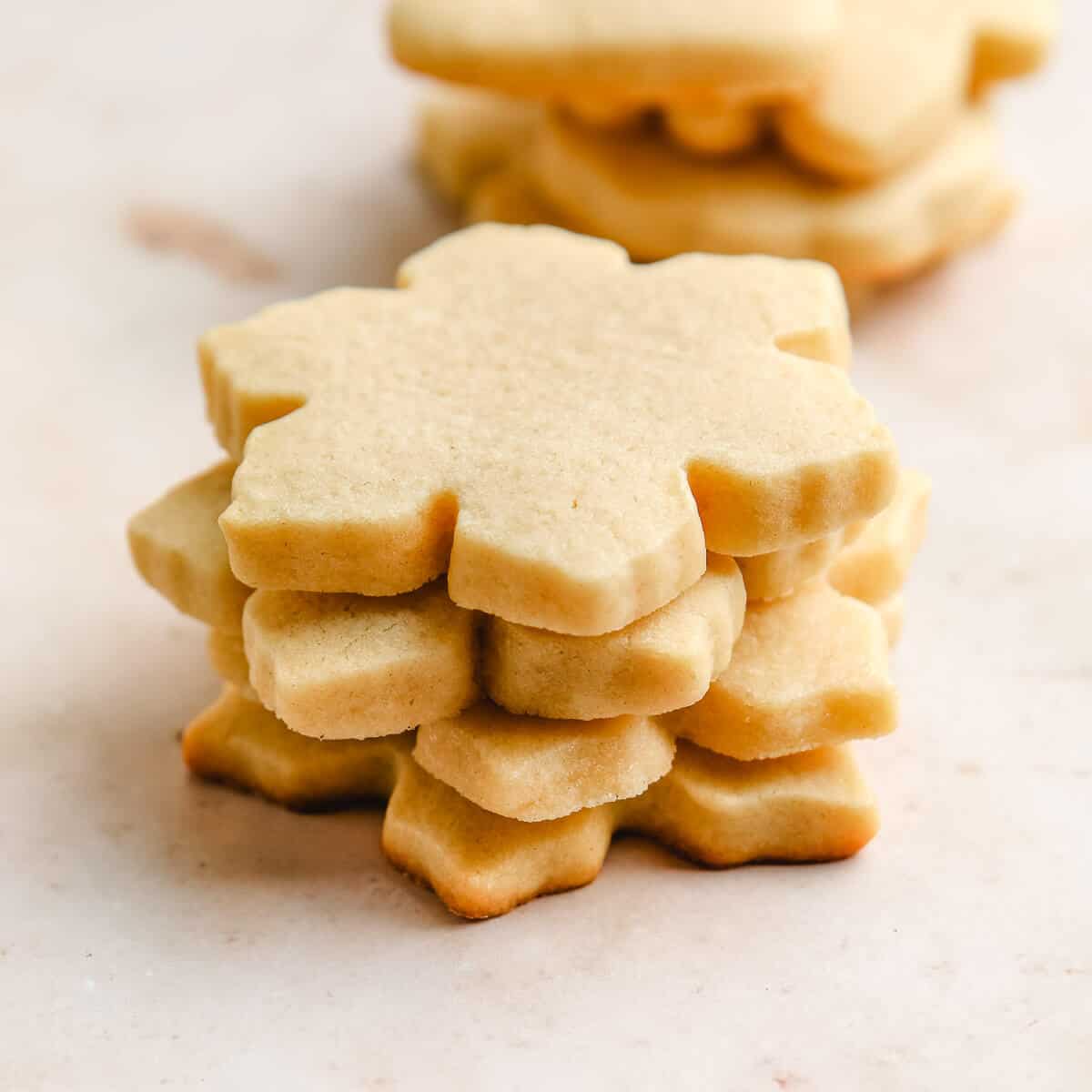 Sugar Cookies with Royal Icing
These classic sugar cookies with royal icing are perfect for decorating any time of year! Complete with foolproof tips, this recipe truly is the BEST!
Total Time:

16 minute

Yield:

26 1/4

inch Cookies

1

x
Sugar Cookies
3 cups

all-purpose flour, 385 grams 

1 1/4 cups

granulated sugar, 250 grams

2 1/2

sticks salted butter*, room temperature

2 teaspoons

vanilla extract

2

large eggs*

1 teaspoon

baking powder (for flatter cookies, only use

1/2 teaspoon

) 
Royal Icing
1/4 cup

meringue powder*

1/2 cup

warm water

4 cups

powdered sugar

1 teaspoon

vanilla extract

1 tablespoon

corn syrup* (Optional)
Instructions
Sugar Cookies
Preheat oven to 375F. Sift together the flour and baking powder in a large bowl. Make sure you don't pack the flour when measuring. This will result in a cookie that spreads. Set aside.
Place the room temperature butter and sugar in a large bowl and beat with standing or handheld mixing until light in color, around 3-4 minutes (This is such an important step, however, make sure not to overbeat because it will warm the butter and make it too soft. It needs to still be cold but light and fluffy after beating together).
Add the eggs and vanilla extract and beat to combine. Turn the mixer to low speed and gradually add the flour mixture in, and beat until the mixture pulls away from the side of the bowl and turns into a dough.
Knead the dough together, use a little extra flour here if it's too sticky. Cut the dough in half and place each one on top of a large sheet of parchment paper. Additionally, place a piece of plastic wrap over the top and begin to roll out using a rolling pin. This method will help prevent it from sticking. Remember, the more the dough is rolled, the more it will warm and become soft. (If you don't want to use this method, simply sprinkle the surface area you will be working on with powdered sugar and roll out the dough). Use powdered sugar instead of flour to prevent the cookies from spreading in the oven.
Add the dough to the fridge for 30 minutes to chill. I transfer the rolled dough and parchment paper to a baking sheet and chill this way. It makes cutting so easy after they are chilled. 
Remove from the fridge and cut desired shapes using a cookie cutter of choice.
Place each cookie at least 1-inch apart on a greased baking sheet, parchment, or silicone baking mat, and bake for 7 to 9 minutes ( I always remove at 7 minutes for a softer cookie) or until cookies are just beginning to turn brown around the edges.
Let sit on baking sheet for 1 minute after removal from oven and then move to complete cooling on wire rack. Serve as is or ice as desired. Store in an airtight container for up to 1 week.
In the bowl of a stand mixer (using the whisk attachment) or large mixing bowl, beat together the meringue powder and warm water on medium-low speed until frothy, about 1 minute. 
with the mixer on low speed, slowly add in confectioners' sugar, corn syrup, and vanilla.
Once fully incorporated, increase speed to medium speed and whip using the whisk until a glue-like consistency forms. Whip on medium-high speed for an additional 1 to 2 minutes to make stiff peaks for a thicker icing.
At this point, this is the base icing and will be stiff. If the icing is too stiff, add more water, I recommend starting with 1 teaspoon at a time until desired consistency is reached. I also love using a spray bottle to thin the icing down.  If the icing is too thin, add powdered sugar, just a little at a time, until desired consistency has been reached.
Once desired consistencies are reached, add the white icing to a piping bag or place it in bowls and color using gel food coloring. 
Consistency Types
Stiff Consistency: This type of consistency is comparable to buttercream icing. It is used for leaves, detail designs, flowers, and much more. This consistency will hold its shape. 
Piping Consistency: This type of consistency is comparable to toothpaste. It is used for outlining and lettering. This icing count is 25 seconds. 
Flood Consistency: This type of consistency is comparable to honey or shampoo. It is used for filling large areas. This icing count is 8-10 seconds.
Click here for a more detailed Royal Icing blog post 
Equipment
Notes
For a flatter cookie: only use 1/2 teaspoon of baking powder. I always like mine to have a little puff to them so I add 1 1/2 teaspoons of baking powder.
Butter: I use salted butter. However, if you are not a fan you can use unsalted butter and add 1/4 tsp salt to the ingredient list. 
Don't Pack Flour: When measuring, make sure you are not packing the flour. Spoon the flour into a measuring cup and use the back of a knife to scrape the flour level. 
Powder Sugar: Use powdered sugar instead of flour on a surface when rolling to prevent the cookies from spreading in the oven
Author:

Ashley McCrary

Prep Time:

15

Cook Time:

7-9

Category:

Dessert

Method:

Oven

Cuisine:

American
Keywords: sugar cookies, sugar cookies with royal icing