Buttercream Frosting
Published Apr 14, 2022 Updated Jul 11, 2023
This post may contain affiliate links. Please read our disclosure policy.
What Is Buttercream?
Buttercream is a butter-based frosting used as a coating on top of cakes and cupcakes. This type of frosting is made from butter, confectioners sugar, heavy cream, and vanilla. This is also known as the "classic style" of buttercream. There are also other versions such as the Swiss and Italian buttercreams that are meringue-based.
Piping Buttercream Icing
Piping buttercream icing can be a little tricky, but you really don't have to have fancy piping bags and tips to make it work. My best tip is to use the Wilton tips 4B, 2D, or 1M. These are all really simple and will give you a beautiful swirl every single time. Be sure to practice. If you are frustrated with piping cupcakes, take a step back, watch a few youtube videos, and practice. That is the only way I learned myself.
Freezing Buttercream Frosting
Yes! I recommend storing your leftover white buttercream icing in a piping bag/Ziploc bag inside of an airtight, freezer-safe container. Defrost overnight in the refrigerator and let it come to room temperature outside of the fridge for a couple of hours. Pipe at room temperature and enjoy!
Whipping "Creamy" Buttercream
The biggest complaint I have heard from people trying to make a successful buttercream is their cream turns out too thick and grainy. The reason this happens is that you are not whipping the butter and confectioners sugar long enough.
Must-Have Tools
Stand Mixer
Hand-Held Mixer
Piping Bags
Piping Tips
Spatula
FAQs
How can I fix grainy buttercream?
There are three main remedies for this. The first is to slowly add some liquid to the buttercream. Be careful and add the liquid very slowly or the frosting will no longer hold its shape. Another option is to let the buttercream rest for a few hours or overnight if you have time. This will allow time for the remaining sugar to soften. The last option would be to add melted chocolate to the buttercream. This will mask the texture.  
How to thin it out?
 You may add 1 teaspoon of milk, cream or water at a time until you reach the desired consistency.  If it's too thin, try adding 1/4 cup of powdered sugar at a time.
Will this icing melt at room temperature?
Buttercream icing made with butter will not melt at room temperature.  It can sit out for up to two days.  I would recommend covering it to avoid the buttercream from crusting.
Do you use salted or unsalted butter?
It really comes down to personal preference. I love using salted buttercream and not adding any additional salt. If you don't do well with salt, I would recommend using unsalted and adding a tiny pinch of salt into the buttercream.
How to get it super creamy?
One tip is to make sure you sit your butter out ahead of time so that it may soften. You want the butter to be soft but not melting. It should still be cool to the touch. Also, if too thick or grainy, try adding 1 teaspoon of liquid to the buttercream at a time to thin it out.  If too thin, try adding 1/4 cup of powdered sugar at a time
Want More Dessert Recipes?
Gluten-Free Red Velvet Cupcakes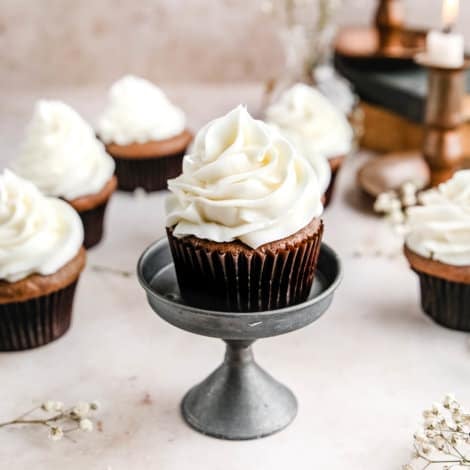 Buttercream Frosting
The best homemade classic buttercream frosting, perfect on cookies, cupcakes, or cakes. 
Ingredients
1

cup

salted butter

2 sticks

1/3

cup

vegetable shortening

4 1/2-5

cups

confectioners sugar

sifted

2

teaspoons

clear vanilla extract

2-3

tablespoons

heavy cream or whole milk*
Instructions
In a stand mixer, add the butter and the vegetable shortening. Beat together on medium speed until combined and fluffy. Around 5 minutes

Slowly add the vanilla extract along with the powdered sugar on low speed. Beat together until fully combined. 

Beat together for 4-5 minutes or until fluffy and creamy. If the buttercream is too thick add a teaspoon or 2  of milk. Add until you have reached your desired consistency. 
Notes
Make sure the cream or milk being used is at room temperature. If added super cold it could separate the icing and make it grainy.
The key to getting a creamy buttercream frosting is whipping it long enough. If you don't whip it correctly it will turn out lumpy and thick. 
Nutrition information is automatically calculated, so should only be used as an approximation.