Vegan Vanilla Cake with Buttercream (St. Patricks Day)
Published Mar 17, 2020 Updated Jul 11, 2023
This post may contain affiliate links. Please read our disclosure policy.
This Vegan Vanilla Cake with Vegan Buttercream Frosting is perfect for St. Patricks Day. It will literally blow your mind. You may be thinking Vegan? How can it taste good without eggs, dairy butter and dairy milk? Well I am here to share a recipe that is sure to change your mind.
This Vegan Vanilla Cake was brought to you by Upfield, a global plant-based nutrition company. You may know them from their iconic global brands like Becel, Flora, Country Crock, Blue Band, I Can't Believe It's Not Butter, Rama and ProActiv. Upfield's goal is to make it easier for consumers to make good dietary choices by giving them delicious and better-for-you plant-based options. 
I am aware that a lot of you are vegan or vegetarian and have begged me for a yummy recipe so I am here to deliver on my promise. My goal was to create a Vegan Vanilla Cake that didn't lack in flavor and tasted like the real thing. Just because something is vegan doesn't mean it has to be tasteless. After I made this cake, I let my husband take a bite and he thought it was the real deal. It blew his mind when I told him it was vegan and had no eggs or dairy. 
Even if you aren't vegan and want a lower saturated fat butter, milk or cheese, simply switch out for a vegan option. For example, plant based margarine can be substituted dairy butter in your favorite recipes. It is great for spreading on toast, grilling veggies, baking up sweet treats, or cooking delicious savory dishes.
 When I tasted the plant based margarine while creating this cake,  I was shocked. I actually liked it better than dairy butter. It was seriously so good and I would be willing to make the swap in my everyday cooking.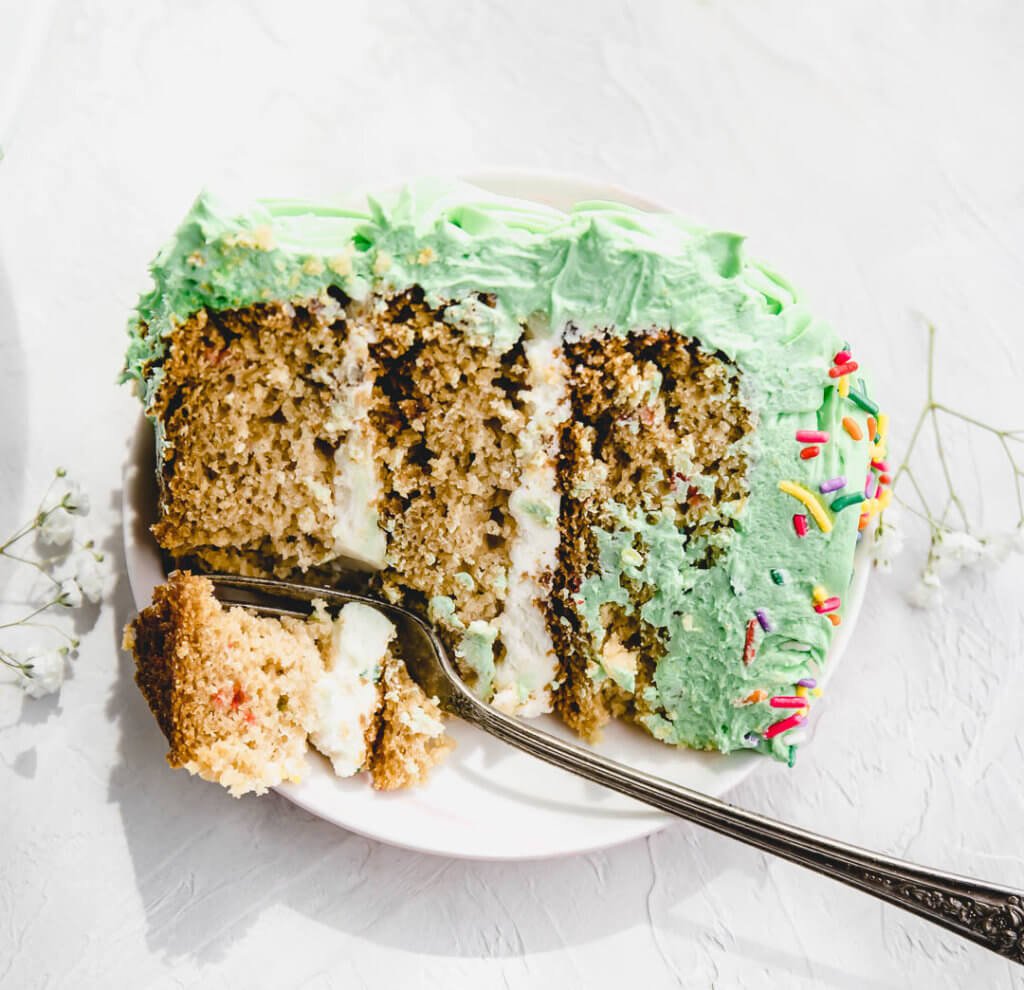 For this cake:
For this specific cake, I used no eggs and dairy-free margarine. Not to worry, I found awesome swaps for these items that either added flavor or didn't change the texture or flavor of the cake. To bring moisture to the cake I added some apple sauce and for the milk I swapped for almond milk. So easy and it tasted great. Additionally, for the buttercream icing, I used plant based margarine and an All Vegetable Shortening. Y'all.. I couldn't believe it tasted like my REAL buttercream frosting that uses dairy butter. So cool!
As most of you know, consuming a lot of dairy really affects me due to my PCOS, Polycystic Ovarian Syndrome, which is a hormone disordered and imbalance. When researching, I found that 65% of the population has a reduced ability to digest lactose after infancy. That is an extremely high number. Upfield's mission is supporting the increased need for dairy alternatives that don't lack in flavor.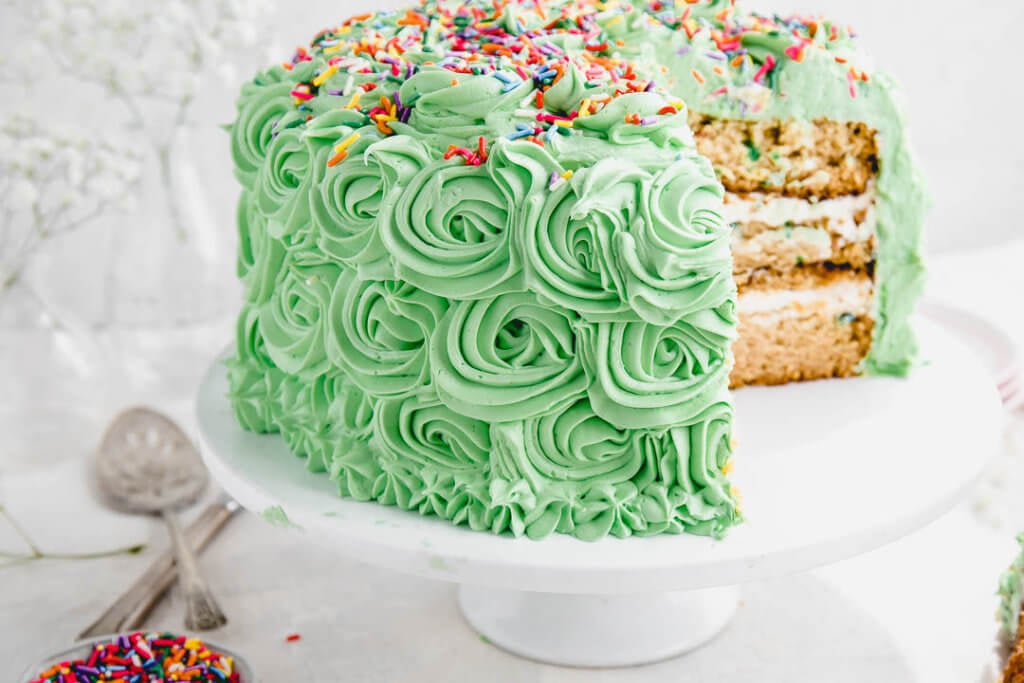 Tips for making the perfect Vegan Vanilla Cake:
Make sure your almond milk is at room temperature
When preparing your pans for the cake batter, place a small circle of parchment paper in the bottom of each pan. This will allow your cake to come out of the pan perfectly every time without sticking.
Make sure to use both plant based margarine and applesauce to get a fluffy moist cake.
Before frosting, make sure the cakes are completely cool. If you jump the gun and ice when the cake is warm, your icing will completely melt down and become a mess.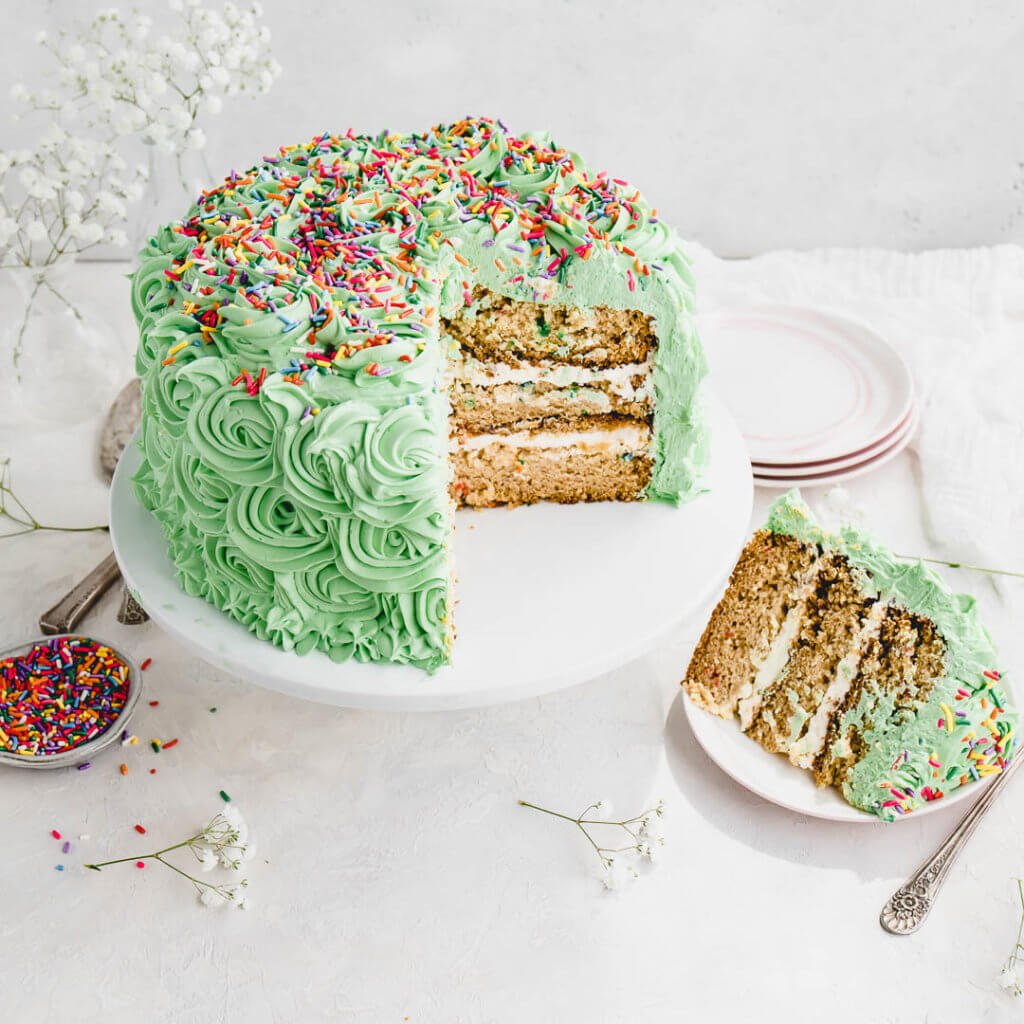 In conclusion, whether you are vegan or not, you MUST give this cake a try. It will blow your socks off and keep you running back for more. If you are dairy intolerant or just want to cut down on dairy for health reasons, there are easy plan based swaps available that will make you say, "Where has this been my whole life."
This post was sponsored by Upfield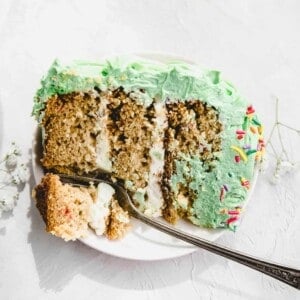 Vegan Vanilla Cake with Buttercream
The Vegan Vanilla Cake is what dreams are made of. The 3-layered cake is fluffy and covered in a velvety vegan buttercream frosting. You will be shocked that it is made with plant based margarine and no eggs.
Ingredients
Vegan Vanilla Cake Ingredients:
5

cups

all purpose flour

2

tsp

baking soda

1

tbsp

baking powder

2 ⅓

cup

cane sugar

½

tsp

salt

2 ⅔

cup

almond milk

1

tbsp

vanilla extract

1

cup

plant based margarine

½

cup

unsweetened apple sauce

1

tbsp

apple cider vinegar

½

cup

rainbow sprinkles.
Vegan Buttercream Ingredients:
2

cups

plant based margarine

1

cup

all vegetable shortening

I use Spectrum

6 1/2

cups

powdered sugar

1 1/2

tsp

pure vanilla extract

Pinch

of salt
Instructions
Vegan Vanilla Cake Instruction:
Preheat the oven to 350F and grease the sides of each pan and place a circle of parchment paper on the bottom. This will prevent the cake from sticking.

In a large bowl mix together the flour, baking soda, baking powder, and salt together. Set aside

In a medium bowl add the dairy-free milk and the vinegar. Allow to set for a few minutes. Then add the applesauce and vanilla. Whisk and stir to combine.

In another bowl, beat the softened vegan margarine and sugar until creamy and fluffy, about 2-3 minutes.

Slowly combine the wet and dry ingredients together until smooth and batter like. It should be thick but still thick enough to pour.

Divide the batter into the 3-9 inch cake pans evenly.

Bake the cakes between 35-40 minutes or until a toothpick inserted into the center comes out almost clean.

Remove from the oven and sit on the counter to allow to cool in the pans for 20 minutes. After the cooling process is done, carefully flip them onto a cooling rack and allow to cool completely before frosting.
Vegan Buttercream Frosting Instructions:
In a stand mixer, add the plant margarine and the vegetable shortening. Beat together on medium speed until combined and fluffy.

Slowly add the vanilla extract along with the powdered sugar.

Add green food coloring of choice and beat together for 40 seconds or until fluffy and stiff.
Assembly Instructions:
Place one cake layer on a cake stand. Carefully spread an even layer of buttercream over the top.

Repeat this process for each all 3 layers.

Decorate the outside of the cake as desired. I used a 2110 tip and just did quick half circles around the entire cake.

Top with rainbow sprinkles and enjoy
Nutrition
Serving:
1
Slice with Icing
|
Calories:
630
kcal
|
Carbohydrates:
100
g
|
Protein:
3
g
|
Fat:
24
g
|
Sodium:
575
mg
|
Fiber:
0.9
g
|
Sugar:
75
g
Nutrition information is automatically calculated, so should only be used as an approximation.
Shop my post:

Be sure to pin this Vegan Vanilla Cake to your Pinterest
Love this recipe? Be sure to check out my other favorites below: