Steak and Caramelized Onion Frittata (W30, Keto)
Published Jan 18, 2020 Updated Jul 11, 2023
This post may contain affiliate links. Please read our disclosure policy.
When all else fails, clean your house and make a frittata. It really is game changer when you are needing some peace of mind. My new Steak and Caramelized Onion Frittata is so simple and only involves minimal ingredients.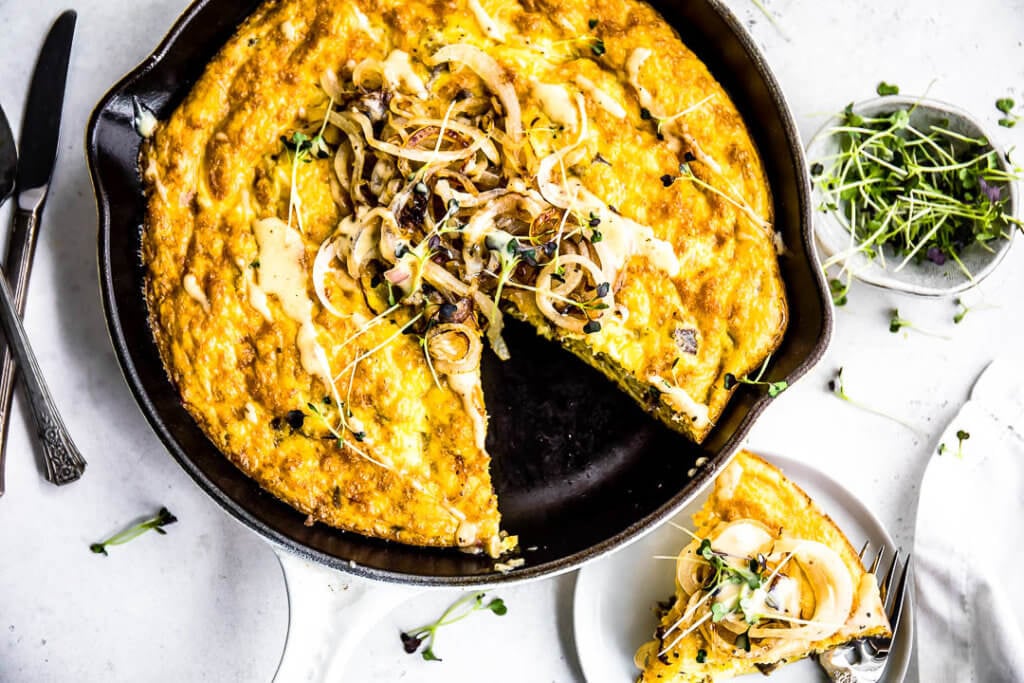 It's true that anytime I am feeling overwhelmed, I'll throw a frittata in the oven and clean my house. Wouldn't you agree that there is something so magical about having both a clean house and something in the oven cooking? Having a clean space and meal prepped for the week is sure to make anyone do a little dance.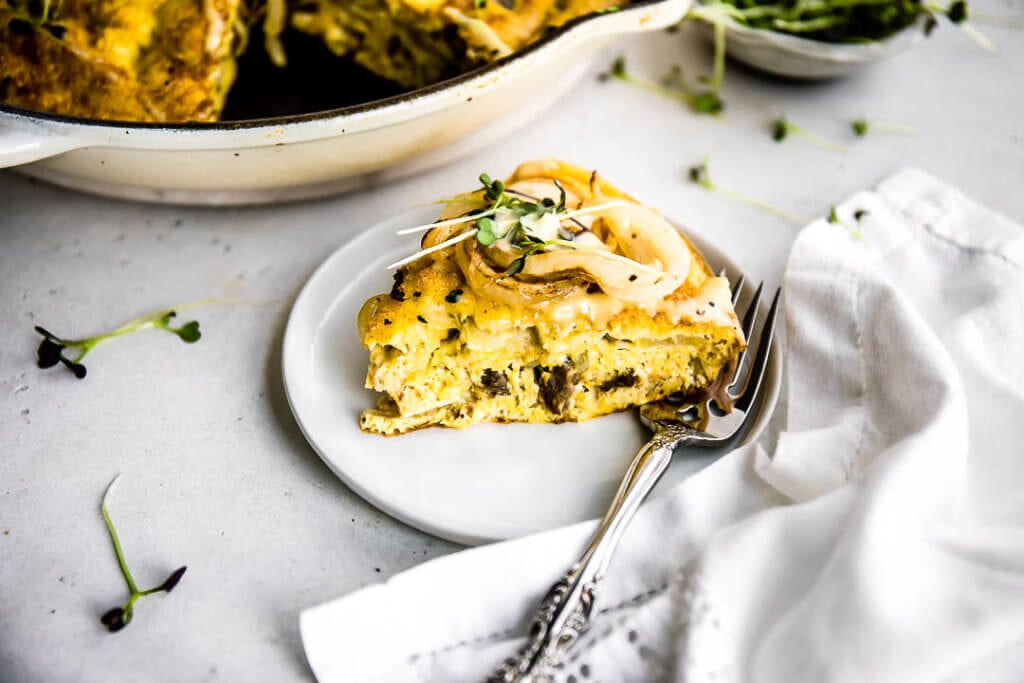 One of my favorite ways to make a frittata is using leftovers or ingredients that are about to go bad. Instead of throwing things out, I love tossing everything in a bowl with some eggs and creating something delicious. Sometimes just a recipe that is thrown together using random ingredients can turn out to be pretty delicious. If you don't have everything in your fridge that goes along with this recipe, get creative and make your own version.
What leftovers can you use for a Frittata?
Chicken & Fajita Peppers
Steak & Asparagus
Pot Roast & Sweet Potatoes
Sausage & Tomatoes
Bacon and Zucchini
Chicken and Broccoli
There are many more options that you can throw together. This is just a few that I have done in the past that have worked out really well together. My family always loves a good frittata.
Tips for making the perfect Frittata:
Use a cast iron skillet coated with olive oil.
Incorporate coconut milk or Mac's Sauce to your egg mixture to give it a creamy texture.
Use any protein leftovers along with some veggies to make different versions. These can be so versatile and save you from throwing out and wasting leftovers.
Make sure to over-bake. Bake on 350F for 25-30 minutes for the perfect texture.
SHOP MY FRITTATA POST:

Be sure to pin this recipe to your Pinterest Board: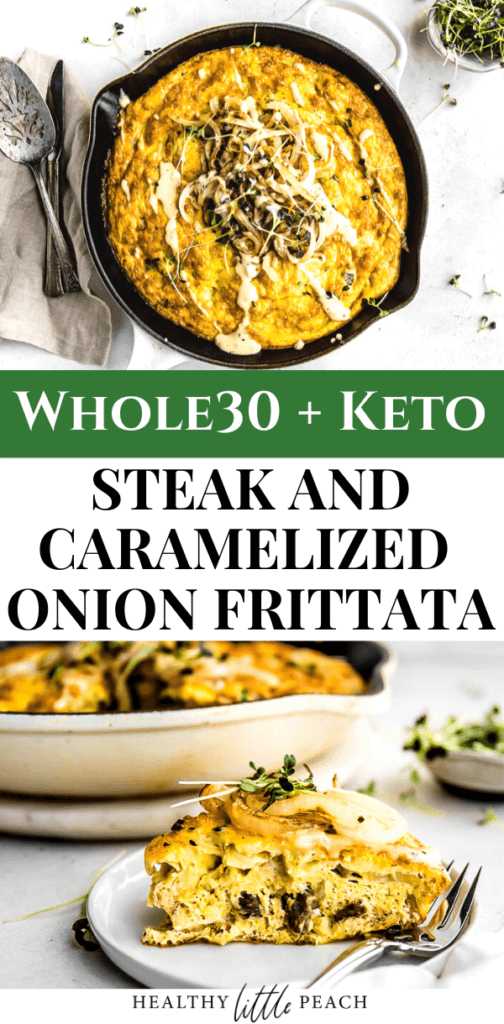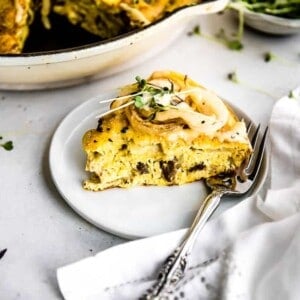 Steak and Caramelized Onion Frittata (Whole30, Keto, Paleo)
Have leftover steak? Make my Steak and Caramelized Onion Frittata that will serve as an amazing breakfast, brunch, lunch or dinner. Whole30, Keto, Paleo and Dairy Free.
Ingredients
12

large eggs

beaten

1

tbsp

ghee

6-8

oz

leftover steak

chopped

2

tbsp Mac's Awesome Sauce

1

large yellow onion

sliced

1/2

tsp

salt

1/4

tsp

pepper

or more to taste

2

large cloves garlic

minced

Micro greens

Caramelized Onions and extra Mac's Awesome Sauce for garnish
Instructions
Heat a cast iron skillet over medium heat with 1 tbsp ghee.

Preheat the oven to 350°F

Add the minced garlic along and sliced yellow onion to the skillet. Brown together until the onions are caramelized, around 6-7 minutes. Remove a couple of tbsp of caramelized onions and set to the side for garnish. 

Add in the chopped steak and allow to cook together with the onions for 2-3 minutes. 

Meanwhile, whisk the 12 eggs together along with Mac's Awesome Sauce, salt and pepper until completely combined.

Pour the egg mixture on top of the steak, onions and garlic in skillet. Make sure the mixture is spread evenly over the beef for even cooking.

Add the cast iron skillet to the oven and allow to cook 25-30 minutes.

Garnish with the extra onion, a little more Mac's Awesome Sauce and micro greens.

Serve immediately or store in the fridge for up to one month or freeze for 3 months. 
Notes
I love cutting this frittata into pizza slices and storing in glass containers for an easy meal prep option.
Click here for Mac's Awesome Sauce Recipe 
Nutrition information is automatically calculated, so should only be used as an approximation.
Like this recipe? Check out my other favorite below:
Don't forget to rate and review this recipe by scrolling to the bottom of the page. Thank you!