Bang Bang Shrimp Salad (W30, Keto, Paleo)
Published Mar 12, 2019 Updated Jul 11, 2023
This post may contain affiliate links. Please read our disclosure policy.
Once a week my body craves a big salad filled with veggies. I usually stick with the same ole boring grilled chicken salad and wanted to spice things up this week with my salad game. My new Bang Bang Shrimp Salad totally satisfies my craving when I need a little something different. The best part of this recipe is the Bang Bang sauce. It gives the shrimp a little creaminess and spice. You can also use any extra sauce to drizzle for extra dressing.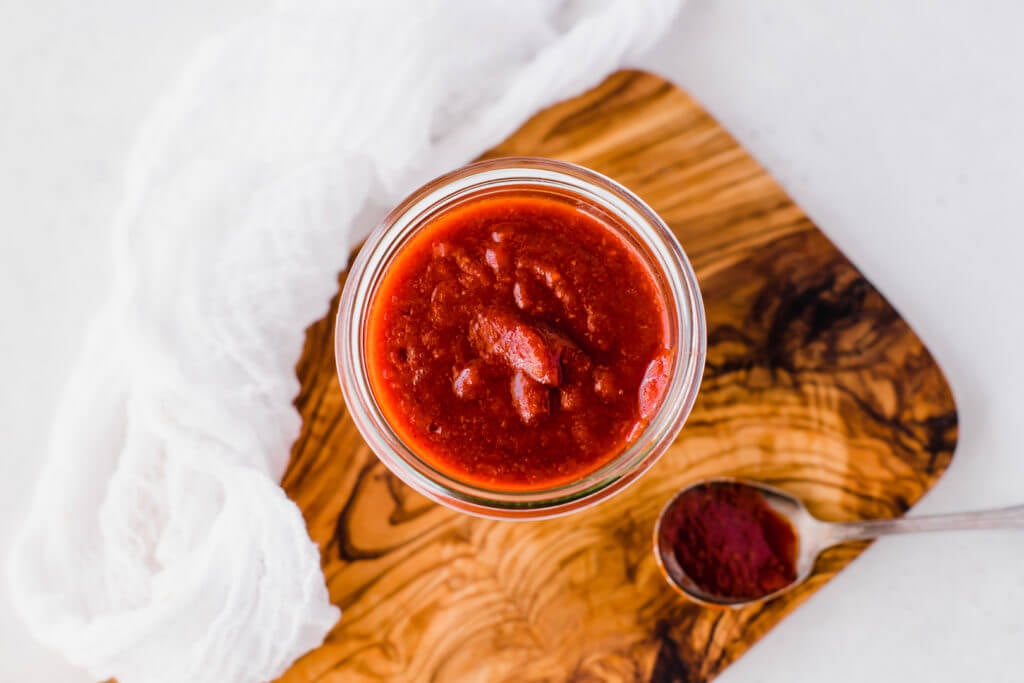 Where can I find Whole30 compliant sriracha for the Bang Bang Sauce?
It can be extremely hard to find sriracha sauce in the grocery store or online that doesn't have some sort of sugar or honey in the ingredient list. I take matter in my own hands when I am graving sriracha and I make my own. Truth is, it actually tastes better and I love knowing exactly what't going in my body. I love when homemade tastes better than store bought. It makes my heart sing and it is so simple to whip up in the blender.
If you are not on a Whole30, but are living the Paleo lifestyle, then these brands are my favorite.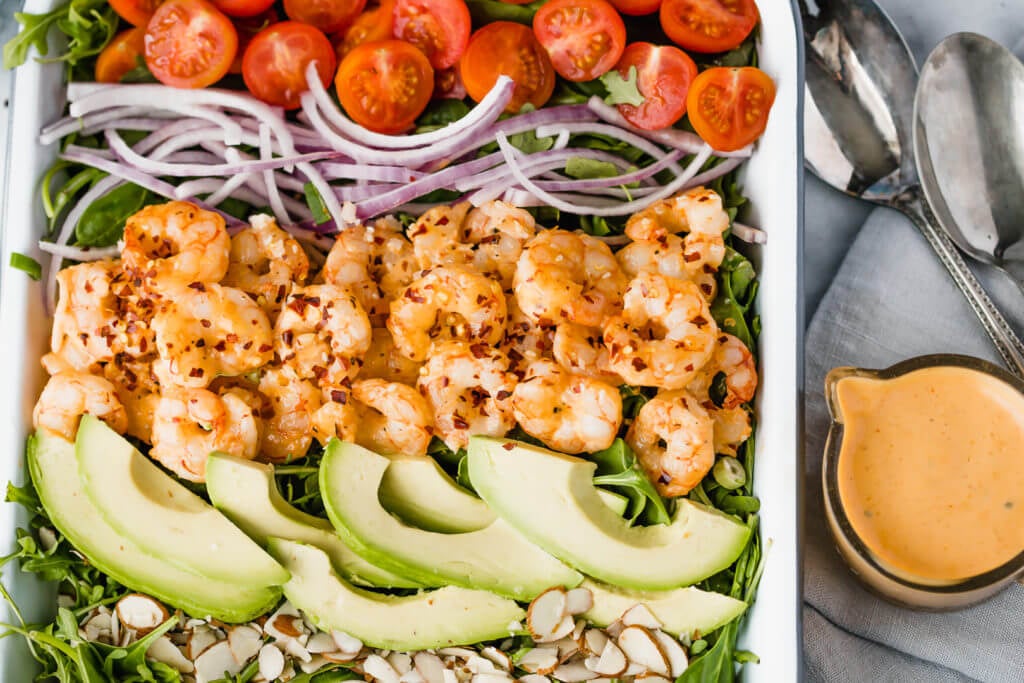 How long does the sauce last in the fridge?
In my opinion, anything that is made with a mayo base such as this sauce should only stay in the fridge for 5-7 days. Some people go by the shelf life of the egg that is used, but I always stay on the safe side and never go past a week. To be honest, my sauce is usually gone within a few days because it is so yummy. Always make sure to sell your jars in an airtight jar. I love storing all of my sauces in a Weck Jar.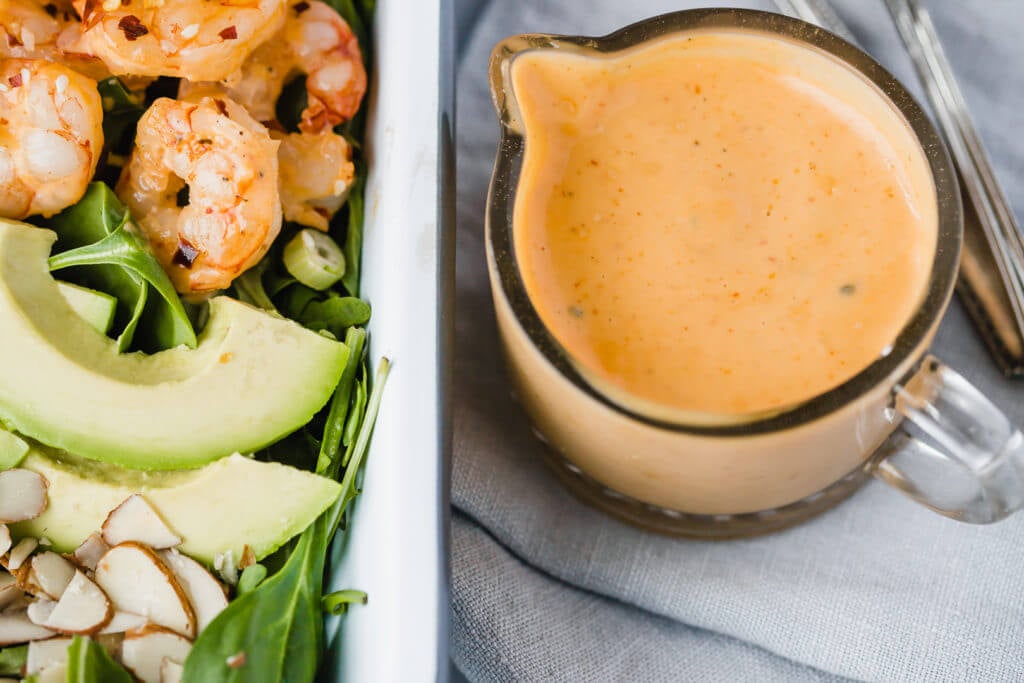 What if there is leftover shrimp? How can I reuse it?
I always try to use leftovers in different ways so it cuts down on waste. I love adding these creamy shrimp to a skewer and throwing them on the grill and serving with sauteed green beans. In addition, at my house we will simply heat up the shrimp and throw it on some cauliflower rice for a more Asian inspired meal. I have been known to throw the shrimp in a bowl and be complete satisfied with eating it by itself. Just get creative and add some sort of veggie as a side and you are good to go.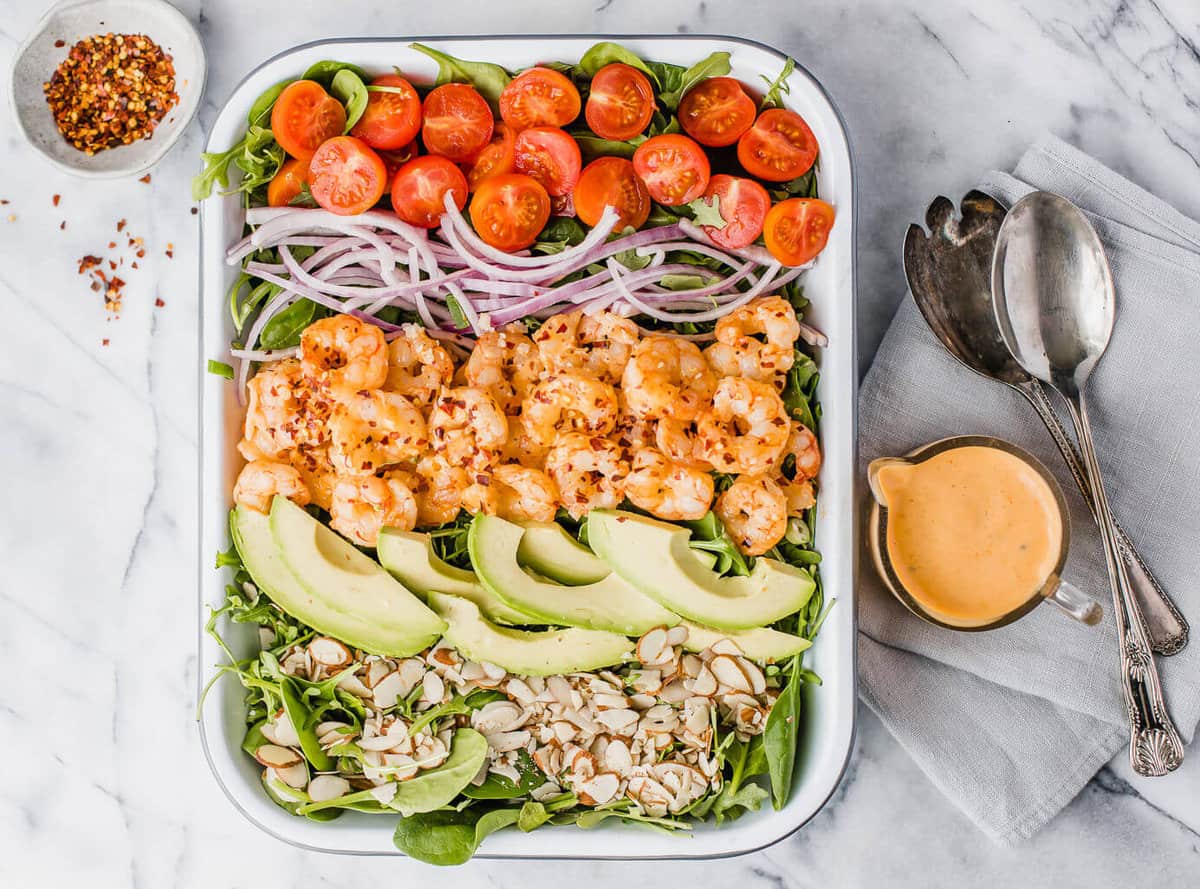 What if I don't like shrimp?
Don't throw this recipe out just because you are not a shrimp fan. There are so many other protein options that is amazing paired with this sauce. I have done chicken and steak strips and they are both delicious. I haven't tried scallops, but that is going to be my next experiment. Even if you are not a meat and seafood fan, sub out some tofu for the protein and you will be amazed at how good it turns out.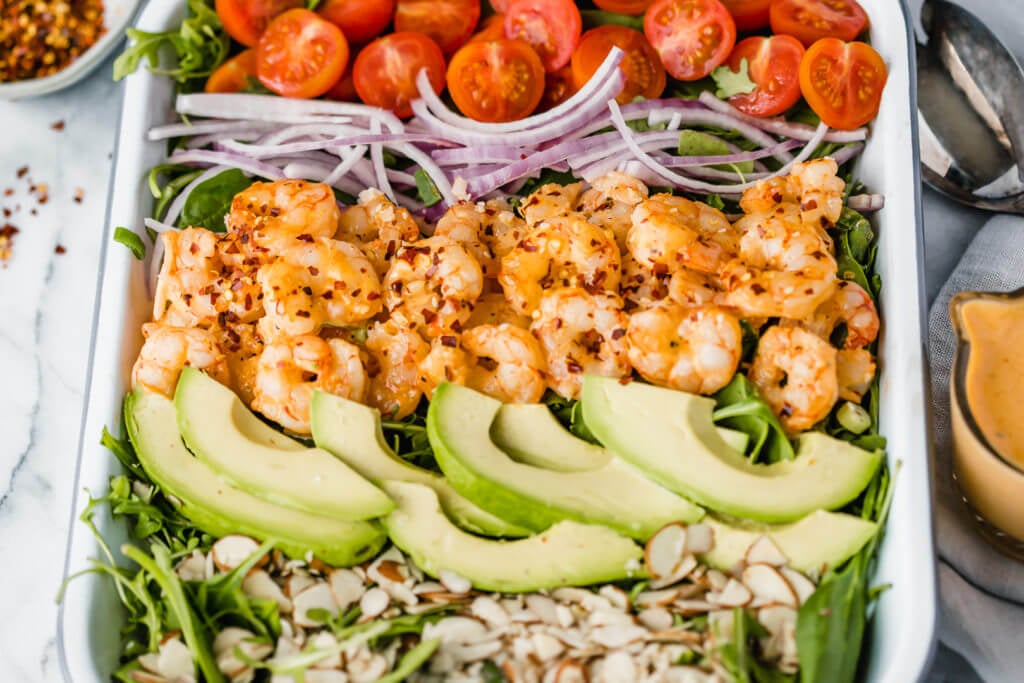 SHOP MY BANG BANG SHRIMP POST:

Don't forget to pin this recipe to your Pinterest board: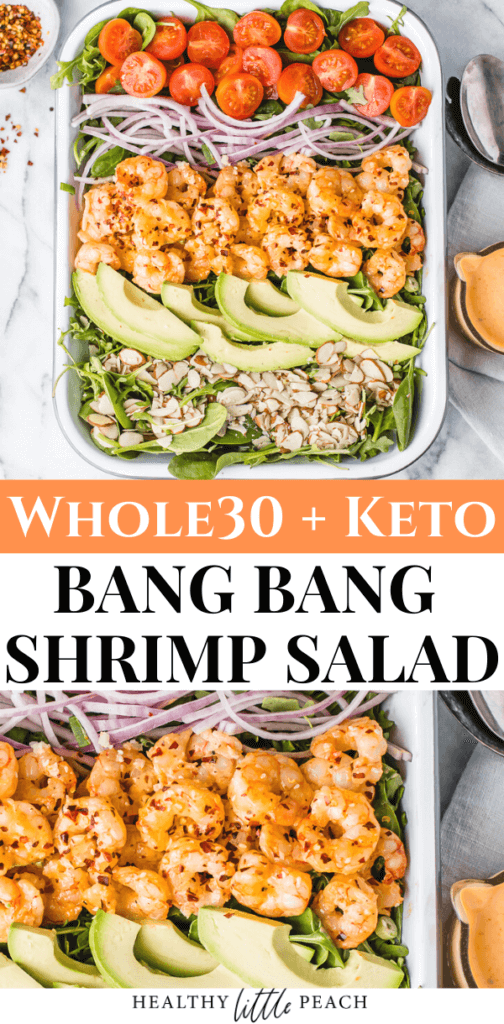 Love this recipe? Be sure to check out my other favorites below: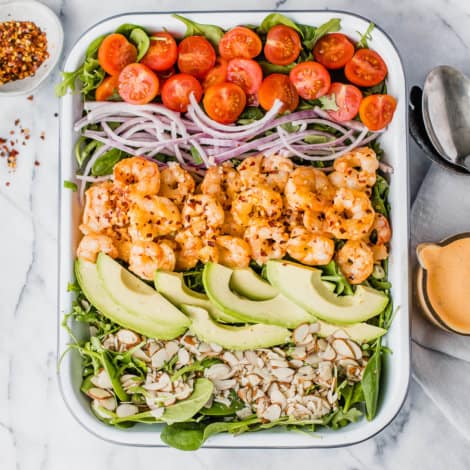 Bang Bang Shrimp Salad
This Bang Bang Shrimp is fresh shrimp tossed in spicy bang bang sauce and served over arugula along with avocados, slivered almonds, grape tomatoes, and red onions. This dish is perfect year round and is Keto, Whole30, Paleo and Dairy Free.
Ingredients
Shrimp Salad
1 1/2

lb

uncooked shrimp

1

tbsp

olive oil

6-8

cups

Arugula and Spinach mix

or lettuce of choice

1

cup

grape tomatoes

sliced in half

1

large avocado

pitted and sliced

3/4

cup

sliced red onion

1/3

cup

slivered almonds

1/2

cup

mayo

2 1/2

tbsp

compliant sriracha sauce

Red pepper flakes

for garnish
Homemade Sriracha Sauce (Makes 1 cup)
1

cup

red pepper jalapeno sauce

2

cloves

garlic

1

tsp

sea salt

1

tbsp

tomato paste

1

tsp

coconut aminos

1 1/2

tsp

Fish Sauce

2

tbsp

apple cider vinegar
Bang Bang Sauce
1/2

cup

compliant mayo

2 1/2

tbsp

homemade sriracha sauce

or sriracha of choice

1/2

tsp

garlic powder

1

tsp

coconut aminos
Instructions
Spicy Shrimp Salad
Clean the lettuce, clean and cut the grape tomatoes in half, slice the red onions, remove the pit in the avocado and slice.

Add 1/2 cup of mayo to small bowl along with the sriracha sauce, coconut aminos, and garlic powder.

Mix together with a spoon until combined.

Heat a skillet over medium/high heat. Add in 1 tbsp of olive oil and the shrimp (The shrimp should sizzle when added to the pan). Cook 4 to 5 minutes or until pink or opaque . Toss the shrimp with the Bang Bang Sauce

Add 6-8 cups of arugula and spinach mix in a serving dish. Assemble the salad by starting at the top with the grape tomatoes followed by red onions, spicy shrimp, sliced avocado, and slivered almonds. Sprinkle the shrimp with a little red pepper flakes.
Sriracha Sauce
Add all of the ingredients to a blender or food processor. Blend together and once smooth add to a small saucepan. Heat over low medium heat for 4 minutes to allow the flavors to come together. Do not bring to a bowl, just warm. Add to a mason jar. Will stay good up to 4 weeks in the fridge.
Notes
I love making extra Bang Bang Sauce for additional dressing. Click here for my 60 second Mayo recipe
Nutrition information is automatically calculated, so should only be used as an approximation.
[wpurp-searchable-recipe]Spicy Shrimp Rainbow Salad – Fresh shrimp tossed in spicy bang bang sauce and served over arugula along with avocados, slivered almonds, grape tomatoes, and red onions. This dish is perfect year round and is Keto, Whole30, Paleo and Dairy Free. – Shrimp Salad: uncooked shrimp, olive oil, Arugula and Spinach mix ((or lettuce of choice)), grape tomatoes (,sliced in half), avocado (,pitted and sliced), sliced red onion, slivered almonds, mayo, compliant sriracha sauce (,my homemade recipe below), Red pepper flakes (,for garnish), Homemade Sriracha Sauce (Makes 1 cup): red pepper jalapeno sauce, garlic, sea salt, tomato paste, coconut aminos, Fish Sauce, apple cider vinegar, Bang Bang Sauce: compliant mayo, homemade sriracha sauce ((or sriracha of choice)), garlic powder, coconut aminos, , Spicy Shrimp Salad: Clean the lettuce, clean and cut the grape tomatoes in half, slice the red onions, remove the pit in the avocado and slice. ; Add 1/2 cup of mayo to small bowl along with the sriracha sauce, coconut aminos, and garlic powder. ; Mix together with a spoon until combined. ; Heat a skillet over medium/high heat. Add in 1 tbsp of olive oil and the shrimp (The shrimp should sizzle when added to the pan). Cook 4 to 5 minutes or until pink or opaque . Toss the shrimp with the Bang Bang Sauce; Add 6-8 cups of arugula and spinach mix in a serving dish. Assemble the salad by starting at the top with the grape tomatoes followed by red onions, spicy shrimp, sliced avocado, and slivered almonds. Sprinkle the shrimp with a little red pepper flakes. ; Sriracha Sauce : Add all of the ingredients to a blender or food processor. Blend together and once smooth add to a small saucepan. Heat over low medium heat for 4 minutes to allow the flavors to come together. Do not bring to a bowl, just warm. Add to a mason jar. Will stay good up to 4 weeks in the fridge. ; ; – <p>I love making extra Bang Bang Sauce for additional dressing. <strong><a href="https://healthylittlepeach.com/recipe/mayo/" target="_blank" rel="noopener">Click here</a></strong> for my 60 second Mayo recipe</p> – Appetizer – Main Dish – Salad – Keto – Paleo – Whole30 – Asian Salad – bang bang sauce – Bang Bang Shrimp – keto – paleo – shrimp – Shrimp Salad – spicy shrimp salad – whole30[/wpurp-searchable-recipe]