Anytime I think of fall, I always picture a caramel dipped apple. As a child, making and eating a caramel apple in the fall was so special and memorable. I wanted to create the traditional caramel apple in a Paleo friendly way, so I came up with these delicious and cute Caramel Apple Turtle Pops.
These pops are much easier to eat than a whole big apple dipped in caramel. They are also super cute and perfect for a Fall or Halloween treat. You can eat them at room temperature or even freeze for a cool sweet treat.
How to add the popsicle sticks to the caramel apple slices?
You have to be extremely careful when adding the sticks to the 1/2 slices of apples. Simply make a small slit in the bottom of each apple slice with a knife and stick the popsicle stick in. This will make the popsicle stick go in smoothly and not split the apple slice.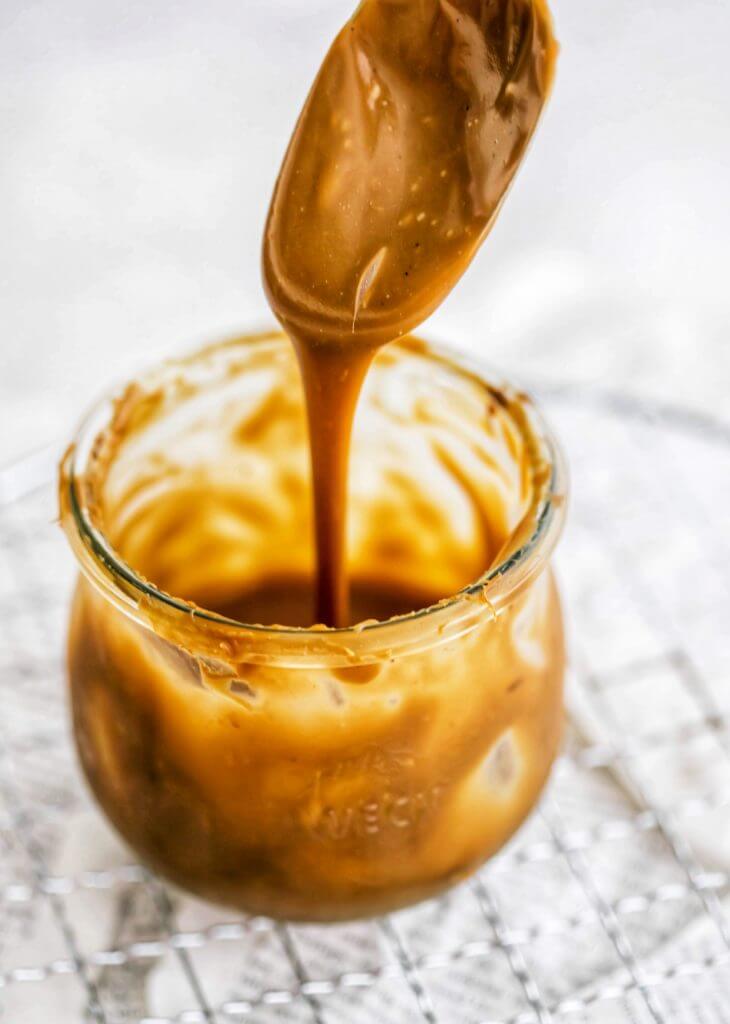 Can you freeze these caramel apple slices?
Yes, for sure. I actually prefer freezing them and eat them like a cold popsicle. In my opinion, freezing them gives the apples a nice crisp and even more flavor. Simply add to a cookie sheet and freeze for an hour or 2. You can also add these to a freezer proof container and freeze up to 3 months.
What is the best chocolate to use to dip these caramel apple slices in?
For this recipe to be Paleo, you need to use a dark chocolate that is above 70%, and ideally above 85%. As the % goes up, the sugar % goes down. Below is my 2 favorite go-to Paleo dark chocolate brands. This brand is the cleanest chocolate bar you can find in the store without making your own.
In addition to this brand, below are my other favorite brands to buy on occasion. Some of these brands contain cane sugar and RAW cane sugar. Although you can use for Paleo, it isn't recommended in big amounts. Use sparingly.
Can I make a homemade chocolate for this caramel apple recipe?
Yes! Make favorite recipe to use is from All Recipes, Click Here to be directed to that recipe.
Love this recipe? Click below to grab more of my favorites:
Click on the photo below to save to your Pinterest Board:
| | |
| --- | --- |
| | |
Prepare 2 baking sheet pans covered in parchment paper.

Slice all 4 apples into ½-inch slices. Using a knife, make a slit at the bottom of each apple slice and insert the wooden popsicle stick. Place on the baking sheet.

To melt the chocolate, fill bottom of double boiler with water and place on low heat. Place coarsely chopped dark chocolate in the top of double boiler over hot (not boiling) water and allow it to melt. Do not cover. When most of the chocolate is shiny, stir until smooth and add in the coconut oil or ghee to make it even smoother.

You can either dip the apple slice in the chocolate or just cover the front of the apple slice with the melted chocolate. I prefer to have just the top coated and allow the back to be the raw apple slice. You will get more of the apple flavor this way.

Once coated, add the apple pop to the baking sheet and sprinkle with coarse sea salt and chopped walnuts.

Drizzle each chocolate coated apple slice with caramel. Eat immediately or freeze for an hour or so. Enjoy!