This post contains affiliate links
There is nothing like a Garlic & Herb Ribeye Roast straight from the Traeger grill. Not only will it melt in your mouth, but it is extremely filling. We usually serve this on holiday weekends or at a backyard BBQ. It is perfect for any occasion.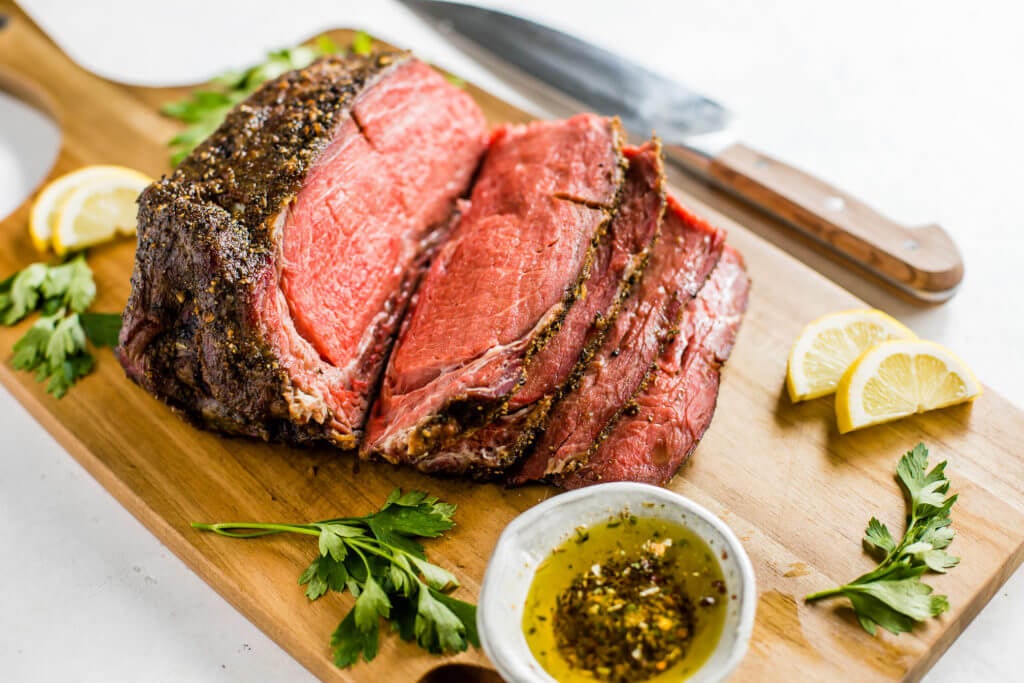 In addition, I came up with the most savory and flavorful olive oil sauce to dip the roast in. We love going to the Brazilian Steakhouse for date night and they always serve their ribeye roast with this olive oil sauce, so I tried to re-create it. IT is super simple to make and doesn't take a ton of ingredients. I used 1/4 cup olive oil, a pinch of salt and pepper, red pepper flakes, garlic, Italian Seasoning and a tsp of lemon juice.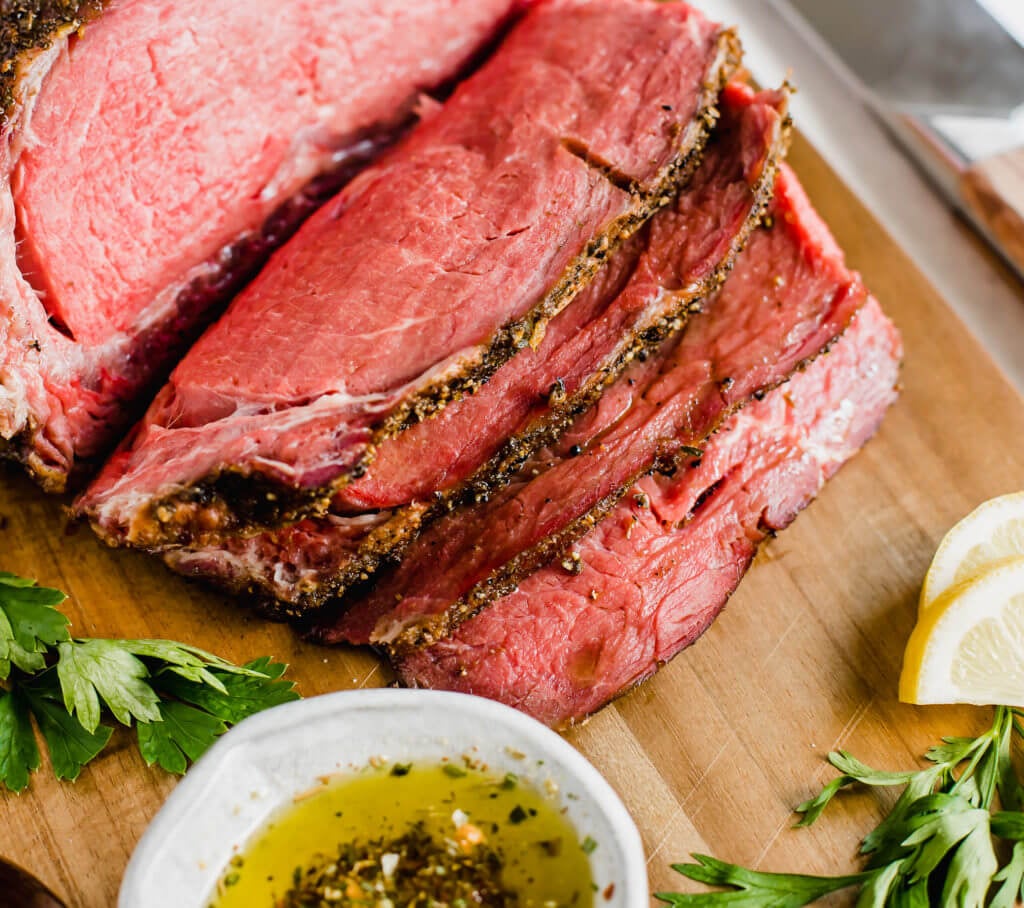 In my opinion, this ribeye roast is better than any restaurant roast and is sure to please a crowd. When smoking this meat, I love using either cherry or apple pellets. It gives it such a sweet flavor that pairs nicely with the beef. Don't worry, if you don't have a smoker, you can still cook in the oven.
If I don't have a smoker, can I cook this Garlic & Herb Ribeye Roast in the oven?
Yes! You can also roast this in the oven if you do not own a smoker. I prefer smoking because this method infuses the roast with a ton of additional flavor. In addition, I find that the roast is more tender off the smoker compared to the oven. However, the oven method will still provide a beautiful and delicious roast. See the oven cooking method below to get the full details.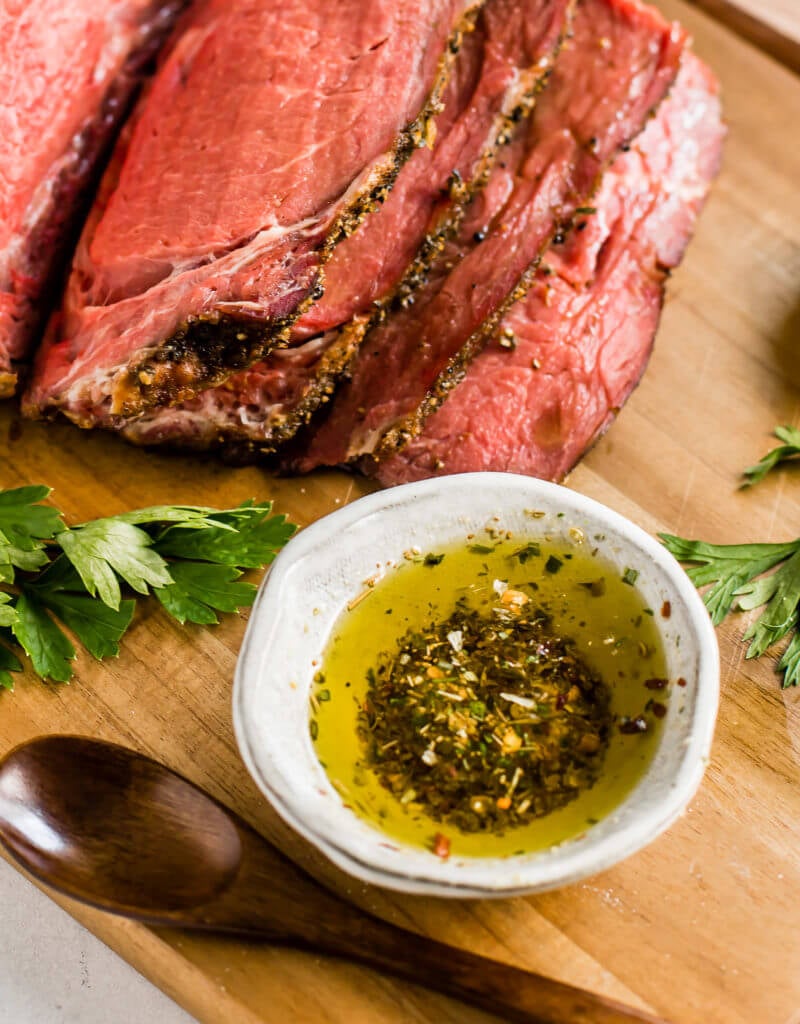 How long will this Garlic & Herb Ribeye Roast last in the fridge and can I freeze it?
It is important to consume this Ribeye Roast within 4 days of cooking if stored safely in the refrigerator. You can also freeze this roast by storing in a freezer proof container or wrapping in freezer paper. Freeze no longer than 3 months.
What if I have leftovers? Can I recreate a new meal with this roast?
I love cooking a big ribeye roast on Sunday and using any leftovers for different meals during the week. Below are the different ways I use this roast to build different meals:
Chop and add to a salad
Chop and stuff inside a sweet potato
Place inside a coconut tortilla
Use in a frittata
Click on the picture below to save this recipe to your Pinterest Board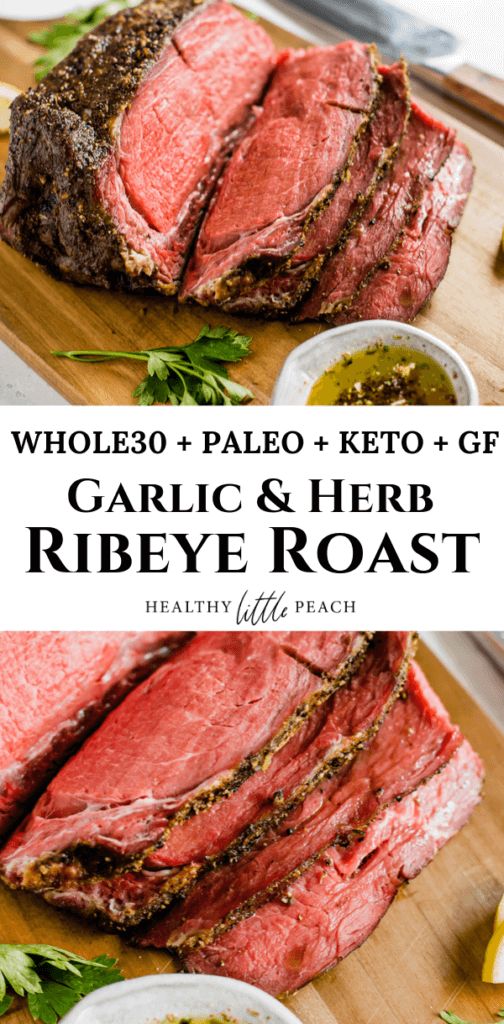 Shop My Post

This is where we purchase our Ribeye Roast because the quality is OUTSTANDING. If you would like to try Butcher Box out, click on the link below to get…..
Free Bacon, Free Shipping and $15 off your first purchase.
If you like this recipe, be sure to check out my other favorites below:
Print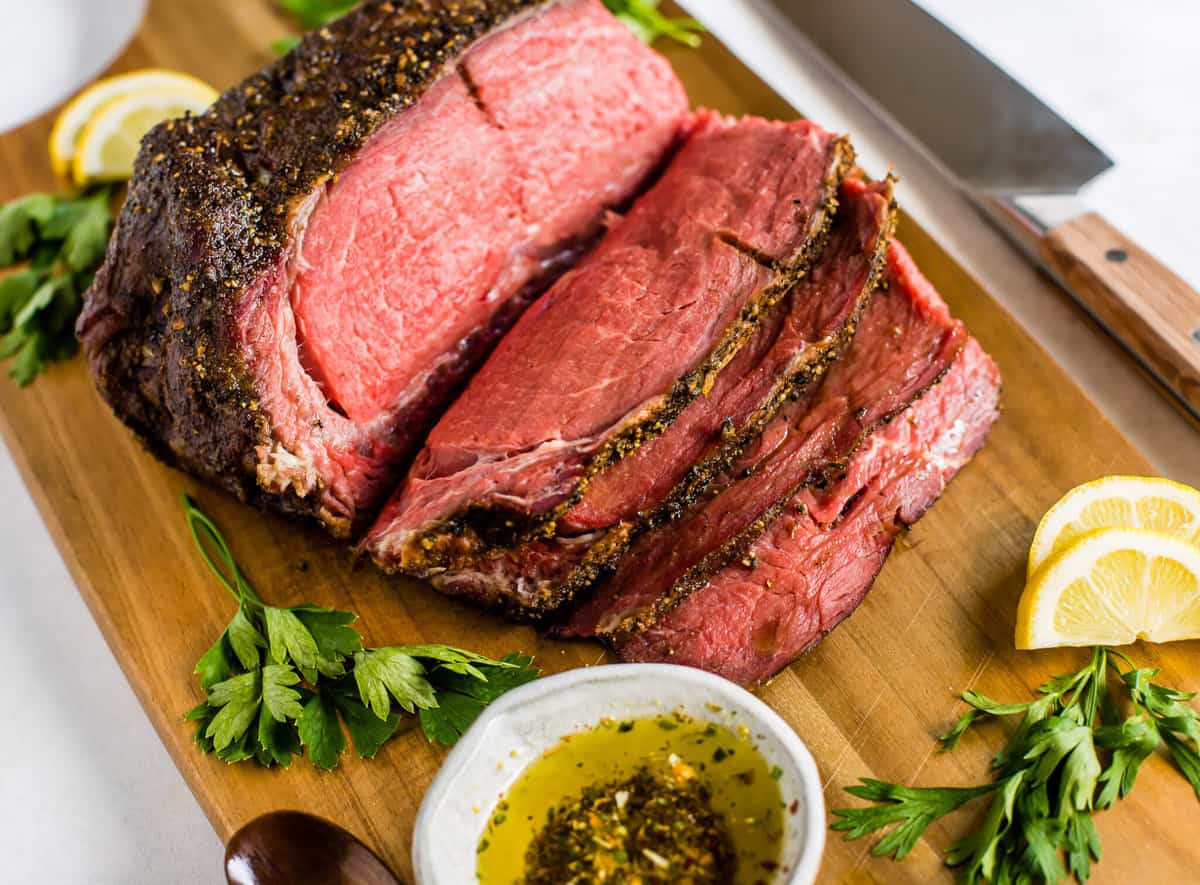 Garlic & Herb Ribeye Roast
Total Time:

45 minute

Yield:

6

–

8

people

1

x
Ribeye Roast
1

5-6 Pound Ribeye Roast

1/2 cup

olive oil

5

cloves garlic

1 1/2 tsp

yellow mustard

1 tbsp

red wine vinegar

1 tbsp

parsley

2 tsp

oregano

2 tsp

basil

1/2 tsp

onion powder

1/4 tsp

salt

1/4 tsp

pepper
Dipping Sauce
1/4 cup

olive oil

1 tsp

oregano

1/2 tsp

Red pepper flakes
salt and pepper to taste
Instructions
Smoking Method: Ribeye Roast
To begin, set the smoker temperature to 180℉ and preheat, lid closed for 15 minutes. While the grill is warming up, prepare the marinade and topping.
In a blender, add the olive oil, garlic cloves, red wine vinegar and yellow mustard. Blend on high speed for 10 seconds or until combined. Transfer to small bowl and whisk in the remaining sauce ingredients, oregano, basil, onion powder, salt and pepper.
Pour the marinade over the entire roast. For best flavor, feel free to let this marinate for 6-12 hours. Once covered, place the roast directly on the grill grate and smoke until the internal temperature of the roast reaches 135F for rare or 145 for medium, about 3.5-4 hours. (Cooking time will depend on the size of the roast).
Remove the roast from the grill and add to a cutting board and cover with aluminum foil for 20 minutes to rest.
Slice the roast against the grain ans enjoy!
Oven Method: Ribeye Roast
Preheat oven to 500F. Place the Roast in the preheated oven for 20 minutes, then reduce heat to 325F and continue cooking until roast is reddish-pink and juicy in the center, 1.5 to 2 hours. An instant-read thermometer inserted into the center should read 145F for medium.
Dipping Sauce
Add the olive oil to a small bowl along with the rest of the herbs and spices. Mix together with a spoon. Dip the Ribeye Roast into the olive oil blend for a ton of additional flavor.
Author:

Ashley McCrary

Prep Time:

10 minutes

Cook Time:

1.5-4 hours (based on cooking method)

Category:

Main Dish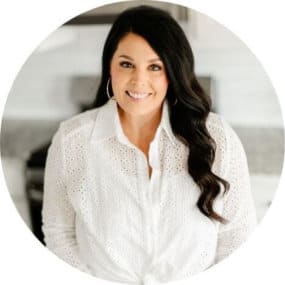 About Me
Welcome to Healthy Little Peach. I'm Mac, the lady behind the recipes. I believe in living a healthy lifestyle that consists of a mix of healthy whole foods, and full-fat comfort meals. Life is too short not to enjoy good food while maintaining a healthy body and mind. Here you will find gluten-free, dairy-free, paleo, keto, and even full-fat comfort recipes. Let's have fun in the kitchen together!