Garlic Butter Steak Bites | Keto & Whole30
Published Feb 23, 2020 Updated Nov 30, 2021
This post may contain affiliate links. Please read our disclosure policy.
My garlic butter steak bites make the most versatile meal. Seared to perfection in a garlic butter sauce, this keto steak recipe goes perfectly with mushrooms and asparagus, on a salad, or served as an appetizer with dipping sauce! Whole30, Paleo, and Keto approved, these tasty bites are packed with flavor, and macro-friendly!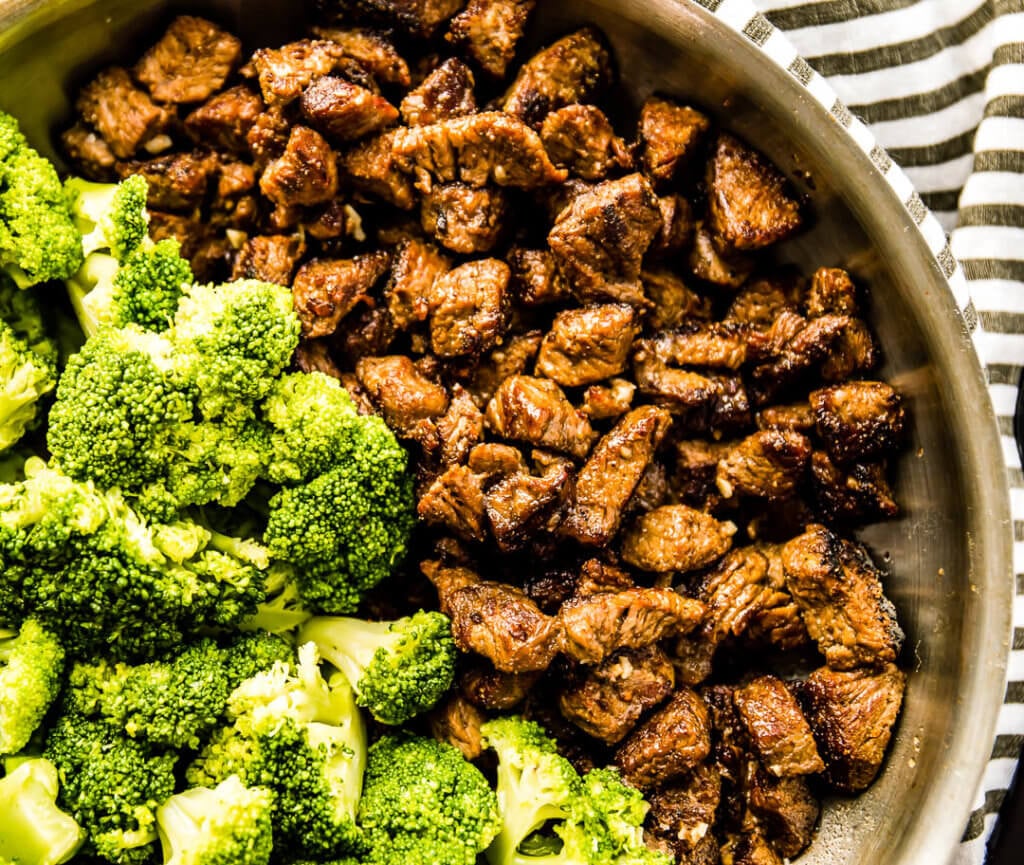 What Makes This Recipe Work
Garlic butter steak is mouth-wateringly good. But sitting down for a whole steak isn't always an option. Enter, steak bites! These little nuggets are buttery, garlicky, and absolutely perfect. They're so versatile and can be used as an appetizer or as a meal. If in need of a good keto steak recipe, this is it!
This recipe is great as a party appetizer served using toothpicks with any of my 4 Majestic Sauces for dipping, or as a meal, served with roasted or steamed veggies of choice. Not only are these super filling, but they're also totally kid-friendly!
How to Choose the Best Cut of Steak
First, you will need to decide the cut of steak you want to use. I love using sirloins, but feel free to use strip steaks, ribeyes, or tenderloins. Let your steak come to room temperature, then chop your steak into cubes and season with salt and pepper.
Sirloin: Lean, juicy, & very affordable. Not as tender as other options, but a great pick for steak bites!
Strip Steak: Less expensive. Tender with a good flavor.
Tenderloin: Also known as Filet Mignon. Tenderloin is mild in flavor, boneless, and very tender. It's also quite pricey!
Ribeye: A very flavorful steak, great for grilling or pan-searing! Be sure to trim the fat.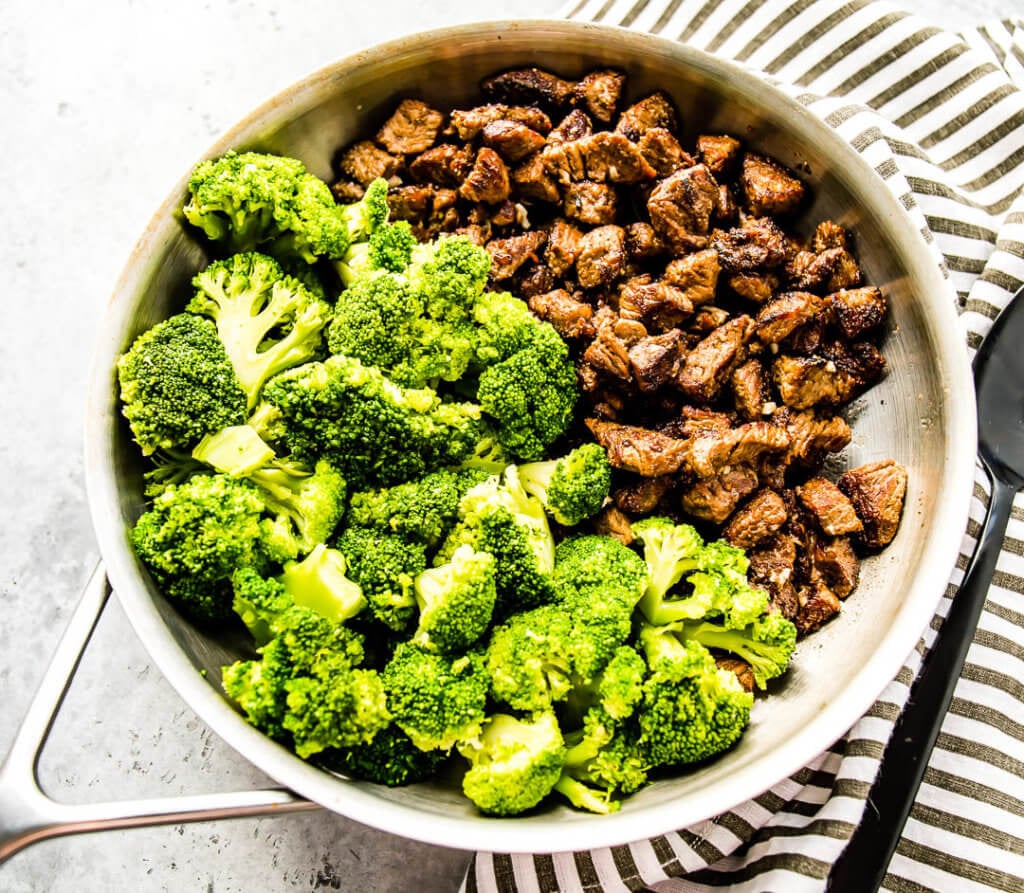 How to Make Garlic Butter Steak Bites
Ingredient Notes
sirloin steak: cut into small cubes. See above for how to choose the best cut of steak for these bites!
olive oil
garlic cloves, minced
ghee or your preferred vegan butter: Using ghee will keep this Whole30. If you're keto, using a vegan butter like Miyokos or regular grass fed butter will also work!
salt and pepper to taste
Instructions
How to Make the Steak Bites
Heat your skillet, then add in the steak pieces and cook for 3-4 minutes making sure to drain excess water off as they cook. This will allow them to get really crispy.
Brown the steak, then transfer them to a large bowl and set it to the side.
How to Make the Garlic Butter Sauce
Heat the ghee or vegan butter and the garlic to the skillet, and cook about 30 seconds or until fragrant.
Add in the steak and coat the butter mixture evenly over all the steak pieces.
How I Serve My Steak Bites
Zucchini Noodles: Toss some zucchini noodles into the skillet with the butter and steak and toss. Cook for about 1 minute and serve! This is a delicious, low-carb way to serve these yummy, garlic butter steak bites!
Steak Salad: Wash your favorite lettuce (a good spring mix will work great!) and add in your favorite veggies: mushrooms, red onions, corn, carrots, tomatoes, and then throw on the steak bites!
Mushrooms & Asparagus: Mushrooms and asparagus go so well as a side with these steak bites. The garlic butter sauce is melt-in-your-mouth good. Serve side by side and enjoy!
Peachy Tips & Tricks
Pro Tips
Drain excess water out of the pan as the steak cooks. I prefer the steak to get really crispy and for this to happen, the water will need to be drained off.
Use a cast iron skillet. It is my favorite way to get a nice crispy skin on chicken and steak.
Season the steak liberally! A lot of time people will under season and the steak comes out bland. I will season before cooking and again once it is almost done.
Storage
Refrigerator: Put these steak bites in an airtight container and store them in the fridge for up to 5 days. Throw them in the skillet to reheat with a little ghee or butter and serve!
FAQs
How to make garlic butter sauce for steak
Making garlic butter sauce is super simple. Simply add the garlic and the butter to your skillet over low-medium heat and cook until fragrant, about 30 seconds. Then add in your steak bites or whatever else you're making, and the garlic butter sauce will make everything delicious!
Is garlic butter steak bites a good keto steak recipe?
Yes! As a matter of fact, there is just about 1 carb per serving of these delicious steak bites!
Can I use the garlic butter sauce in other recipes?
Absolutely! Garlic butter sauce is easy to make and is a great way to liven up protein, veggies, or use a marinade for the grill!
More Delicious Steak Recipes!
Jicama Steak Tacos with Lime Crema
The Best Slow Smoked Beef Tri-Tip
Keto Steak Salad with Red Wine Vinaigrette
Philly Not So Cheesesteak Stuffed Peppers
Shop My Post!

Print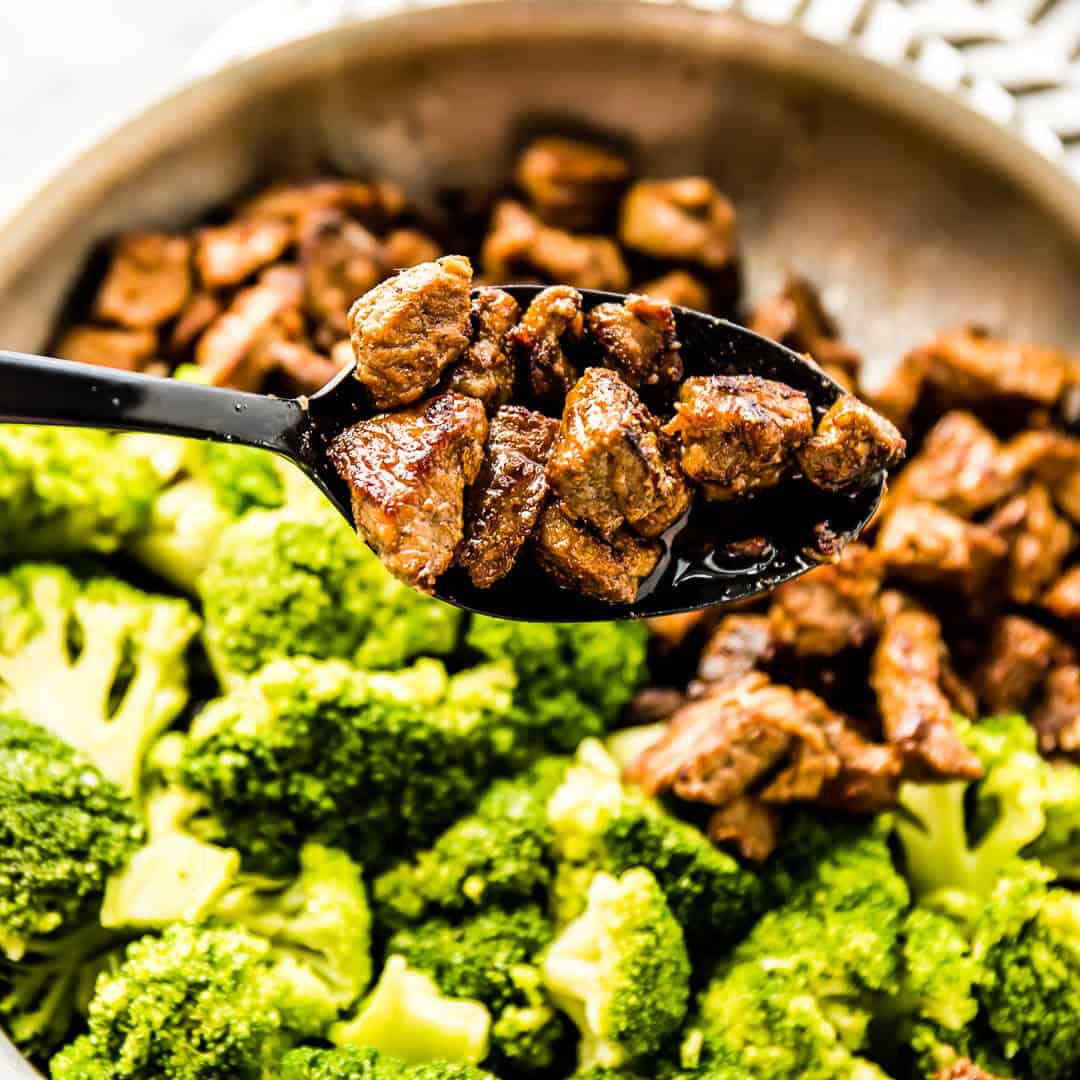 Garlic Butter Steak Bites
Total Time:

15 minutes

Yield:

4

servings

1

x
Instructions
Heat a large skillet over medium/high heat with the 1 tbsp olive oil.
Cut the steak into cubes and season with salt and pepper. I usually do 1 tsp salt and 1/2 tsp pepper. 
Once the skillet is hot, add in the steak pieces. Cook for 3-4 minutes on each side. Stir occasionally. For the steak to get really crispy, make sure to drain any excess water out of the skillet towards the end of cooking. Once liquid is removed, place the skillet back on the heat and brown another minute or so. This will give the steak a nice crispy texture. 
Transfer the cooked steak to a large bowl and place to the side. 
To the hot skillet add the ghee and the minced garlic. Heat for 30 seconds. 
Transfer the steak back to the skillet and mix together with a large wooden spoon. Make sure to coat the steak evenly with the butter and garlic mixture.
Season with salt and pepper and serve with your favorite roasted or steamed veggie. 
Enjoy!
Notes
Make sure to remove excess water out of the pan as the steak cooks. I prefer the steak to get really crispy and for this to happen, the water will need to be drained off. 
If you don't want to use sirloin steak, feel free to use strip steak, tenderloin or rib eye.
Nutrition information provided is an estimate and will vary based on cooking methods and brands of ingredients used.
Author:

Ashley McCrary

Prep Time:

5 minutes

Cook Time:

10 minutes

Category:

Main/Appetizers

Cuisine:

American
Nutrition
Serving Size:

1 serving

Calories:

299

Sugar:

0

Sodium:

102.8

Fat:

13.9

Carbohydrates:

0.8

Fiber:

0.1

Protein:

40.7

Cholesterol:

119.5
Keywords: garlic butter, garlic butter steak, steak bites, Whole30, Keto, Steak