This post contains affiliate links
This post is a collaboration with Beef. It's What's For Dinner. on behalf of the Beef Checkoff. I received compensation, but all opinions are my own". The Best Slow Smoked Beef Tri-Tip
Summertime means pulling out the Smoker. In my opinion, it is the best way to enjoy beef, especially this Smoked Beef Tri-Tip. Smoking meat is a beloved low and slow cooking method used to create some of the best BBQ staples. With bold flavors and tender, melt-in-your-mouth beef, what's not to love? Not to mention it's Whole30, Keto and Paleo compliant.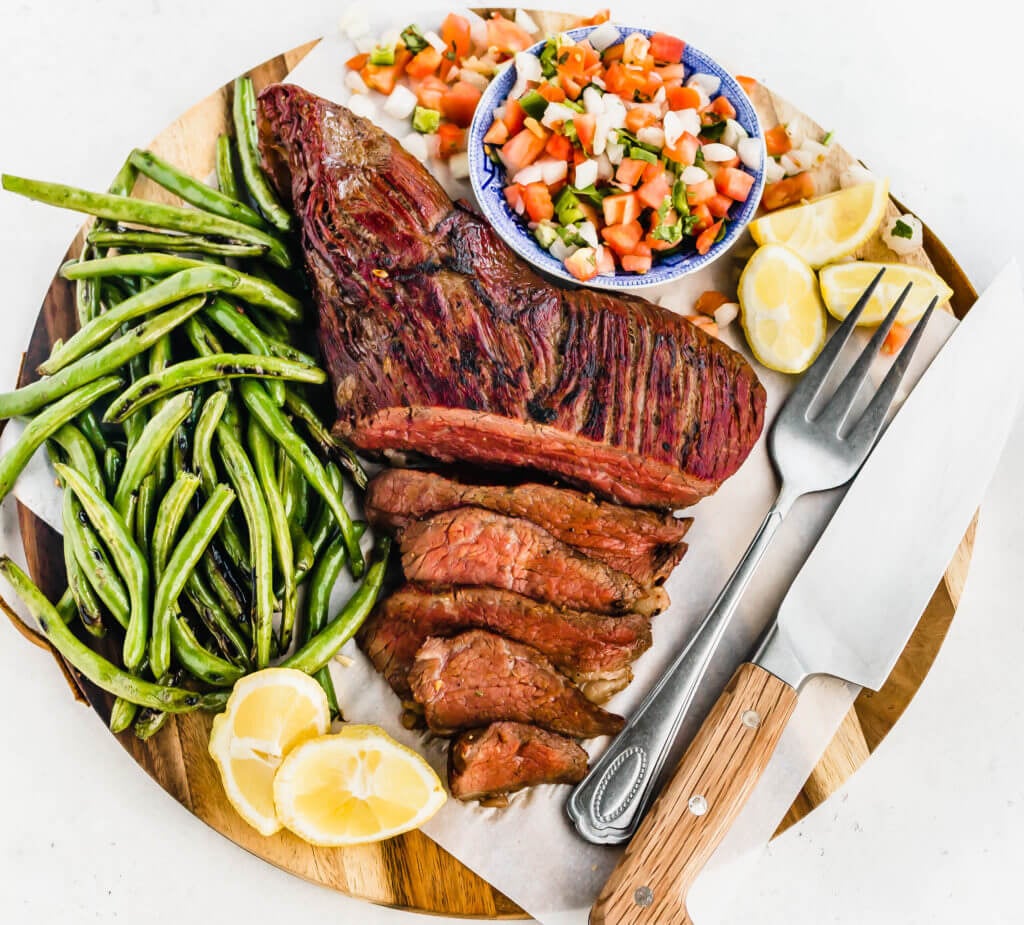 I love smoking beef Ribs and Brisket, but lately I have been loving a good Tri-Tip. When smoking, the flavor of pellets you use will determine the final flavor notes. When smoking a beef Tri-Tip, I love using cherry pellets because they offer a hint of fruitiness to the beef and are great used by themselves or mixed with another wood.

The marinade recipe I created for this particular cut of beef adds so much flavor. My favorite way to prepare this beef Tri-Tip is by allowing it to marinate for at least 24 hours.
For the marinade, I kept the ingredients pretty basic. I used coconut aminos, which is a great substitution for soy sauce, a couple of garlic cloves minced, light olive oil, and lemon juice. I add these ingredients together and transfer to a gallon size baggie along with the beef.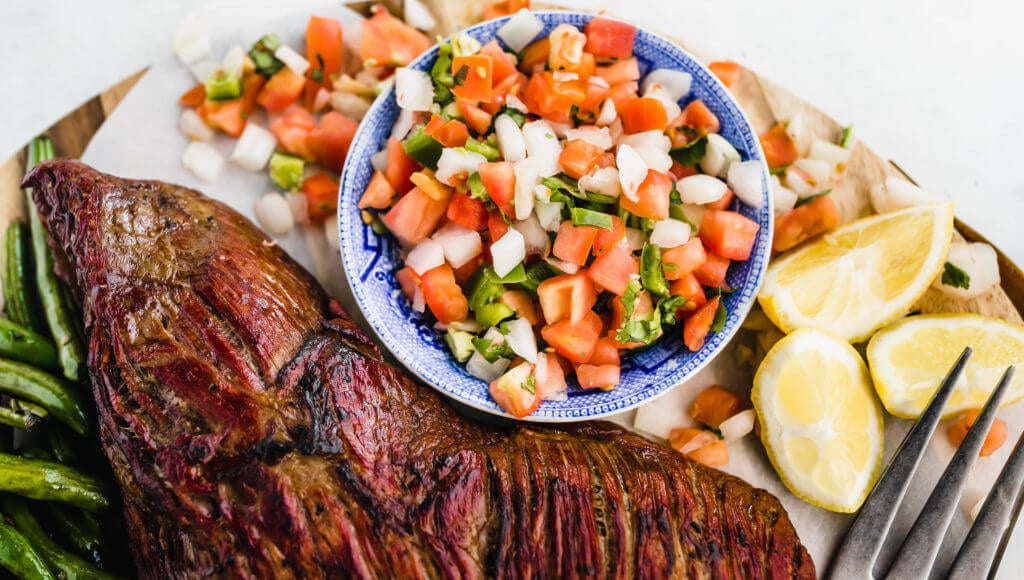 Anytime I smoke meat, I love serving it with fresh sides such as pan seared green beans and Pico de Gallo. I like to keep the side dishes simple, so the flavor of the beef can shine.
What should the temperature of my Slow Smoked Beef Tri-Tip be?
This will depend on how you like your beef cooked. In my house we love medium-rare. The way I cook my beef is by smoking and then searing. There will be a temperature recommendations for smoking along with completing the second step which is searing. Below is a guide to help you when smoking and searing a beef Tri-Tip. To check the temperature of the beef, insert an instant-read thermometer horizontally from the side so it penetrates the thickest part of the center of the steak not touching the bone or fat.
1.)The first step will be to smoke the beef Tri-Tip. When smoking, make sure to take the beef off 5 to 10 degrees under the final end temperature you're looking for.
Medium Rare: 127 degrees F
Medium: 133 degrees F
Medium Well: 140 degrees F
Well Done: 150 degrees F

2.) The second step will be to sear the beef Tri-Tip after it has been smoked. Sear both sides on a medium high grill until the internal temperature reads:
Medium Rare: 145 degrees F
Medium Well: 165 degrees F
Medium: 160 degrees F
Well Done: 170 degrees F

How important is it for the Smoked Beef Tri-Tip to marinate over night?
In my opinion through experience, using a marinade can add a lot of flavor to beef. In this case I'm using the marinade mainly for flavor. I'd recommend marinating it for 6 to 12 hours or overnight.
This is where all the flavor comes from. Giving the meat time to soak up some flavorful liquid allows it to be more tender and juicy once cooked.

Click on the photo below to save to your Pinterest board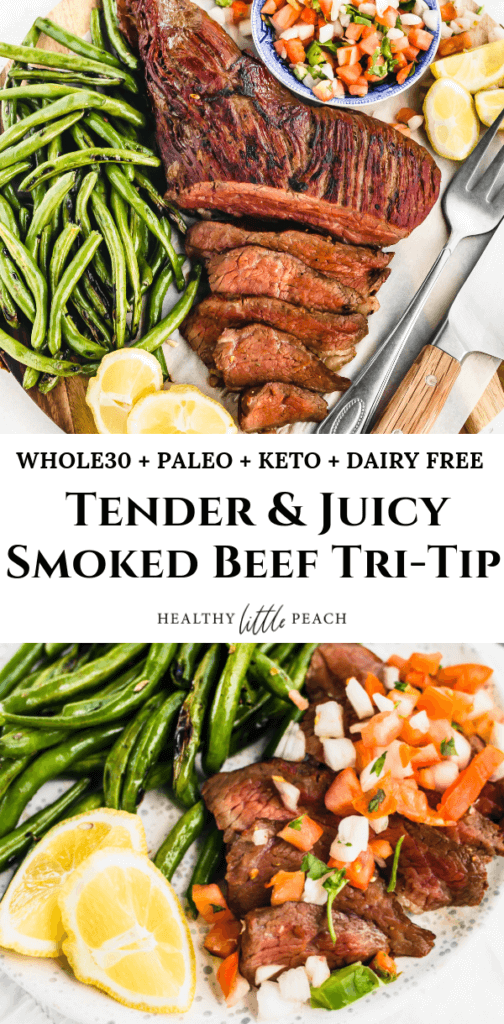 If you like this recipe, be sure to check out my Rib recipe?
Print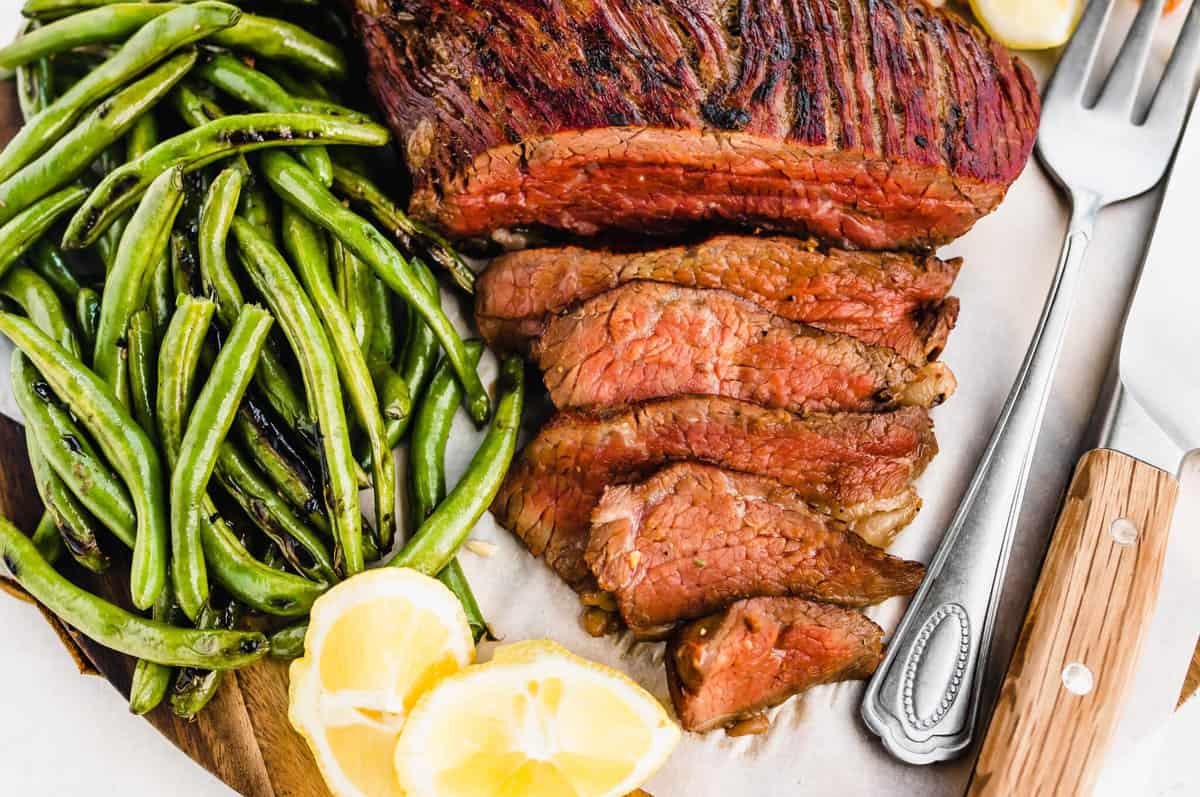 The Best Slow Smoked Tri-Tip Steak
Total Time:

1 hour 50 minutes

Yield:

4

–

5

people

1

x
Tri-Tip
1

2.5lb Tri-Tip Roast
salt and pepper to taste
gallon size baggie

1 tbsp

ghee ((for searing))
Marinade
1/3 cup

coconut aminos

2

garlic coves (minced)

1/2

lemon (juiced)

1/4 cup

light olive oil
Instructions
Preheat smoker to 225 degrees.
Remove the Tri-Tip from the marinade and generously season both sides with salt and pepper. Don't be afraid to over season the meat. Be sure to get a nice crust on both sides of the beef.
Place beef Tri-Tip on smoker. Cook until internal temperature reaches 135 degrees F. This should cook around 80 minutes. Remove beef and add it to a cast iron skillet pre-heated with ghee. Sear on each side until the internal temperature is 145 degrees F for medium rare.
Remove the tri-tip from the smoker and transfer to a cutting board. Allow it to rest for 15 minutes.
Cut across the grains in thin strips starting at the smallest end of the Tri-Tip.
Serve with fresh Pico De Gallo over the top of the meat and a side of green beans.
Author:

Ashley McCrary

Prep Time:

5 minutes

Cook Time:

1 hour 45 minutes

Category:

Main Dish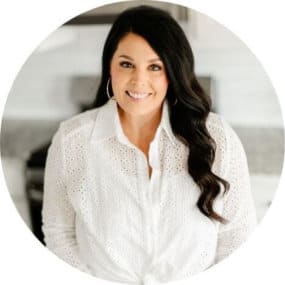 About Me
Welcome to Healthy Little Peach. I'm Mac, the lady behind the recipes. I believe in living a healthy lifestyle that consists of a mix of healthy whole foods, and full-fat comfort meals. Life is too short not to enjoy good food while maintaining a healthy body and mind. Here you will find gluten-free, dairy-free, paleo, keto, and even full-fat comfort recipes. Let's have fun in the kitchen together!