This post may contain affiliate links. Please read our disclosure policy.
As soon as we found out we were having a baby girl, I had a vision in my head of what I wanted my sweet girl's nursery to look like. I envisioned a clean farmhouse feel that was sophisticated yet simple. Grey and white have always been colors that calm me so I designed everything around that color pallet. To bring the nursery together, my husband shiplapped the back wall behind her crib and it totally transformed the room. I am thrilled about how her nursery turned out and am so happy I can share it with all of you.
Most of the items in Eleanor's nursery came from a lot of different random places and some were one time finds at Tj Maxx and Marshalls. At the end of the post I have linked most all of the items from the nursery. Some items I couldn't find the exact match, so I linked things that were very similar.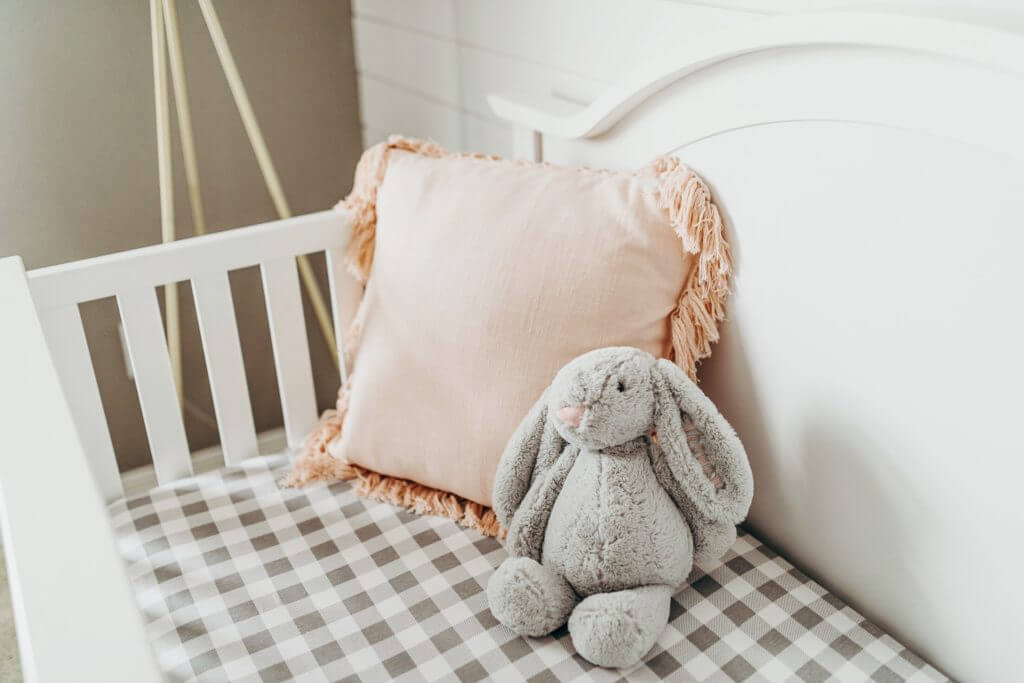 Eleanor's Nursery Items
1.Gold Mirror / 2. Light Fixture or Light Fixture #2 3. White Crib (not exact, but close) / 4. Crib Sheet / 5. Crib Skirt / 6. Wreath / 7. Blush Pillow or  Blush Pillow#2 / 8. Ladder / 9. Bunny / 10. Rug (not exact rug, but close) / 11. Dresser (This isn't exact dresser, but very close) / 12. Rocker / 13. Blush Blanket / White Blanket / 14. Dream Catcher #1 or Dream Catcher#2/ 15. Tall Floor Lamp / 16. Small Lamp / 17. Curtains / 18. Marble Storage / 19. Letterboard (choose the black felt) / 20. Succulents / 21. Picture Frame / 22. Wired Baskets / 23. Elephant  / 24. Swaddle Blankets / 25. Plank Walls (Home Depot)  26. White Cube Closet Organizer / 27. Wooden Cubes for Closet Organizer