Philly Not-So Cheesesteak Stuffed Peppers (Keto +Whole30)
Published Mar 11, 2019 Updated Jul 11, 2023
This post may contain affiliate links. Please read our disclosure policy.
By now you guys know that I love reinventing comfort food in a healthy and satisfying way. These Philly Not-So Cheesesteak Stuffed Peppers are a game changer. They look like they are slathered in cheese, but that's actually my Whole30, Paleo and Keto compliant Mac's Awesome Sauce. If you are in the mood to change things up and bring a little life to your boring healthy routine, you have got to add these to your menu.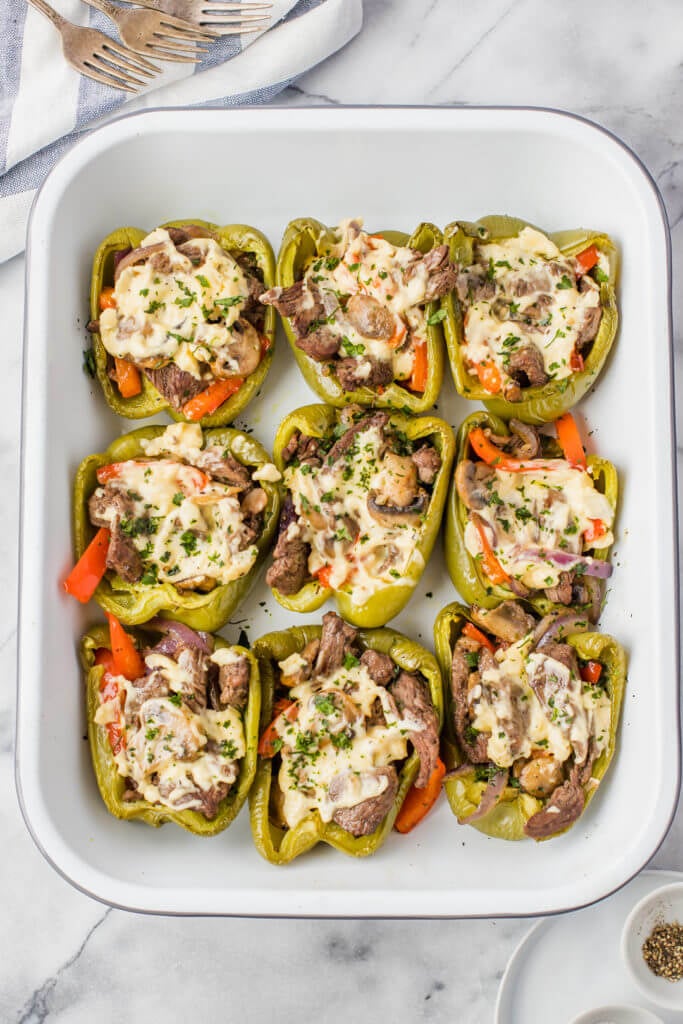 Even though this dish looks like it's covered in creamy white cheese, it's actually my Mac's Awesome Sauce. It gives these peppers a "cheesy" and creamy texture without actual dairy. This sauce brings a ton of flavor along with
What steak is the best to use when making these Philly Not-So Cheesesteak Stuffed Peppers ?
A traditional Philly Cheesesteak is usually made with Ribeye that is thinly sliced. Ribeyes have great flavor because of the fattiness but they can be a bit pricey. If you are wanting to go the cheaper route you can use a hanger, skirt, flank or sirloin steak cut thinly. For this recipe I used sirloin steaks cut thinly and it turned out amazing.
Do you throw everything in the oven together or cook it separate?
For these Philly Not-So Cheesesteak Stuffed Peppers, I cook the green peppers in the oven by themselves while the steak, mushrooms, and onions are cooking. I always like to brown my meat and sauté the rest of the veggies before adding the green peppers. I found that if you try to cook everything at once in the oven, it cooks unevenly. To get the best flavor, it's best to follow the instructions and cook repeater.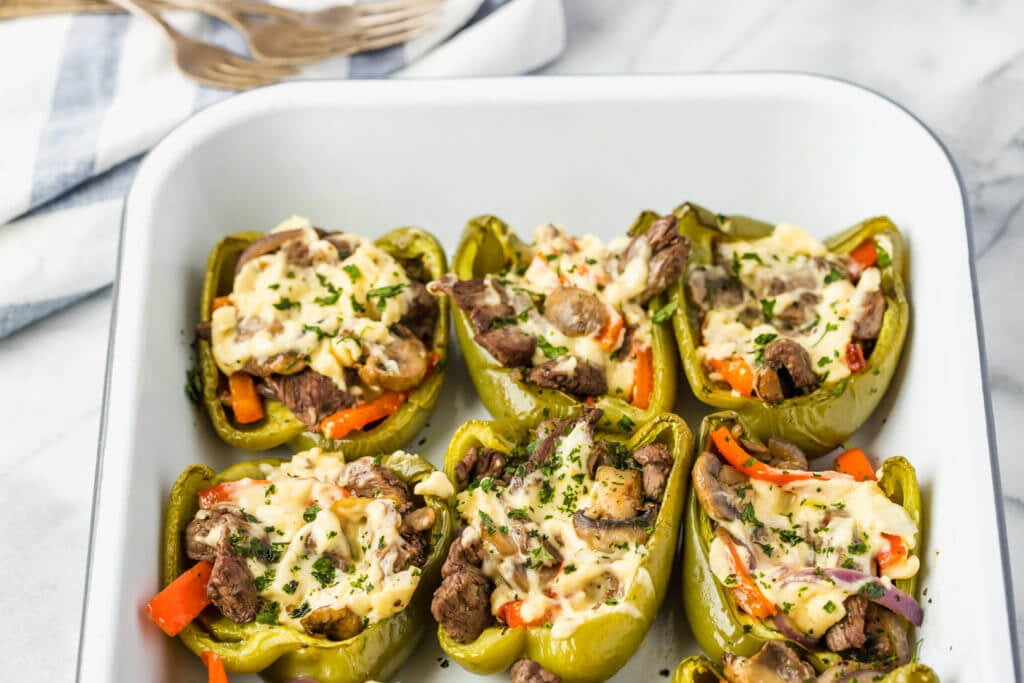 What's a great dairy cheese alternative?
When I cook, I always tend to add mayo or another one of sauces that serve as a great cheesy texture and flavor to any dish. If I am not going for a creamy texture, I love using nutritional yeast because it has a nutty and cheesy flavor that really adds a lot of flavor to any dish. Additionally, there are a ton of dairy free cream cheeses available in stores that serve as a great dairy free cheesy base. I love using Kite Hill regular cream cheese that is also Whole30 compliant.


Philly Not So Cheesesteak Stuffed Peppers
Green peppers stuffed with thinly sliced steak, mushrooms, peppers, red onions and topped with a creamy sauce that is a great cheese alternative. This recipe is Keto, Whole30, Paleo and Dairy Free.
Ingredients
Philly Not So Cheesesteak Stuffed Peppers
2

lbs

sirloin steak thinly sliced

5

green bell peppers

cut in half and seeded

1

cup

mushrooms

sliced

1

red bell pepper

sliced

1

small red onion

sliced

parsley for garnish

2

tbsp

olive oil

1/2

cup

Mac's Awesome Sauce
Mac's Awesome Sauce (Makes 1 cup)
1

cup

compliant mayo

1

tbsp

chopped onions

2

tsp

coconut aminos

1/4

tsp

sea salt

more to taste

1/2

tsp

fresh cracked pepper
Instructions
Stuffed Peppers
Preheat oven to 400 F.

Oil a baking pan and cut each green pepper in half and hollow out. Place the peppers to where the open side is face up. Bake the peppers for 20 minutes or until tender.

Slice the red onion in thin slices, julienne the red pepper, and slice and clean the mushrooms. Slice the steak against the grain into thin strips.

Heat a skillet over medium/high heat with 1 tbsp of olive oil and heat up the sliced steak. Remove the steak and transfer to a bowl when completely cooked.

Add 1 tbsp of olive oil to the hot skillet. Add in the mushrooms, red peppers, and onions to the hot skillet. Cook until tender and add the steak in with the veggie mixture and cook another min or two.

Remove the peppers from the oven once tender and begin assembling each pepper by adding in a big heaping spoonful of the veggie and meat mixture into each pepper. Once each pepper is filled, top with a tbsp of Mac's Awesome Sauce to each pepper.

Add back in the 400 F oven and allow the flavors to merry together for another 2-3 minutes.
Mac's Awesome Sauce
Make the mayo base and add to a jar. 

Add the chopped onions, coconut aminos, 1/4 tsp sea salt and 1/2 tsp pepper. Use a spoon to mix together until combined. This dressing will be good for up to a week in the fridge.
Nutrition information is automatically calculated, so should only be used as an approximation.
Shop My Philly Not-So Cheesesteak Stuffed Peppers Post

Be sure to pin this recipto your Pinterest Boards
Love this recipe? Be sure to check out my other favorites below: