Juicy Keto Mushroom Onion Bacon Burgers
Published Sep 14, 2019 Updated Mar 12, 2020
This post may contain affiliate links. Please read our disclosure policy.
Burgers are something that everyone probably has on their menus at least once a week. My favorite thing to do is change them up from week to week so our family doesn't get burnt out. My new Mushroom Onion Bacon Burgers has transformed our weekly burger game. Not to mention, these delicious little babies are Keto, Whole30, Paleo and Dairy-Free.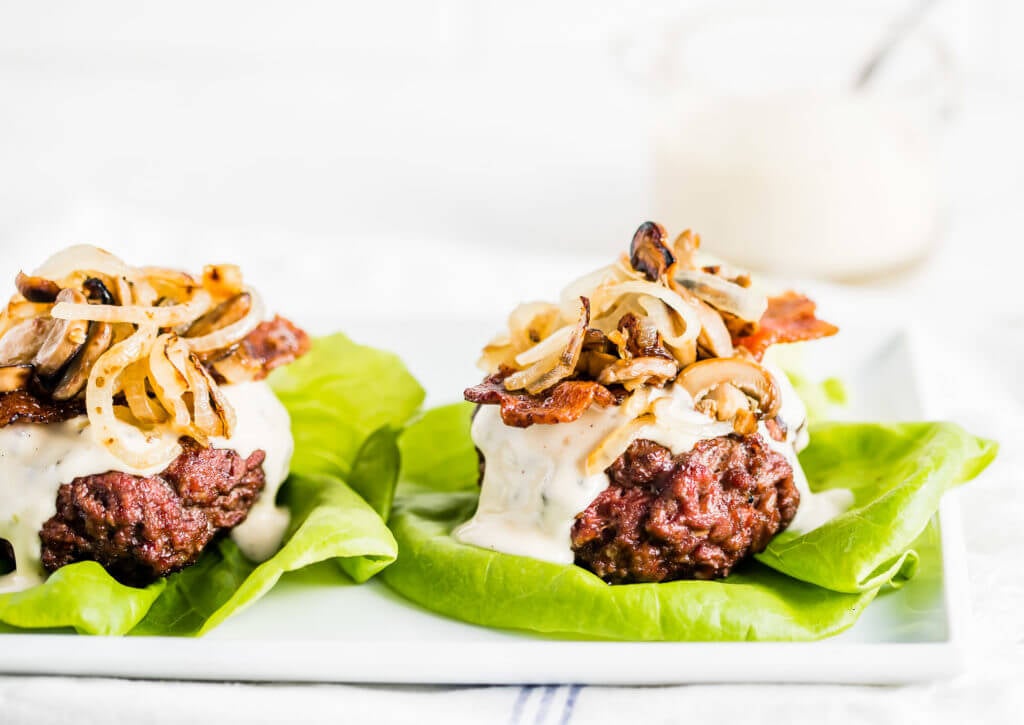 Our favorite way to cook a burger is smoking them on the Traeger. If you don't have a smoker, no worries, throw them in a pan, in the oven or grill of choice. You really can't go wrong with how you cook them because they are seasoned to perfections and come our juicy and flavorful every single. time.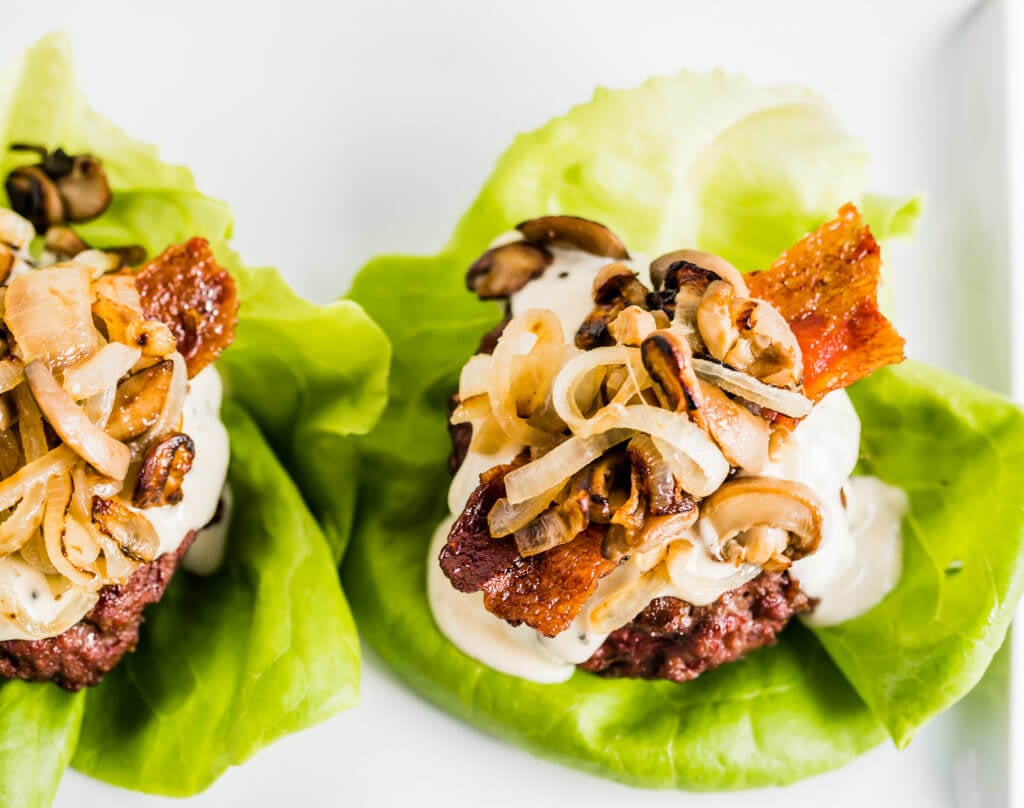 To top, I slathered each burger with my creamy Mac's Awesome Sauce along with sauteed mushrooms and onions and a crispy piece of bacon. To keep it healthy, I wrap each burger with butter lettuce and it so good and crisp you won't even miss this bun.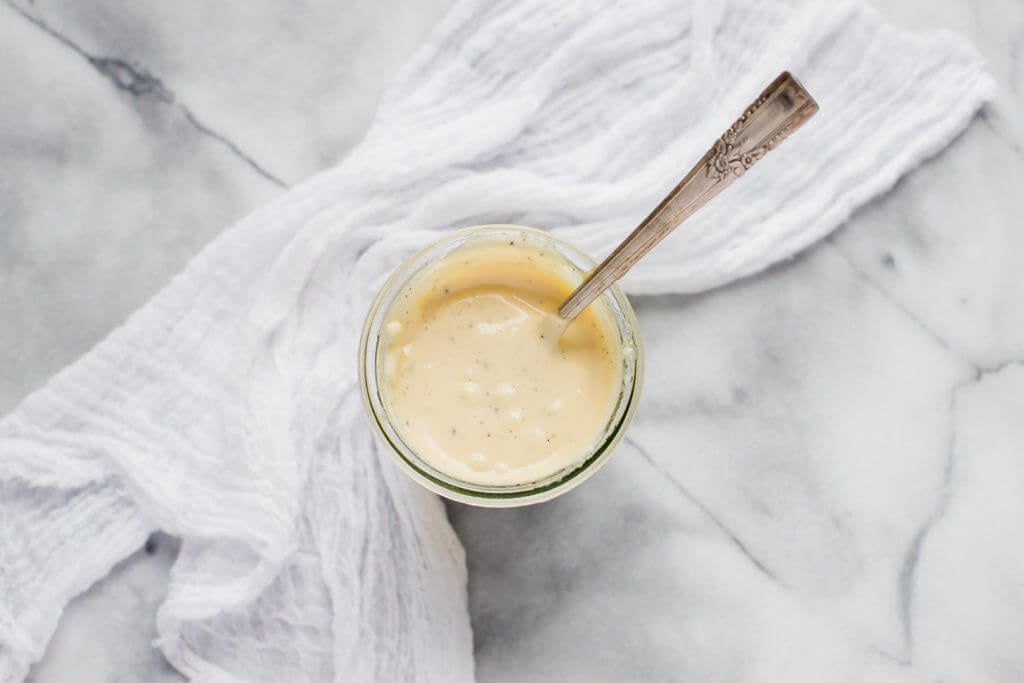 My Mac's Awesome Sauce is so full of flavor and texture and is the perfect addition with these seasoned ground beef patties. If you miss cheese on your burgers, then this is the perfect substitute that gives it a cheesy feel.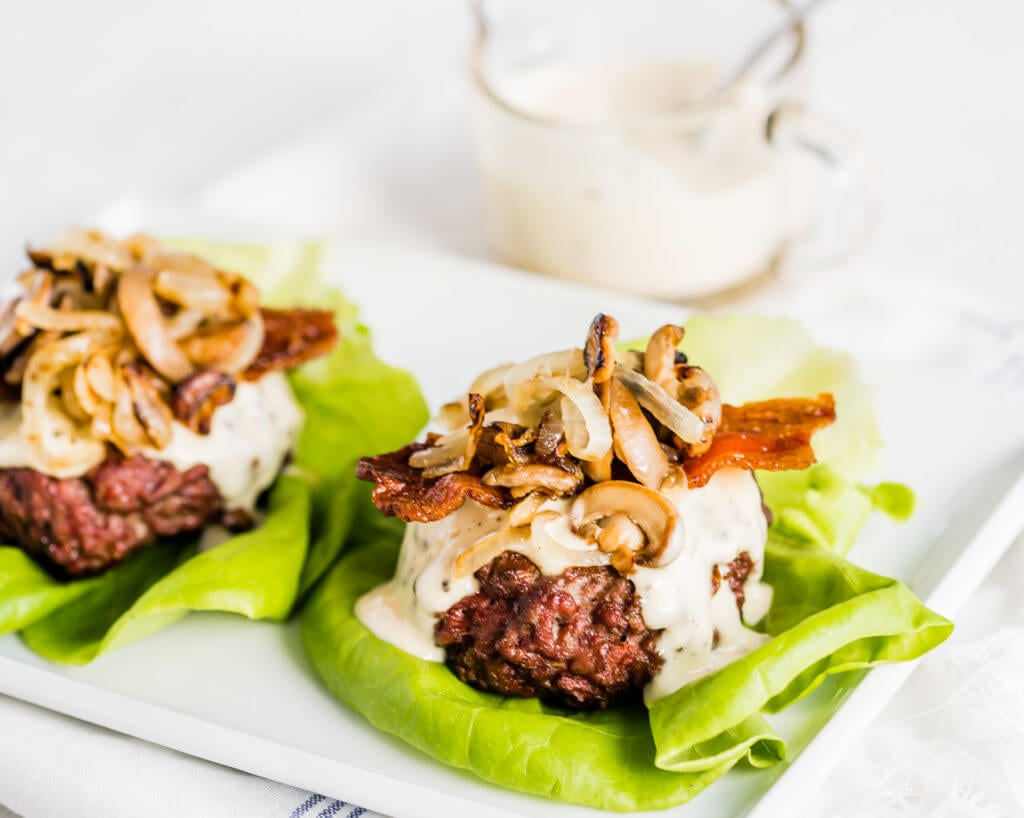 How to use these Mushroom Onion Bacon Burgers for meal prep?
Making a big batch of these burgers is a great way to save time during a busy week. I love adding cooked burgers to a glass Tupperware container and use them in different ways throughout the week. They are great on top of a salad, in a lettuce wrap or just plain with a side of veggies.
If you are wanting to take this exact recipe for lunch, store the burger along with the mushroom and onion mixture in a Tupperware, place the lettuce and bacon slice in separate paper towels and add each to a baggie, and store the sauce in a small container. Heat up the burger and onion mixture then build your burger with the lettuce , , bacon and sauce.
Click on the photo below to save to your Pinterest Board
Shop my Post

[wpurp-searchable-recipe]Mushroom and Onion Burger Wraps – A super juicy and flavorful seasoned burger patty topped with a creamy awesome sauce, bacon and sauteed mushrooms and onions all wrapped in lettuce. Whole30, Paleo, Keto and Dairy Free. – 90/10 ground beef, salt, pepper, garlic powder, coconut aminos, onion powder, onion ((thinly sliced)), sliced mushrooms ((drained)), bacon, butter lettuce leaves, Mac's Awesome Sauce ((*See notes for recipe)), olive oil, garlic ((minced)), , Mix the ground beef, coconut aminos, onion powder, garlic powder, salt and pepper in a large bowl and form the mixture into 4 equal-size balls. ; Heat oil in a cast iron skillet or large pan over high heat until the oil begins to shimmer. Cook the burger patties until golden brown or until desired doneness. Around 4-5 minutes on each side or until internal temp is 165F.; Remove the burger patties and add to a plate. Cook the bacon as directed on the package or add to a lined baking sheet and cook in a 425F oven for 10 minutes. ; In the same skillet add the onion slices, minced garlic and mushrooms. Saute until onions are translucent and mushroom are browned. Around 4-5 minutes; Clean the butter lettuce and pat dry with a paper towel. Add a leaf to a plate. Top the lettuce leaf with a burger patty, then a tbsp of Mac's Awesome Sauce, a slice of bacon, then a desired amount of the mushroom and onion mixture. Add another butter lettuce leaf to the top and enjoy!; ; – <p><strong><a href="https://healthylittlepeach.com/recipe/4-majestic-whole30-sauces/" target="_blank" rel="noopener">CLICK HERE</a></strong> for Mac's Awesome Sauce Recipe</p> – Appetizer – Main Dish – Keto – Paleo – Recipes – Whole30 – burger patties – Burger Wrap – burgers – keto – Lettuce Burgers – Lettuce wrap burgers – Mushroom and Onion Burgers – the best burgers – whole30[/wpurp-searchable-recipe]
Print