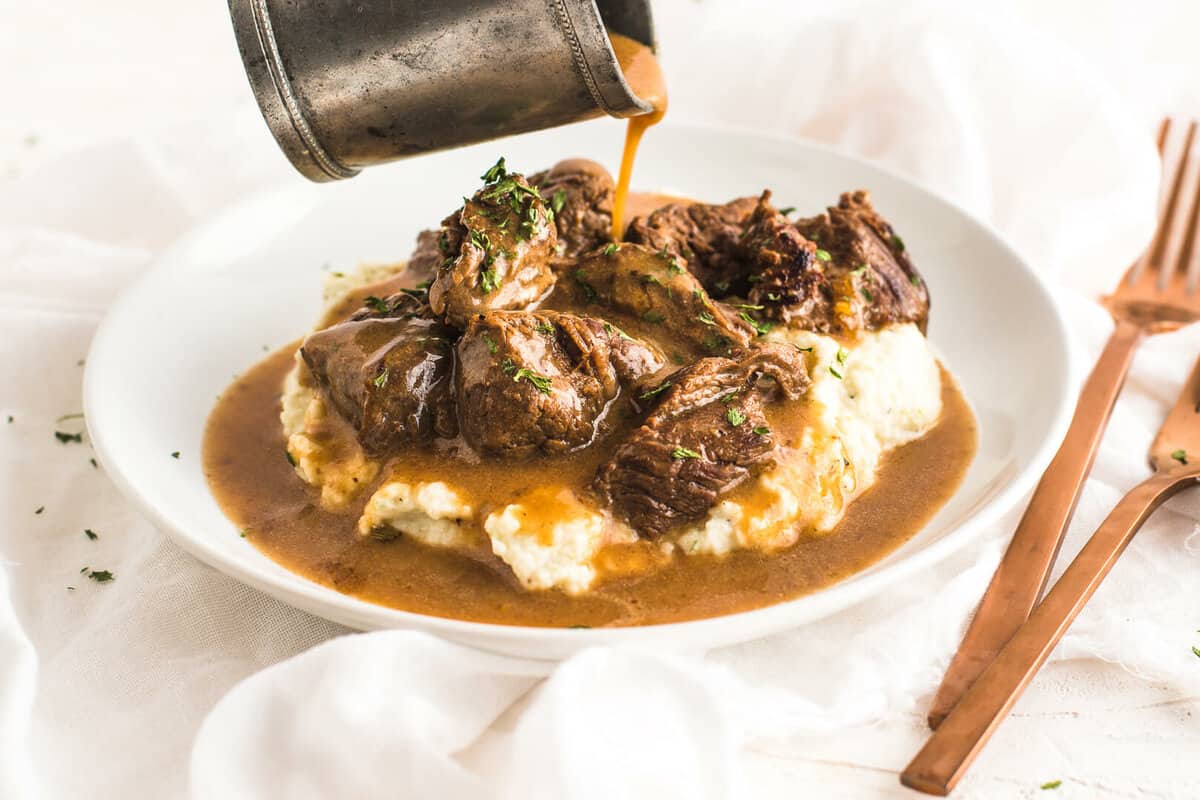 Hands down, this Beef Tips & Gravy over Cauliflower Mash recipe is by far my new favorite recipe of ALL TIME. I live for comfort food and this meal makes me feel all warm and cozy inside. With this meal, I have to control myself because you will find me creeping in the kitchen for seconds and thirds. Creating delicious meals that serve my family in a healthy way is what I live for! When my husband looks at me and says, "Babe this is a flipping WINNER DINNER!" I feel so so good inside, almost like I am nailing this whole wife and mom thing, haha. The best part about this recipe is I have developed it for the stove and instant pot!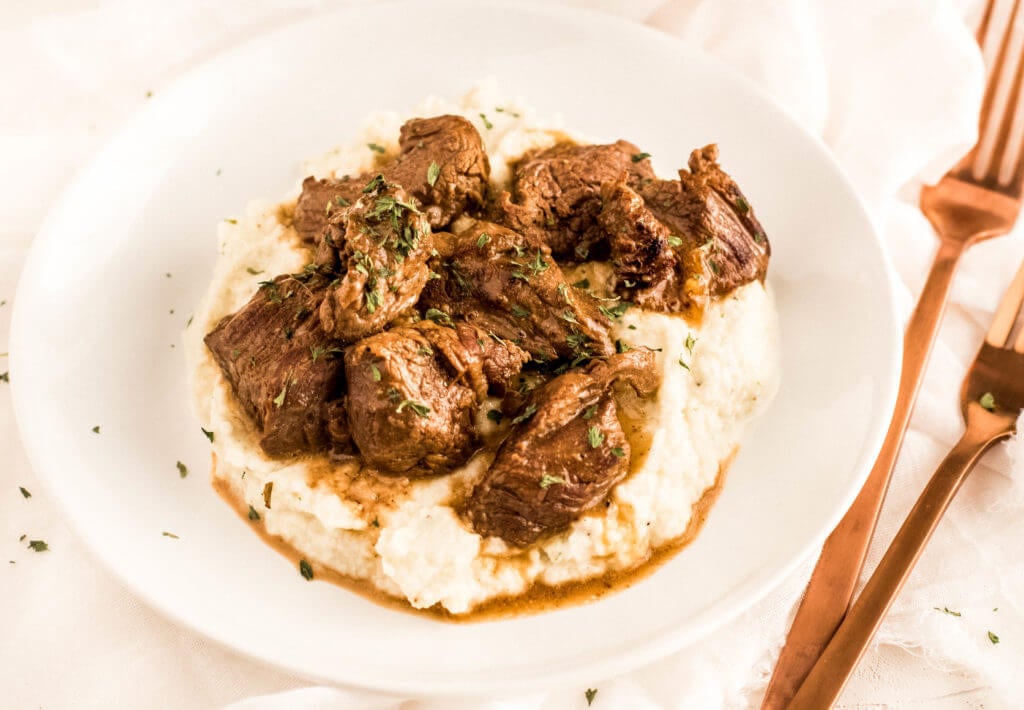 Cauliflower mash is my current obsession because let's face it, it almost tastes like real taters without all the guilt. If you are living Keto, Whole30 or Paleo, try utilizing cauliflower more to serve as a yummy substitute for starchier foods. To get the texture of mashed potatoes I simply boil a couple of bags of cauliflower rice, drain and add to my Vitamix. Next, I will add in a little coconut milk along with Fourth and Heart Ghee, fresh chives, salt and pepper, and some garlic. Talk about mouth watering! You honestly can't even tell the difference between these and real mashed potatoes.
Gravy is something that will bring any dish to life and it took me a long time to figure out the perfect recipe that aligns with the Paleo guidelines. Tapioca and Arrowroot flour are game changers for Paleo cooking and serves as a great thickening agents that are the perfect substitute for real flour. I also love brightening up my roast along with just plain ham steaks with this gravy. It will turn a boring meal into something really special
If you are needing a simple meal that will impress the entire family, then give this recipe a try. It is perfect for a Sunday lunch dinner and even a quick meal throughout a busy week.
What if my gravy that goes over the beef tips does not get thick?
Because arrowroot and tapioca are a Paleo substitute for real four/thickening agent, don't expect the gravy to be as thick as the traditional gravy. My gravy is the consistency of a thicker soup. Feel free to add less broth to make it thicker or experiment with adding a little more tapioca flour. Remember, it will have to simmer and as it heats it will begin to thicken. If you are living strict Keto, feel free to sub almond flour. 
Whisk 1 part coconut or almond flour with 1 part cold water to create a slurry.
UPDATE: I have also developed an Instant Pot & Crockpot version of this recipe and I couldn't be more excited about it. The steak is so tender and it takes no time at all!
Shop my post:
Click on the picture below to save to your Pinterest board.
Want other healthy comfort food recipes? Click below to check out a few more of my favorites:
---
---
Tags : beef, beef tips and gravy, cauliflower mash, keto, paleo, whole30