Spiked Gingerbread Eggnog
Published Dec 20, 2019 Updated Jul 11, 2023
This post may contain affiliate links. Please read our disclosure policy.
As soon as November rolls around, I begin to crave the creamy goodness of eggnog. For me, this beverage is something I look forward to all year round. Christmas wouldn't be Christmas without my delicious and creamy Spiked Gingerbread Eggnog. It taste identical to a gingerbread cookie with a hint of bourbon and topped with whipped cream and finished with a real gingerbread cookie.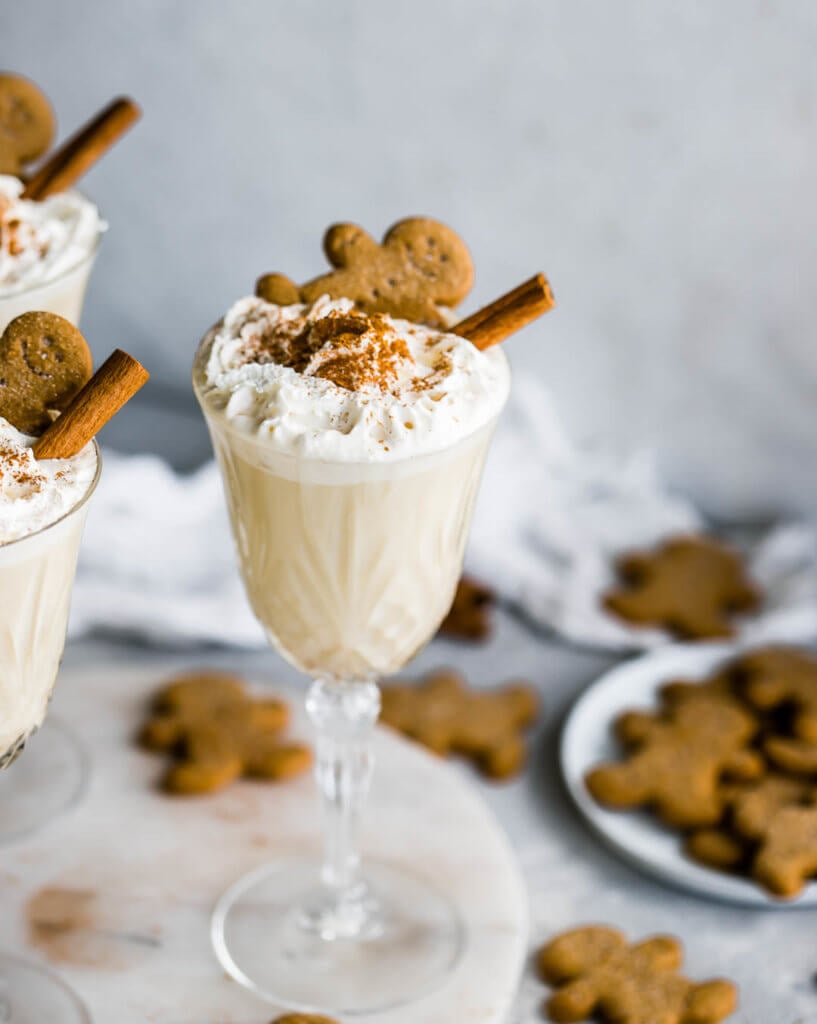 Of course, if you are not a bourbon or rum fan, you can still enjoy this recipe by omitting the alcohol all together. A big misconception about making homemade eggnog is that it is a complicated process. That is simply not true. In the past, I would always buy the eggnog cartons at the store because I assumed making it homemade would be too much work. It actually is a quick process and the taste is out of this world amazing.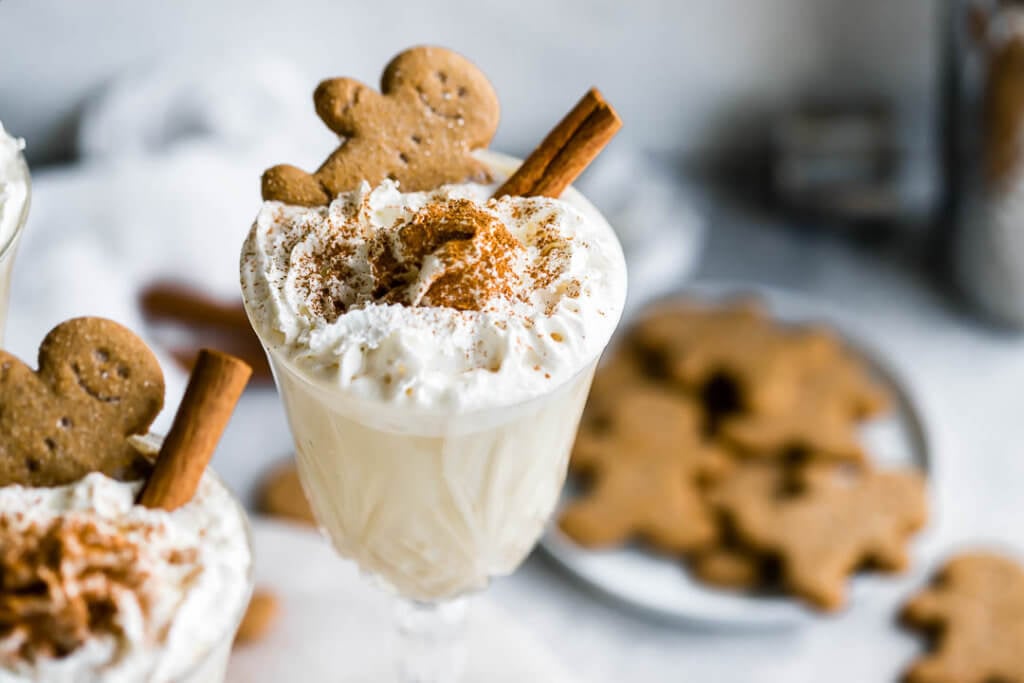 Homemade eggnog is so much better than the store bought stuff. In addition to it having a better taste, you also know all the ingredients that is being used. Most store bough cartons is filled with additives and preservatives to help give it a longer shelf life. I am just not a fan of all the extra stuff added. Not to mention, the carton eggnog is super thick and lacks in spices. Good news though, my homemade Spiked Gingerbread Eggnog is the perfect texture and has just enough spices to give it flavor without overdoing it.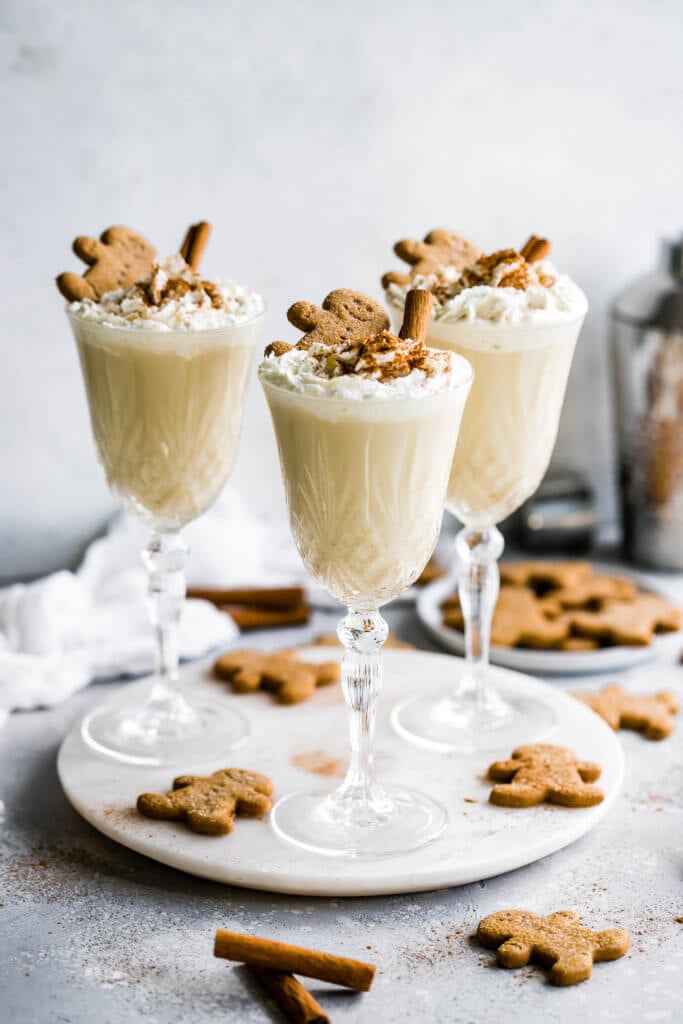 What exactly is eggnog?
Usually, you will start to see eggnog in grocery stores and on recipes sites starting at the beginning of November. This delicious creamy custard like beverage goes hand in hand with the Christmas season. It is a great addition to any family gathering or holiday party. Eggnog is typically made with milk, cream, sugar, eggs, and brandy, rum, or whiskey. Additional spices such as cinnamon, nutmeg, or vanilla may be added.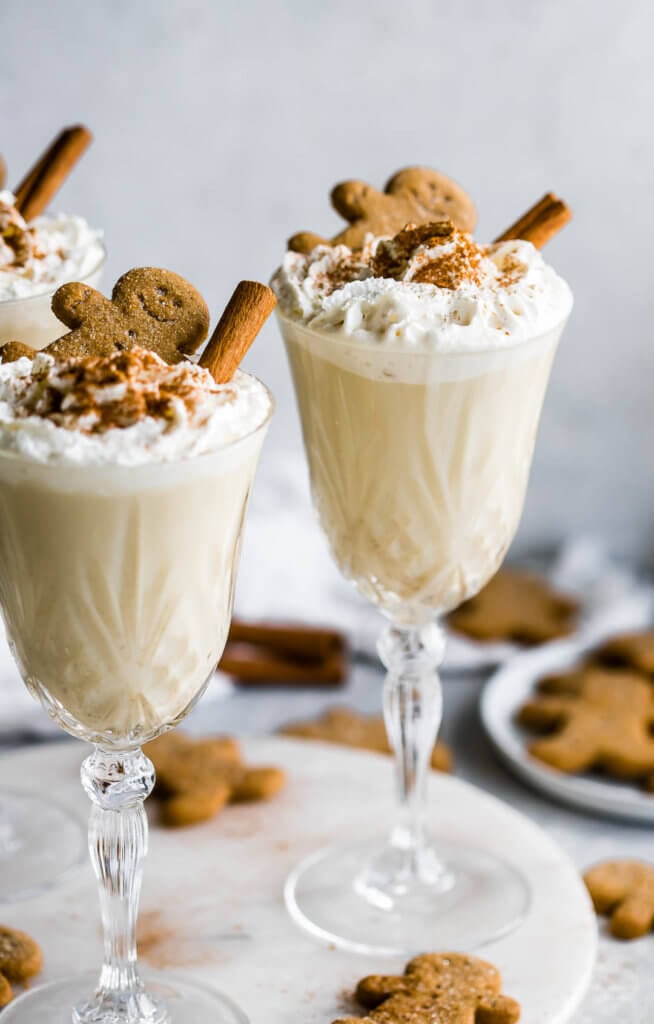 Shop My Post:

Be sure to click the picture below to save to your Pinterest Board: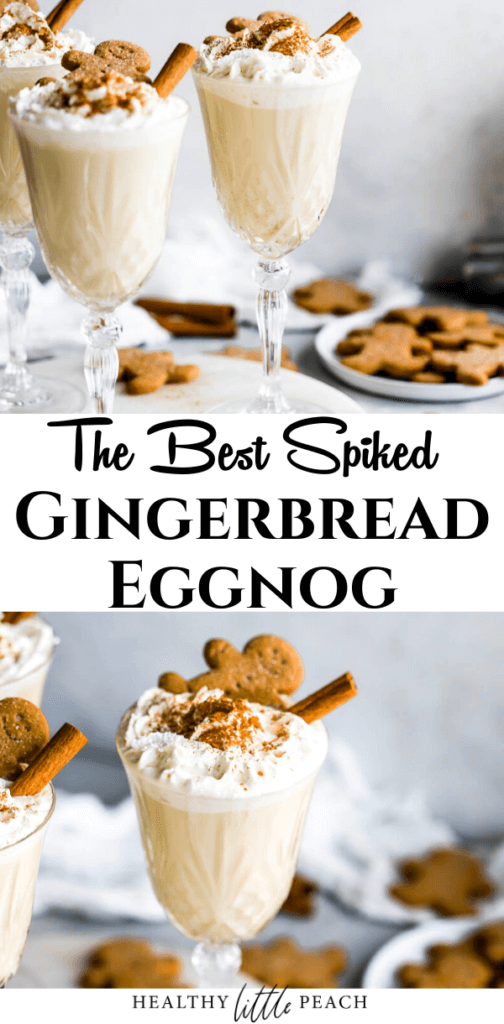 If you love this recipe, be sure to check out my other favorite below: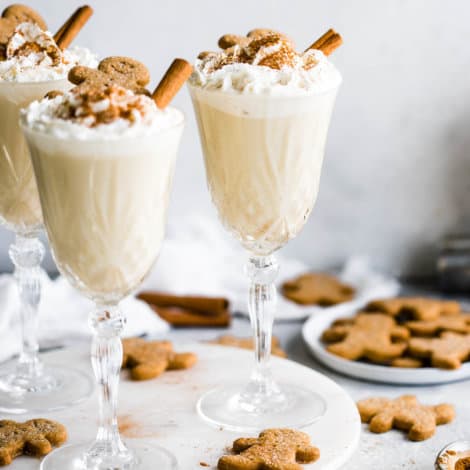 Spiked Gingerbread Eggnog
This Spiked Gingerbread Eggnog recipe is creamy, delicious and taste identical to gingerbread cookie with a hint of bourbon and rum. It is the perfect addition to any holiday party. 
Ingredients
6

egg yolks

1/2

cup

sugar or coconut sugar

granulated

1

cup

heavy cream

sub canned coconut cream for dairy free option

2 ½

cups

whole milk

sub almond milk for dairy free option

3/4

cup

Maker's Mark 46 Bourbon

1.5

oz

spiced rum

½

tsp

ground ginger

¼

tsp

vanilla extract

½

tsp

ground cinnamon + extra for garnish

½

tsp

grated nutmeg

¼

tsp

ground cloves

Pinch

of salt

Whipped cream

ground cinnamon, and a gingerbread cookie for garnish
Instructions
In a large saucepan, heat the heavy cream and milk over medium heat until steaming. Add in all the spices along with the vanilla extract. Make sure to just heat until simmering, but not boiling.

Place the egg yolks in a large bowl along with the sugar. Whisk together until the mixture becomes creamy.

Temper the egg yolks by carefully and slowly transferring a small amount of the heated milk to the bowl with the egg yolks and sugar while whisking together. Continue this process until everything is combined. 

Transfer the mixture back to the saucepan on the stove. Bring the mixture to a simmer. Using a candy thermometer, heat until the temperature reaches 160F

Transfer to a pitcher or serving ware of choice and allow to chill in the fridge for 4 hours. Once cool, add the rum and the Maker's Mark Bourbon.

Garnish with whipped cream, ground cinnamon and a gingerbread cookie.
Notes
This eggnog will last refrigerated for 3-4 weeks. 
If you are going dairy free with this recipe, you can switch out the whipped cream for whipped coconut or almond cream. 
Nutrition information is automatically calculated, so should only be used as an approximation.