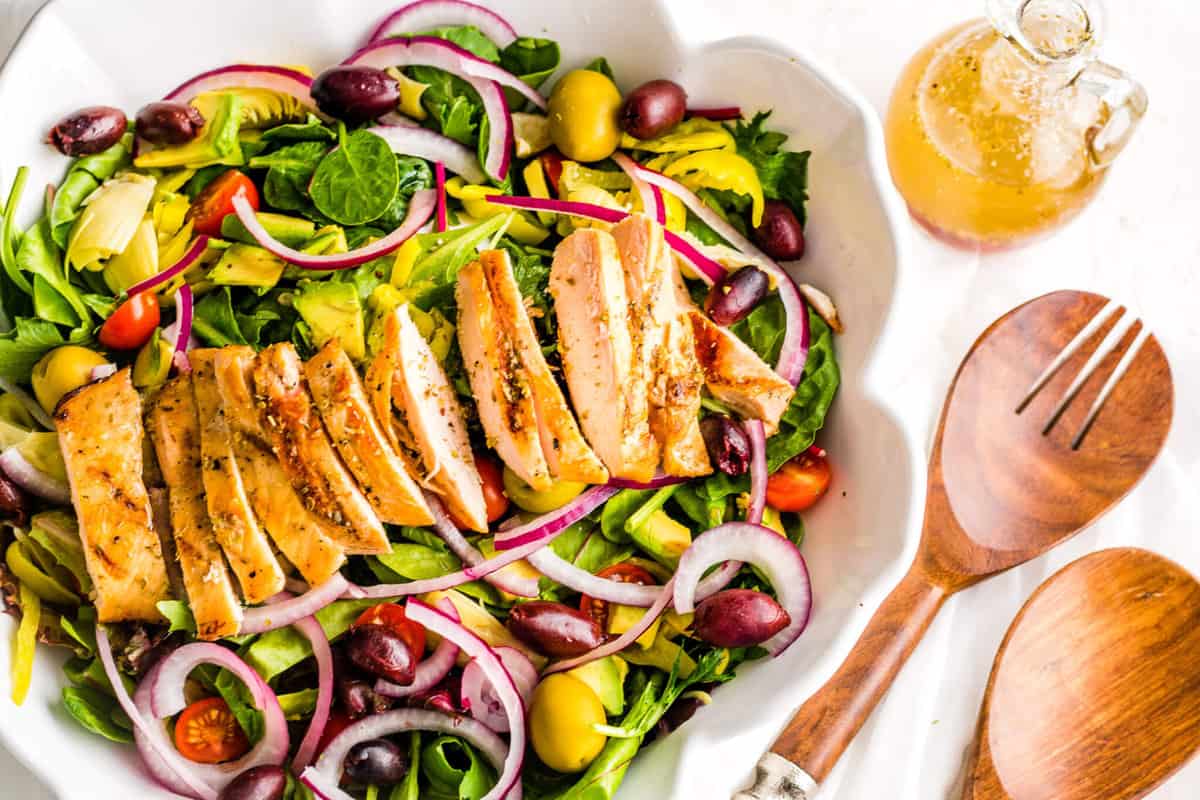 Life gets so busy that most of the time I am not sure what day it is, much less know what I'm cooking for dinner. Anytime I am in a hurry and need a healthy and nutritious meal, I always whip up a Grilled Greek Chicken Salad that is not only satisfying but also Whole30, Paleo and Keto compliant.
To make this meal even faster, during Sunday meal prep I will usually make 3 or 4 chicken breast to throw in the fridge to make for easy grab and go meals. If I know it's going to be a crazy week I will make sure to prep a few different protein options at the beginning of the week to throw on top of a salad.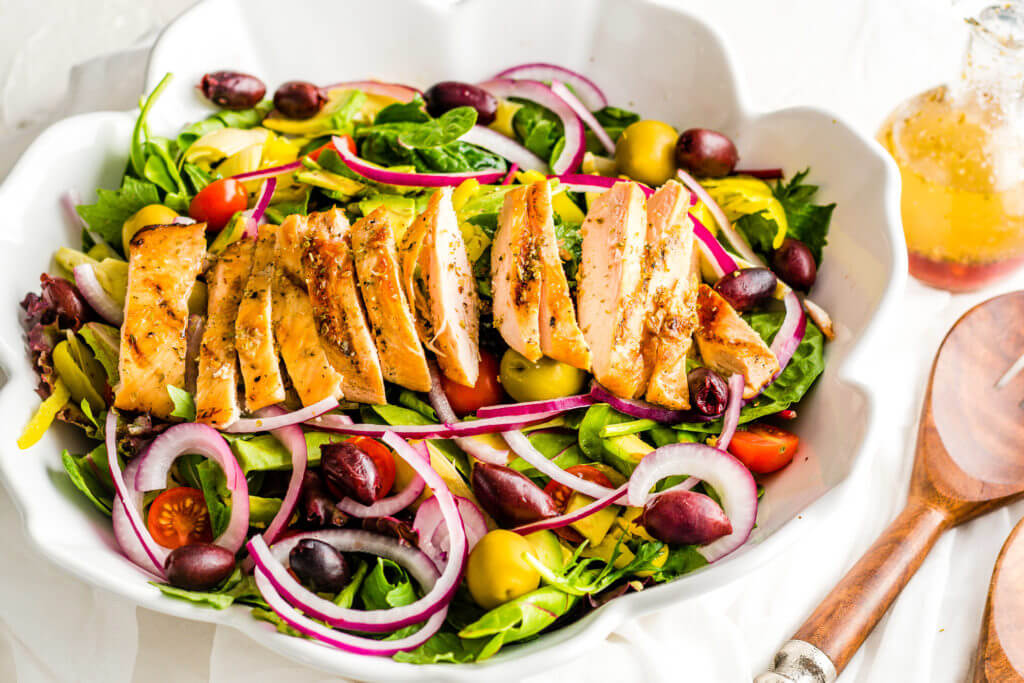 For this easy salad I simply mix greens with artichokes, olives, red onions, tomatoes, banana peppers, seasoned chicken breast and tossed in an easy Greek olive oil dressing. I usually plan to make enough servings to use for the next day's lunch for both me and my husband.
On those busy and exhausting nights when you are 5.2 seconds away from driving to Sonic and ordering a foot long chili dog, take a deep breath and whip together this savory and easy salad. This meal is always my backup plan when dinner plans fall through and I need to make something healthy in a flash!
Remember, you can choose to be healthy even on the nights you are tired and don't feel like cooking a 5 star meal. Don't fall into the habit of using fast food as a backup plan when you don't "feel like" cooking. Stock your fridge with precooked meal prep options such as chicken and boiled eggs that will serve as easy grab and go meals.
If you loved this Greek Chicken Salad, check out these quick meal options below: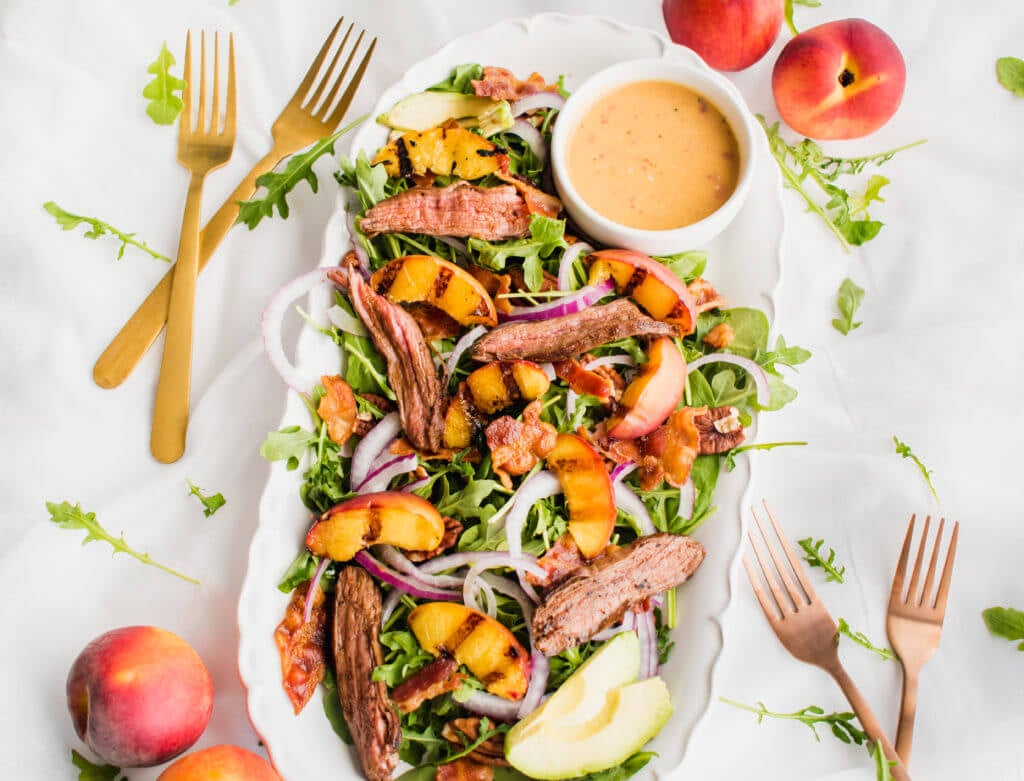 Click below to save this recipe to your Pinterest board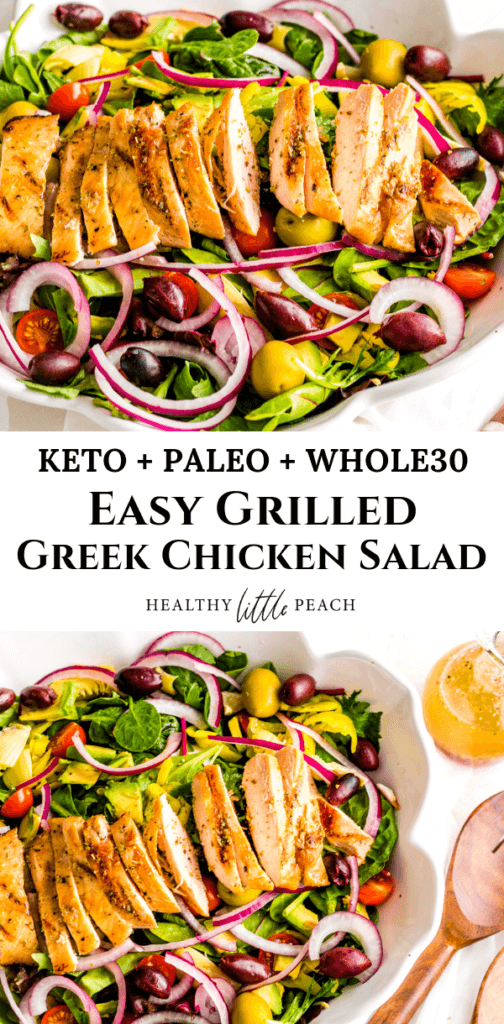 Passive Time

15-20

minutes
Marinated Chicken Breasts
Passive Time

15-20

minutes

Marinated Chicken Breasts
Whisk together all of the ingredients for the marinade and transfer to a large freezer bag and add chicken. Marinate 4-8 hours

Remove chicken from the marinade and add to a medium heat skillet and cook 6 minutes on each side or until juice runs clear.

Remove from pan and slice
In a large bowl add the mixed greens, tomatoes, onions, olives, artichokes and banana peppers.

Place the sliced cooked chicken breasts over the greens. Drizzle with the Greek Vinaigrette and toss together.
Add all of the ingredients except the basil and oregano to a jar. Use an immersion blender to mix together. (A regular blender will work on this step also) Add the oregano and basil and mix together with a spoon. This will stay good in the refrigerator for up to a week.
Tags : Greek Chicken Salad