Healthy Kid Plates
Published Mar 13, 2019 Updated Jul 24, 2023
This post may contain affiliate links. Please read our disclosure policy.
Whole30 + Paleo Healthy Kid Plates
In this blog post I want to show you just how kids can eat healthy. All of the plates below are Whole30 and Paleo.
How to get kids to eat healthy?
As you are probably aware getting kids to eat healthy is not the easiest thing to do. Through consistency and balance, my 4-year-old is thriving with eating and loving healthy meals. It wasn't very easy in the beginning and there were lots of tears. I started the process around 2 1/2 years of age. During this time, Eloise became very adamant about wanting chicken nuggets and french fries or mac and cheese for every meal. I gave in a few times but then I learned me lesson.
I quickly realized that Eloise was running the show and making her own choices at such a young age. Once I realized that this was going to have a negative impact on her, I quickly took action and changed how I approached meal time. I started slow and began adding veggies and different options to her plate. In addition, I gave her choices such as choosing the main protein and other options such as fruit and veggies. I found that giving her choice and a little say helped a lot with the transition. In addition, I allowed her to actually get in the kitchen with me and cook. I began to talk to her about how eating healthy is an important choice that will help our bodies grow and live a long time.
By educating her as to why she needs to eat healthy and not forcing it down her throat, she started to realize that eating healthy is good for our bodies. It is my hopes that laying the foundation early will allow her to make the best choices as she grows to be a teenager and adult.
What do I do if my kid refuses to eat?
Consistency is key. Just like with anything else, change in the beginning is hard, but as you get used to it, it becomes normal and easy. That is exactly how I had to approach this with my daughter Eloise. Every step was hard but each step got us closer to a "normal." Now it is a year and half later, she knows what the expectations are and she enjoys living and eating the Paleo lifestyle. It is her new normal.
Before this became her new normal, there were a lot of times where she would throw an absolute fit and kick and scream because she didn't want to eat what I was serving. On these occasions I just reiterated that she will have to eat what mommy fixed or she won't eat at all. Now, please don't think that I starved my kid because that is the furthest thing from the truth. If I would have given in during the hard parts that would have taught her that if she throws fits then I will give in and let her have her way. It took tough love to get her in the habit of eating healthier meal options.
Do I recreate meals special just for them?
Absolutely NOT. I always build my menu, with Eloise's input for the week and I recreate the meals I am making in a kid friendly way. I refuse to stand in the kitchen every single night creating 3 different meals in order to please everyone. I have the rule that if I am cooking, I am cooking 1 meal for everyone. Popping chicken nuggets and french fries in the oven is easy and will make your kids happy, but it is not setting them up for success and it is proving who runs the show in the family.
Remember, you are the parent, be the parent and stand firm. Don't allow them to run the show and tell you what they are going to eat. It will make this process not only harder, but it will make you miserable in the process and you will more than likely give up and throw in the towel. Getting them in the habit of healthy living will eventually become the new normal and what is expected.
Below are some meal examples of how I recreate adult meals and make them in a kid friendly way.
Breakfast Ideas
Scrambled eggs. roasted brussle sprouts, strawberries & bananas, chicken apple sausage
Sausage and veggie frittata, R Bar, Blackberries
(R Bars are a great snack option for kids. Click here and use code MAC for FREE shipping)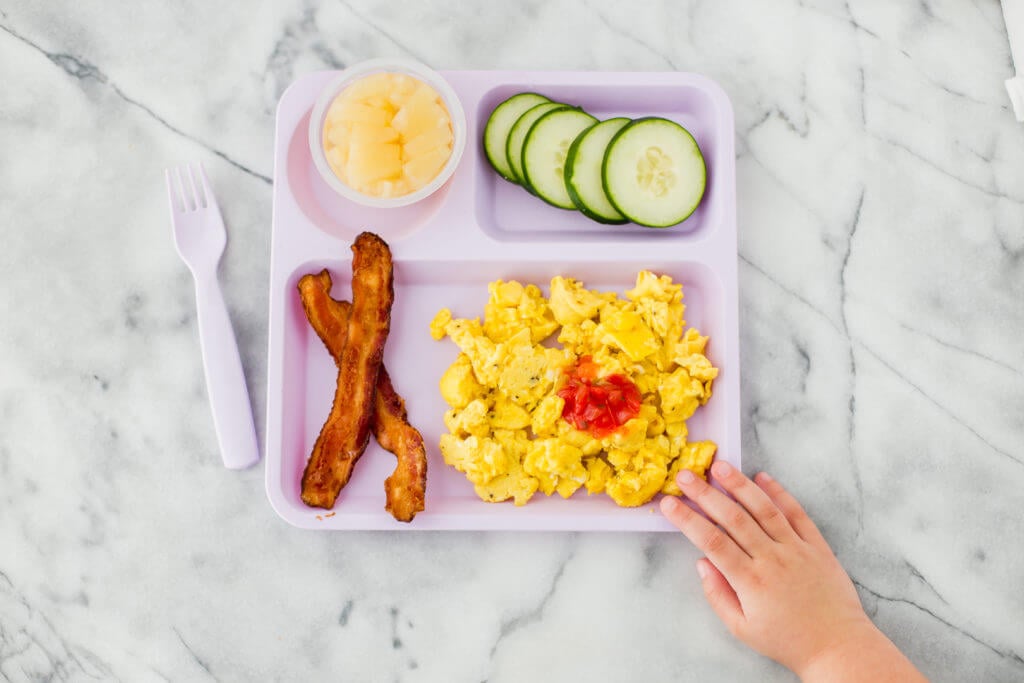 Scrambled eggs with salsa, bacon, sliced cucumbers, no sugar added pineapples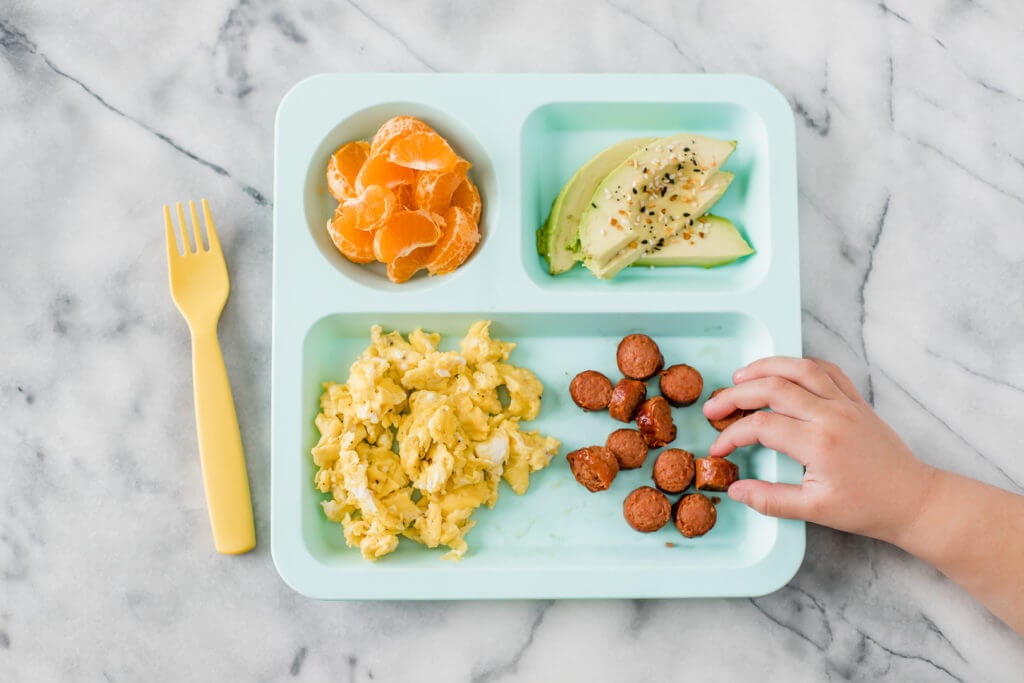 Scrambled eggs, sliced Pederson's Farm hot dogs, sliced avocados with Everything but the Bagle Seasoning, and Cuties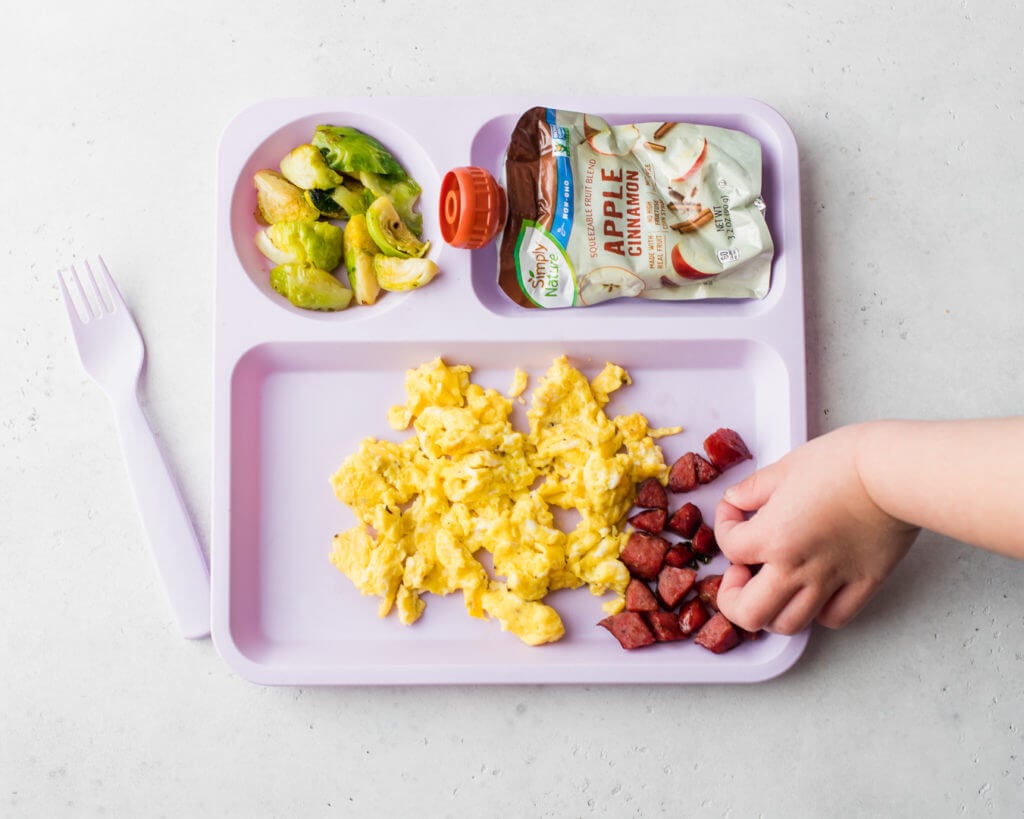 Scrambled eggs, sliced chicken apple sausage, roasted Brussels sprouts, unsweetened apple sauce
Lunch Ideas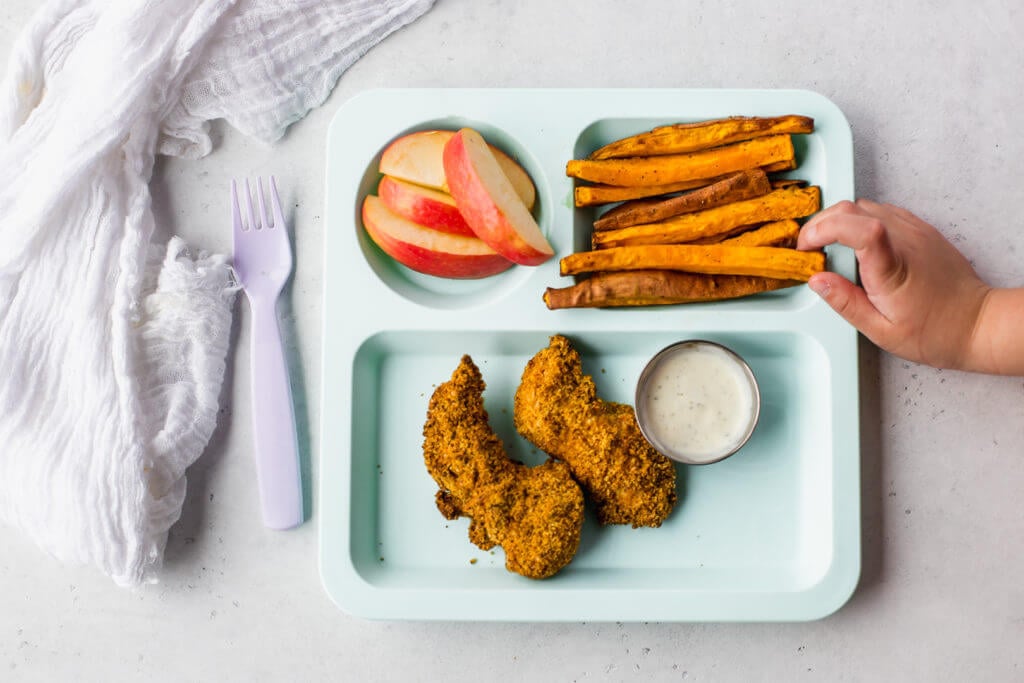 Chili Lime Crispy Tenders, sweet potato fries, ranch and sliced apples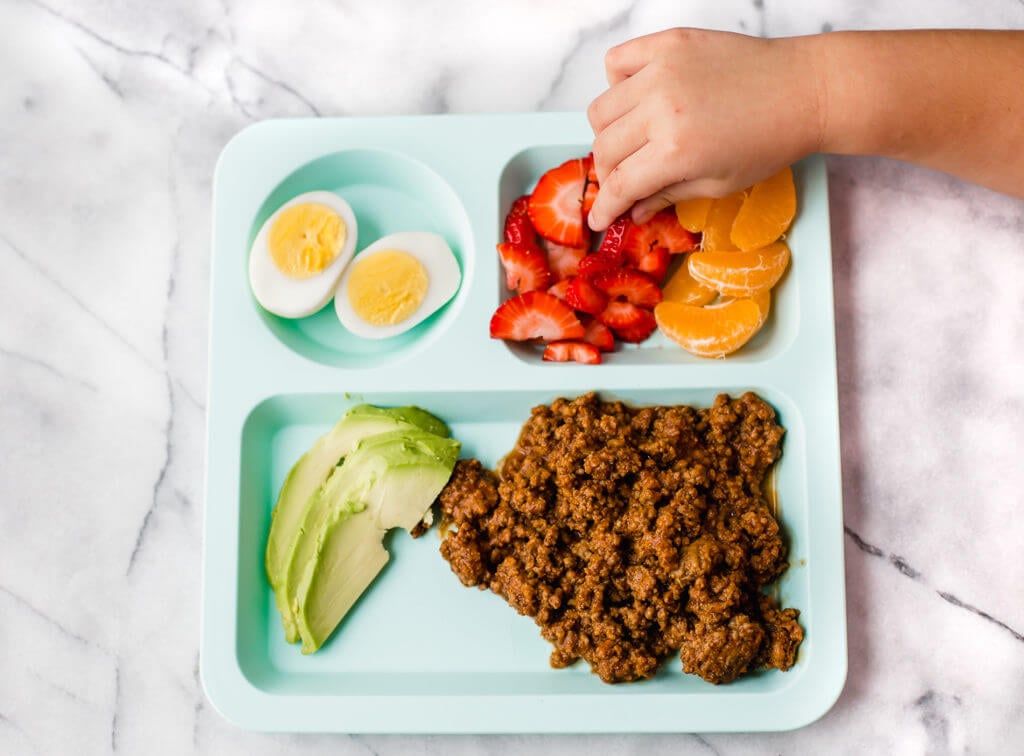 Taco meet, avocado slices, fruit, hard boiled egg (here is the recipe for my taco meat)
Dinner Ideas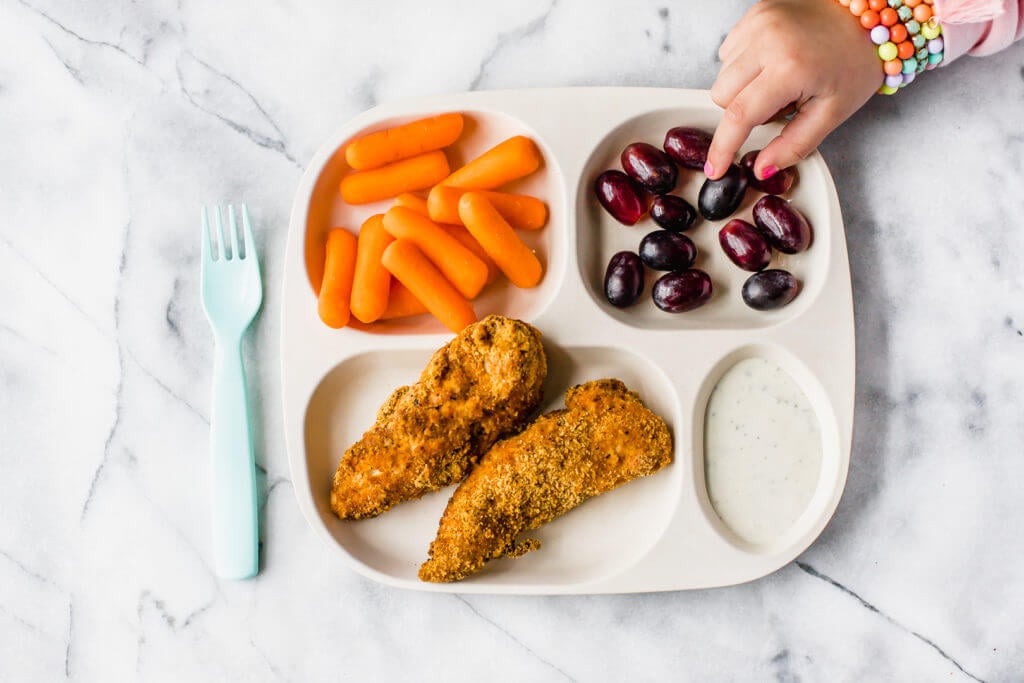 Almond flour chicken tenders, ranch, carrots, grapes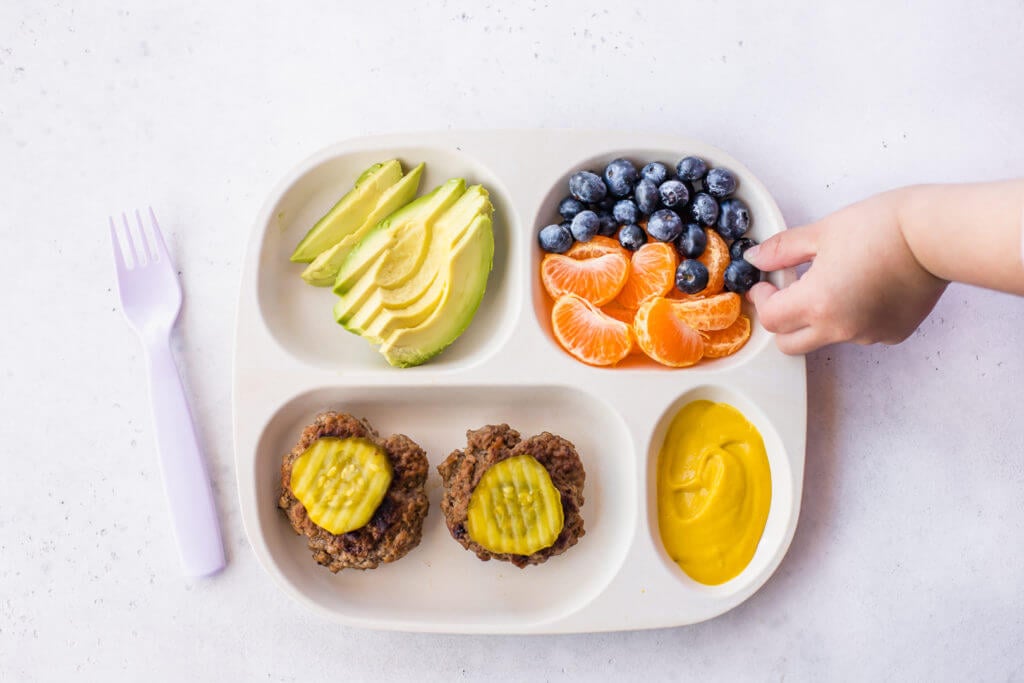 Mini sliders with a pickle, mustard, avocado slices and oranges
Shop my post
These are my favorite because they hold up great and non-toxic. I also love the cheap plates at Target.
These are a great healthy kid snack. Use Code MAC for FREE shipping, it will save close to $10.
Click below to pin this to your Pinterest board