Whole30 Sam's Club Shopping Guide
Published Jan 27, 2018 Updated Jan 09, 2019
This post may contain affiliate links. Please read our disclosure policy.
Is it weird that I get super excited when Friday rolls around because that means it is time for my weekly shopping trip to Sam's Club? I am like a little old lady when I go in that store. I take my time and savor the joy that every isle offers. I imagine myself walking in the store in slow motion with a theme song like something out of a movie. In reality, I look like a duck trying to race for a bread crumb because I am so dang excited about my shopping adventure.  It is not just a shopping trip for me, it's a legit experience each time I go. People think I am weird, especially my husband, but I have a love affair with Sam's Club.
Sam's Club is this magical place where you have your own card with your face on it and you can buy bulk groceries at discount prices. It's like walking in a club, you can't just walk by the greeter, you have to flash your big time member card. I usually give a "pimp nod" or a "fist bump" to the greeter, just to show my respect. Y'all, it is a very high society club to be in, or at least it is for me (haha). I love doing my Whole30 shopping here. I will buy bulk meat at the beginning of the month and freeze to have easy resources on hand. I also love buying produce, spices, and seafood here. They have so many great things to offer.
I have assembled a Sam's Club Whole30 Shopping Guide that you can print and take with you on your shopping trip. My FREE guide includes all the items I buy and love. There are probably a lot more complaint foods you can find, but these are just the ones I use consistently. Make sure to always read your labels and follow the "Additive Cheat Sheet" that is attached in my guide. This information comes directly from the Whole30 program rules.
I have made a 14-page guide that you can print off and take with you to help make your grocery shopping trip less stressful. CLICK HERE to get your FREE copy!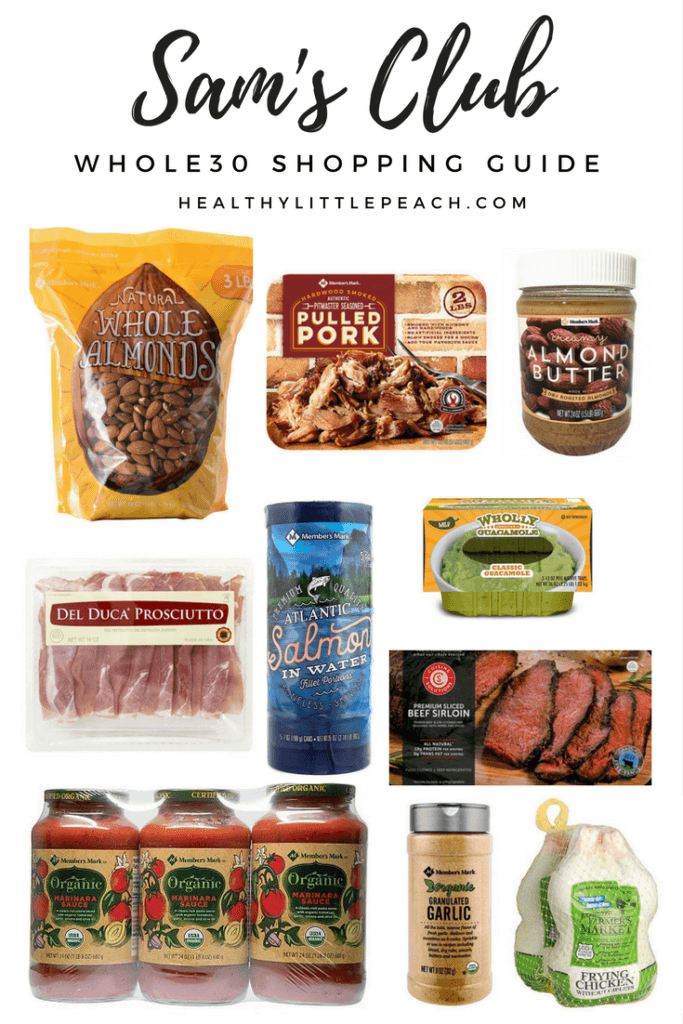 Additives List
Compliant Additives:
Potato Starch
Pectin
Ferrous Gluconate
Calcium Chloride
Citric Acid
Guar Gum
Potassium Sorbate
Lactic Acid
Natural Flavor
Tripolyphosphate
Naturally occurring sulfites
Phosphoric acid
Polysorbate 80
Potassium Lactate
Ascorbic Acid
Sodium Alginate
Sodium Benzoate
Sunflower Oil in moderations
Beta-Carotene
Calcium Carbonate
Yeast Extract
Non-Complaint Additives:
Carrageen
Corn Starch
Caramel Color
Monosodium Glutamate
Soy Lecithin
Sulfites (Sulfur Dioxide, Sodium Bisulfite, Potassium Metbisulfate)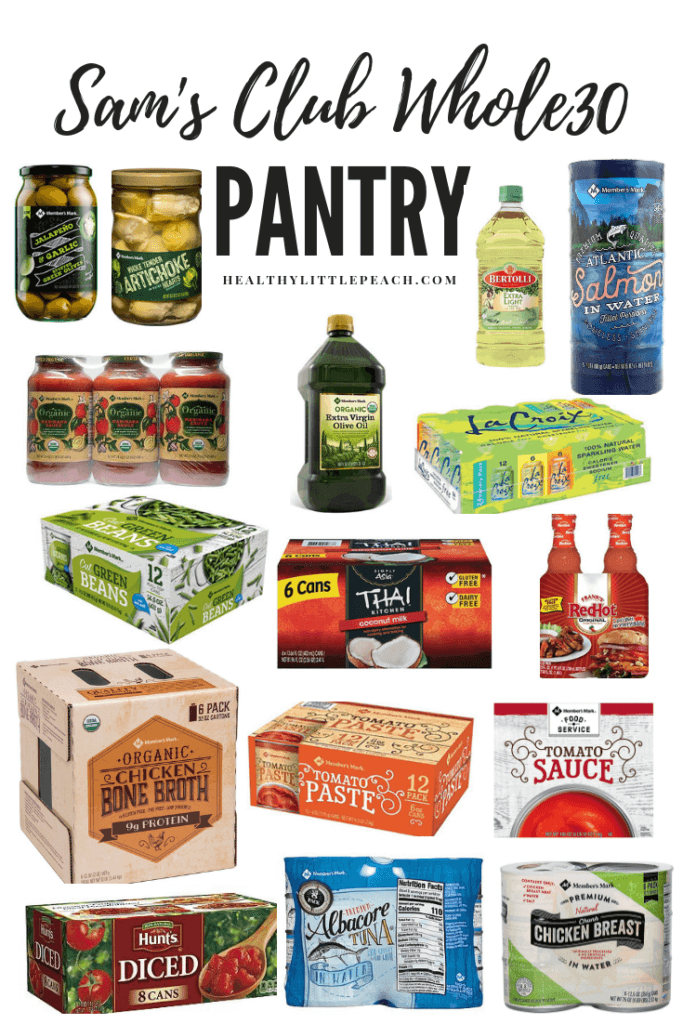 Member's Mark Jalapeno & Garlic Olives
Member's Mark Whole Artichoke Hearts
Member's Mark Organic Marinara Sauce
Member's Mark Canned Atlantic Salmon
Member's Mark Green Beans
Member's Mark Organic Bone Broth
Member's Mark Solid White Albacore Tuna
Member's Mark Premium Chunk Chicken Breast
Thai Kitchen Coconut Milk
Member's Mark Tomato Paste
Member's Mark Tomato Sauce
Hunts Diced Tomatoes
Franks Hot Sauce
Extra Light Olive Oil
Extra Virgin Olive Oil
Avocado Oil
Swanson Chicken Broth (Depending on which Sam's Club you shop they may have different ingredients in the Chicken Broth. There are 2 versions of this broth so make sure your Sam's carries the NO SUGAR added. If sugar is listed in the ingredients, it is NOT compliant.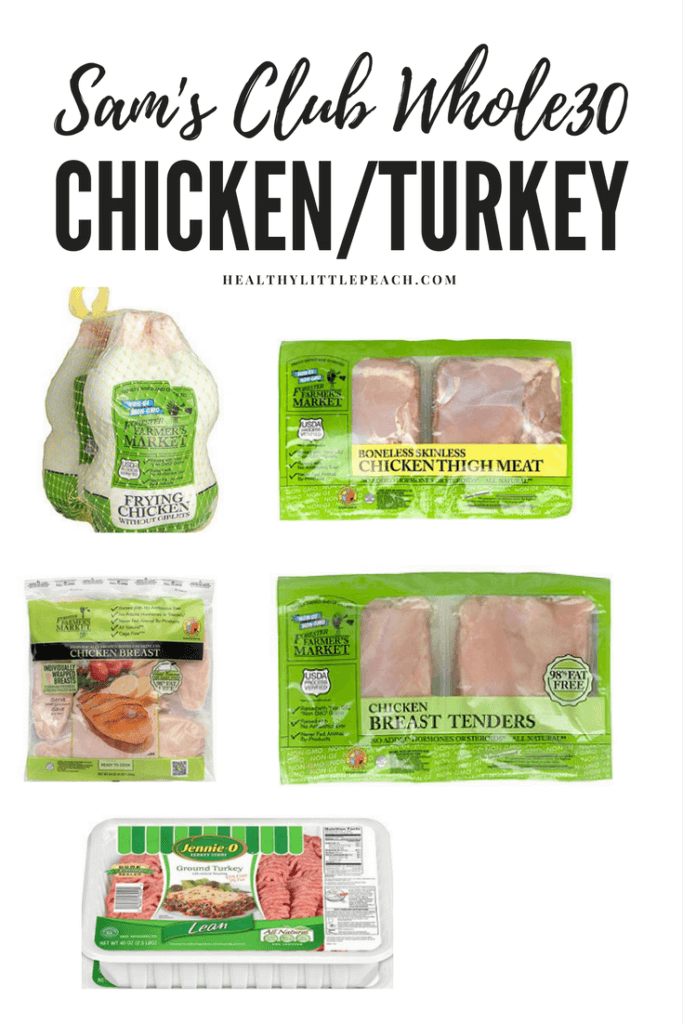 Farmer's Market Whole Chickens
Farmer's Market Chicken Breast
Farmer's Market Chicken Thigh Meat
Farmer's Market Chicken Breast Tenders
Jennie O Ground Turkey
There are more compliant chicken, read your labels
Some locations are beginning to carry carrageen in a lot of their frozen and fresh poultry. It is not consistent from location to location.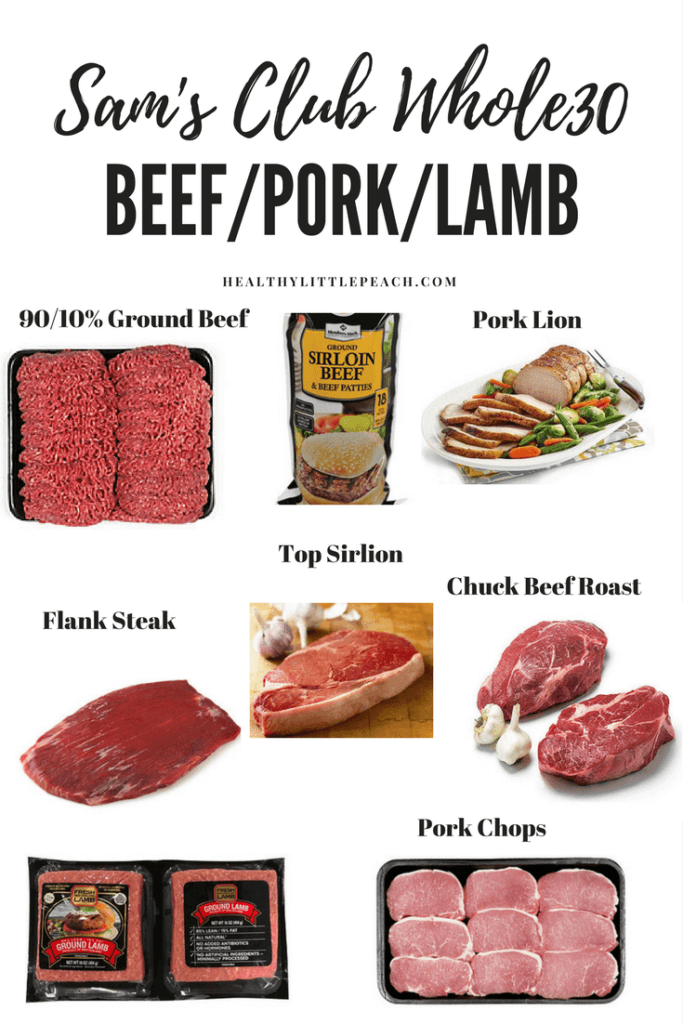 Top Sirloin Steaks
Beef Chuck Roast
Flank Steak
90/10% Ground Beef
Stew Meat
New Zeeland Ground Lamb
Member's Mark Frozen Sirloin Burgers
Pork Chops
Pork Tenderloin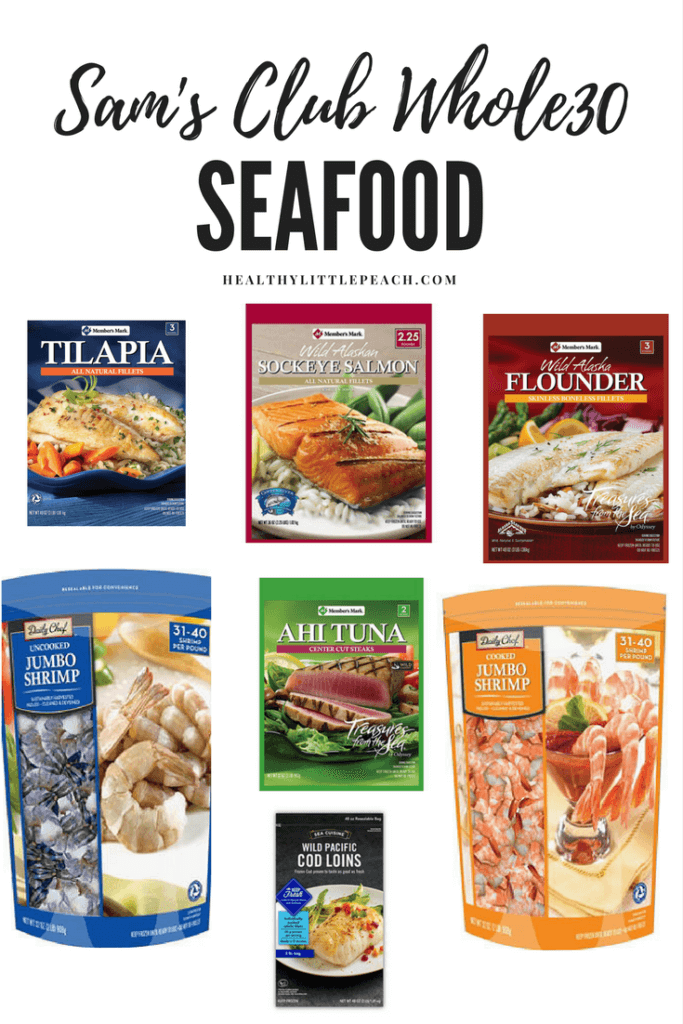 Daily Chef Uncooked Jumbo Shrimp
Daily Chef Cooked Shrimp
Member's Mark Haddock
Member's Mark Sockeye Salmon
Member's Mark Flounder
Member's Mark Tilapia
Member's Mark Ahi Tuna
Wild Pacific Cod Lions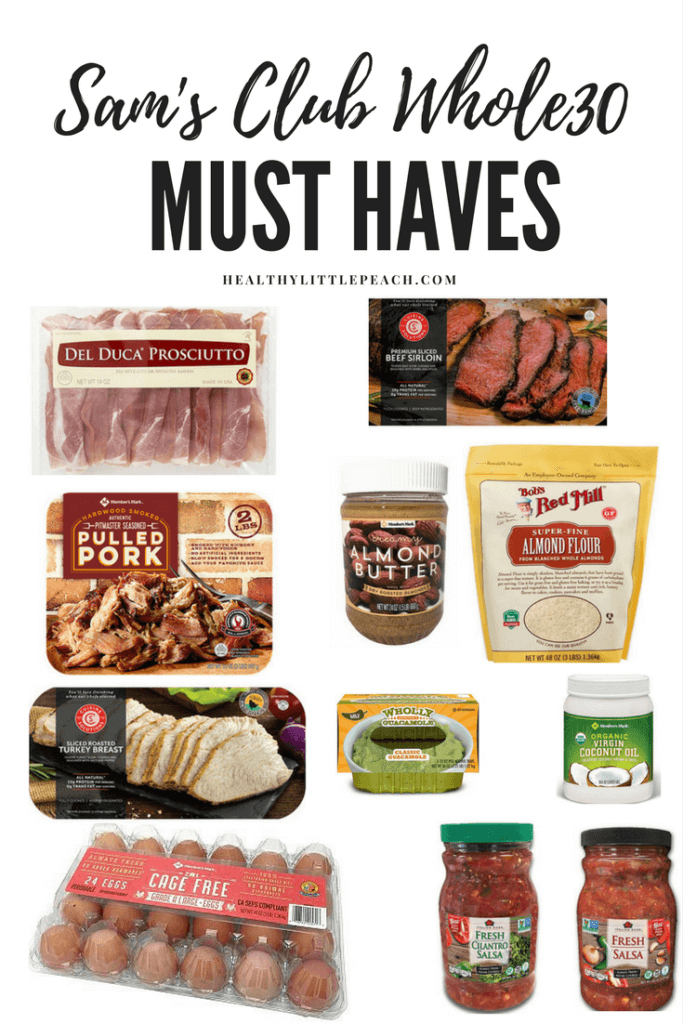 Cage Free Eggs
Member's Mark Pre-Cooked Shredded Pork
Cuisine Solution Sliced Turkey Breast
Cuisine Solution Sliced Beef Sirloin
Del Duca Prosciutto
Wholly Guacamole
Member's Mark Coconut Oil
Member's Mark Almond Butter
Rob's Red Mill Almond Flour
Fresh Salsa/Palin & Cilantro
All Fresh Produce Compliant
Taylor Cauliflower Pears
Frozen Daily Chef Green Beans
Frozen Northwest Veggie Blend
Frozen Daily Chef Broccoli
Flavor Bomb Tomatoes
Little Potato Dynamic Duo
Avocados
Sweet Potatoes
All Fresh Produce Compliant
Taylor Shredded Lettuce
Taylor Coleslaw Mix
Fresh Green Beans
Mushrooms
Squash/Zucchini
Sweet Peppers
Spinach
Raw Vegetable Melody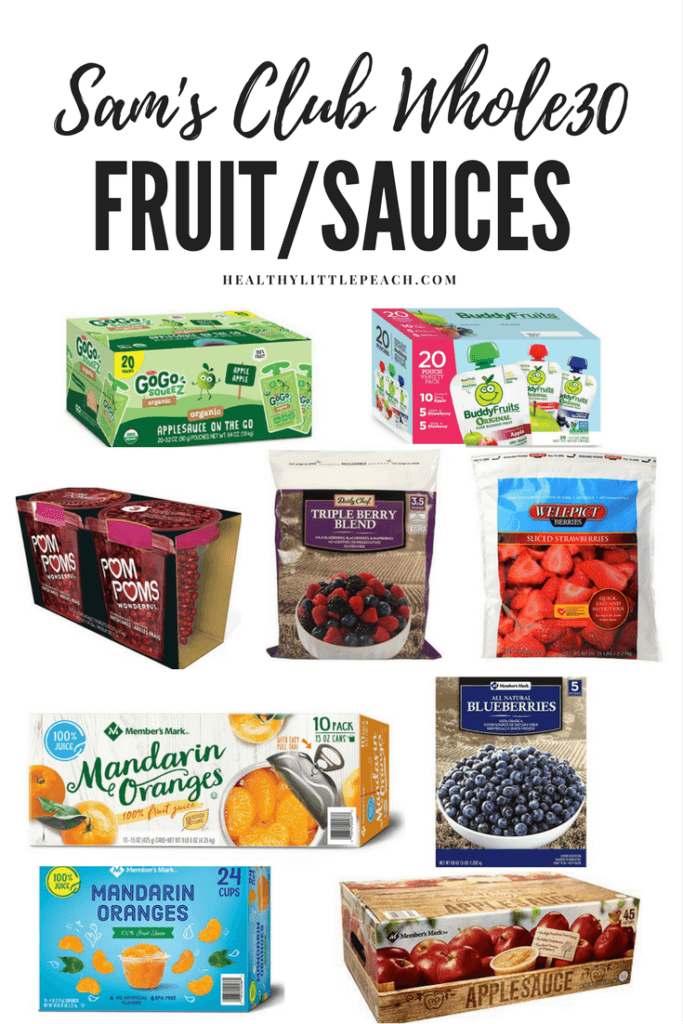 All Fresh Fruit Compliant
Pom Poms Wonderful Seeds
GoGo Squeeze Applesauce
Member's Mark Applesauce
Member's Mark Mandarin Oranges
Members Mark Frozen Blueberries
Daily Chef Frozen Triple Berry Blend
Welpict Sliced Frozen Strawberries
Buddy Fruits
Frozen Fruit-always read labels
Make sure to always read your labels.
Most all of the Organic Members Mark Seasonings are compliant.
Members Mark Tone has A LOT that are complaint but there are a few that contain sugar.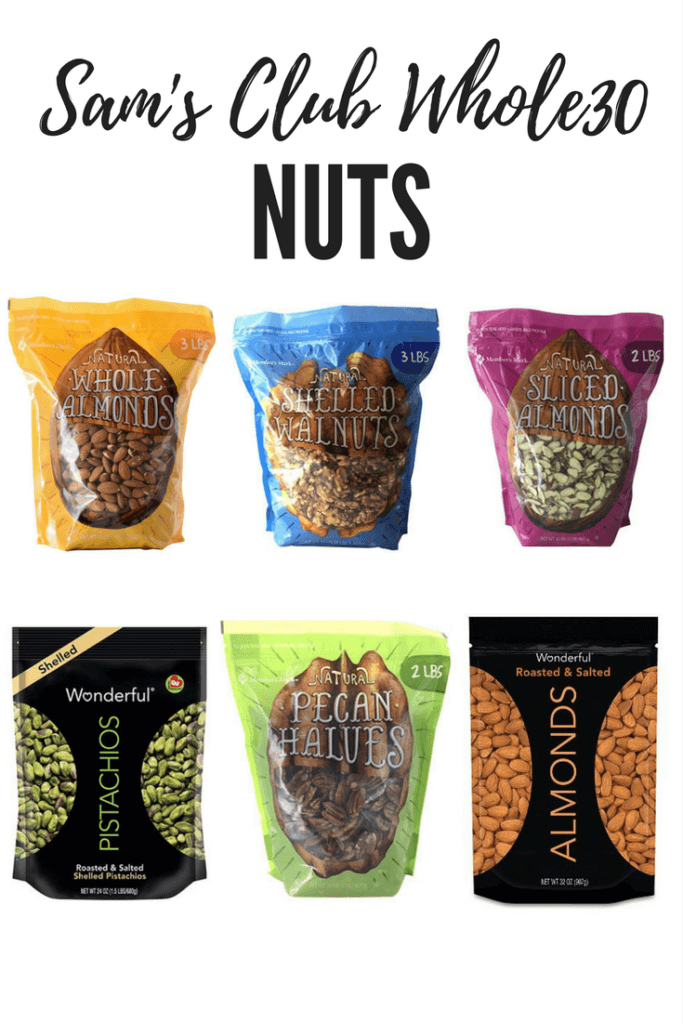 There are a lot of complaint nuts here
Make sure to always read your labels
Wonderful Pistachios
Wonderful Raw Almonds
Members Mark Pecans
Members Mark Almonds
Members Mark Slivered Almonds
Members Mark Walnuts
Sam's Club Shopping Guide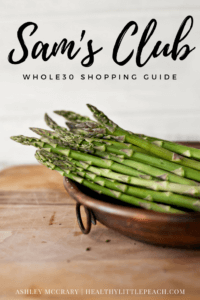 I hope this guide allows you to find success on the program!
XO-Mac