Whole30 + Keto Thanksgiving Turkey
Published Nov 22, 2019 Updated Jul 11, 2023
This post may contain affiliate links. Please read our disclosure policy.
It's not Thanksgiving unless you have a big beautiful turkey sitting in the middle of your dinning room table. If you want to cook the perfect turkey, make sure you are prepared. You don't want to end up like Clark on Christmas Vacation with a burnt and dry turkey on the big day! I'm here to help with my Keto Thanksgiving Turkey.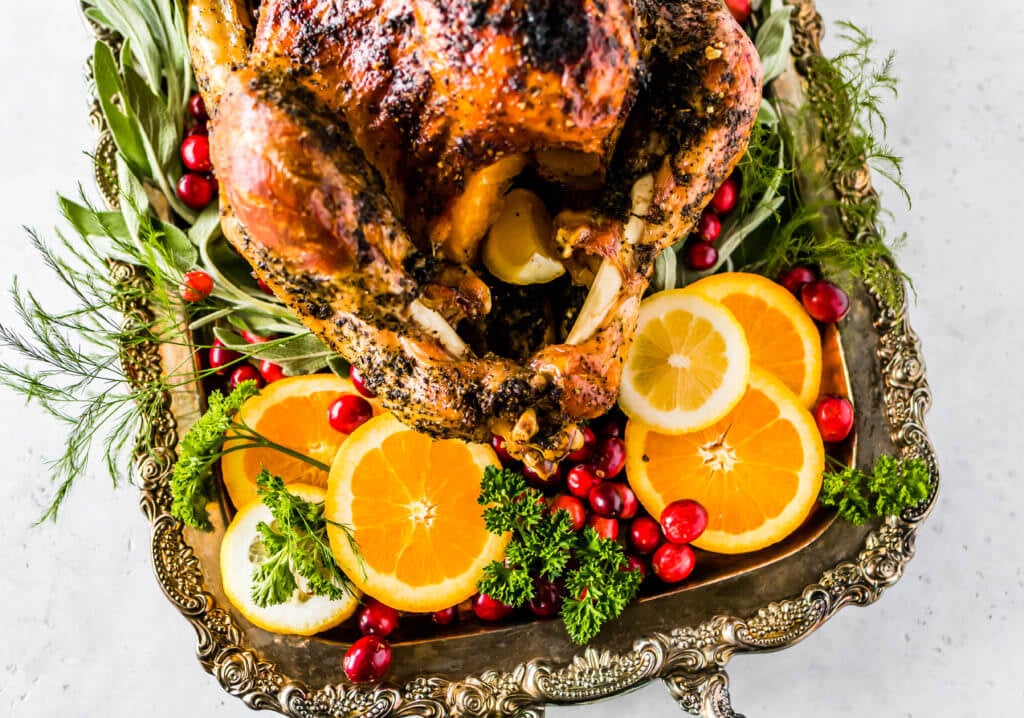 I vividly remember making my very first turkey, it was a disaster. I assumed that since I was a good cook it would be easy to prepare a juicy turkey. FALSE……it is hard to cook a juicy turkey. In order to get better, I watched mom and grandmother. That is why I have teamed up with my mom. She is dropping in to share the best tips and tricks to get the perfect juicy turkey every single time.
Tip for the best Thanksgiving Turkey
Read thawing instructions carefully. Refrigerated thawing time will be days and the duration will be based on how large the turkey is. Be sure to be prepared to thaw your turkey correctly.
I usually put our turkey in a large pan with water and place in the refrigerator to thaw for a couple days
I also refer to the Butterball website for cooking times and oven temperature recommendations. They have great tips for turkeys.
Before covering with aluminum foil, spray the side of the foil that will be touching the bird with a non-stick cooking spray of choice.
Most people will uncover and bast throughout cooking time. I used to do that years back, but found I lost heat opening and closing the oven door making cooking time hard to adjust. I cover and set the timer to NOT open until done. The butter and fruits along with the consistent steam heating with the aluminum foil will result in a VERY MOIST turkey.
If your turkey cooking time is 3 hours, then set the timer for 2 hours and 50 mins uncover and let roast to a golden brown for the last few baking minutes.
In conclusion, make sure to follow the tips above and I am positive that your turkey will turn out amazing. As for the rub, I use a mixture of mustard, dried herbs, garlic, vinegar and olive oil. This is a basic rub that I also use on whole chickens and even my roasts. It is universal and really tastes great on everything!
Trust the cooking process:
SHOP MY POST:

Be sure to pair your Thanksgiving Turkey with my favorite sides:
Click below to save this recipe to your Pinterest Board: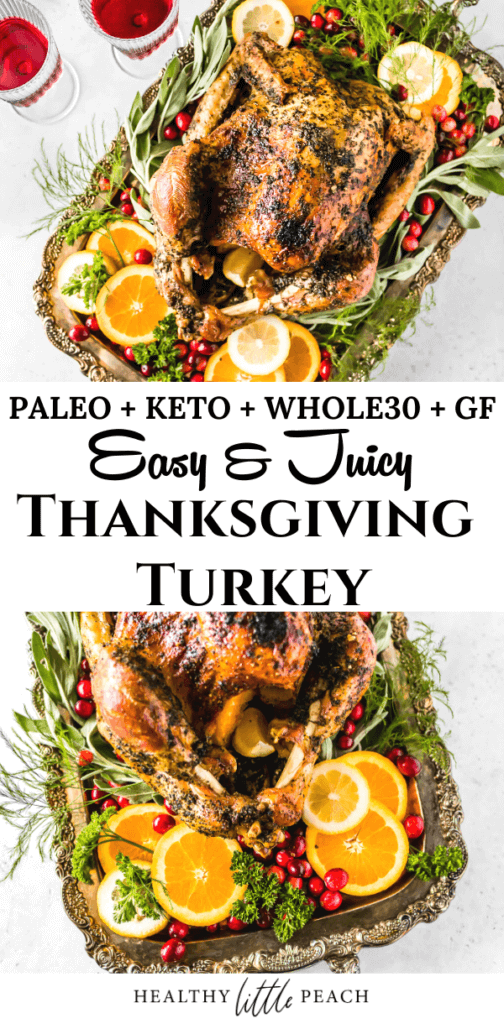 [wpurp-searchable-recipe]The Best Thanksgiving Turkey Step by Step – – garlic, yellow mustard, red wine vinegar, parsley, oregano, basil, onion powder, salt, pepper, , ; – – Keto – Paleo – Whole30[/wpurp-searchable-recipe]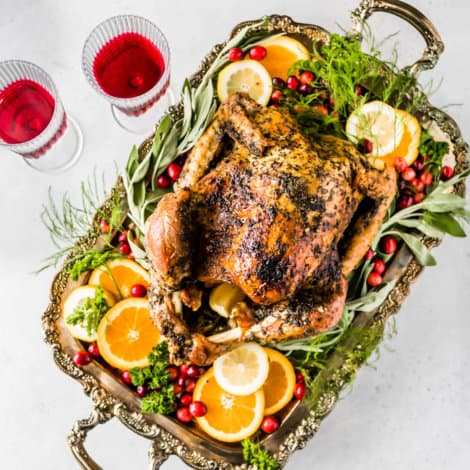 The Best Thanksgiving Turkey
The perfect juicy and no fuss Thanksgiving Turkey that is exploding with flavor. Not only will this be the only recipe your will ever need for your holiday turkey, but it is also Keto, Whole30 and Paleo. 
Ingredients
1-13-20

pound

turkey

5

cloves

garlic

1/2

cup

olive oil

1 1/2

tsp

yellow mustard

1

tbsp

red wine vinegar

1

tbsp

parsley

2

tsp

oregano

2

tsp

basil

1/2

tsp

onion powder

1/2

tsp

salt

1/4

tsp

pepper

8

tbsp

ghee or clarified butter

1

lemon

cut into fourths

1

apple

cut into fourths

1

orange

cut into fourths
Instructions
If the turkey is frozen: Thaw in the fridge, 24 hours for every 5 pounds of Turkey. To be on the safe side, give yourself an extra day.

Remove the thawed turkey from the fridge 1 hour before roasting. Allow it to come to room temperature.

Preheat oven to 325F and make sure that the racks are arranged so that the roasting pan can fit. 

To prepare the turkey, lift neck skin and remove the bag containing the heart, liver, gizzards, and neck. (Open bag and completely rinse organs including the neck bone if you plan to make my giblet gravy recipe. If not, discard.)

Completely rise turkey inside and out. Before rinsing the inside, unfold the legs tucked under the skin ridge to open up the bird to clean thoroughly. 

Placed rinsed turkey breast side up, in roasting pan.

Pat all the water off with paper towels before preparing to roast.

Begin stuffing the inside with a stick (8 tbps) clarified butter or ghee, lemon, orange and apple halves.  If you don't have all of these fruits, I've stuffed mine with whatever citrus fruit I have on hand. But the butter or ghee is a must!

After stuffing, tuck the legs back into the extra skin to hold legs tightly for roasting.

In a

blender

, add olive oil, garlic cloves, red wine vinegar and yellow mustard. Blend on high speed for 10 seconds or until combined. Transfer to a small bowl and whisk in the remaining sauce ingredients, oregano, basil, onion powder, salt and pepper.

Pour the marinade over the entire turkey using your hands to massage the oil all over (front and back)

Cover tightly with aluminum foil and place in the recommended temperature preheated oven.

DO NOT open the oven until done. The butter and fruits along with the consistent steam heating with the aluminum foil will result in a VERY MOIST turkey.

Cook for 3 hours and 30 minutes or until the internal temperature reaches 165F. Remove the aluminum foil the last 10-15 minutes to ensure a golden brown turkey. 

Allow turkey to rest 20 minutes before carving.
Notes
If you don't have a roasting pan, use a disposable foil roasting pan. 

Stuffing the turkey with the citrus fruit along with ghee or clarified butter is a MUST. This will make your turkey really juicy. 

DO NOT open the oven until the last 15 minutes of cooking.  The butter and fruits along with the consistent steam heating with the aluminum foil will result in a VERY MOIST turkey.

Remove the aluminum foil the last 10-15 minutes to ensure a golden brown turkey. 
Nutrition information is automatically calculated, so should only be used as an approximation.