Chocolate Cupcakes with Buttercream Frosting
Published Feb 14, 2019 Updated Jul 11, 2023
This post may contain affiliate links. Please read our disclosure policy.
My first love has always been baking. Before starting my blog, I had a little cupcake business called Sweet Little Things & Co. During this time I was still teaching, so I would teach all day and bake all night. I worked so hard at building my business, I was featured on an episode of Cupcake Wars on The Food Network, which was a really cool experience. My blog wouldn't be complete unless I shared my amazing chocolate cupcakes with buttercream frosting.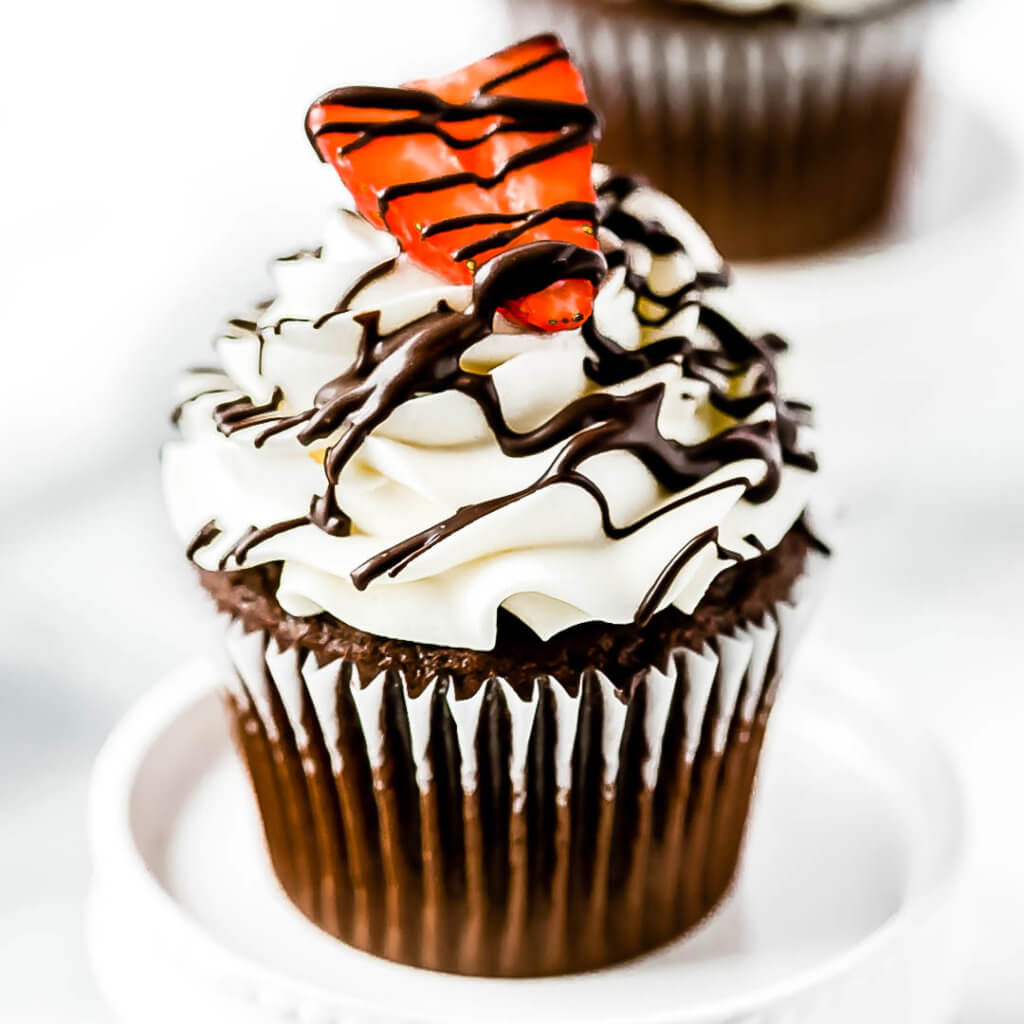 I stopped baking because I was falling into a really unhealthy habit with always having sweets in the house and having to taste test all my new recipes. I ended up putting on a lot of weight and my battle with PCOS spiraled out of control. Even though I now run a health blog, it is fun to share my old full-fat cupcake recipes with all of you.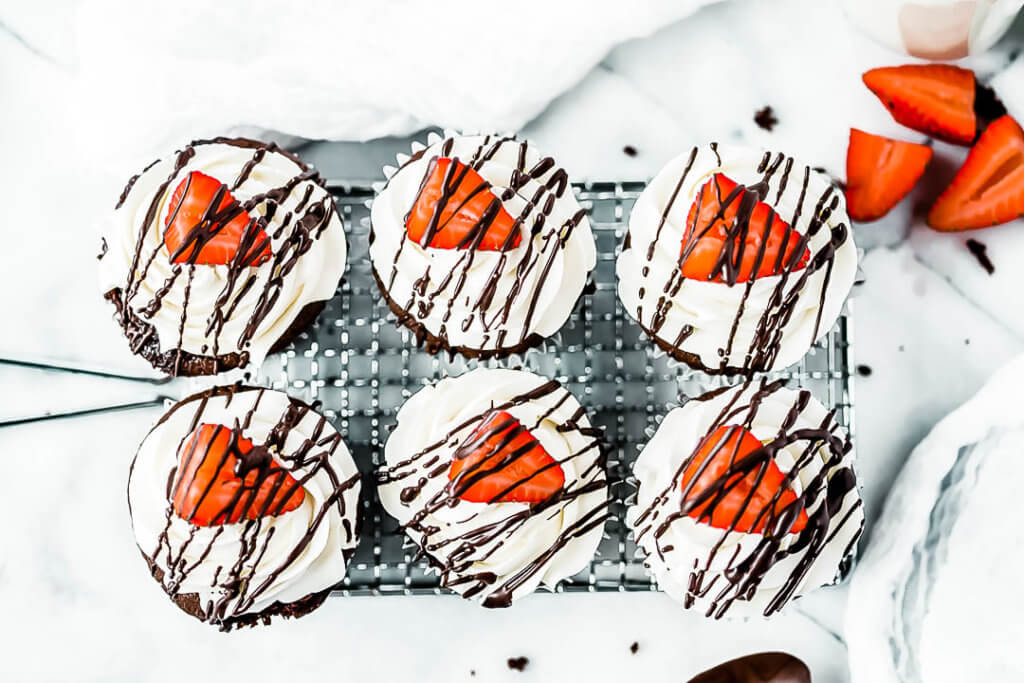 I love finding balance in healthy living and showing my girls that it is okay to indulge in "treat" food every now and then. When I do make my cupcakes, my girls know that it is a special treat, and they get so excited. I want them to understand that indulging in these types of foods is good on occasions and actually does our body good, but it's not okay to have one every day.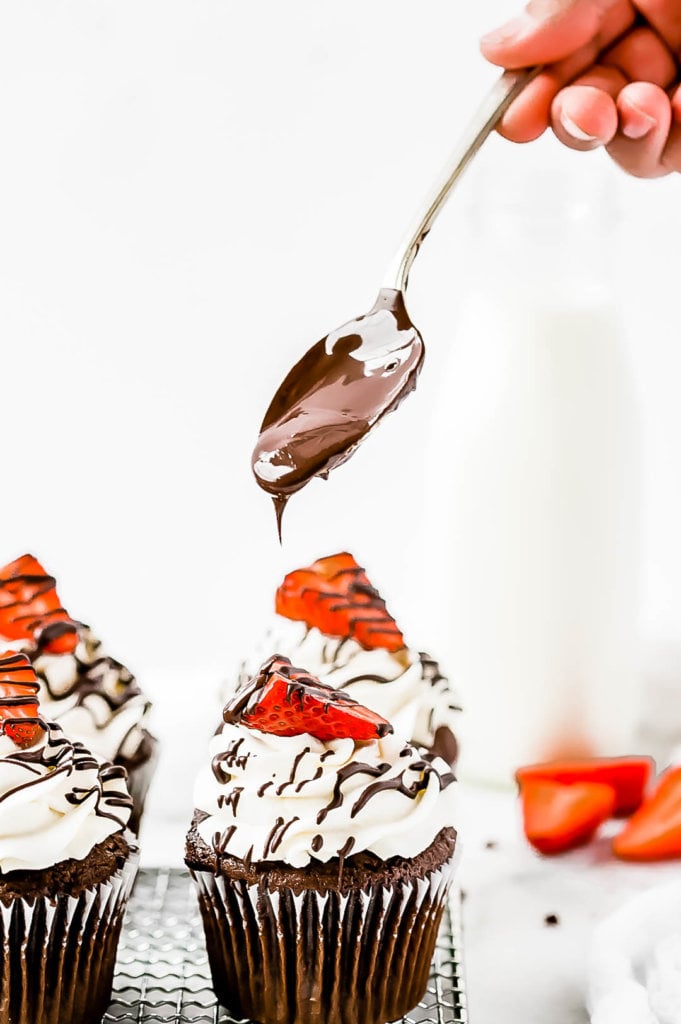 I am excited to share to share all my secrets for my chocolate cupcakes and how to make a box cake mix taste homemade. Most all of my cupcakes are from scratch, but I wanted to develop one that would save time and money in the kitchen.
How to make a box cake mix taste homemade?
Instead of following the box instructions and adding in 1 ¼ cup of water, add 1 ¼ cup of whole milk instead. It adds so much flavor, fat and density to the cake. It almost gives it a velvety texture.
Always add an extra egg On the box it usually calls for 3 eggs, I usually add 4, which gives the cake a firmer consistency and holds it together better.
I always add 1/3 cup of instant pudding mix to all my cupcake recipes whether it is from scratch or a box. It makes it so moist and adds additional flavor.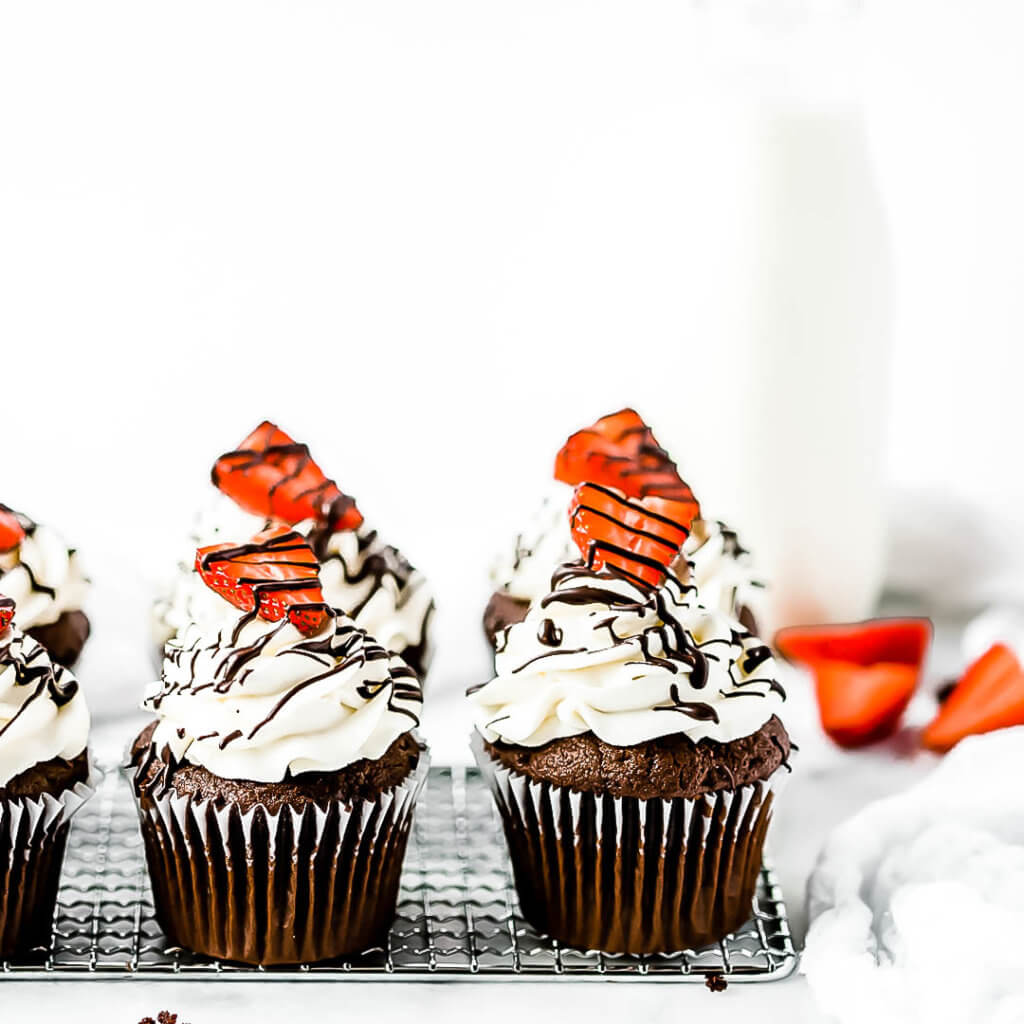 What are the best box cake mixes for these Chocolate Cupcakes?
Duncan Hines is my favorite because I feel like their chocolate mix always comes out fluffy and moist. It also has a really rich chocolate flavor that I love. I also feel like this specific brand always mixes nicely without any big lumps.
Betty Crocker is also a great choice because I feel like their mixes always deliver a pretty shiny cake that looks really pretty. It also tastes moist and decadent.
Pillsbury is a great option, but my least favorite of the 3. It has a good texture, I just feel like the batter mixes a little lumpy and doesn't bake smooth like the other options.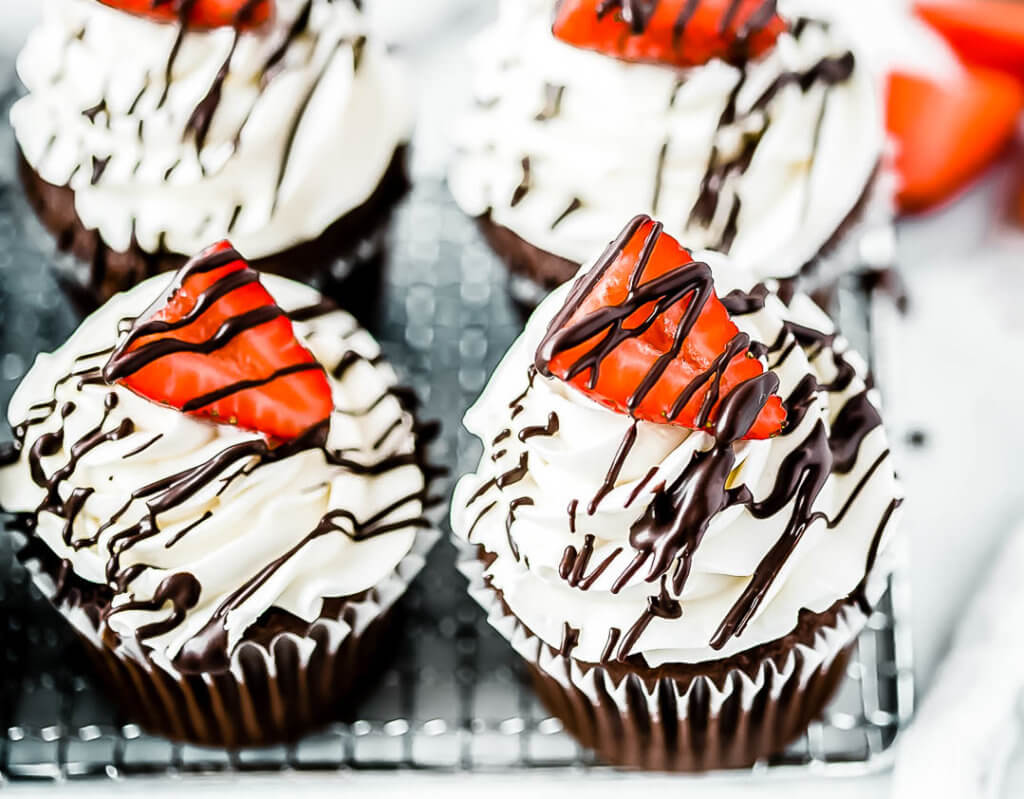 How do I get fluffy buttercream frosting for these chocolate cupcakes?
The key to making buttercream frosting fluffy….
A good mixer makes all the difference: Use a standing mixer with the whisk attachment. I have found that using my whisk allows me to get air evenly throughout the frosting that helps with the fluffy texture.
Soft butter is your friend: Don't you even think about using hard butter. Soft butter is your friend when getting a good fluffy buttercream. I usually leave my butter out a couple of hours and it serves as the perfect texture to start with.
Whip the Butter: Always beat the butter first and allow it to get really fluffy. I will usually turn my mixer on medium to high speed for 4 to 5 minutes that will help the butter get light before adding in the powdered sugar.
Sift the sugar:Make sure to always sift the powdered sugar. Since the sugar is sitting in a bag, it can become lumpy and hard. Sifting it will allow it to mix smoother and give you a better finished product.
Add sugar slowly: I find that the most important part of this process is adding in the powdered sugar slowly. I recommend adding in a cup and allow it to mix together completely before adding the next cup.
Do you have to refrigerate buttercream frosting?
Buttercream frosting made with small amounts of milk are safe to leave out at room temperature for two to three days. Buttercream made with cream cheese or the French-Style buttercream however, is not safe to leave out and should be refrigerated.
Can you make buttercream frosting in advance?
In my opinion, buttercream is the absolute best taste and fluffiness the day it is made. However, you can mix this in advance and store in the refrigerator until use. Before piping, I recommend sitting out at room temperature then mixing it up with a spoon.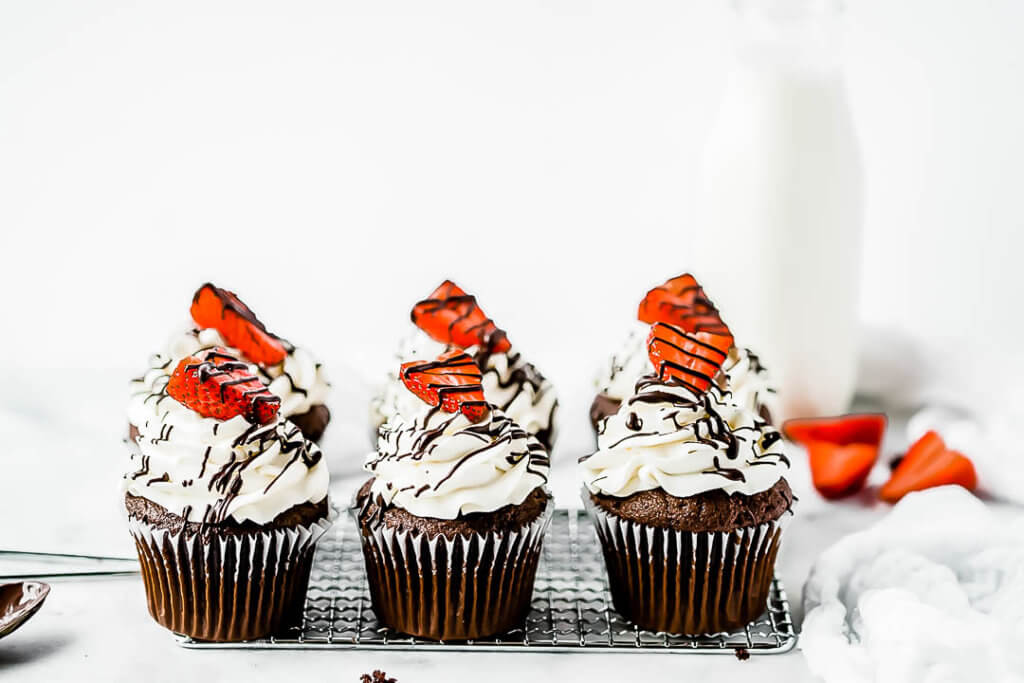 There ya have it. Believe it or not, making cupcakes from scratch if you don't already have all ingredients on hand can be a little pricey. Sometimes, if I am in the mood for an indulgent treat, I love grabbing a box cake mix and making it my own. My buttercream frosting, which is made from scratch is the main showstopper in this recipe. It is so good you can honestly eat it like ice cream.
Click on the picture below to pin this recipe to your Pinterest board: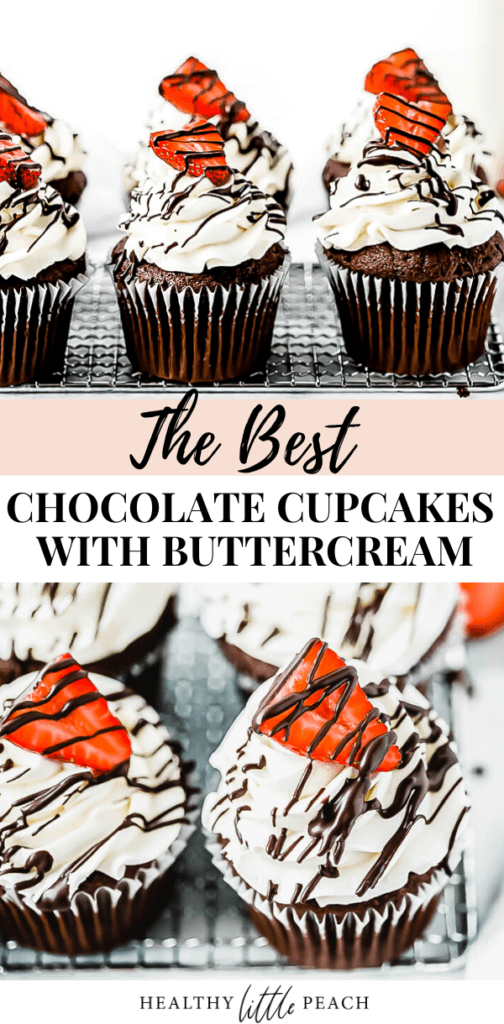 Shop my chocolate cupcake post post:

Love these chocolate cupcakes? Be sure to check out my other favorites below:
Apple Crumble Bars (Keto + Paleo)
Double Chocolate Mffins (Keto + Paleo)
Cinnamon Bun Cake (Keto + Paleo)

Super Moist Chocolate Cupcakes with Buttercream Frosting
These decadent and moist chocolate cupcakes are the perfect dessert for any occasions. These are made with easy ingredients and take no time at all to whip up. The fluffy buttercream icing takes these delicious chocolate cupcakes to a whole new level.
Ingredients
Chocolate Cupcakes
1

box double chocolate cake mix

1 1/4

cup

whole milk

4

large eggs

1/3

cup

oil

plus 1 tbsp

1/3

cup

instant chocolate pudding mix

6

strawberries

cut in half

1/3

cup

melted milk chocolate

for drizzle
Buttercream Frosting
2

sticks butter

(or 1 cup)

5

cups

confectioners' sugar

1 1/2

tsp

pure vanilla extract

4

tbsp

whole milk
Instructions
Cupcakes
Preheat the oven to 350°F. Line a (12) cup muffin pan with white paper cupcake liners. (If you have extra batter, add to an additional muffin pan.

Add the box cake mix to a bowl along with the 1/3 cup instant chocolate pudding mix. Set aside.

In a separate bowl, whisk together the wet ingredients. Instead of adding water, sub 1 1/4 cup whole milk, along with an additional egg (4 total) and 1/3 cup oil plus 1 tbsp.

Pour half the wet mixture into the dry and mix together. Continue adding the other half of the dry mix until completely combined.

Spoon the batter into the liners. Fill only halfway (don't go overboard here, make sure to just do halfway so they rise correctly). Bake for 18-20 minutes, or until a toothpick inserted in the center comes out clean. Allow to cool completely before frosting. Top with a fresh strawberry and drizzle with melted milk chocolate.
Buttercream Frosting
In a stand up mixer or hand mixer, whip the butter together on medium/high speed until fluffy (around 4 mins). Sift the confectioners' sugar before slowly adding to the butter.

Slowly in your confectioners' sugar (1 cup at a time) along with gradually adding in your whole milk. Mix until combined. (Adjust the consistency of the frosting as needed by adding more confectioners' sugar or cream).

Add the vanilla extract and continue mixing on medium and beat all ingredients together for 2-3 minutes. Here you will add more milk to thicken out the icing. If the icing becomes too thin, add in a little confectioners sugar.

Once cupcakes are cool, use a piping bag and ice cupcakes as desired.
Notes
 Make sure to sift the confectioners' sugar before adding to the butter.
Nutrition information is automatically calculated, so should only be used as an approximation.