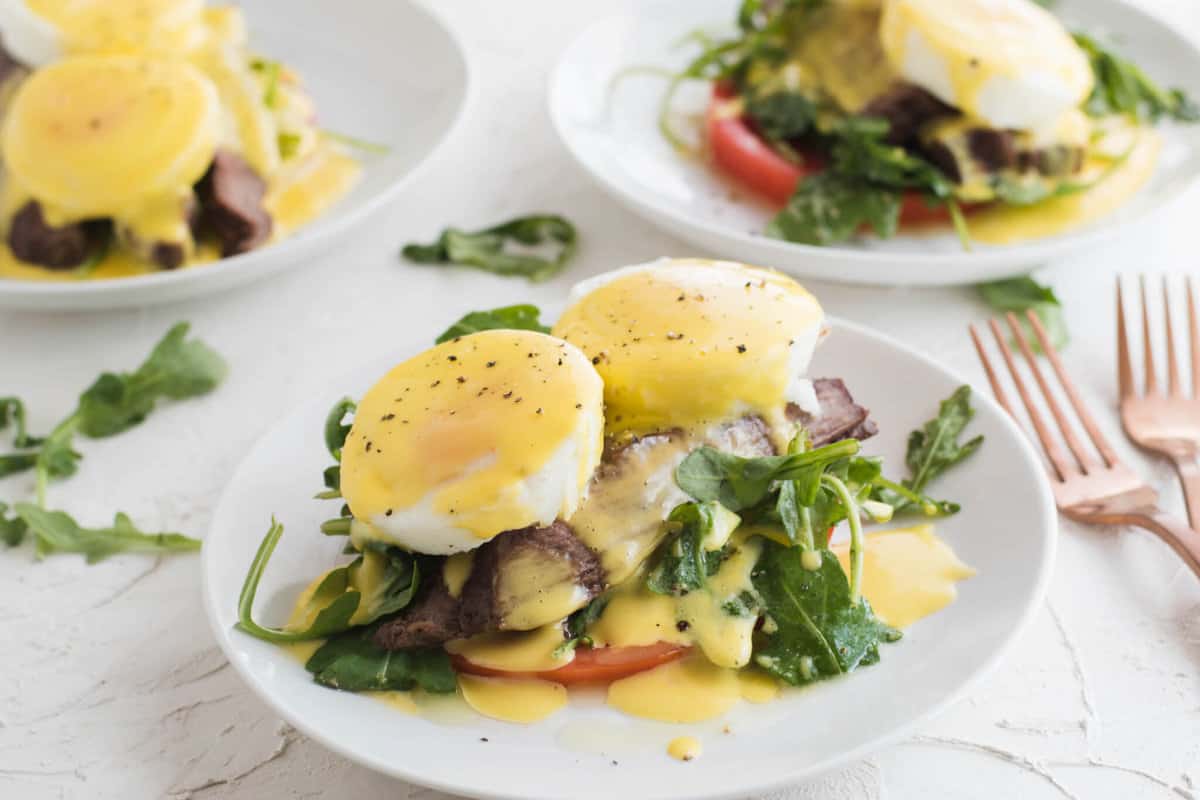 Oh my gosh y'all, if there is one thing this momma loves on a Saturday or Sunday morning, it's eggs benedict. I feel like I am one fancy chick when I serve this to my family, almost like I am a real life chef. It not only looks pretty, but the taste is divine. The original recipe doesn't meet our families dietary needs, so I recreated this Lemon Vinaigrette Eggs Benedict that is Whole30, Keto and Paleo friendly.
Usually when I hear Eggs Benedict I think "oh crap, that involves a poached egg." The reason I say "oh crap" is because I never have any luck with poaching an egg correctly. Instead of practicing and figuring it out, I threw in the towel and decided to make the process easier. I am happy to say I have found a fail proof way to poach a ding dang egg in the oven using muffin tins. Please hold your applause, I know you are just as excited as I am! 🙂
I simply add a tbsp of water to each cup of the muffin tin along with 1 egg and pop into a 350°F oven. Depending on if you like your eggs runny or stiff will determine how long you will cook. Cooking between 11-15 mins will give you the results you are looking for. I don't like my eggs too runny so I go right at 13 mins and they are perfect.
To really bring out the flavor, I paired the eggs with juicy flank steak along with arugula tossed in lemon vinaigrette dressing. In addition to all of this goodness, I place everything on top of a large garden fresh tomato slice and topped with homemade hollandaise sauce.The flavor in this dish is amazing and the combinations really compliment each other in a great way.
If you are wanting to impress your family with a decadent and yummy brunch/breakfast, feel free to whip up this savory dish in no time. I usually plan to make this when I know I will have leftover flank steak from the previous night's dinner. It is a great way to recreate leftovers in a unique and yummy way.
Click the picture below to save to your Pinterest board.
| | |
| --- | --- |
| | |
Preheat oven to 350°F. Use a 6 or 12 cup muffin tin. Place 1 tbsp of water in each cup of the tin. Crack an egg in the water in each cup of the muffin tin.

Transfer the muffin tin to the oven to bake for 11 to 15 minutes. The time will depend on if you like your eggs runny or firm. 11 for runny, 15 for firm.

Once cooked, remove the muffin tin from the oven. Scoop each poached egg out of the cups with a spoon and carefully transfer to a plate.
Heat a skillet on medium heat along with 1 tbsp of coconut oil.

Season the steak with salt and pepper and add to the skillet.

Cook 8 minutes on each side for medium. Cook longer for less pink.

Remove from the skillet and slice into thin strips.
Add 3 egg yolks, lemon juice, salt, hot sauce and cayenne pepper to a mason jar.

Heat ½ cup ghee over low heat.

Add a little bit of the melted ghee to the mason jar and use an immersion blender on high speed to start blending together. Slowly pour the rest of the melted ghee in the jar as you are blending.

Note: If you do not have an immersion blender, do all of the steps with a blender.
Add all of your ingredients to a blender and blend until creamy. Toss in the fresh arugula.
Add a slice of tomato to a plate then top with the dressed arugula, sliced steak, 2 poached eggs, then cover with hollandaise sauce.
Click here for the immersion blender I use to make my sauce.
Click here for the ghee I recommend for the sauce.
Tags : eggs benedict