This post contains affiliate links
Oh my gosh y'all, if there is one thing this momma loves on a Saturday or Sunday morning, it's eggs benedict. I feel like I am one fancy chick when I serve this to my family, almost like I am a real life chef. It not only looks pretty, but the taste is divine. The original recipe doesn't meet our families dietary needs, so I recreated this Lemon Vinaigrette Eggs Benedict that is Whole30, Keto and Paleo friendly.
Usually when I hear Eggs Benedict I think "oh crap, that involves a poached egg." The reason I say "oh crap" is because I never have any luck with poaching an egg correctly. Instead of practicing and figuring it out, I threw in the towel and decided to make the process easier. I am happy to say I have found a fail proof way to poach a ding dang egg in the oven using muffin tins. Please hold your applause, I know you are just as excited as I am! 🙂
I simply add a tbsp of water to each cup of the muffin tin along with 1 egg and pop into a 350°F oven. Depending on if you like your eggs runny or stiff will determine how long you will cook. Cooking between 11-15 mins will give you the results you are looking for. I don't like my eggs too runny so I go right at 13 mins and they are perfect.
To really bring out the flavor, I paired the eggs with juicy flank steak along with arugula tossed in lemon vinaigrette dressing. In addition to all of this goodness, I place everything on top of a large garden fresh tomato slice and topped with homemade hollandaise sauce.The flavor in this dish is amazing and the combinations really compliment each other in a great way.
If you are wanting to impress your family with a decadent and yummy brunch/breakfast, feel free to whip up this savory dish in no time. I usually plan to make this when I know I will have leftover flank steak from the previous night's dinner. It is a great way to recreate leftovers in a unique and yummy way.
Click the picture below to save to your Pinterest board.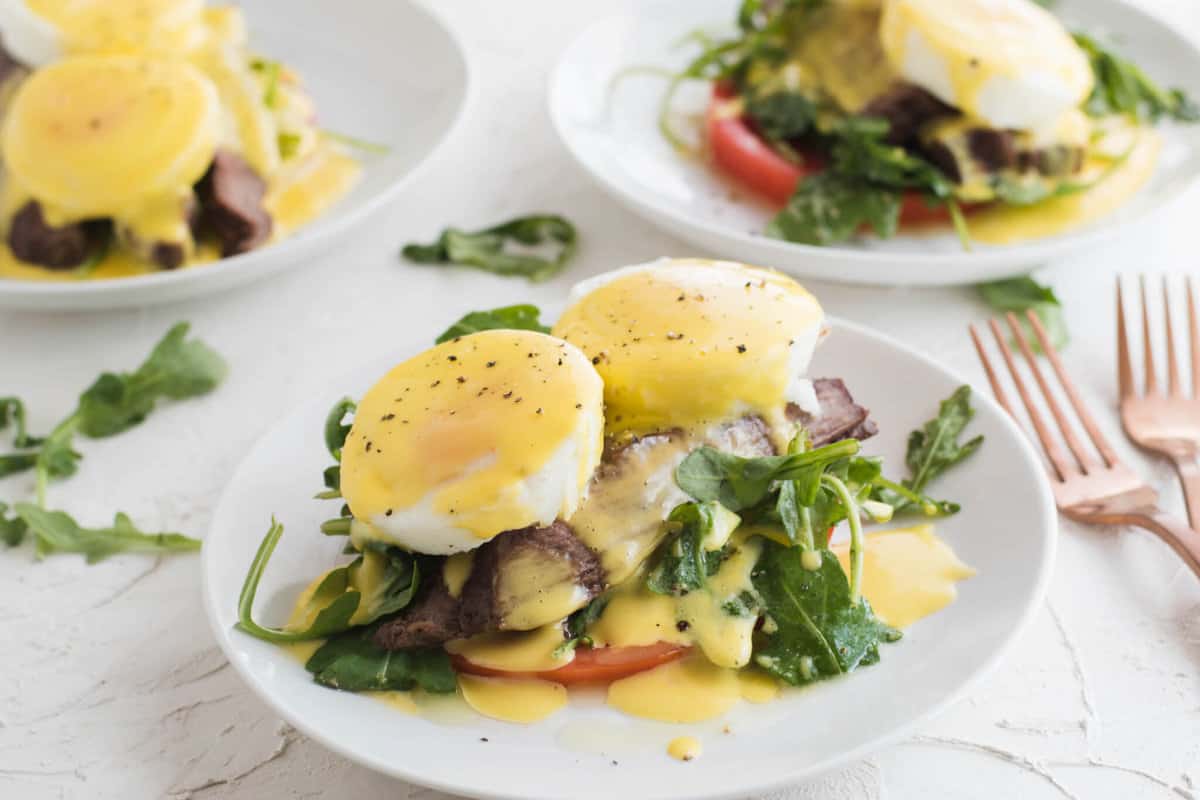 Steak and Lemon Vinaigrette Eggs Benedict
Total Time:

25 minutes

Yield:

3

people

1

x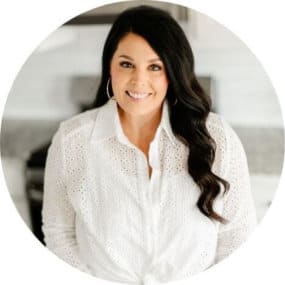 About Me
Welcome to Healthy Little Peach. I'm Mac, the lady behind the recipes. I believe in living a healthy lifestyle that consists of a mix of healthy whole foods, and full-fat comfort meals. Life is too short not to enjoy good food while maintaining a healthy body and mind. Here you will find gluten-free, dairy-free, paleo, keto, and even full-fat comfort recipes. Let's have fun in the kitchen together!