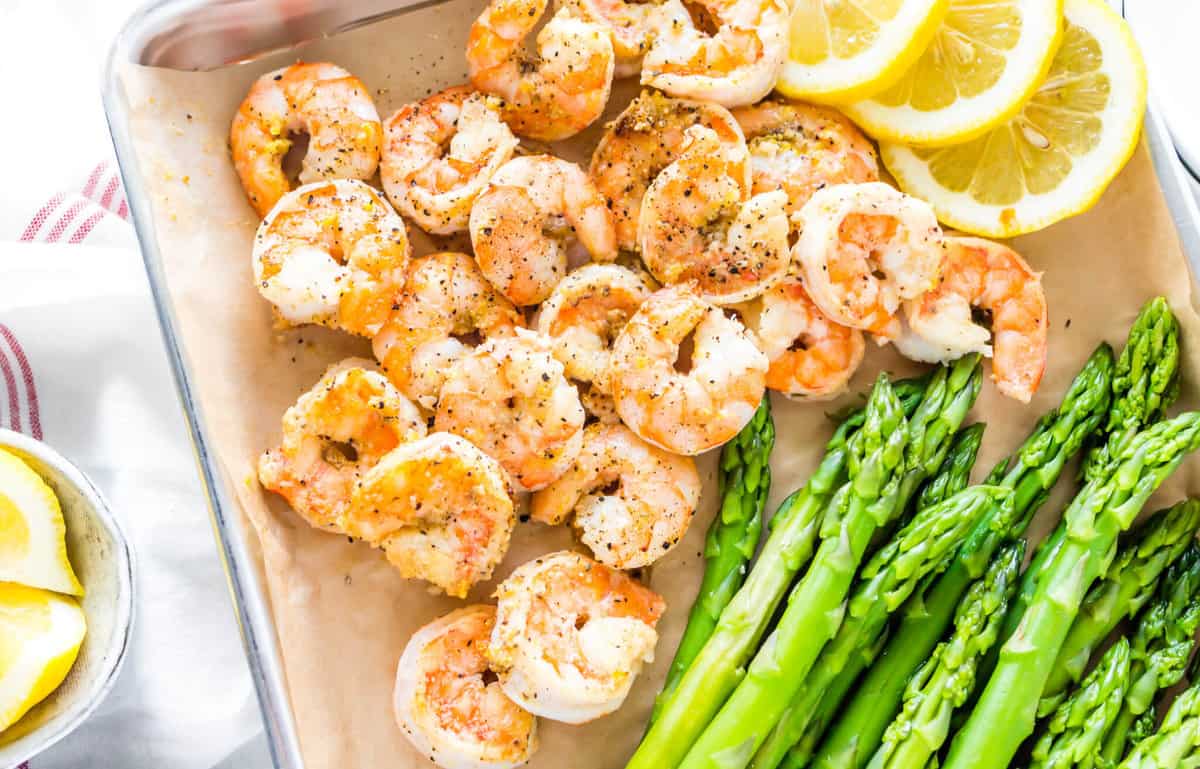 This meal is such a lifesaver for those busy weeknight dinners. I also love cooking this recipe on the weekends when I don't feel like standing in the kitchen for hours. This Lemon Pepper Shrimp and Asparagus is bursting with a ton of flavor and can be whipped up in 15 minutes or less.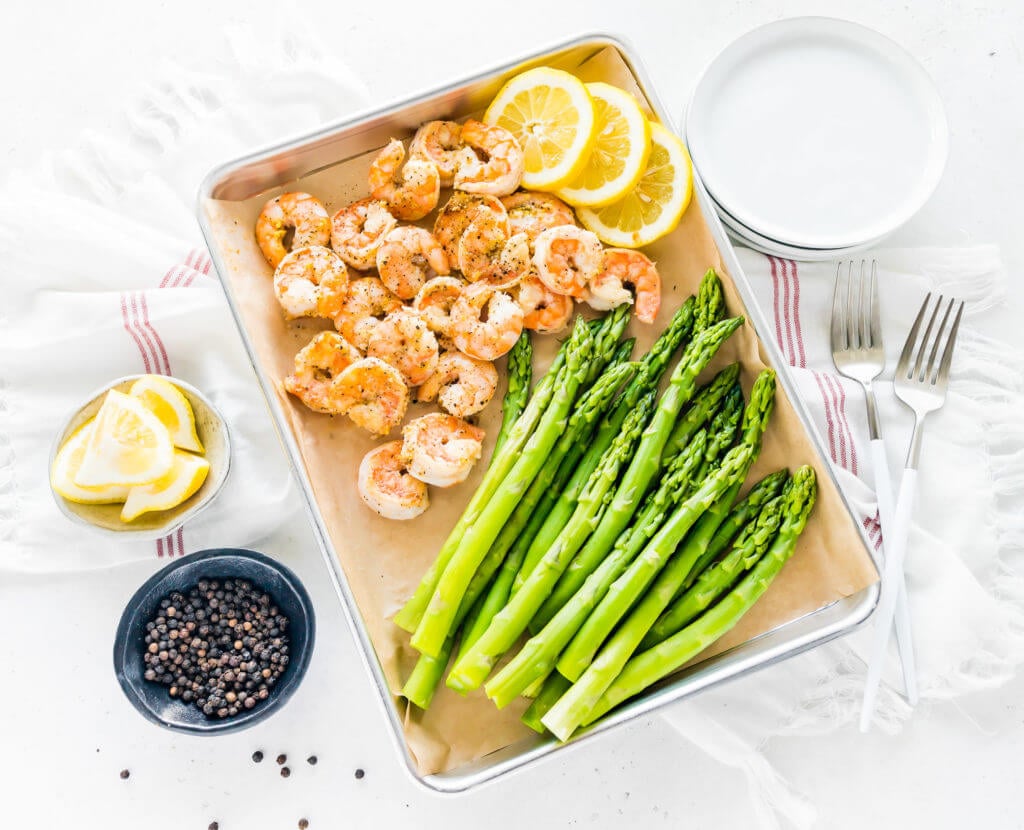 Shrimp is something I like to add to the menu to give us a break from the usual ground beef and chicken recipes. This Lemon Pepper Shrimp is not only flavorful, but it is super healthy dish that the whole family will love.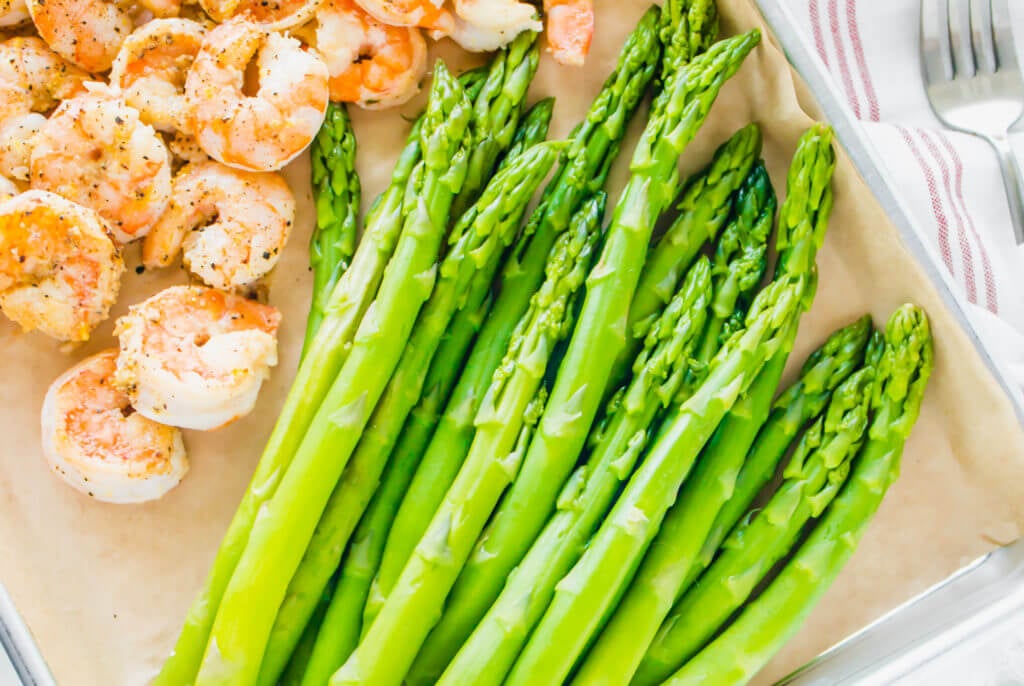 I love the fact that this Lemon Pepper Shrimp and Asparagus is Whole30, Keto, Paleo and Gluten-Free. The lemon pepper seasoning I came up with for this dish is super easy and in my opinion, tastes better than store-bought.
For the lemon pepper seasoning I use olive oil, lemon zest and juice, onion and garlic powder, along with kosher salt and pepper. I simply mix all of these ingredients into a bowl until combined. I not only use this on shrimp, but I love adding it to a chicken breast or cod.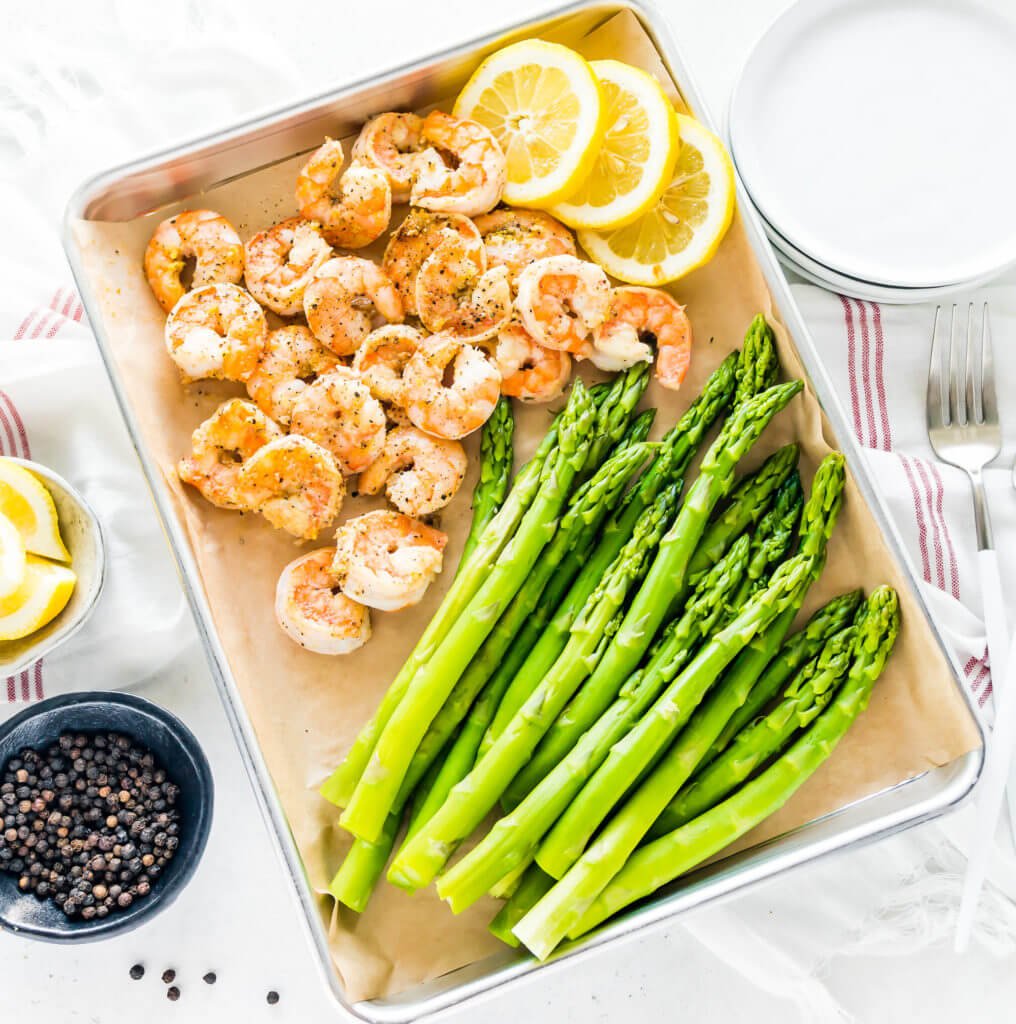 I always buy my shrimp deveined and peeled in bulk at Sam's Club. One of my main tips for saving money is buying meat in bulk and storing in the freezer. Shrimp thaws in no time at all and serves as a quick and delicious protein option.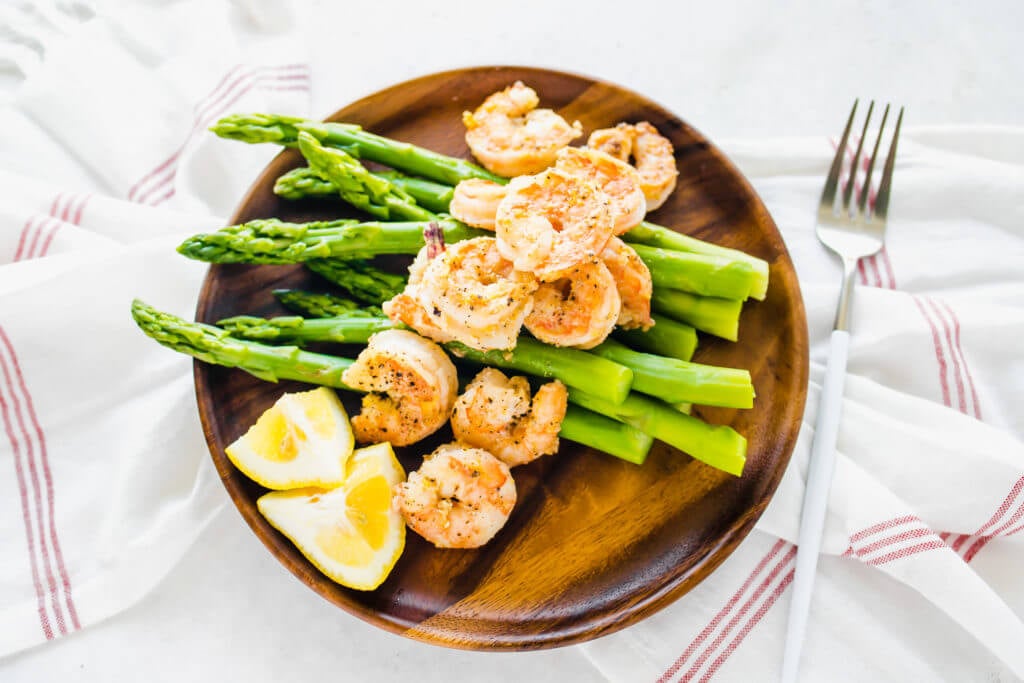 How do you get the asparagus so green for this Lemon Pepper Shrimp and Asparagus recipe?
Blanching is my favorite way to cook asparagus because not only is it a fast method, but it also deliverers crisp and green asparagus every single time. Blanching is a cooking process where a vegetable is scalded in boiling water the removed to halt the cooking process. This type of cooking allows the veggies to keep their bright color and clean taste.
How do you cook the shrimp to where it doesn't get chewy?
Shrimp can become extremely chewy if it is overcooked. The reason I love shrimp so much is because it cooks super fast. My favorite way of cooking shrimp is sauteing in a skillet with ghee over high heat. You only have to cook for 2 minutes on each side. If you cook any longer, it may become chewy. To determine if it is done, it should be pink on both sides.
Click below to save this to your Pinterest Board
Shop my post:

| | |
| --- | --- |
| | |
Add the olive oil, lemon zest, lemon juice, garlic powder, onion powered, kosher salt and pepper to a bowl. Mix together until combined.

Transfer the thawed shrimp to a large bowl along with the lemon pepper mixture. With your hands, mix the shrimp and seasoning together until the shrimp is completely coated.

Heat 1 tbsp of ghee in a large skillet over medium-high heat.

Add the coated shrimp to the hot pan and cook for about 2 minutes on each side, turning once, until shrimp is pink and cooked through.

Meanwhile, heat a large pot with 8 cups of water over high heat. Trim the ends off the asparagus using a sharp knife.

Season the asparagus with 1 1/2 tsp of kosher salt. Once the water is boiling, add the asparagus; boil until tender, 3 minutes.

Carefully remove the asparagus with tongs and immediately transfer to a big bowl of ice water for 1 minute to stop the cooking process. Blanching them like this will make them crisp and green. After a minute, transfer to a towel and pat dry. (You can also saute in a hot skillet after this step, but I love eating them just like this. They are so crisp and fresh)

Place desired amount of asparagus on a plate and cover with the lemon pepper shrimp. Squeeze fresh lemon juice and enjoy.
Tags : asparagus, keto, lemon pepper, Lemon pepper shrimp, paleo, quick meals, shrimp, shrimp recipes, whole30