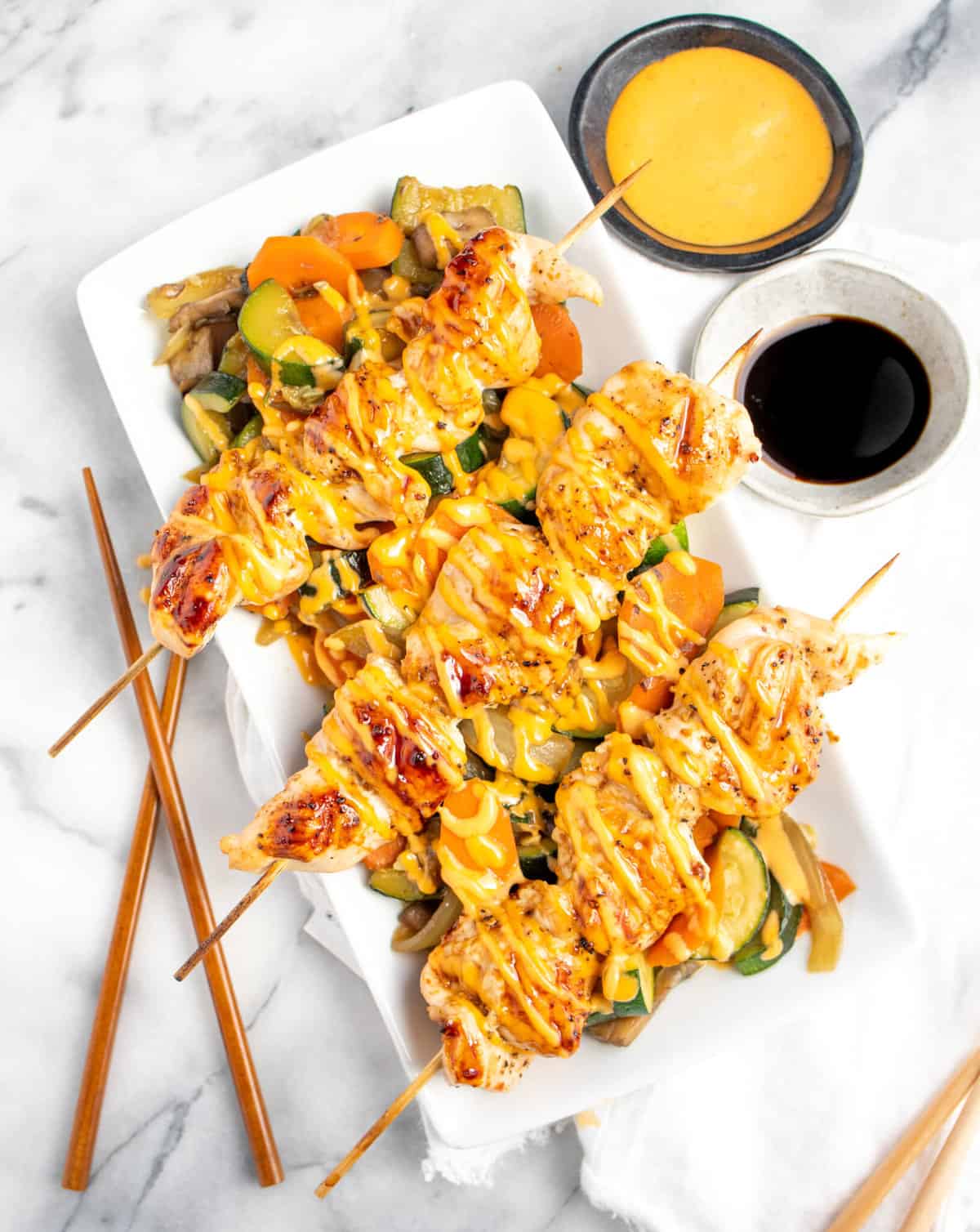 I woke up the other night at 3 a.m. and jumped out of bed. I raced to my notebook and began to jot down the most delicious recipe that I had just dreamed about. Little did I know, that my new Hibachi Chicken Skewers and Veggies would turn out to be my new favorite recipe on my blog. It's a real show stopper and will make you question how the heck is it considered Whole30, Paleo and Keto.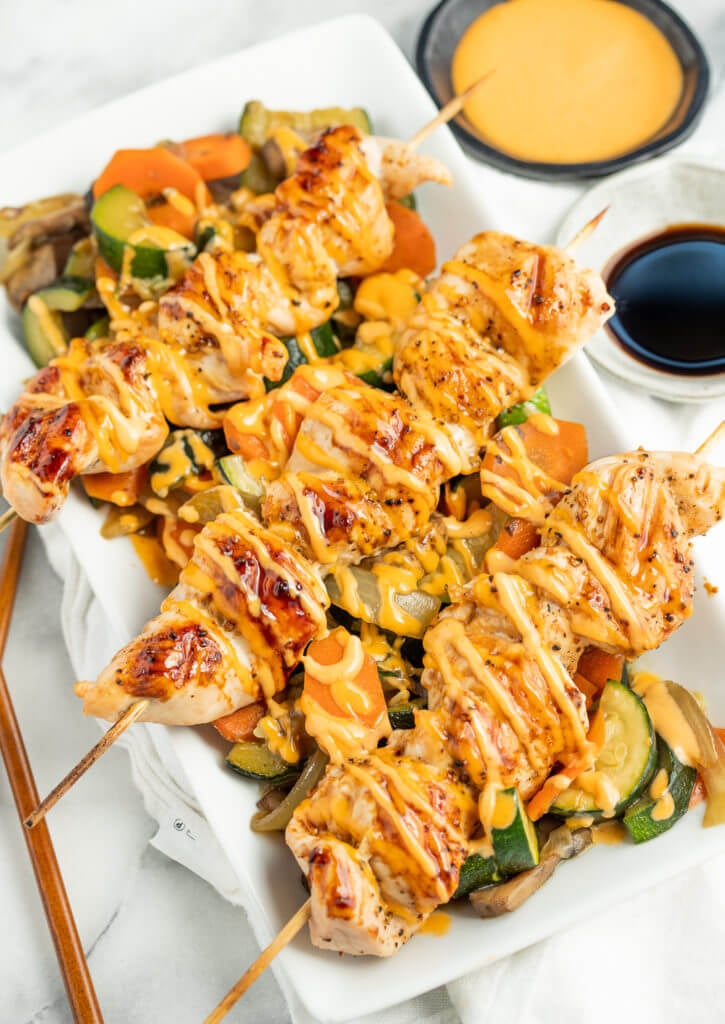 I have always been a big fan of going to the Hibachi grill. I love the food being cooked in front of me along with the amazing flavors included. We recently went to our favorite Hibachi Grill on Easter and I guess my mind couldn't stop thinking about it. A couple of weeks later I went to bed with a blank mind and woke up at 3 a.m. with the most vivid picture in my mind of the recipe I wanted to create in honor of my love for the Hibachi grill.
In the beginning stages of recipe development for this recipe, I thought there was no way I would be able to create my favorite restaurant meal in a healthy way. Well, guess what? I was wrong! My Hibachi Chicken Skewers and Veggies taste just like they came straight from the restaurant's grill. Furthermore, my husband threw a fit and declared that it was the most amazing recipe I have created thus far. It made me blush a little. 😉
How long does the Bang Bang Sauce last in the fridge?
It's very important to remember that any recipe that is made with a homemade mayo base such as this sauce, should only stay in the fridge for 5-7 days. Some people go by the shelf life of the egg that is used, but I always stay on the safe side and never go past a week. To be honest though, my sauce is usually gone within a few days because it is so yummy. Always make sure to sell your jars in an airtight jar. I love storing all of my sauces in a Weck Jar.
Can these Hibachi Chicken Skewers serve as a good meal prep option?
Absolutely! I will store the chicken and veggies together in an air tight container and add the sauce in a small separate container. Just simply heat and serve and not only is it easy, but it's super delicious for a weekday lunch.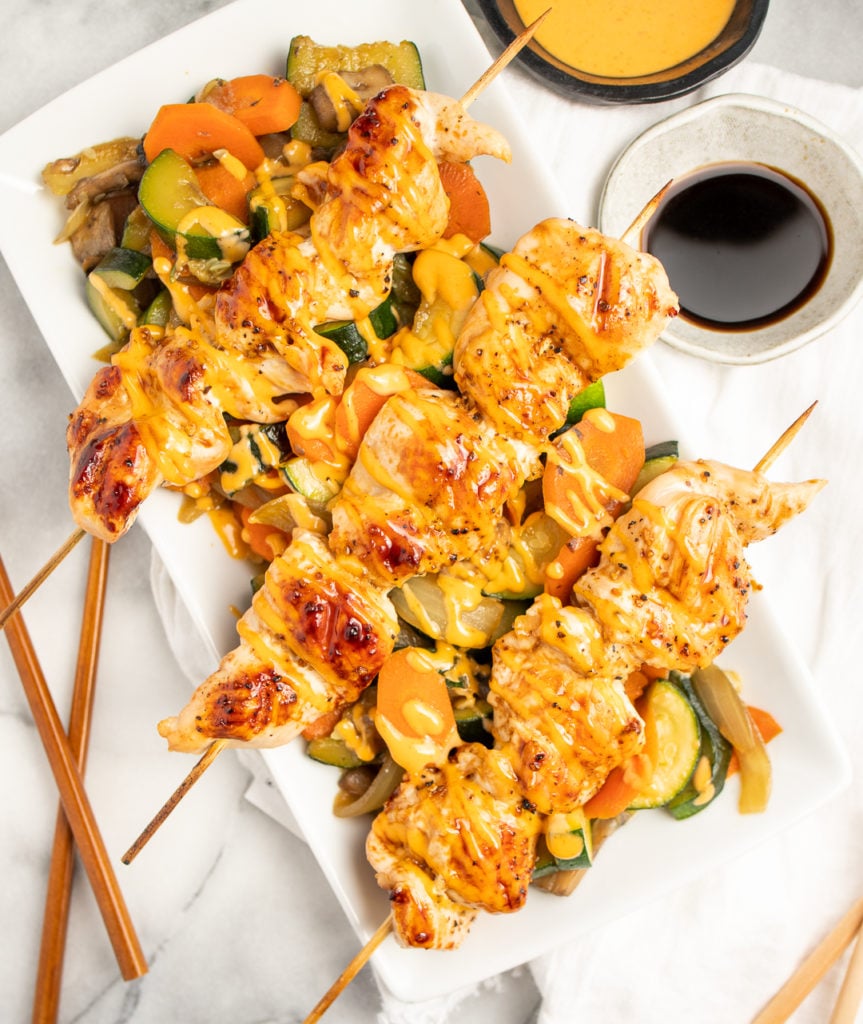 Shop my post!
Click the picture below to save this to your Pinterest board
Want more Whole30 recipes like this one? Check out my favorites below…
---
---
Tags : Chicken Skewers, keto, low carb, paleo, whole30, Whole30dinner