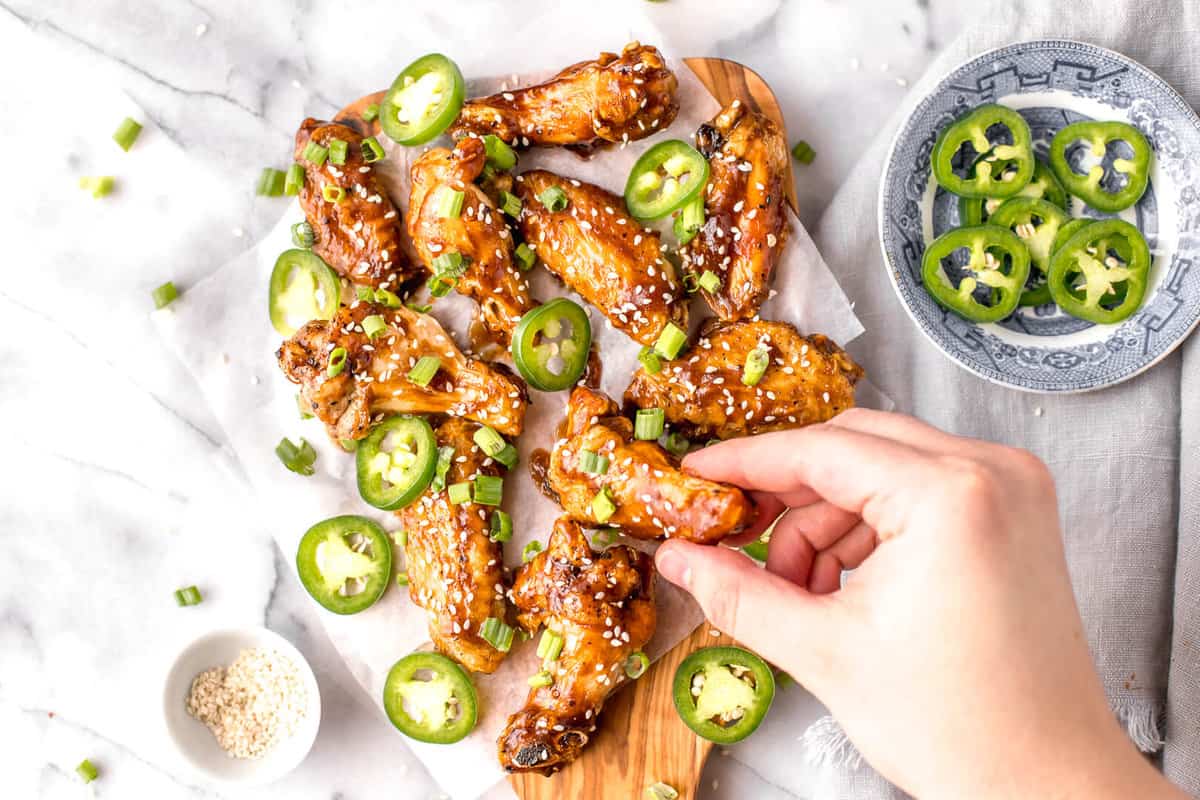 Listen to the way this sounds…" Sticky Asian Chicken Wings!" Ummm yes, please! Not only are these wings out of this world delicious, but they are also Paleo, Whole30 and Keto compliant. It's hard to believe that these are even the slightest bit healthy because they are exploding with flavor. The great thing about this recipe is you can prepare them in your air fryer and oven. I always like to add multiple cooking methods so everyone can indulge in these yummy wings. Below I am answering your biggest questions regarding chicken wings and all the different cooking methods.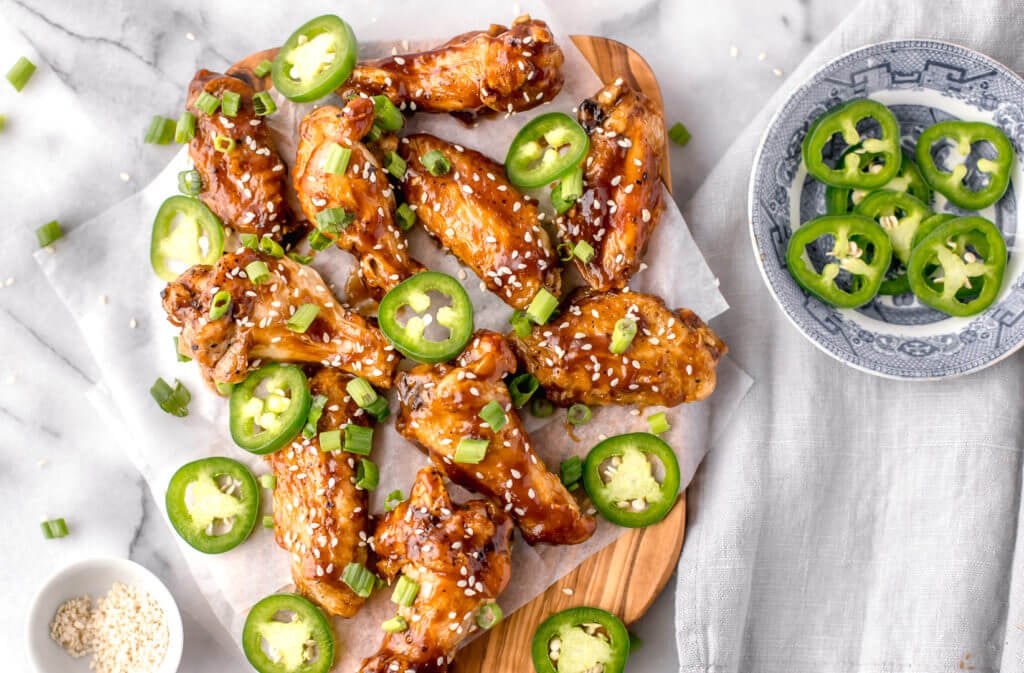 Air Fryer Q & A
Can you use an air fryer to cook these Asian chicken wings?
Yes! Using an air fryer is one of my favorite ways to cook wings because this method gets them extra crispy. The air fryer also cooks them faster than the oven method, but won't cook as many.
The key to getting a nice crisp on the wings is,
Pat each wing dry with a paper towel.
Spray the wings with olive oil cooking spray.
Make sure there is room between each wing. (This is crucial for getting crispy wings)
Shaking the basket ever 10 minutes to make sure they are cooking evenly.
Increasing the temperature for the last 5 minutes.
How many Asian chicken wings can I cook in the air fryer at once?
All air fryers are not the same size, so this question is very hard to answer. Instead of giving you a specific number, I say just fill your basket and cook as many as you can while still leaving room in between in wing. My air fryer is a 5 quart and can cook enough for my family at one time. If I am cooking for a crowd, I will usually have to do the wings in batches.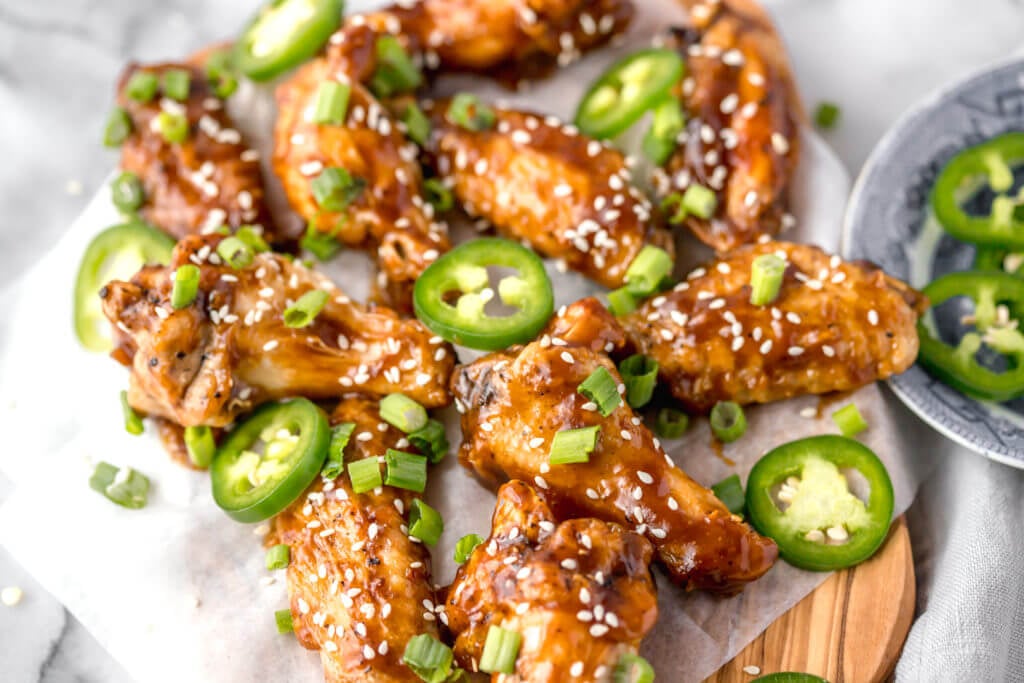 How long do you cook the wings in the air fryer to get them crispy?
I cook my wings at 390 degrees for 15 minutes and increase to 400 degrees F for the last 10 minutes. The key to the air fryer is making sure you pull the basket out about every 5 minutes and shake to make sure the wings are cooking evenly. Also, if you want crispy wings, make sure not to over-pack the basket. The wings should be in the basket without touching.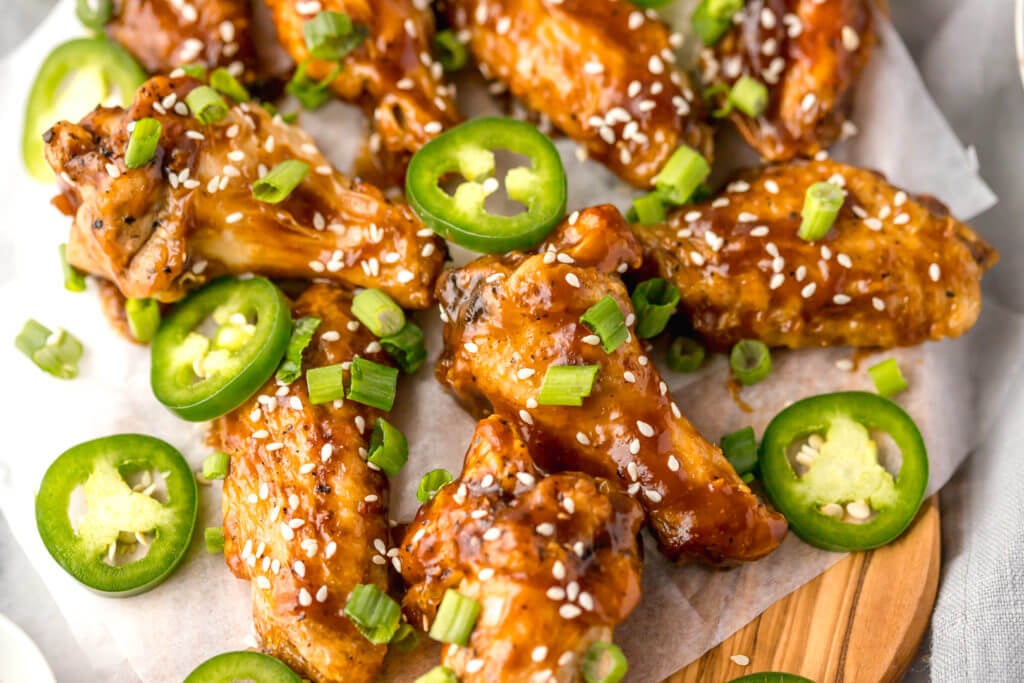 Oven Q & A
What temperature and how long do I cook the chicken wings in the oven to get them crispy?
The best way I have found to cook my wings is on 400 degrees F for 20 minutes then increase the temperature to 425 degrees F for another 15-20 mins or until crispy and cooked through with no pink.
Do I have to use a rack when cooking these Asian chicken wings in the oven?
From experience, baking on a wire rack allows the wings to cook evenly and get crispy all the way around. I bake mine on a wire rack anywhere between 45-60 minutes.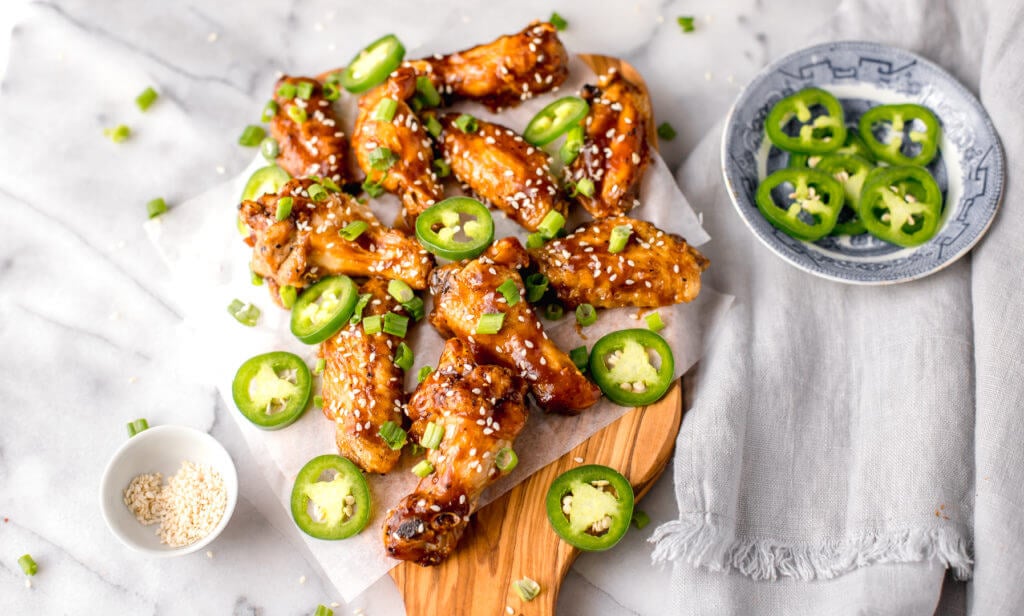 Make sure to click below to pin this recipe to your Pinterest board for later!
Shop my post
Arrowroot Flour (can be used just like tapioca)
Want more chicken recipes? Check out my favorites below!
Tags : appetizer, asian, Asian Sticky Wings, Asian Wings, chicken wings, Keto Dinner, Keto Wings, paleo, Paleo Wings, Whole30 Dinner, Whole30 Wings, wings