I love traditional holiday food, but I also love creating new recipes that I can pass down to my girls one day. My Bacon Wrapped Pork Tenderloin covered with my homemade Cranberry Sauce has the perfect mix of the traditional holiday flavors that will make the perfect addition to any holiday table.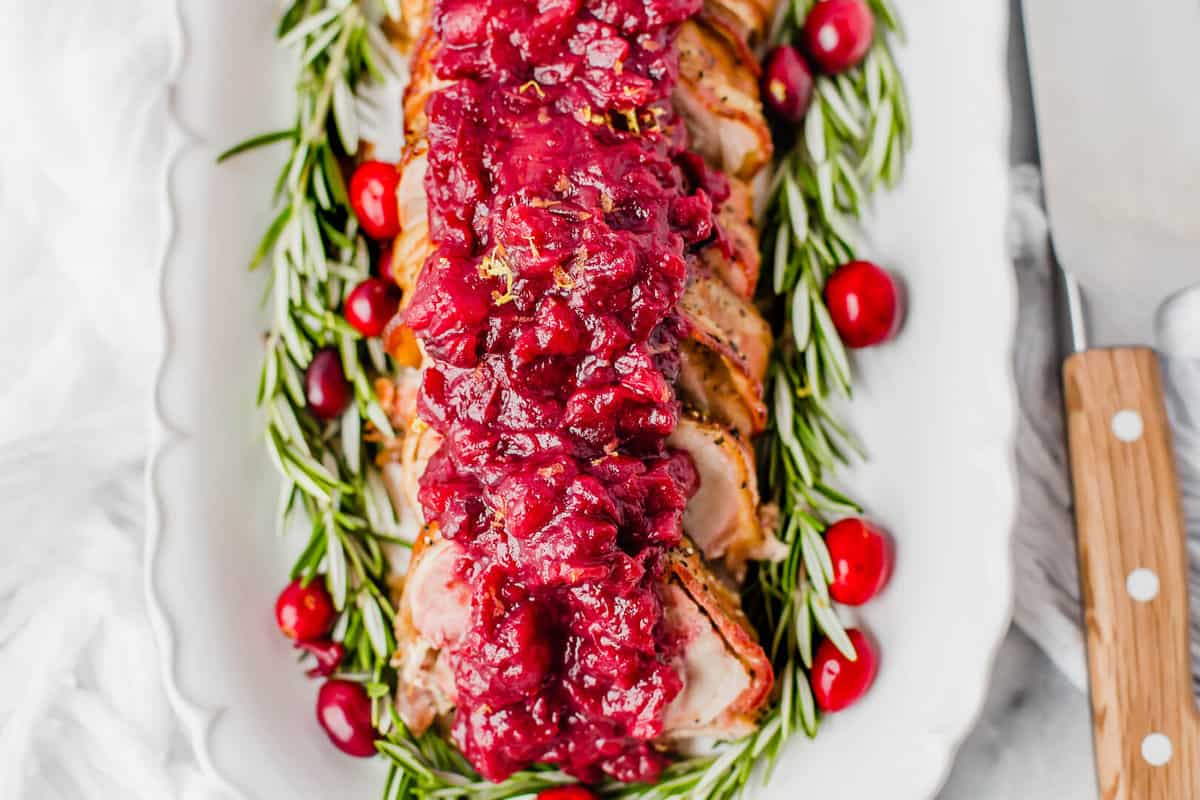 The best news is this yummy recipe is Whole30 and Paleo compliant. You can also remove the cranberry sauce to make it Keto. Pairing the cranberry sauce with the pork is the perfect combination of savory and sweet.
I have been working on making the perfect Whole30 compliant cranberry sauce for a long time and I finally feel like I perfected it. I developed two options so you can choose based on your taste buds, tart or sweet. I prefer a more tart cranberry sauce while Joel like his a little sweeter. If you are wanting a sweeter sauce, simply add the mashed dates that I explain in the instructions on step 1.
What sides can I serve with this meal?
Anytime I think of holiday meals, mashed potatoes comes to mind. An easy healthy swap is my creamy cauliflower mash that will complete this holiday dish. If you are interested in making my cauliflower mash, you can find my recipe here. You can also serve with sautéed green beans or a beautiful crisp side salad with my homemade ranch dressing.
What else can I serve my leftover cranberry sauce with?
I absolutely love turkey lettuce wraps slathered with leftover cranberry sauce. I will use a piece of butter lettuce and fill the bottom with cranberry sauce then add leftover holiday turkey, ham or deli meat.
This may sound weird, but I also like to top my creamy chicken salad with a big spoonful of this cranberry sauce. It is the perfect combination of savory and sweet.
Click below to save this recipe to your Pinterest board
Need some dessert or drink ideas?
Cranberry Apple & Rosemary Mocktail
Bacon Wrapped Pork Tenderloin
| | |
| --- | --- |
| Bacon Wrapped Pork Tenderloin | |
Bacon Wrapped Pork Tenderloin
Season pork tenderloin evenly with salt and pepper.

Wrap each slice of bacon around the pork tenderloin until the loin is completely covered. 8-9 slices should cover it with no problem.

Drizzle the bacon wrapped tenderloin with olive oil.

Place pork on a lightly greased baking pan and add to the preheated oven.

Cook for 30 minutes or until internal temperature is 155°.

If the bacon is not crispy, broil for 3 to 4 additional minutes.

Remove from the oven and cover with aluminum foil and let rest for 5 minutes.

Slice and top with homemade cranberry sauce.
Soak the dates in hot water for 10 minutes. Peel the top layer of the dates and take the back of a spoon and mash the insides of the dates until smooth. (This step is optional. If you don't add the dates, the sauce will be tart with a slight amount of sweetness from the pineapple).

Turn stove on medium heat and place the cranberries, water, lemon zest, diced apples, crushed pineapples, orange and pineapple juice, cinnamon, clove, nutmeg, and salt.

Bring to a simmer over medium to high heat. Allow the mixture to cook for 7 minutes or until the cranberries start to pop and burst.

As the mixture heats, all the ingredients will cook down and thicken into a delicious sauce. Top with fresh lemon zest and serve
Tags : bacon, bacon wrapped pork, cranberry sauce, holiday food, paleo, pork, pork tenderlion, whole30