Mac's Paleo Walnut Brownies
February 5, 2018 | Author: Ashley McCrary
This post contains affiliate links
---
Who doesn't love a good warm gooey brownie? My husband is constantly asking me to bake for him, so I came up with a delicious brownie recipe that aligns with our healthy lifestyle. You would never guess these magical gooey squares are Paleo friendly along with gluten and egg free. It is so nice to incorporate healthy treats on occasion and this brownie recipe is my new go-to option. My sweet 3 year old little girl approves this recipe and says her mommy is a good cooker…haha.
I have played around with a lot of brownie recipes and this one has by far exceeded my expectation, especially being Paleo. The almond butter and unsweetened applesauce gives the brownie the perfect chewy and gooey texture. They come out extremely moist and gooey, so if you are one that likes your brownies hard, then you are going to need to leave them in the oven a little longer than normal, maybe up to 30 minutes. These babies are better than any store bought, boxed version. It gives me "peace of mind" knowing that all the ingredients that I used are natural and healthy. If you live Paleo, you should have most of these ingredients on hand and ready to use.
Every now and then it is so nice to have a big pan of warm brownies sitting in your kitchen. My family loves having a treat every once and practicing Food Freedom.  These are the perfect addition for a Sunday treat or a social gathering. People won't even believe they are healthy. They are ready in less than 30 minutes and can be served with a coconut milk ice cream. To top them off, I sprinkle with chopped walnuts and a touch of sea salt. The creamy texture along with the crunchy warm walnuts will literally melt in your mouth and make you question why you ever used the box mix in the first place.
My sweet Eloise joined me in the kitchen to create these, so it makes this recipe super special to me. We had the best time, I would tell her what to add and she would use her sweet little baby hands to help me mix. Y'all, there is nothing better than getting you kiddos involved in the kitchen. It is my hopes that involving Eloise in everyday cooking will encourage her to make healthy food choices as she grows up.
If you have been searching for the perfect Paleo dessert, look no further. I am a baker by heart and love coming up with new recipes and these brownies are probably my new favorite dessert of all time. Get the family together this weekend and make some memories with these bad boys!
XO-Mac
Click the picture below to save this recipe to your Pinterest board.
Mac's Paleo Brownies
A gooey and delicious Paleo brownie that is egg and gluten free.
Total Time:

49 minute

Yield:

4

people

1

x
Dry Ingredients
4 tbsp

almond flour

2 tbsp

coconut sugar

2 tbsp

cocoa powder

1/3

cup dark chocolate chips

1/2 tsp

baking powder

1/4

tsp baking soda

1/4 cup

roughly chopped walnuts

1/4 tsp

sea salt
Wet Ingredients
2 tbsp

maple syrup

1/2 tsp

pure vanilla extract

1/2

smashed banana

2 tbsp

unsweetened apple sauce

1 tbsp

unsweetened almond milk

1/2

Cup Almond butter
Instructions
Preheat oven to 350°F. Use a a 8×8 baking pan or 8×4-inch loaf pan( to get thicker brownies), greased with coconut oil.
In a medium sized mixing bowl, whisk together all of your wet ingredients.
In a separate mixing bowl add in all of your dry ingredients and mix together until everything is combined.
Add your dry ingredients into your wet ingredients in 1/4 cup increments. This is to make sure it blends nicely together. Make sure you are using a rubber spatula to fold all the ingredients together. I have attached a picture of what your batter will look like once combined.
Use your rubber spatula, scrapping the sides of the bowl and transfer the batter evenly to your baking dish.
Add to the oven and bake between 25-30 minutes. I usually bake mine at 27 minutes for a gooey texture. If you like your brownies harder, I would suggest baking for 30 minutes.
Allow to cool for 1 hour and top with chopped walnuts and a little touch of sea salt.
Note: The longer they cool the harder they will get. After 1 hour of cooling they will still be pretty gooey.
Author:

Ashley McCrary

Prep Time:

10 minutes

Cook Time:

25-30 minutes

Cuisine:

Dessert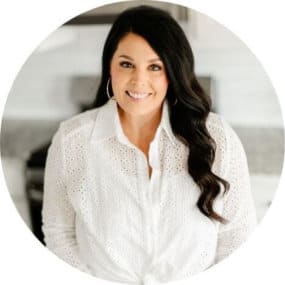 About Me
Welcome to Healthy Little Peach. I'm Mac, the lady behind the recipes. I believe in living a healthy lifestyle that consists of a mix of healthy whole foods, and full-fat comfort meals. Life is too short not to enjoy good food while maintaining a healthy body and mind. Here you will find gluten-free, dairy-free, paleo, keto, and even full-fat comfort recipes. Let's have fun in the kitchen together!