Farm Fresh Chicken Feta Pizza
July 16, 2019 | Author: Ashley McCrary
This post contains affiliate links
I am a big advocate for living a healthy and happy life and part of that comes with knowing how to balance. Our family eats healthy and Paleo 90% of the time, but that doesn't mean we can't make eating healthy fun and delicious like with this Farm Fresh Chicken Feta Pizza using Pompeian Organic Extra Virgin Olive Oil.
This post was sponsored by Pompeian®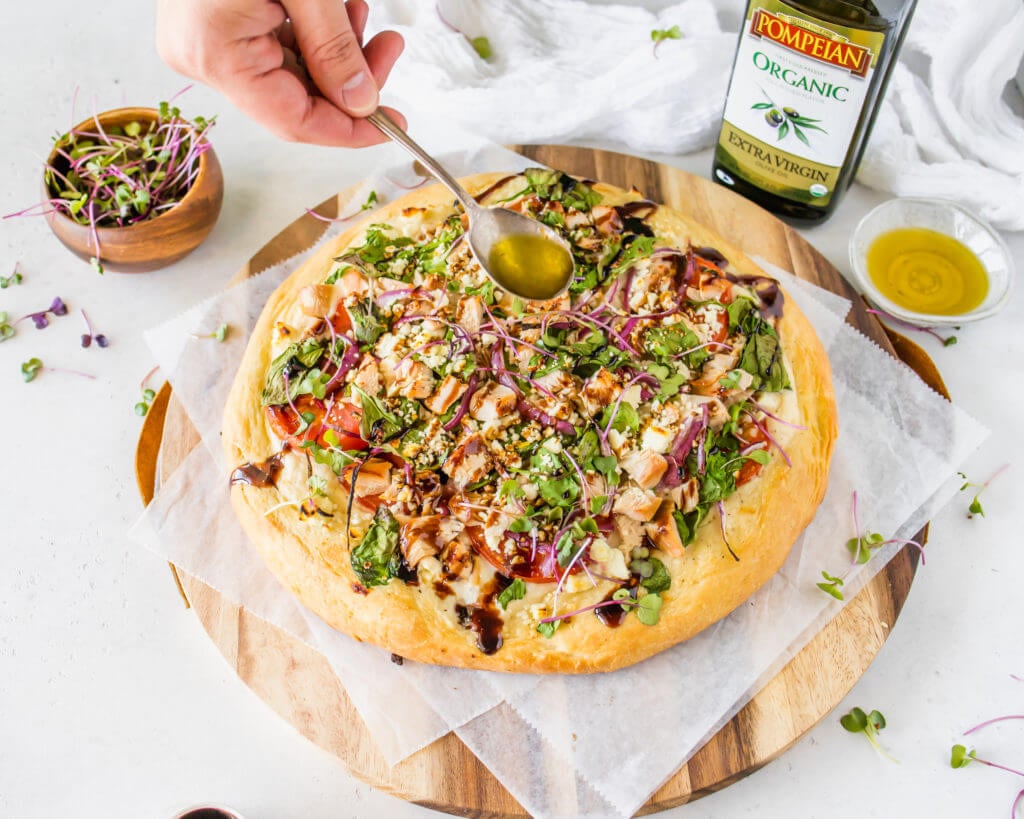 Part of my family's self-care routine includes finding different ways to bring farm fresh, healthy ingredients into traditionally not-so-healthy meals. We love coming home on a Friday night, making a homemade pizza and snuggling on the couch with a good movie. Sure, take out pizza is easier, but there is nothing better than a farm fresh pizza made right in your kitchen.

I love that the whole family can get involved in this recipe! It's always so special to have them in the kitchen with me cooking. These memories are ones you can't get at a drive-thru.

If we have a homemade pizza on our menu for the week, I will head to our local farmer's market and load up on fresh veggies and local meats. My favorite way to create a recipe is visiting the market and getting ideas based on what's in season and available.
As a recipe creator, supporting our local farmers is very important to me. I find it exciting to create recipes using fresh ingredients from our local farmers who have worked hard to grow and provide for our community.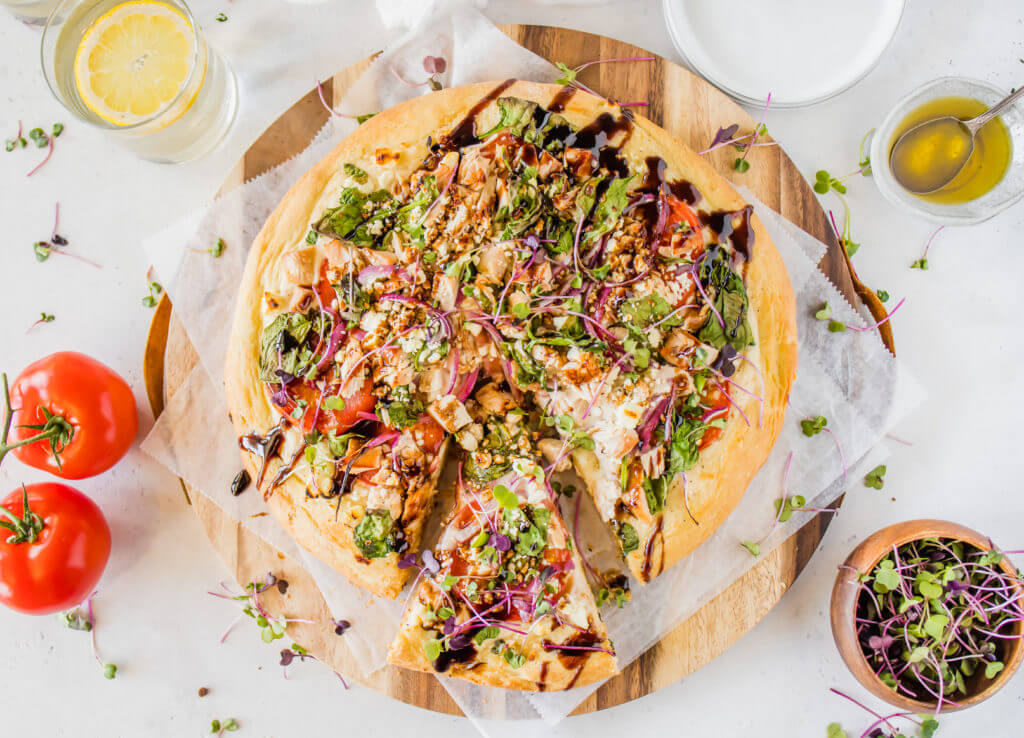 The best part of this Farm Fresh Chicken Feta Pizza is the Pompeian Organic Extra Virgin Olive Oil. It's ingredients like this one that help my family to eat and live well. I love using this particular brand because they are a family of olive farmers and olive oil craftsman who strive to produce the best tasting, highest-quality, authentic olive oil at the best price.
I am convinced that they are passionate about their business, because they are olive oil people with personal touches of care and craftsmanship behind every bottle. They work extremely hard to deliver the best tasting, highest quality olive oil to kitchens everywhere, which pairs well with the other fresh ingredients I look to include in my recipes.
Can you freeze the pizza crust?
Yes, you can freeze the pizza crust. You can also cut this crust in half if you want to make smaller pizzas. Make sure to freeze the dough in an airtight freezer proof container. It will stay good in the freezer for up to 3 months.
How long will the Chicken Feta Pizza last in the fridge?
For this Farm Fresh Chicken Feta pizza, I never go over a couple of days in the fridge. From experience, I have found that it gets super soggy if stored in the fridge longer than 2 days. For optimal freshness, be sure to serve immediately after cooking.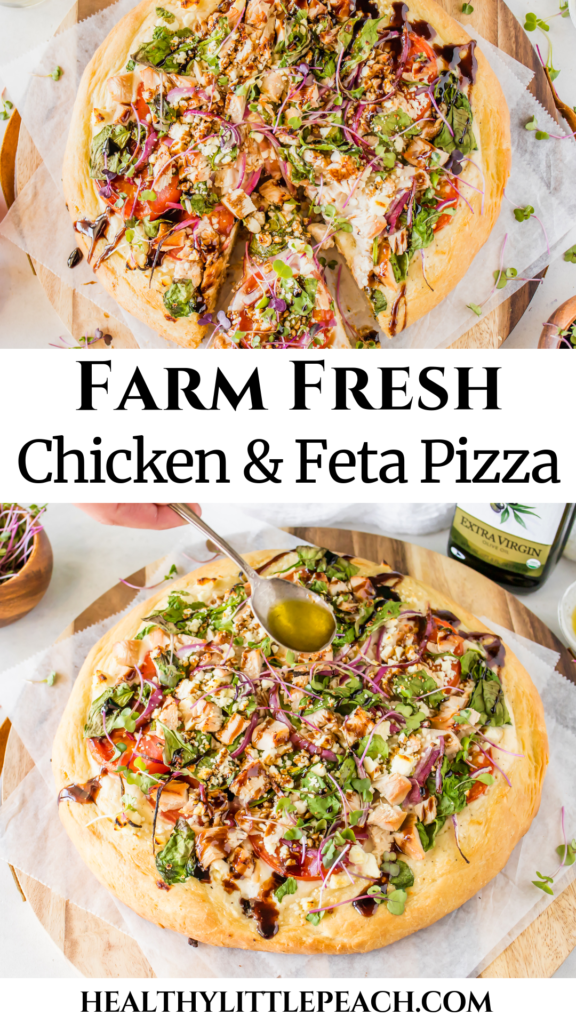 Shop my post below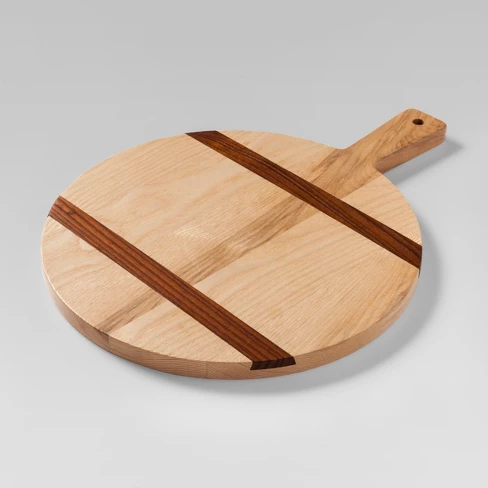 Want more healthy, yet delicious recipes? Be sure to check out my favorites below.
Print
Farm Fresh Chicken and Feta Veggie Pizza
This is a rustic and farm fresh pizza filled with cashew sauce, chopped chicken, feta cheese, spinach, and red onion. It is the perfect dinner that the whole family will love.
Total Time:

35 minutes

Yield:

8

Servings

1

x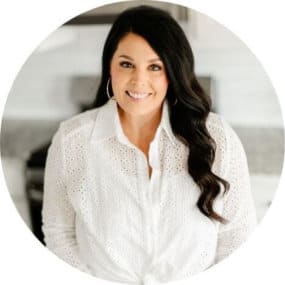 About Me
Welcome to Healthy Little Peach. I'm Mac, the lady behind the recipes. I believe in living a healthy lifestyle that consists of a mix of healthy whole foods, and full-fat comfort meals. Life is too short not to enjoy good food while maintaining a healthy body and mind. Here you will find gluten-free, dairy-free, paleo, keto, and even full-fat comfort recipes. Let's have fun in the kitchen together!