Buffalo Chicken Zoodle Bowl
Published Jul 11, 2018 Updated Mar 12, 2020
This post may contain affiliate links. Please read our disclosure policy.
Let me just be real honest with you for a second, I love Frank's Hot Sauce so much I could eat it on ice cream, yup, that's right, ICE CREAM! This Buffalo Chicken Zoodle Bowl is filled with Franks, grilled chicken, zucchini noodles and onions. It is so yummy, I guarantee it will make you do an air kick. If you don't know what an "air kick" is I am sorry, your, your missing out on a joyous movement. I do them often when I get excited. Just randomly jump up and do a fun kick in the air when you get excited. Okay, enough about the kicks, let's get to the good stuff, FOOD!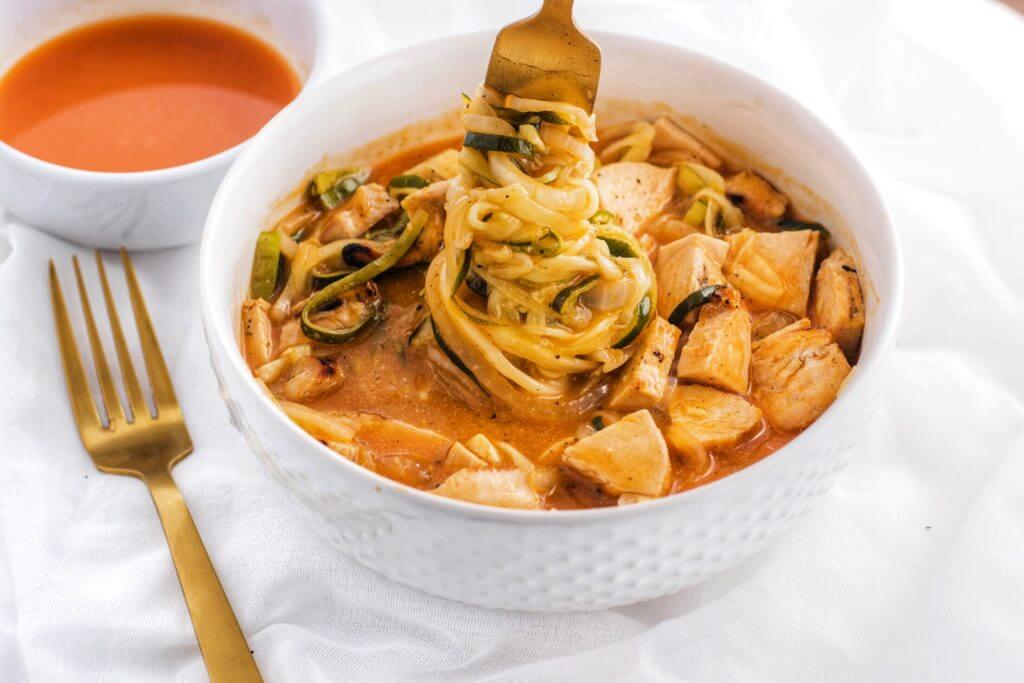 I mean just look at this bowl of goodness, it looks magical. Not only does it look good, but it is seriously so fast and easy to make. This can serve as a quick lunch or even a filling dinner on those busy weeknights. Simply heat up some chicken breast and cut into cubs, whip up my quick buffalo sauce using Franks, tapioca flour and coconut aminos and spiralize some zoodles and mix together with a few slices of cooked onions. Within 15 minutes you have a perfect Whole30, Keto and Paleo compliant meal that is gluten and dairy free. I also love to add a little bit of nutritional yeast over the top that gives it a "cheesy" taste without the cheese.
Click below to save to your Pinterest board.
[wpurp-searchable-recipe]Buffalo Chicken Zoodle Bowl – A creamy and spicy buffalo sauce covering grilled chicken and spiralized zoodles. This dish is Whole30, Paleo and Keto compliant. – chicken breast (cubed ), Franks Hot Sauce, coconut aminos, ghee, garlic clove (pressed), zucchinis (spiralized), salt, pepper, tapioca flour dissolved in 1 tbsp of water, Optional: Nutritional yeast, , Heat a skillet with 1 tbsp of olive oil over medium heat. Add the chicken breasts along with the pressed garlic to the skillet. Allow to brown and cook on each side 6 mins. Once the chicken is completely cooked, remove from the skillet. ; Remove the chicken breast, but leave the garlic. Add the Franks Hot Sauce, coconut aminos, ghee, salt and pepper. Slowly whisk in the tapioca flour dissolved in water.; Using a spiralizer, spiralize both zucchinis and add the noodles to the sauce. Dice the chicken and add to the noodles and sauce. ; Allow the zoodles, chicken and sauce to simmer for 5 minutes. Transfer to a bowl and top with nutritional yeast.; ; – Below you will find links to the products used in this recipe:
https://amzn.to/2KRDtF7
https://amzn.to/2MTUCvh
https://amzn.to/2NAAyzk
Spiralizer
https://amzn.to/2KUGmSf
https://amzn.to/2NymRRm
– Main Dish – Buffalo Chicken – keto – Paleo – Whole30 – Paleo – Recipes – Whole30 – buffalo chicken – keto – paleo – whole30[/wpurp-searchable-recipe]
Print