Spicy Bison Chili & Leftover Stuffed Potatoes
January 31, 2018 | Author: Ashley McCrary
This post contains affiliate links
Chili is one of those dishes that can work year round. It is very versatile and can serve as different meals throughout the week. I usually make a big pot of this Whole30 compliant chili on Sunday evenings and have enough leftover to make potato spuds and loaded sweet potato fries during the week. In my opinion, the longer chili sits, the better it is…. Am I right? I will usually enjoy a big bowl with avocado and cilantro the first night I will break it up during the week by using it in different ways. This makes family dinner easy and delicious for busy moms.
Currently, I am obsessed with Bison meat, it is lean, clean and taste so rich. I have been subbing bison for all of my ground beef recipes and my family is jumping for joy. This bison chili tastes so much better compared to my ground beef recipe. Bison meat has very little grease and makes the chili not taste as heavy. My new recipe is seriously the best chili I have ever had. Spoiler alert….the bison meat does make it a little more pricey, but so worth it. If you do not have access to bison meat, it is totally fine, 90/10 ground beef works perfect!
Soup and chili are always my go-to-meals when I am working during the week. It makes life so easy when I can throw all my ingredients in my dutch oven or crockpot and come home to a good smelling house and a delicious and easy dinner that is ready to go. Another quick tip for chili, make 3 big pots and freeze for awesome make ahead dinners. Simply thaw, heat up and serve however desired. This is always such a lifesaver in the winter when I am exhausted from working along with the gloomy weather. I have always been such a big fan of freezer meals, and this chili is such a simple one to start adding to your monthly routine.
Whatever the season, this chili is so satisfying and yummy. It is a bit spicy, so if you have small children, feel free to modify the recipe to meet your family's needs. I have a spice-loving family, so I usually make really spicy food and we have no problems at all. Don't forget, squeeze some lime juice, sprinkle with cilantro and top with fresh avocado and you are set!
If you are needing a great leftover idea for any extra chili, try these stuffed baked potatoes. I usually will make enough chili to recreate 2 or 3 meals throughout the week. These baked potatoes are so delicious and easy to throw together on a busy weeknight. Not only are they easy peasy, but they are Whole30 compliant which makes them even better. Give them a try on your leftover night. To make this process even easier, I will throw my baked potatoes in the crockpot with a little olive oil and place on low before I leave work and they are ready by the time I get home. All I have to do to make a complete meal is heat up the leftover chili throw on top of the baked potatoes and top with fresh cilantro, avocado, and red onions.
XO-Mac
Click the picture below to pin to your Pinterest board.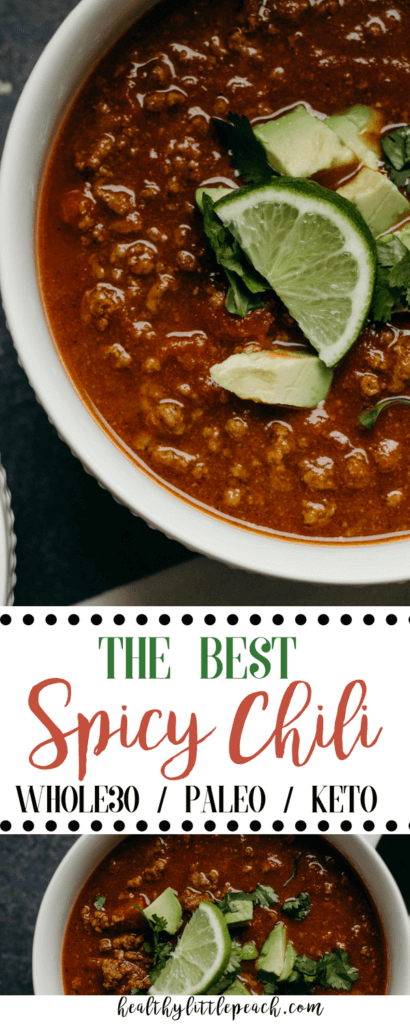 Bison Spicy Chili
---
Author:

Ashley McCrary

Prep Time:

10 minutes

Cook Time:

30 minutes

Total Time:

40 minutes

Yield:

6

servings

1

x
Description
---
Scale
Ingredients
Chili
2

pounds ground bison meat (or substitue ground beef)

3

cans diced tomatoes ((petite or regular))

1

can tomato sauce

3 tbsp

tomato paste

3/4 cup

beef broth

1/3 cup

water
l tbsp light olive oil

1

Lime

2

cloves garlic (minced)

1

whole sweet onion (chopped finley)

1

avocado

1/3 cup

chopped cilantro
Chili Seasoning
2 tbsp

chili powder

1 1/2 tsp

cumin

1 tsp

crushed red pepper flakes

1/4 tsp

cayenne pepper

1 1/2 tsp

Pink salt

1/2 tsp

onion salt

1 1/2 tsp

garlic powder

1/2 tsp

ground black pepper
---
Instructions
Heat your dutch oven on high heat with 1 tbsp olive oil. Sauté your onions and minced garlic.
Add in your ground bison or ground beef and let simmer.
Once your meat is a little crispy and cooked through, set heat to medium and add in your diced tomatoes, tomato sauce, paste and beef broth.
Mix together and let simmer on medium heat for another 5 minutes.
Add in all of your chili seasoning spices and set heat on low.
Let simmer on low all afternoon or until desired doneness. I usually let mine cook around 30 minutes before serving. If you choose, you can cook this on low in your crockpot all day.
Serve with diced onions, avocadoes, cilantro and lime juice.
Leftover Stuffed Baked Potatoes
4 potatoes, cleaned, forked and rubbed with olive oil. Sprinkle a little garlic powder and sea salt on each potato. For easy cooking, add all 4 potatoes to a crockpot on low for 4-5 hours on low. If you want to cook in oven, cook on 425 degrees Farhenhit for 45 minutes.
Heat up your leftover chili in a dutch oven or a pot of choice for 10-15 minutes.
Clean and cut fresh cilantro, red onions and avocadoes.
Slice each potato and add in desired amount of chili to each potato.
Top with cilantro, onions and avocadoes.
Notes
Here is a great Dutch oven option CLICK HERE
If you would like to make this work for the Instant Pot, keep reading and click here for the Instant Pot I use.
Instant Pot Version
Set your crockpot to saute and throw in the pressed garlic and onions. Allow the onions to become translucent.
Next, add the ground beef and allow to get fully browned.
Once browned, add in the canned tomatoes, tomato sauce, tomato paste, beef broth and seasoning.
Combine together and set the Instant Pot to high pressure and cook for 10 minutes.
Release the steam and the chili will be ready to serve.
Category:

Appetizer, Main Dish

Cuisine:

Soup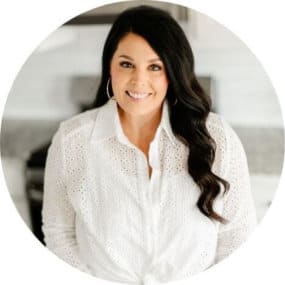 About Me
Welcome to Healthy Little Peach. I'm Mac, the lady behind the recipes. I believe in living a healthy lifestyle that consists of a mix of healthy whole foods, and full-fat comfort meals. Life is too short not to enjoy good food while maintaining a healthy body and mind. Here you will find gluten-free, dairy-free, paleo, keto, and even full-fat comfort recipes. Let's have fun in the kitchen together!