Roast & Potatoes
February 9, 2018 | Author: Ashley McCrary
This post contains affiliate links
Truth is, I could use my crockpot every single day in the winter. It is quick and easy on those long days when you want to come home from work, throw on some sweats and chill. My obsession with crockpots is a little out of control, I own three and would probably own more, but my husband put his foot down. You can cook your main dish along with all of your side dishes, all in magical crockpots. I adore my beloved crockpot, but the Instant Pot is the new big craze and fancy invention that will cook this roast in no time at all. I have not tried this cooking method, but plan too soon for an even quicker version.
This roast is usually a Sunday ritual. I will throw a beef chuck roast in the crockpot before we leave for church and by 4 or 5 o'clock, it is ready to enjoy. You can't think about roast without drooling over the soft potatoes that are served with it. I usually will just throw in a couple of handfuls of new potatoes and by the time I come home, the potatoes are cooked perfectly and have soaked up some of the yummy juice from the roast. They are simply delicious.
I have tweaked this recipe over the years and I have finally found the best way to cook this beautiful meat. I created this recipe because I wanted it to be easy to throw in a crockpot before work and be able to come home to a fabulous meal. This one pot wonder is beautiful and even better for leftovers the next day. In the past, I would add carrots and mushrooms, but have found that it has a better flavor with just the broth, onions, potatoes, franks hot sauce and garlic powder. All of these flavors come together so nicely and make the easiest and most delcious dinner or lunch. Give it a try this weekend!
XO-Mac
Print
Roast with Potatoes
The whole family will love this healthy comfort dish.
Total Time:

44 minute

Yield:

4

people

1

x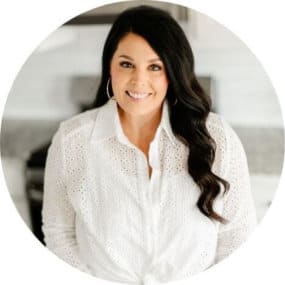 About Me
Welcome to Healthy Little Peach. I'm Mac, the lady behind the recipes. I believe in living a healthy lifestyle that consists of a mix of healthy whole foods, and full-fat comfort meals. Life is too short not to enjoy good food while maintaining a healthy body and mind. Here you will find gluten-free, dairy-free, paleo, keto, and even full-fat comfort recipes. Let's have fun in the kitchen together!