Fruit salsa is one of my go to side dishes during the summer. My Pineapple Mango Salsa is my absolute favorite and is both savory and sweet. Not only is it perfect with chips, but it's also great on top of a protein. We love grilling up big juicy chicken breasts and adding this salsa on top. It makes for the perfect refreshing and light dinner.
This salsa requires minimal ingredients and packs a ton of flavor. Pairing it with a savory protein such as chicken or even shredded pork, balances the sweetness of the pineapple and mango perfectly. The best part, this fruit salsa is one the whole family will love. My 1 and 4 year old devour it and ask for seconds. For example, if they don't dig the protein we are having for dinner, I will throw some of this on top and it will trick them into eating it. Hey, a mom's gotta do what a mom's gotta do!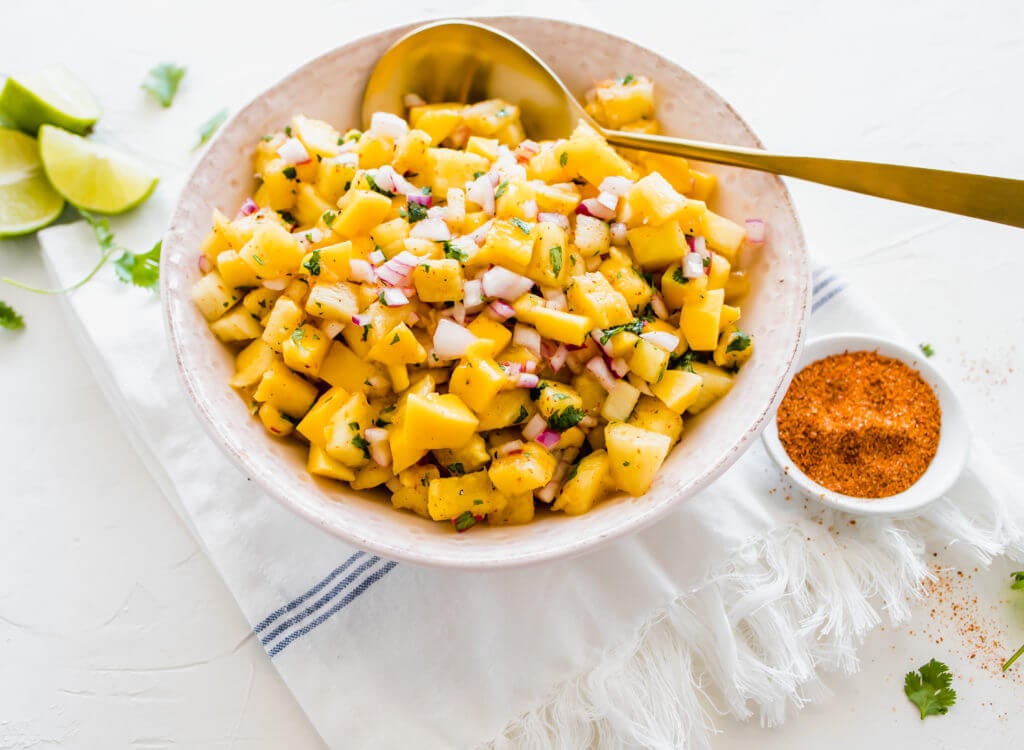 This recipe is not only delicious, but it's also so easy and can be ready to go in under 10 minutes. Simply dice 3 1/2 cups of pineapple, 1 1/2 cups of mango, 1/4 cup of red onion and add to a medium size bowl. Next, I add in the juice of 1 lime along with my seasoning (salt, pepper, and Tajin). Then, I clean and rough chop 3 tbsp of fresh cilantro and transfer to the mixture. Finally I combine everything together with a spoon and serve.
See…doesn't that sound like a piece of cake? Be sure to serve quick or you may find yourself eating it all with a spoon. Trust me, if it can happen to me, I'm sure it can happen to you ;)!
How long will this Pineapple Mango Salsa last in the fridge?
If stored in an air-tight container, it can lasts up to 4 days. Although I'm sure it will be gone way before then! Most of the time, if I am taking this dish to a party or family gathering I will make it a day in advance. In my opinion, letting it sit overnight brings all the flavors together and has a better taste the following day.
What is Tajin seasoning and where can I find it?
Tajin is a Mexican seasoning that contains very little ingredients such as, chilies, lime and salt. You can serve it with fruit and veggies, meat, poultry, salads, popcorn and drinks. It is Whole30, Keto, Paleo and Gluten Free.
Tajin has become my best friend over the years! It is so versatile and has the most unique and scrumptious flavor. My favorite way to use it is on watermelon and on the rim of my margarita glass instead of regular salt. I purchase this at Aldi for a $1.98, but you can also find it at Walmart, Amazon and pretty much any grocery store.
Shop my post
Click below to save this recipe to your Pinterest Board
Tags : gluten free, Paleo Salsa, Pineapple Mango Salsa, salsa, Whole30 Salsa