This post contains affiliate links
Wouldn't you agree that guacamole makes everything taste better? I am such a fan of topping it on literally everything, especially this juicy and tender cilantro lime chicken breast. You know what's even better? Topping the with guacamole with citrus grilled shrimp. This dish screams spring and summer and it is currently on repeat in my kitchen. This yummy guacamole chicken is Whole30, Paleo, Keto and gluten free.
I love figuring out new and creative ways to cook chicken. It is such a great and cheap protein option to have on your weekly menu, but it can get boring real quick if you aren't creating it in new ways. Marinating chicken is a great way to add flavor. I love pairing chicken with cilantro and lime, so I created this new cilantro lime marinade that is absolutely delicious. I will mix up my marinade the night before and throw in a chicken breasts and allow to marinate overnight. Once ready to cook, I will simply remove the chicken and throw on the grill.
Like I mentioned earlier, who doesn't love guacamole? I will mix some up and slather over the top of my grilled cilantro lime chicken breast and top with juicy citrus grilled shrimp. Not only is this a great evening meal, but it can also serve as tasty leftovers. I usually ALWAYS marinate and cook enough chicken breasts that will serve as a couple of lunches throughout the week. I will recreate how I eat then chicken during the week so it doesn't get repetitive. I love chopping it up and adding to a beautiful green salad or even add to a cauliflower veggie power bowl.
Sometimes healthy can get boring, but this dish not only satisfies, but it is also Whole30, Paleo and Keto friendly. Mix up a nice side salad with all the veggies from the garden and serve with this tasty guacamole chicken and you have yourself a beautiful and delicious summertime meal.
What is Tajin seasoning, where can I buy it and is it Whole30 compliant?
Yes! Tajin has very few ingredients including, chili peppers, salt, dehydrated lime juice, and silicon dioxide (used for anti-caking and is compliant). This is a great seasoning to add flavor to fruit, protein and veggies.
Can I store this guacamole chicken in the fridge overnight?
Putting the guacamole chicken in the fridge like the picture shows will not store well. I would suggest storing the chicken breast separate and making a new batch of guacamole. If you store it on top of the chicken it is likely to turn brown and have a bitter taste.
Do I have to marinate my chicken breast overnight for best results?
For best results I always recommend marinating the chicken breast the night before cooking. I find that they are way more juicy when they have marinated overnight. The cilantro lime marinade also gives the chicken amazing flavor also. I think it would still work without marinating if you are in a hurry, but I do recommend for the best taste.
Click below to pin this to your Pinterest board.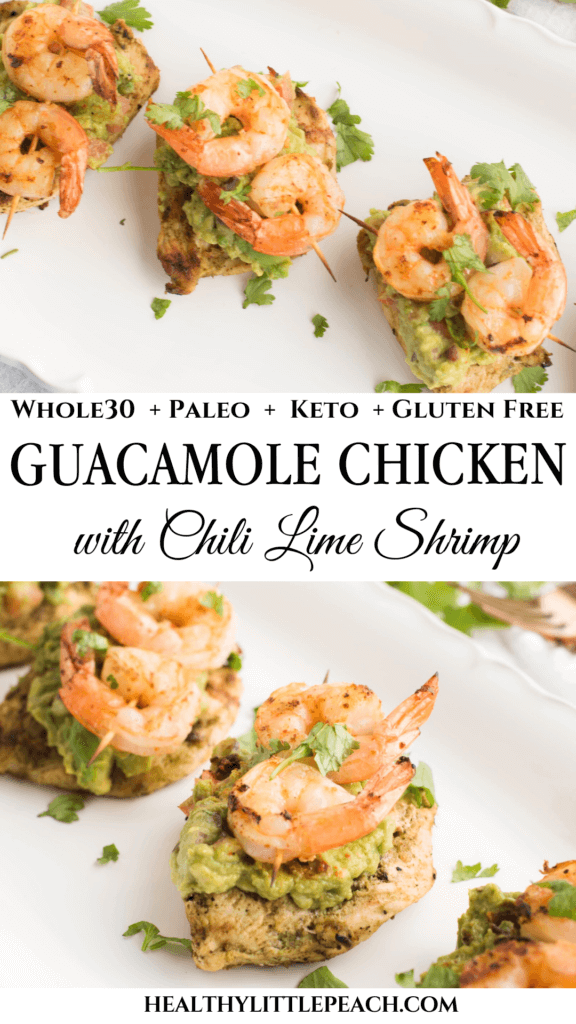 Shop my post
If you like this chicken recipe be sure to check out my other awesome chicken recipes:
Whole30 Chicken Teriyaki Sheet Pan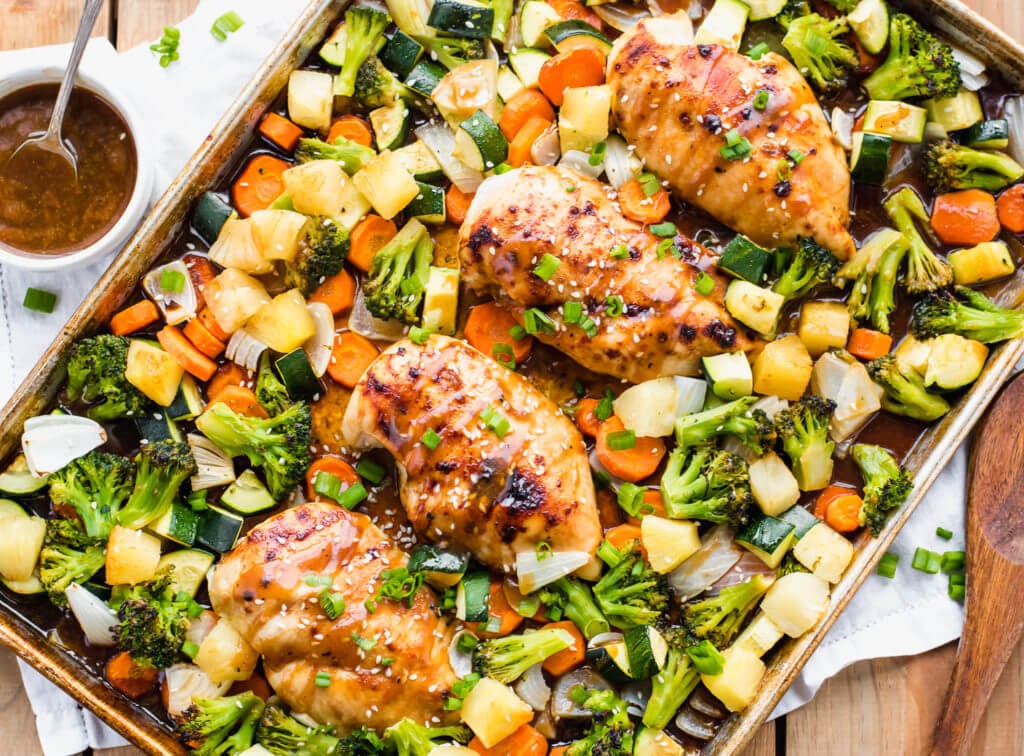 Whole30 Hawaiian BBQ Chicken Wraps
Creamy Mushroom Chicken Skillet
Print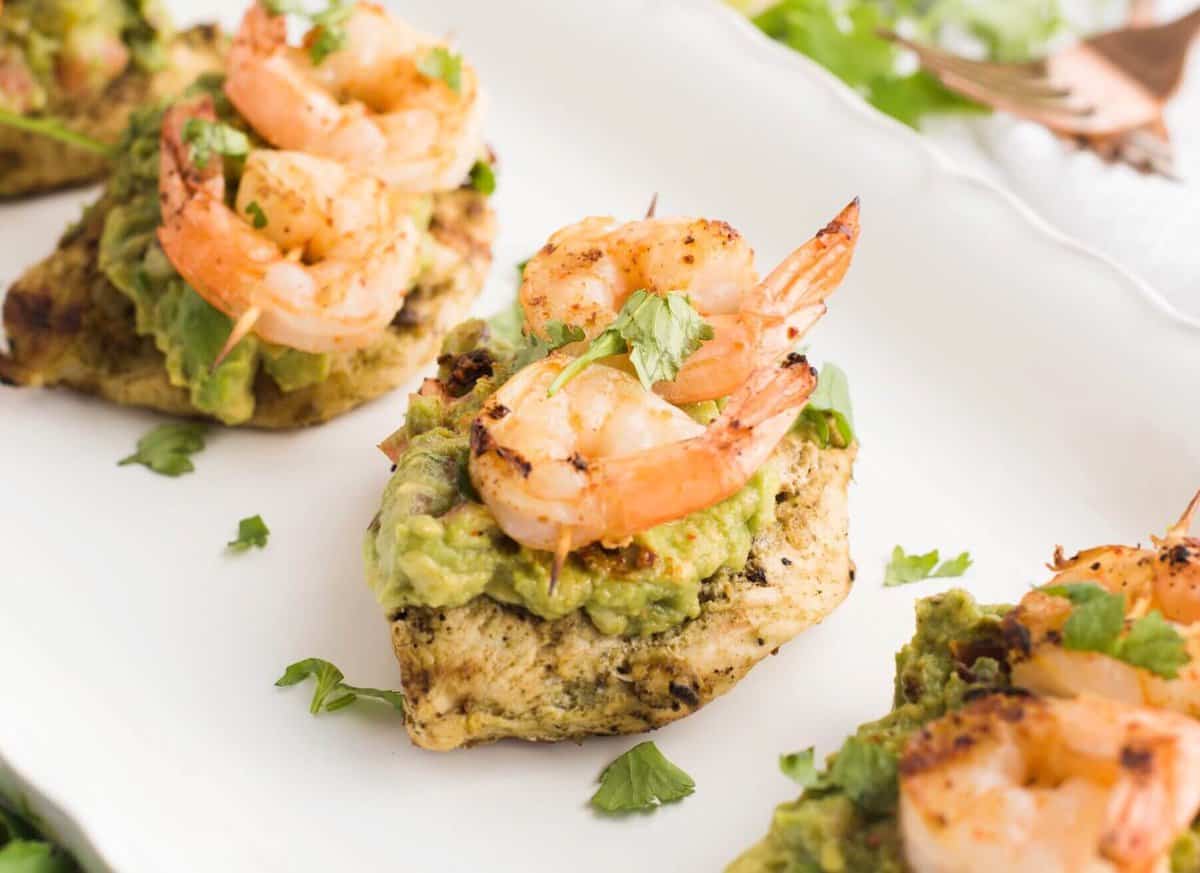 Grilled Guacamole Lime Chicken and Shrimp
Total Time:

30 minutes

Yield:

4

people

1

x
Chicken & Shrimp
4

chicken breast

8

Large shrimp

1 1/2 tbsp

Tajin Seasoning

1/2

Lime (juiced)
Cilantro for garnish
Gucamole
1

avocado

1

Roma Tomato (diced)

1 tsp

garlic powder

2 tbsp

of red onions (finely chopped)

1 tsp

salt

1 tsp

pepper

1/2

Lime (juiced)
Cilantro Marinade
2

handfuls of fresh cilantro

1 tsp

pepper

1 1/2 tsp

salt

1 cup

light olive oil

1

Lime (juiced)

1

lemon (juiced)

2

garlic cloves
Instructions
Add all of the ingredients for the cilantro sauce to a food processor or blender and blend until combined. In a large zip-lock bag, add 4 chicken breast along with the cilantro marinade. Let the chicken marinate in the refrigerator overnight for best taste. Get the grill ready by spraying with compliant cooking spray. Turn on to 400°F.
Remove the zip-lock bag from the fridge and remove the chicken from the marinade. Get the shrimp ready by adding to a bowl and squeezing juice from half a lime over all 8 shrimp. Sprinkle the shrimp with the Tajin seasoning.
Add the chicken to the grill and cook for 7 minutes on each side. Add the shrimp and cook for 7 minutes turning halfway through. While the chicken and shrimp are cooking, mix the guacamole. Cut the avocados in half and remove the core. Scoop out the flesh with a spoon and add to a mixing bowl. Mash the avocado with a fork. Add the rest of the ingredients and mix together with a fork until combined and creamy.
Remove the chicken and shrimp from the grill. Start assembling by adding a chicken breast to a plate, adding a spoonful of guacamole to each chicken breast and topping with 2 large shrimp. Squeeze fresh lime juice and sprinkle with a little more Tajin and cilantro
Author:

Ashley McCrary

Prep Time:

10 minutes

Cook Time:

20 minutes

Category:

Main Dish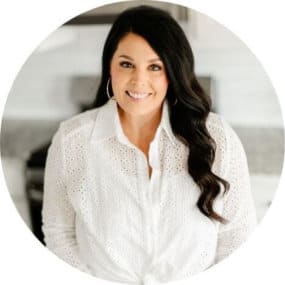 About Me
Welcome to Healthy Little Peach. I'm Mac, the lady behind the recipes. I believe in living a healthy lifestyle that consists of a mix of healthy whole foods, and full-fat comfort meals. Life is too short not to enjoy good food while maintaining a healthy body and mind. Here you will find gluten-free, dairy-free, paleo, keto, and even full-fat comfort recipes. Let's have fun in the kitchen together!