Published Sep 24, 2018 Updated Mar 12, 2020
This post may contain affiliate links. Please read our disclosure policy.
Whole30 Creamy Mushroom & Bacon Chicken Skillet
Chicken thighs seared and cooked in a creamy mushroom sauce topped with bacon and fresh parsley that is Keto, Whole30 and Paleo compliant.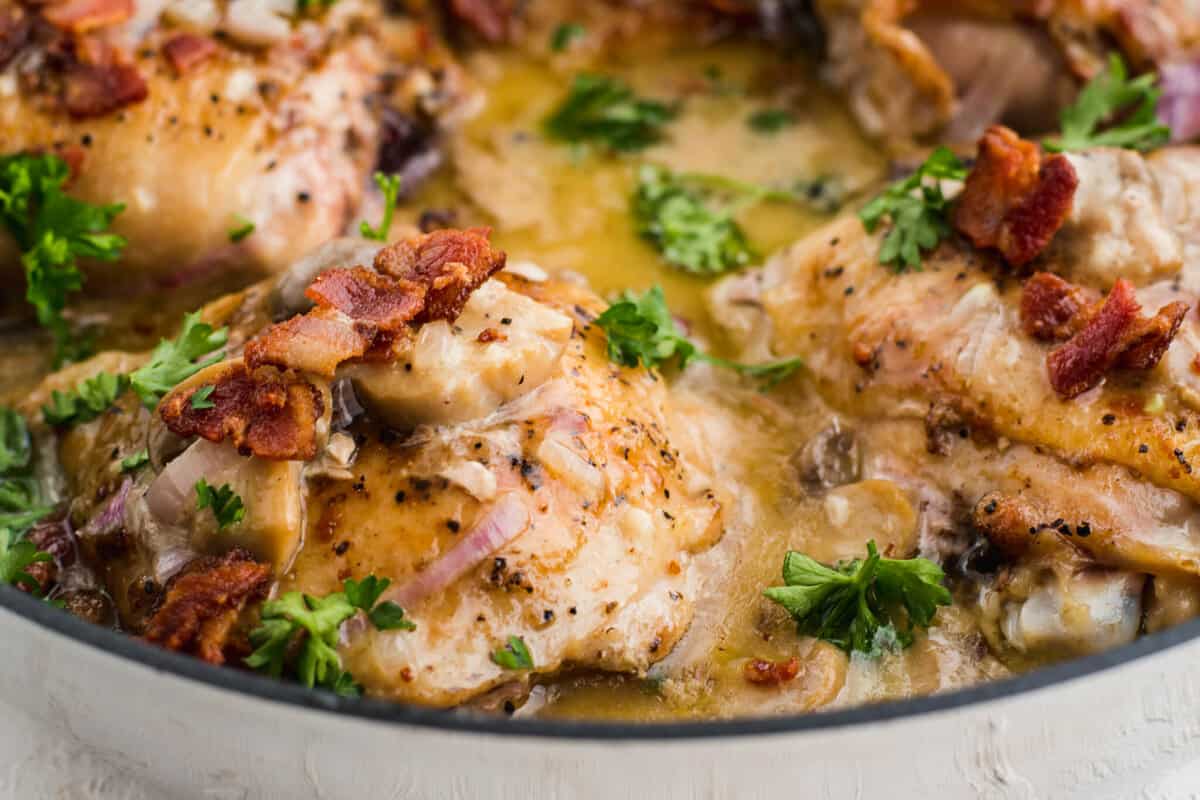 Anytime I can use my chicken drippings to make a yummy pan sauce, I am one happy girl. The flavor in this Creamy Bacon & Mushroom Chicken Thigh Skillet is out of this world incredible. This is the perfect savory and healthy dish that will warm your soul on a cool fall night. Serve this creamy chicken over cauliflower rice and you have yourself a complete meal.
I have recently been on a mission to recreate all of my favorite childhood meals in a healthy yet satisfying way. Honestly, this dish is so close to the original that I can hardly tell the difference. I get super excited when making an old meal in a new way that serves my families healthy lifestyle. This dish is so tasty that my 4 year old will eat it up and ask for a second helping. My main trick to this recipe is adding a little coconut milk and tapioca flour to the chicken broth. It makes it thick and like a gravy consistency.
Leftovers saves me so much time during the week and this skillet is perfect for reheating. I will usually make 2 or 3 extra thighs and an extra 2 cups of cauliflower rice to take for lunch throughout the week. I promise that you guys will absolutely love this dish for lunch, dinner and especially leftovers that will help spice up your lunch game during a busy week.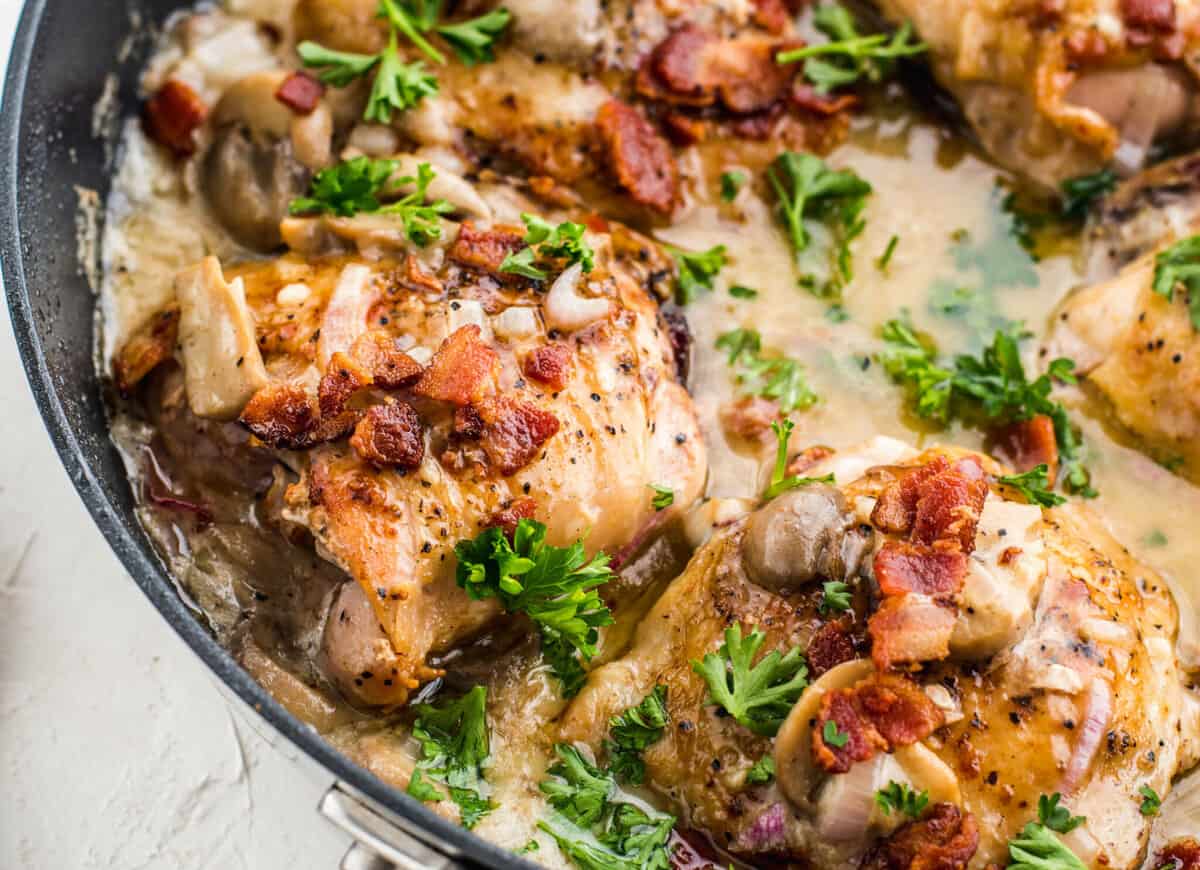 If you are searching for the perfect healthy dinner that is Whole30, Paleo or Keto, then look no further. Try serving over mashed potatoes if you are completing a Whole30 or if you are are on Keto, try serving over cauliflower rice, cauliflower mash or even zucchini noodles for the perfect and nutritious meal.
Shop my post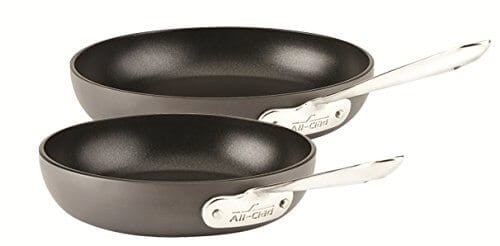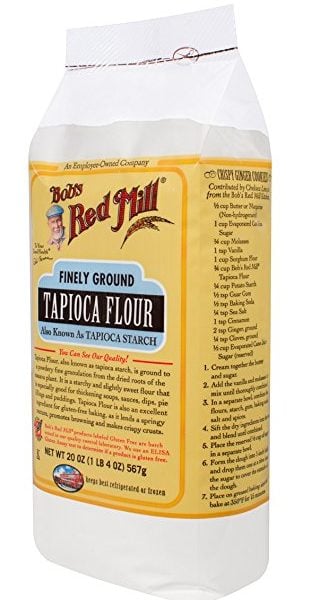 Click the picture below to save to your Pinterest Board.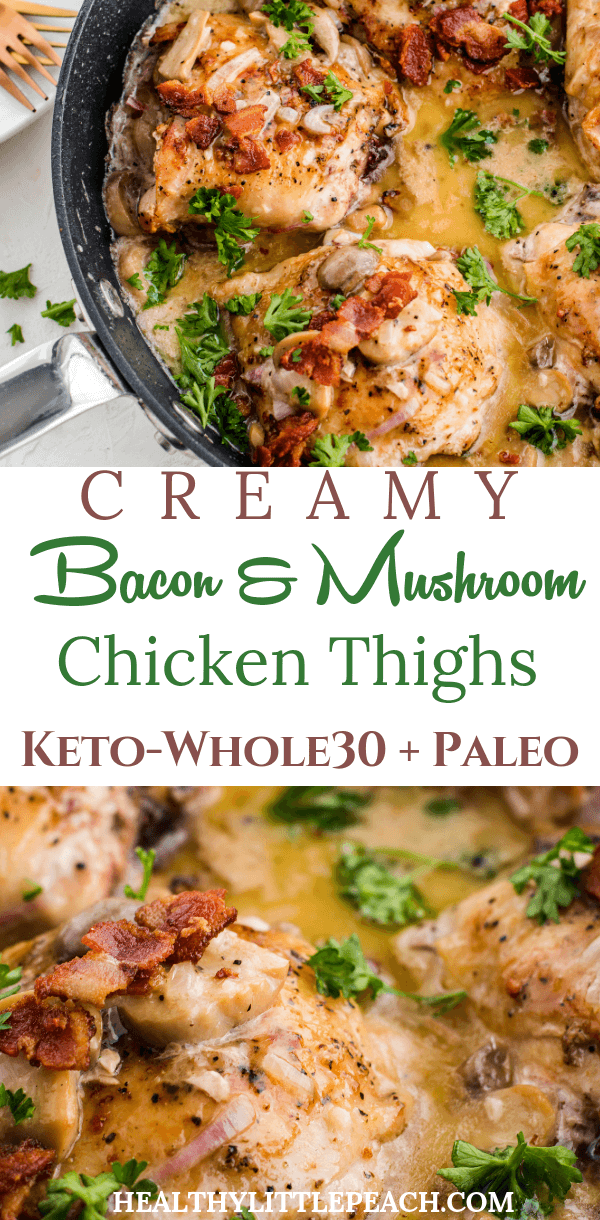 [wpurp-searchable-recipe]Creamy Mushroom & Bacon Chicken Skillet – Chicken thighs seared and cooked in a creamy mushroom sauce topped with bacon and fresh parsley that is Keto, Whole30 and Paleo compliant. – Chicken Thighs: chicken thighs, garlic powder, onion powder, Pink salt, pepper, olive oil, mushrooms, sweet onion (sliced thinly), fresh parsley (chopped), bacon (chopped), Creamy Garlic Sauce: chicken broth, canned coconut milk, ghee, garlic cloves (pressed), tapioca flour (dissolved in 2 tbsp water), Pink salt, pepper, , In a large skillet add olive oil over medium heat. ; Pat each chicken thigh dry using a paper towel then cover each thigh with mixture of the salt, pepper, onion and garlic powder.; Add each chicken thigh to the skillet and cook until juice runs clear with no pink inside, around 8 minutes on each side. ; Remove chicken thighs but keep the chicken drippings in the skillet. To this, add in pressed the garlic along with the sliced onions and 2 can of mushrooms. ; Saute together until browned then add in the chicken stock along with coconut milk. Heat this together with the onions and the mushrooms. ; Once combined, add the tapioca flour dissolved in water to the broth mixture and whisk over low heat until thick. This will begin to thicken as it heats up, it won't happen instantly. ; Once thick, add the chicken thighs back to the mixture and cook for another 4-5 minutes. Heat up your bacon as desired.; Serve over cauliflower rice, cauliflower mash or zoodles and garnish with crispy bacon and fresh parsely. ; ; – This sauce will be the consistency of a thicker soup. Feel free to add more tapioca flour if you would like the sauce thicker.
– Main Dish – Chicken – Keto – Paleo – Whole30 – chicken thighs – creamy chicken mushroom chicken[/wpurp-searchable-recipe]

Print