Gooey Pumpkin Brownies with Cinnamon Frosting
Published Oct 17, 2019 Updated Mar 12, 2020
This post may contain affiliate links. Please read our disclosure policy.
There is nothing like a brownie, but if you add pumpkin to it, it becomes epic. My new Pumpkin Brownies with Cinnamon Frosting is insane…in a good way. Not only are these to die for, but they are also Paleo and Keto compliant.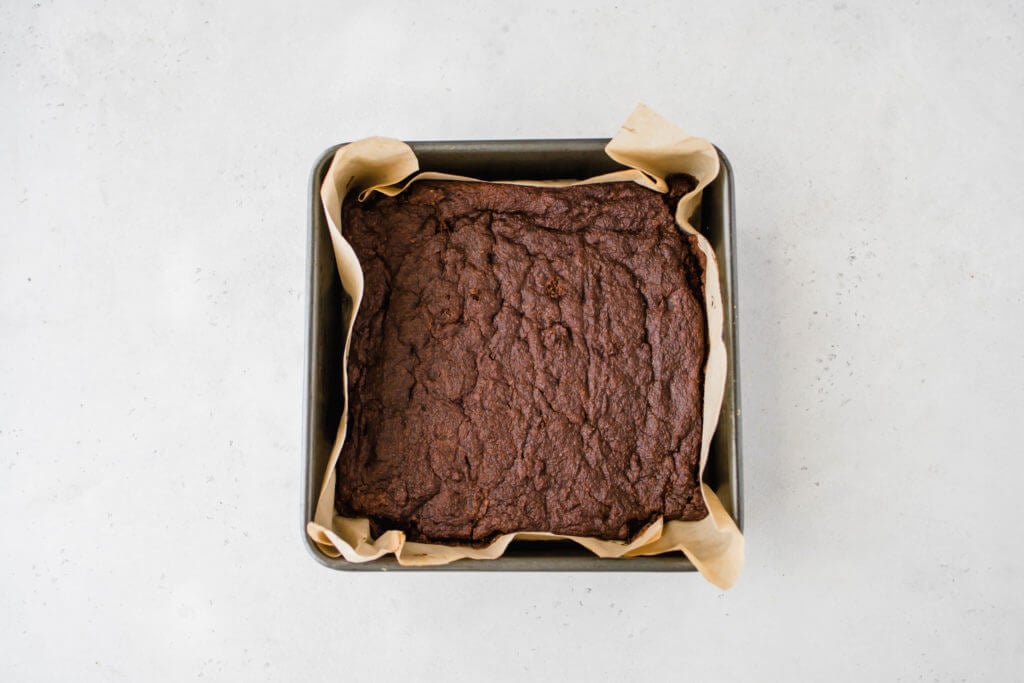 We are big brownie lovers, but we try to live pretty healthy most of the time. I love creating recipes that are Keto and Paleo compliant that allows us to enjoy the occasional sweet treat!
For the Pumpkin Brownies:
For the pumpkin brownies I used a mixture of almond flour, which really give the brownies a nice fluffy texture. In addition, I used equal parts baking soda and cream of tarter, which acts as a substitute for baking powder. I use this combination because most baking powders are not considered Paleo because they will use fillers and other sneaky ingredients.
Further, I will add pumpkin puree, cocoa powder, dark chocolate chips, a couple of eggs, ghee, vanilla extract, coconut oil and monk fruit, in addition to pumpkin spice seasoning and nutmeg. This combination really gives this recipe the perfect fall and pumpkin feel.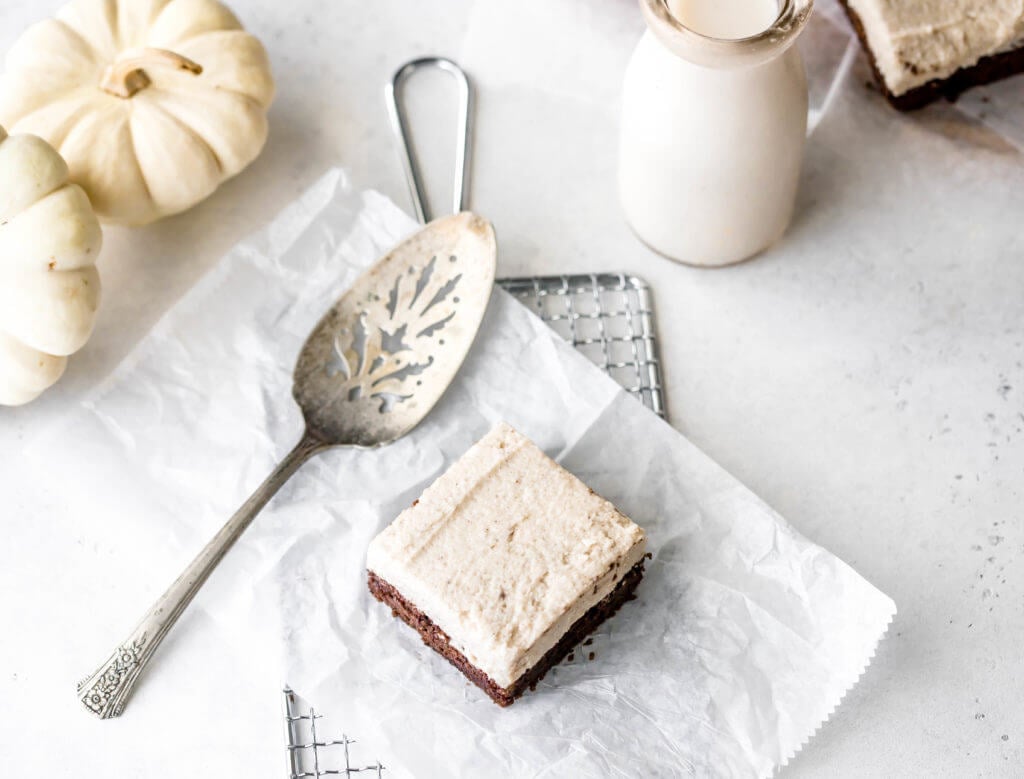 What Keto sweetener did you use for these Pumpkin Brownies and what sweeteners are compliant?
My all time favorite Keto sweetener is Monk Fruit. In my opinion, it doesn't have that harsh after taste like most no sugar sweeteners have. Additionally, monk fruit is an all natural sweetener that is not only keto, but is also considered Paleo. Monk Fruit is 150 to 200 times sweeter than sugar and is also called luo han guo or swingle. It looks like a small gourd, and it grows on a vine in nature.
Below are my favorite go-to sweeteners. Not only are these considered Keto, but they are also complaint when following a Paleo diet:
Baking Pumpkin Brownies:
I will bake my brownies between 20-25 minutes. I will usually remove mine around 21 minutes, which will make them slightly gooey. If you want them more firm, you will need to cook for the complete 25 minutes. Be sure to keep an eye on your brownies, since we all have different ovens and may cook either quicker or longer.
For the Cinnamon Icing:
Y'all, this icing is AMAZING. I love really buttercream icing and have been testing new recipes that will give me the same texture. This recipe doesn't disappoint. It is creamy, thick and is full of sweet flavor. Ad yess, you do need to add the coconut flour to the icing. It helps give it a thicker texture. Adding the cinnamon to the icing pairs so nicely with the pumpkin brownies.
For the Pumpkin Brownies, how do you get the Cinnamon Icing thick without using powdered sugar?
It's important to really whip the palm shortening and coconut cream together until combined. Next, adding the tapioca or arrowroot flour to the mixture will thicken and make it become more of a real buttercream texture. The one thing to note on this frosting, it will begin to melt if left out at room temp. If you do add this frosting to the refrigerator, you will need to set out at least 10 minutes to thaw before serving.
Be sure to click below to save this recipe to your Pinterest board:
Shop My Post

Love this Pumpkin Brownie recipe? Be sure to check out more of my favorites below:
[wpurp-searchable-recipe]Gooey Pumpkin Brownies with Pumpkin Spice Frosting – Creamy and moist pumpkin brownies topped with a cinnamon frosting that is perfect for fall. This recipe is Keto and Paleo compliant. – Pumpkin Brownies: almond flour, cocoa powder, dark chocolate chips, monk fruit sweetener ((sub maple syrup for Paleo)), baking soda, cream of tarter, nutmeg, pumpkin pie spice, eggs, coconut oil, pumpkin puree, vanilla extract, Cinnamon Frosting: palm shortening, canned coconut cream, +1 tbsp tapioca or arrowroot flour, coconut flour, monk fruit syrup ((sub maple syrup for Paleo)), vanilla extract, cinnamon, Brownies: Preheat oven to 350°F. Use a 8X8 baking pan
; In a medium sized mixing bowl, whisk together all of the wet ingredients.
In a separate mixing bowl add in all the dry ingredients and mix together until everything is combined.; Add the dry ingredients into your wet ingredients in 1/4 cup increments. This is to make sure it blends nicely together. Make sure you are using a rubber spatula to fold all the ingredients together.
; Use your rubber spatula, scraping the sides of the bowl and transfer the batter evenly to your baking dish.; Add to the oven and bake between 20-25 minutes. I usually bake mine at 21 minutes for a gooey texture. If you like your brownies harder, I would suggest baking for 25 minutes.
; Allow the brownies to cool completely. Use a spatula and completely coat the top of the brownies with the frosting. ; Frosting: Refrigerate full fat canned coconut milk overnight. Remove the coconut from the fridge and flip it upside down. Next, open the can and drain the coconut liquid and the cream will be left. ; Add the palm shortening along with the coconut cream to a standing mixing bowl. Start by beating these 2 ingredients on low. Slowly increase speed and begin to add the tapioca and coconut flour along with the cinnamon, syrup and vanilla extract. Beat on high speed for 3-4 minutes until thick and creamy.
; ; – <p>*Note: If you still don't have the consistency you want, feel free to add a little more tapioca flour to help thicken.</p>
<p>*Note: when adding the syrup to the frosting, the texture may be off at the beginning. Don't worry, just keep whipping and it will come together and become thicker the longer it whips. </p> – Dessert – Keto – Paleo – Brownies – keto brownies – pumpkin – Pumpkin brownies[/wpurp-searchable-recipe]
Print