Chili Lime Shrimp Power Bowls
Published Jul 12, 2018 Updated Mar 12, 2020
This post may contain affiliate links. Please read our disclosure policy.
Whole30 + Keto + Paleo Chili Lime Shrimp Power Bowls
A light and refreshing Chili Lime Shrimp power bowl drenched in my famous Chili Lime sauce. It is Whole30, Paleo and Keto compliant.
Protein and veggie bowls have become a new obsession of mine. During the summer, I love quick and easy meals straight off the grill that aren't too heavy on my stomach. This Chili Lime Shrimp Power Bowl fills me up without making me feel miserable. It is light, flavorful and is the perfect summertime lunch or dinner.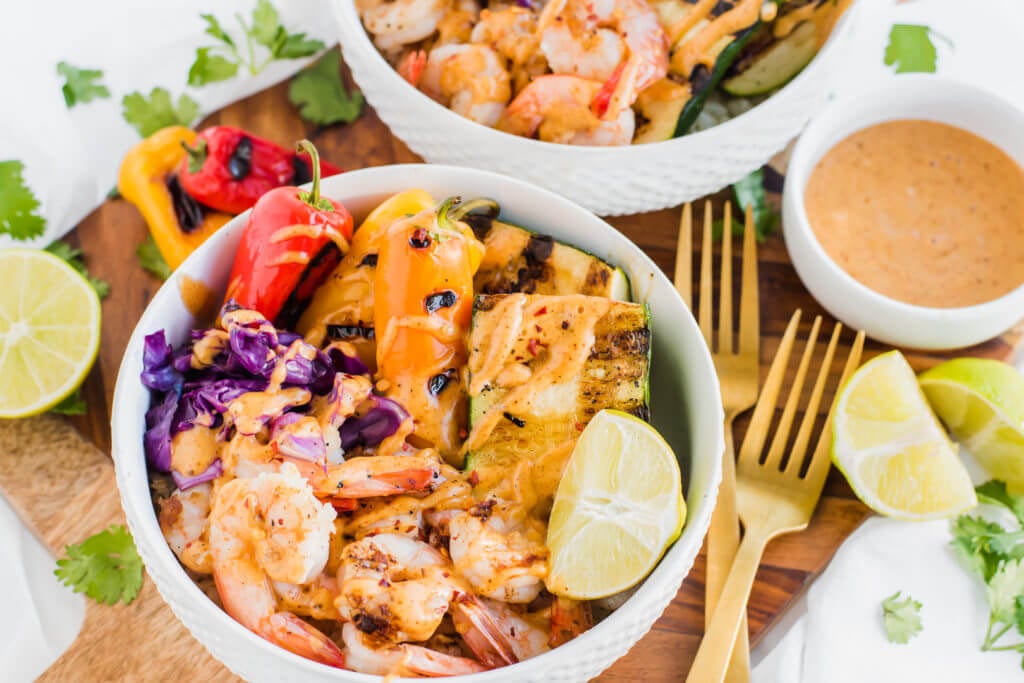 During the summer months I love cooking outside on my grill so I don't heat my kitchen up with the turning on the stove and oven. I like incorporating grilled seasonal veggies that help brighten up any protein option. There is something so special about veggies straight of the grill, drizzle with some olive oil, season with salt and pepper and you have a great side item to any protein. I love supporting my local Farmer's Market during the summer and trying all the different veggies that are available. It makes grilling season more fun and delicious.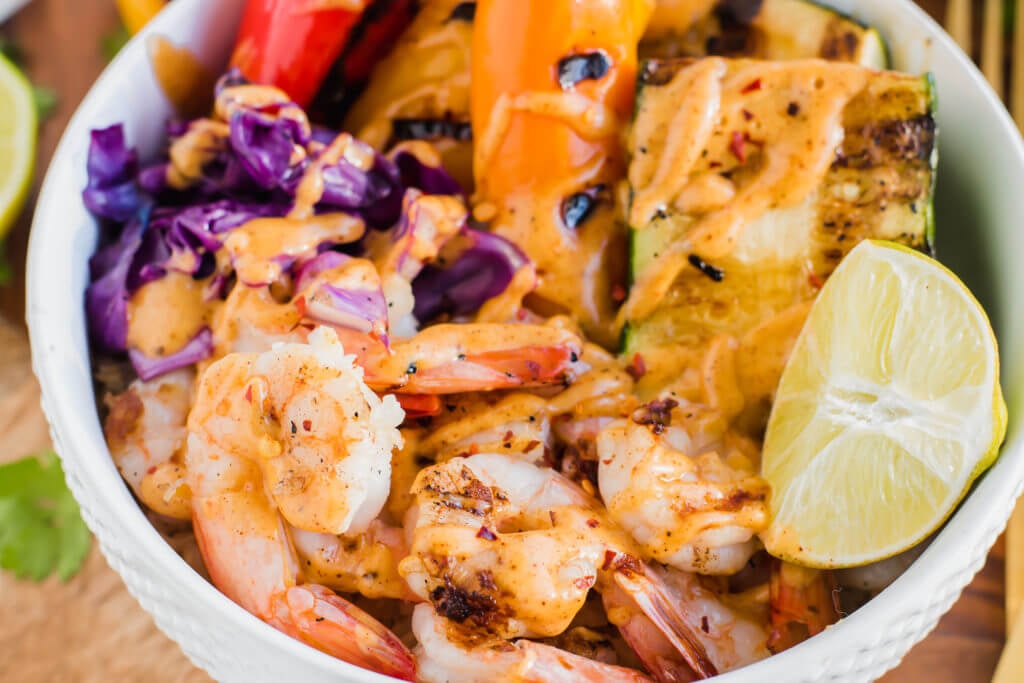 Adding the grilled sweet mini pepper, red cabbage and zucchini brings this power bowl to life and gives it such pretty color. In addition to the grilled veggies, I throw some large shrimp, covered in lime juice on that grill that pairs nicely with the cooked cauliflower rice. To finish, I cover the entire bowl with my new Chili Lime sauce that is so good you will want to drizzle on all of your meals.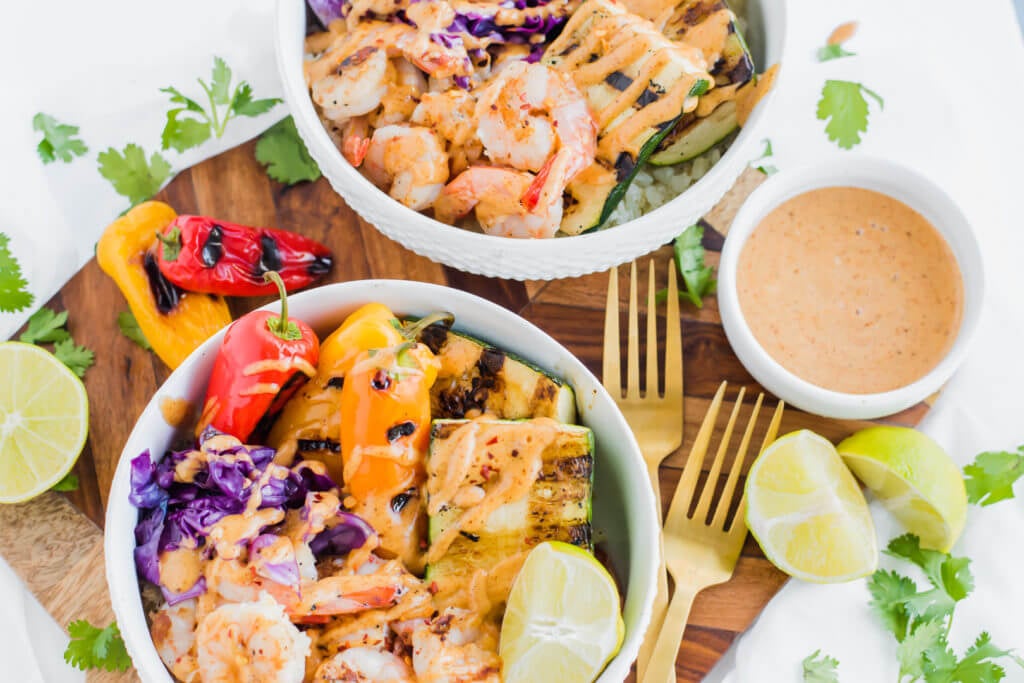 If you are not a shrimp fan, feel free to design your power bowl with whatever protein and veggies you would like. Both chicken and steak go amazing with this chili lime sauce. Get creative and head to your local farmers market and pick out some seasonal veggies that are colorful and get to grilling.
Why are power bowls so good?
I love power bowls because it has just enough protein and veggies along with healthy fats. I love doing this bowl with many different combinations. I always keep my main base the cauliflower rice then I will build it with a variety of different veggies and alternate my proteins. One week I may use chicken the other I may use shrimp, scallops or steak. I always try changing it up so it doesn't get boring. Also, adding any of my homemade sauces can bring any of these bowls to life. Be sure to check them out here.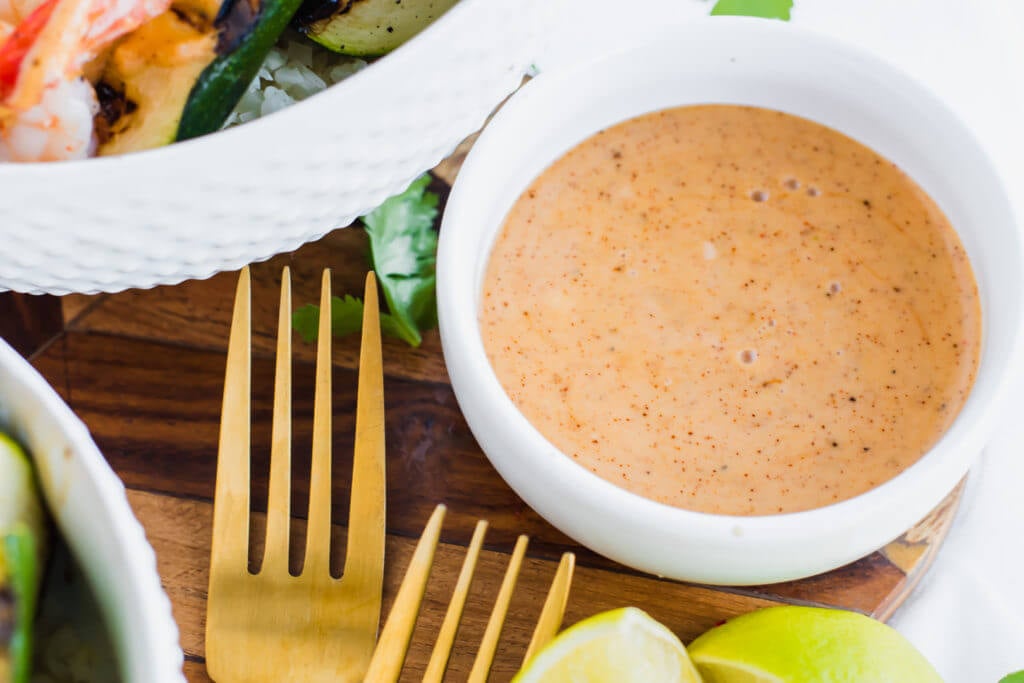 Shop my Post
Click below to save to your Pinterest board.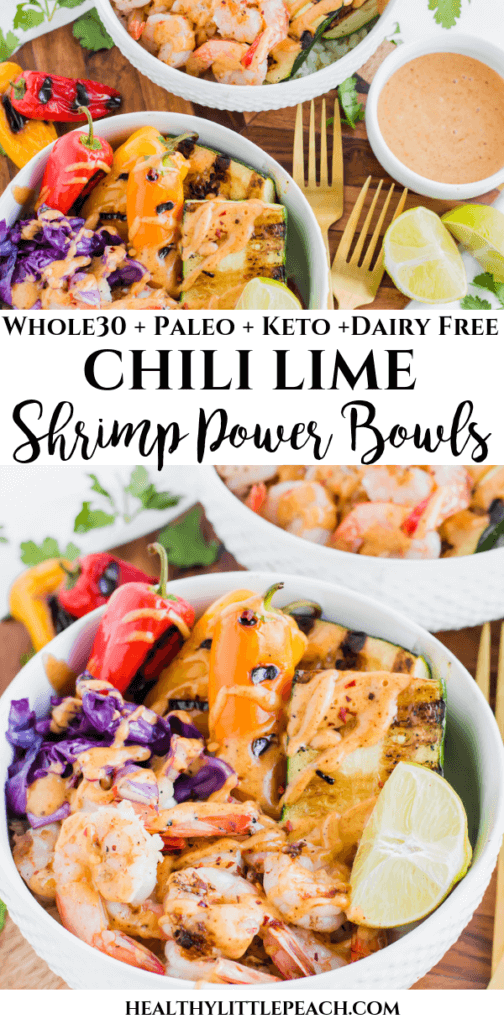 Shop my post
Grab all of my Chili Lime Sauce here:

[wpurp-searchable-recipe]Chili Lime Shrimp Bowl – A light and refreshing Chili Lime Shrimp power bowl drenched in my famous Chili Lime sauce. It is Whole30, Paleo and Keto compliant. – cooked cauliflower, olive oil, cooked shrimp, zucchini (cut into fourths), grilled peppers, of grilled red cabbage, of chili lime sauce, mayo, lime juice, chili powder, salt, pepper, lime zest, , Shrimp/Veggies/Cauliflower: Turn on grill to 400°F. ; Slice the zucchini into fourths.; Thaw the shrimp and clean the mini peppers.; Add the shrimp, mini peppers, red cabbage and zucchini to the grill. Cook until desired doneness. ; In a skillet, add 2 cups of cauliflower to cook over medium heat with 1 tbsp olive oil.; While everything is cooking, mix up the chili lime sauce. Add the mayo to a mixing bowl along with the lime juice, chili powder, salt, pepper, and lime zest. ; Add the cooked cauliflower to the bottom of a bowl and start building your power bowl by adding on the 1/2 cup of grilled shrimp, peppers, zucchini and cabbage to each bowl. Top with the chili lime sauce and enjoy; Chili Lime Sauce: Add 1 cup mayo into a mason jar. Here is my recipe for homemade mayo (1 cup of light olive oil, 1 egg, 1/2 teaspoon mustard powder, 1/2 teaspoon salt, 1/2 – 1 tsp lime juice) Add all your ingredients to a mason jar and use your immersion blender to mix together until thick and creamy. ; Add in the lime juice, zest, salt and pepper to the mayo and mix until combined with a spoon; ; – – Appetizer – Main Dish – keto – Paleo – Power Bowls – Shrimp – Whole30 – Keto – Paleo – Recipes – Whole30 – chili lime – paleo – power bowls – shrimp – whole30[/wpurp-searchable-recipe]
Print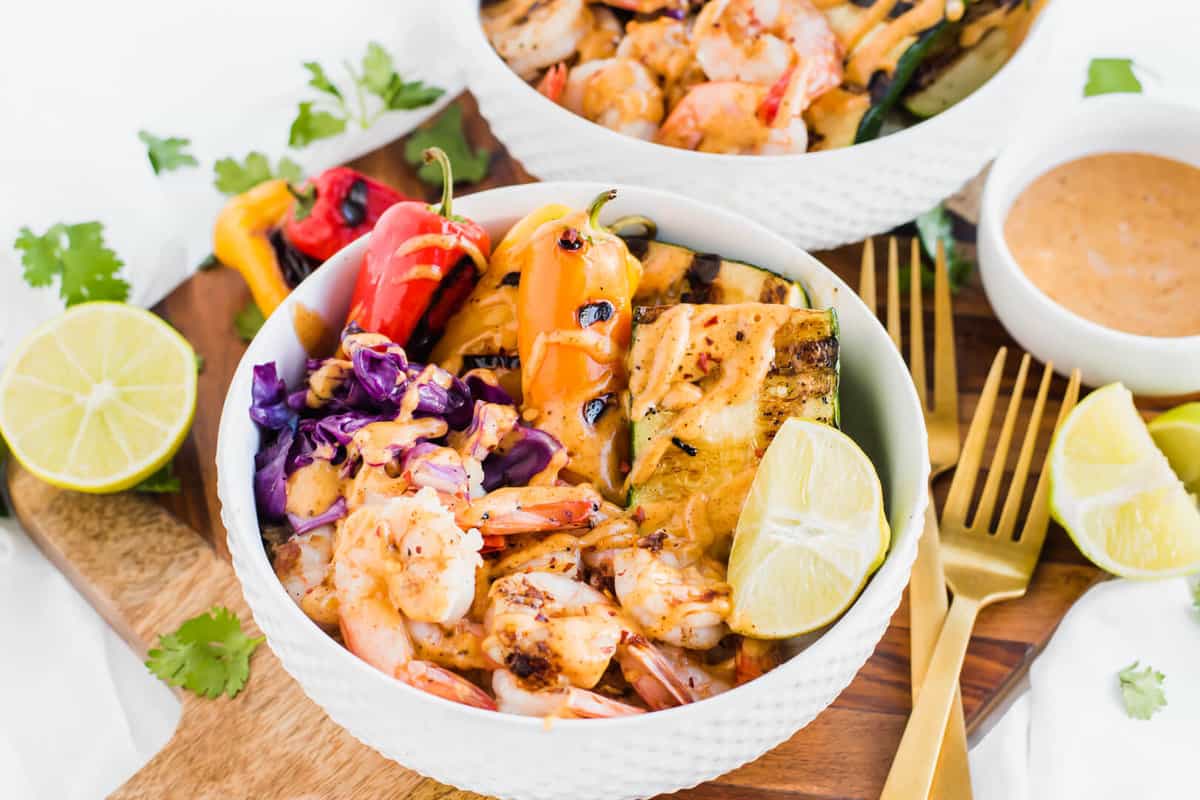 Chili Lime Shrimp Bowl
Total Time:

20 minutes

Yield:

2

people

1

x
2 cups

cooked cauliflower

1 tbsp

olive oil

1 cup

cooked shrimp

1

grilled zucchini (cut into fourths)

3

–

4

grilled peppers

2

slices of grilled red cabbage

2 tbsp

of chili lime sauce

1 Cup

mayo

1 tsp

lime juice

1 tsp

chili powder

1 tsp

salt

1 tsp

pepper

1/2 tsp

lime zest
Instructions
Shrimp/Veggies/Cauliflower
Turn on grill to 400°F.
Slice the zucchini into fourths.
Thaw the shrimp and clean the mini peppers.
Add the shrimp, mini peppers, red cabbage and zucchini to the grill. Cook until desired doneness.
In a skillet, add 2 cups of cauliflower to cook over medium heat with 1 tbsp olive oil.
While everything is cooking, mix up the chili lime sauce. Add the mayo to a mixing bowl along with the lime juice, chili powder, salt, pepper, and lime zest.
Add the cooked cauliflower to the bottom of a bowl and start building your power bowl by adding on the 1/2 cup of grilled shrimp, peppers, zucchini and cabbage to each bowl. Top with the chili lime sauce and enjoy
Chili Lime Sauce
Add 1 cup mayo into a mason jar. Here is my recipe for homemade mayo (1 cup of light olive oil, 1 egg, 1/2 teaspoon mustard powder, 1/2 teaspoon salt, 1/2 – 1 tsp lime juice) Add all your ingredients to a mason jar and use your immersion blender to mix together until thick and creamy.
Add in the lime juice, zest, salt and pepper to the mayo and mix until combined with a spoon
Author:

Ashley McCrary

Prep Time:

5 minutes

Cook Time:

15 minutes

Category:

Appetizer, Main Dish