Whole30/Keto Family Dinner: Chicken Nuggets and Cauliflower Mash
Published Oct 22, 2019 Updated Mar 12, 2020
This post may contain affiliate links. Please read our disclosure policy.
Are you needing a healthy family meal that is sure to please the entire family? I know you may be tempted to stop for fast food after a long day of work, but I'm here to help. My Whole30/Keto Family Dinner: Chicken Nuggets and Cauliflower Mash can be whipped up in no time at all.
One of my main tips when trying to get my kids on the healthy eating train is never to make multiple meals. When I switched to Paleo, I made a committment to myself to make Paleo recipes that the whole family will love. My main goal is to get in and out of the kitchen and not spend all night creating 3 different meals.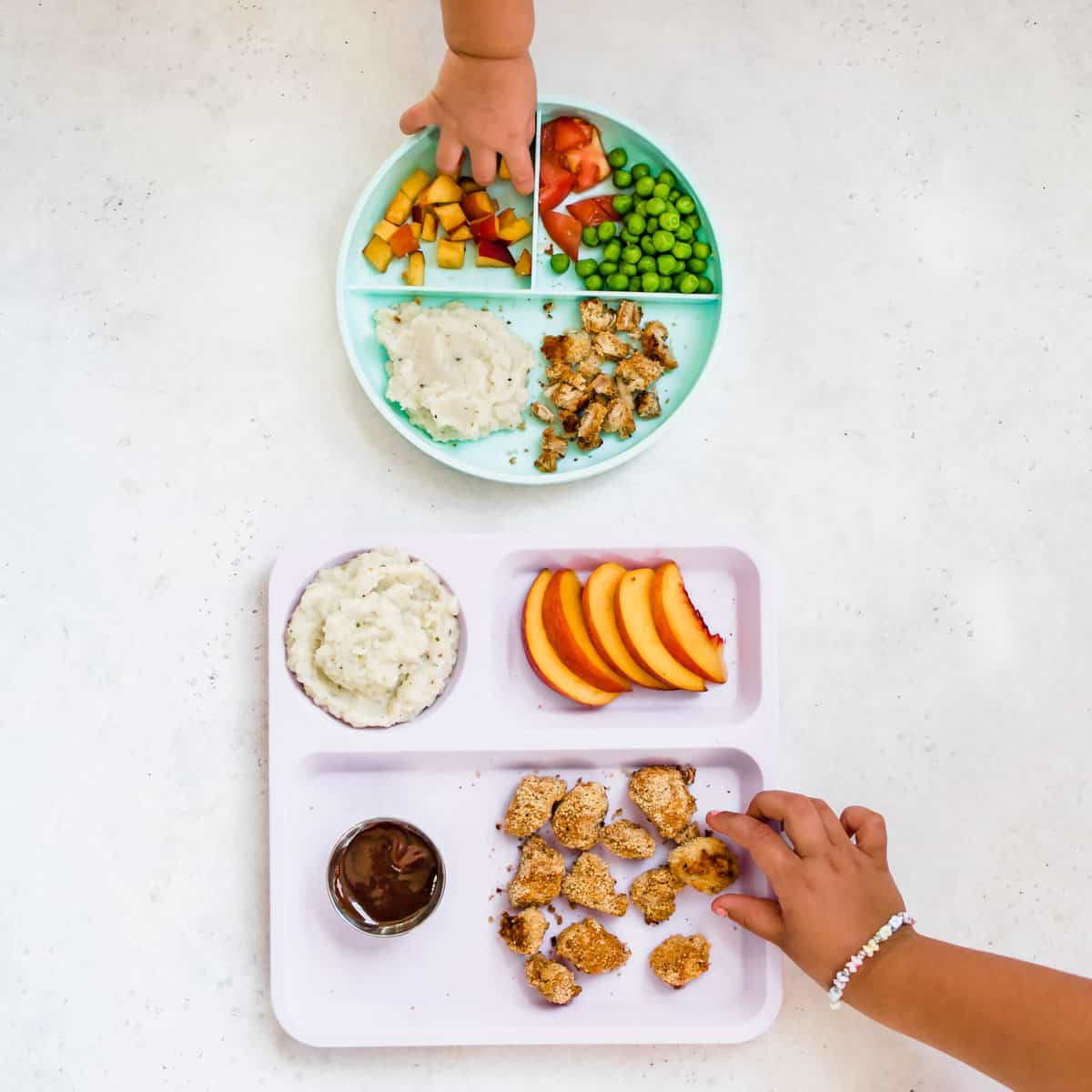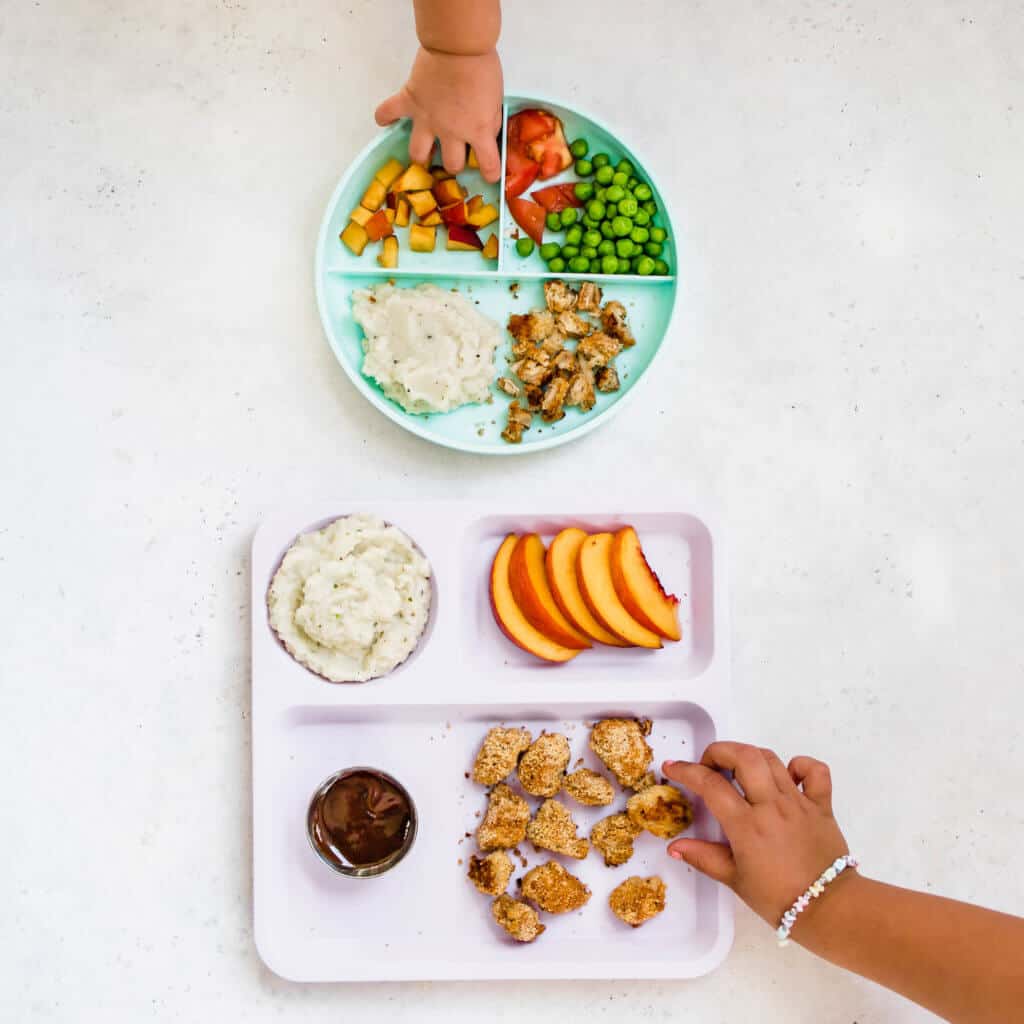 At first, it can be really hard switching your kids to a different eating style, but stay consistent. Never allow your kids to run the show and make all the decisions on their menu. However, get them involved and let them be apart of building a healthy menu each week. Let them pick the main meat they want or even the veggies. But never let them be in full control of what they are going to eat.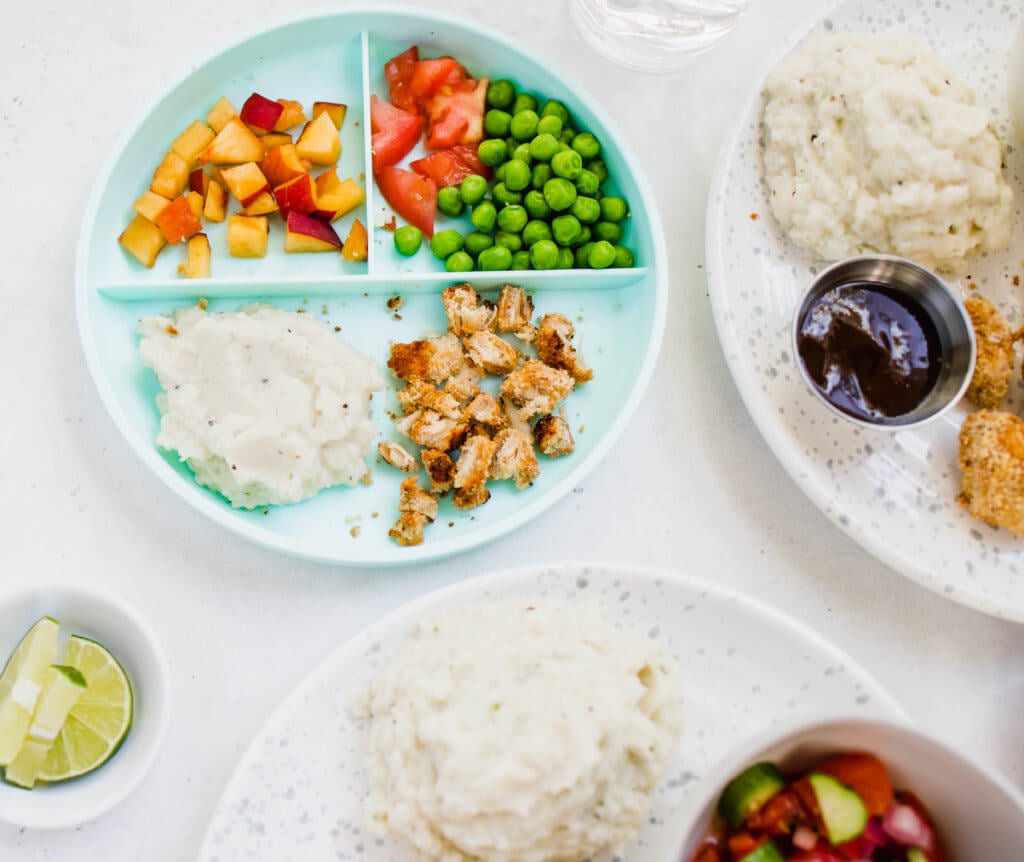 Now that I am in charge, my kids know that they will eat what I cook, or not eat at all. I know this sounds pretty harsh, but I promise it works. It also allows them to branch out and try new foods in a healthy way.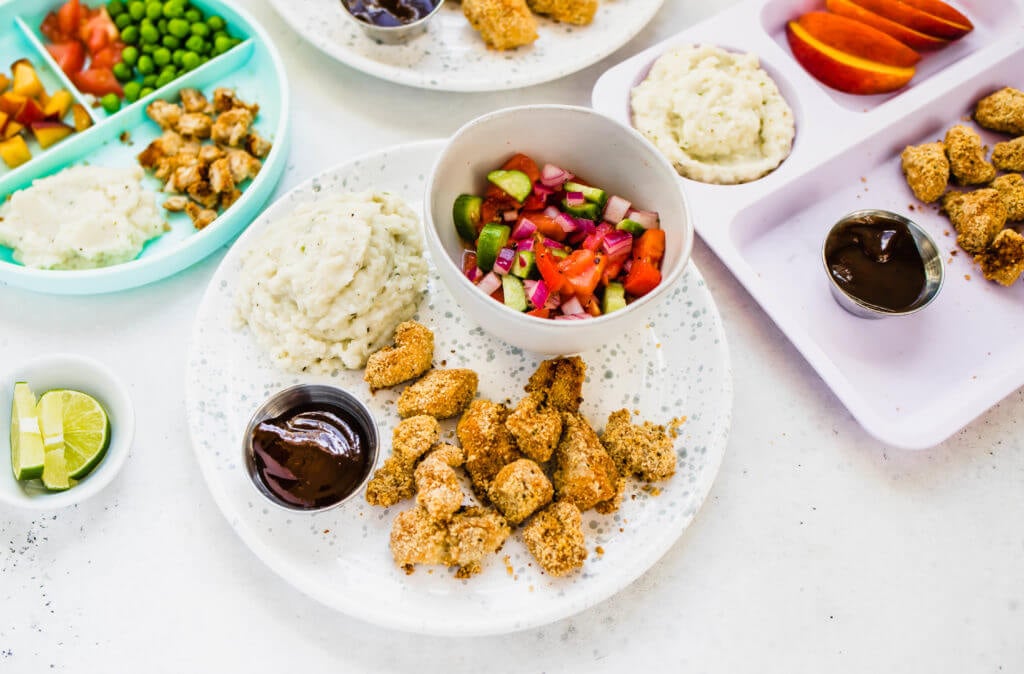 How to build a kid and toddler plate with this chicken nugget meal?
I love adapting adult plates to fit my 18 month old and 5 year old. To get Eloise, who is 5 involved, I will allow her to pick a veggie and a fruit to go with her meal. She loved being apart of the choices and it gives her some say in the foods she is eating. For her plate I added sliced peaches along with the cauliflower mash. As for Miss Nora who is 18 months, I added peas, diced peaches and tomatoes.
If you are interested in the tomato salad, cauliflower mash, or my homemade Whole30 BBQ recipe, be sure to click on the pictures below.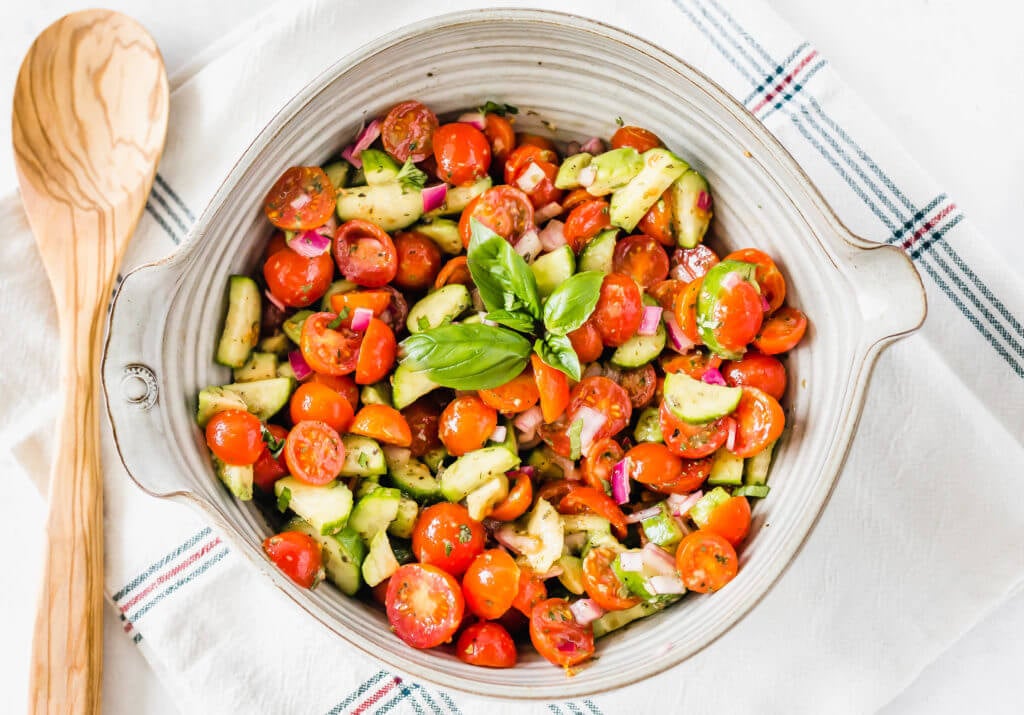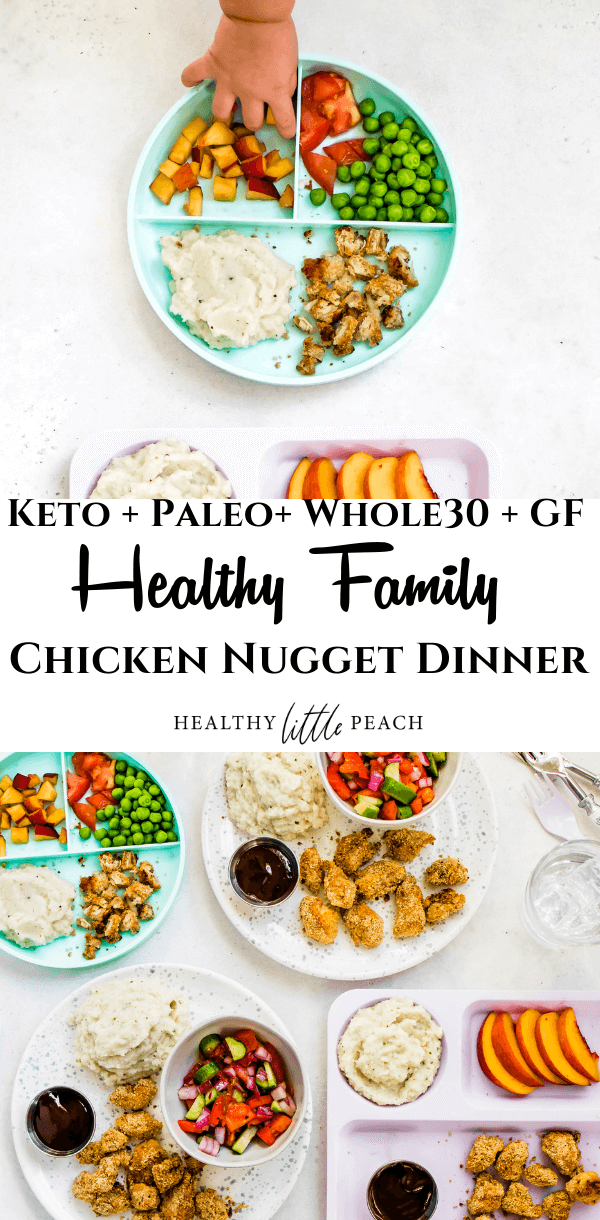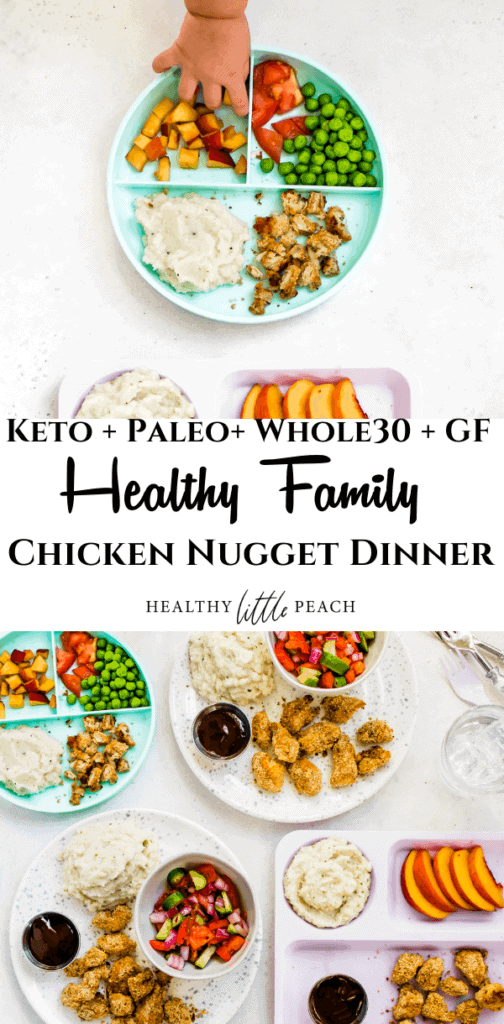 Shop My Post

[wpurp-searchable-recipe]Whole30/Keto Family Dinner: Chicken Nuggets and Cauliflower Mash – This family chicken nugget meal is sure to please the whole family. It is Whole30, Paleo and Keto compliant. – Chicken Nuggets: chicken tenders, almond flour, egg, sea salt, pepper, garlic powder, nutritional yeast ((optional)), Cauliflower Mash: cauliflower rice ((or 1 head of cauliflower)), ghee, garlic powder, coconut milk ((canned)), sea salt ((more or less to taste)), cracked black pepper ((more or less to taste)), , Chicken Nuggets: Heat oven to 400F. Cover a baking sheet with nonstick cooking spray. Pat the chicken dry, cut it into 1½-inch pieces and place it in a large bowl. ; In 2 separate bowls, combine the almond flour, salt, pepper, garlic powder and nutritional yeast in first bowl. In the second bowl, beat the large egg. ; Dip the chicken pieces in the egg mixture, followed by rolling in the almond flour mixture, and place on top of the baking pan. ; Bake for 12 minutes then remove and flip the nuggets and place back in the oven to cook another 12 minutes or until the internal temperature reaches 165F.; Serve with homemade cauliflower mash and tomato salad. See notes for tomato salad recipe. ; Cauliflower Mash: Bring 1 head of cauliflower, chopped to a boil or cook 2 (12oz) bags of cauliflower rice as directed on the bag.
; Drain liquid from the cauliflower and add to the food processor with garlic powder, chives, ghee, coconut milk, salt and pepper.
; Blend together until smooth and top with fresh chives. Make sure NOT over blend or it will turn into a soupy puree.; ; – <p>Tomato Salad</p>
<p>Whole30 BBQ Sauce</p> – Main Dish – Keto – Paleo – Whole30 – chicken nuggets – family dinner – healthy family dinner – Healthy Life – keto – kids plates – paleo – whole30[/wpurp-searchable-recipe]
Print