Whole30/Keto Family Dinner: Chicken Nuggets and Cauliflower Mash
October 22, 2019 | Author: Ashley McCrary
This post contains affiliate links
Are you needing a healthy family meal that is sure to please the entire family? I know you may be tempted to stop for fast food after a long day of work, but I'm here to help. My Whole30/Keto Family Dinner: Chicken Nuggets and Cauliflower Mash can be whipped up in no time at all.
One of my main tips when trying to get my kids on the healthy eating train is never to make multiple meals. When I switched to Paleo, I made a committment to myself to make Paleo recipes that the whole family will love. My main goal is to get in and out of the kitchen and not spend all night creating 3 different meals.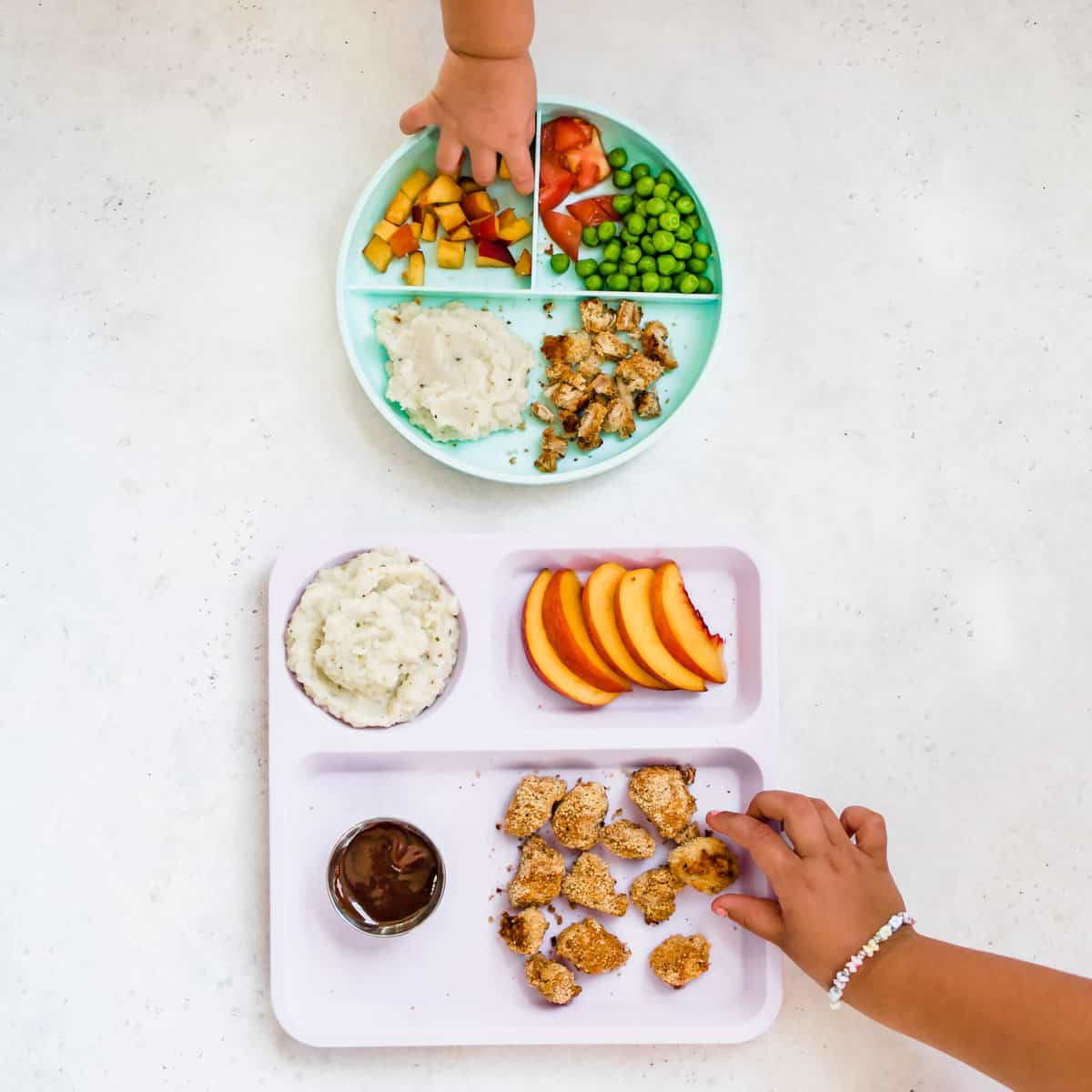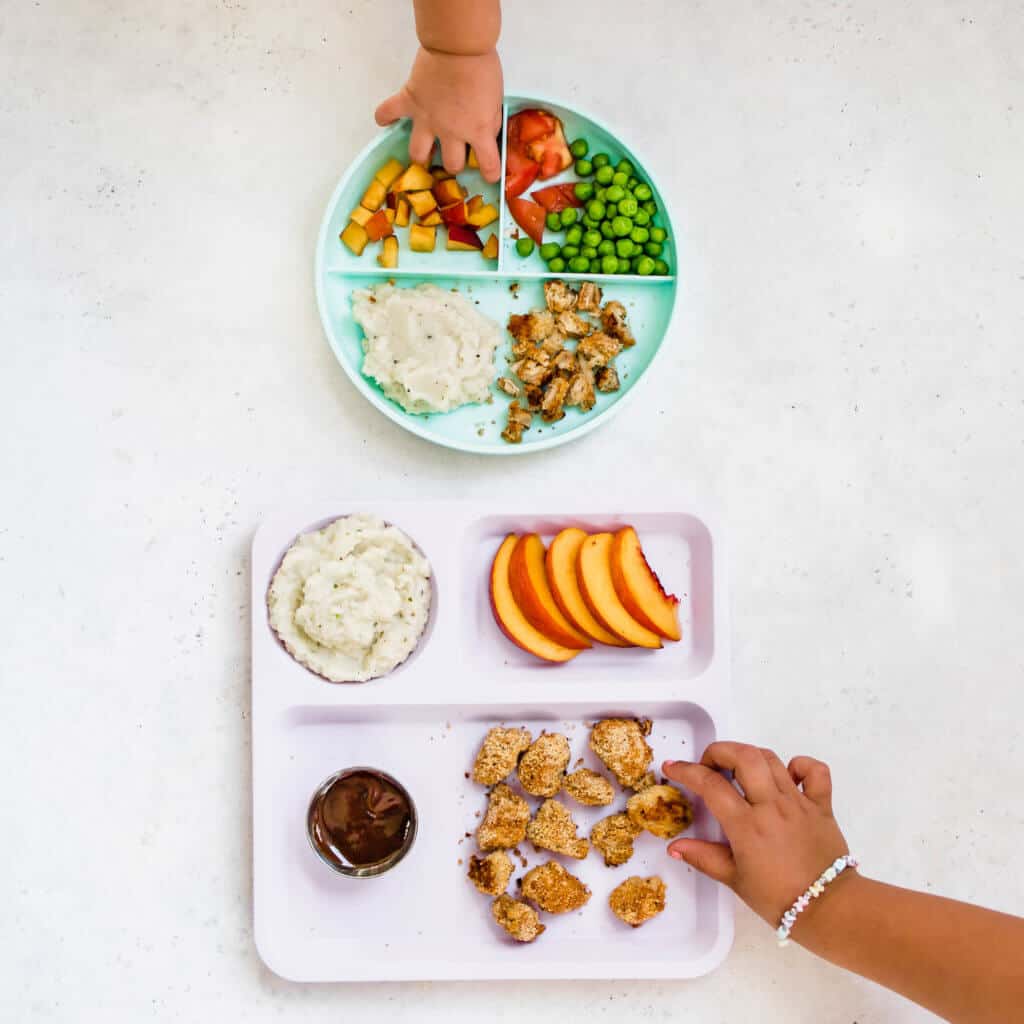 At first, it can be really hard switching your kids to a different eating style, but stay consistent. Never allow your kids to run the show and make all the decisions on their menu. However, get them involved and let them be apart of building a healthy menu each week. Let them pick the main meat they want or even the veggies. But never let them be in full control of what they are going to eat.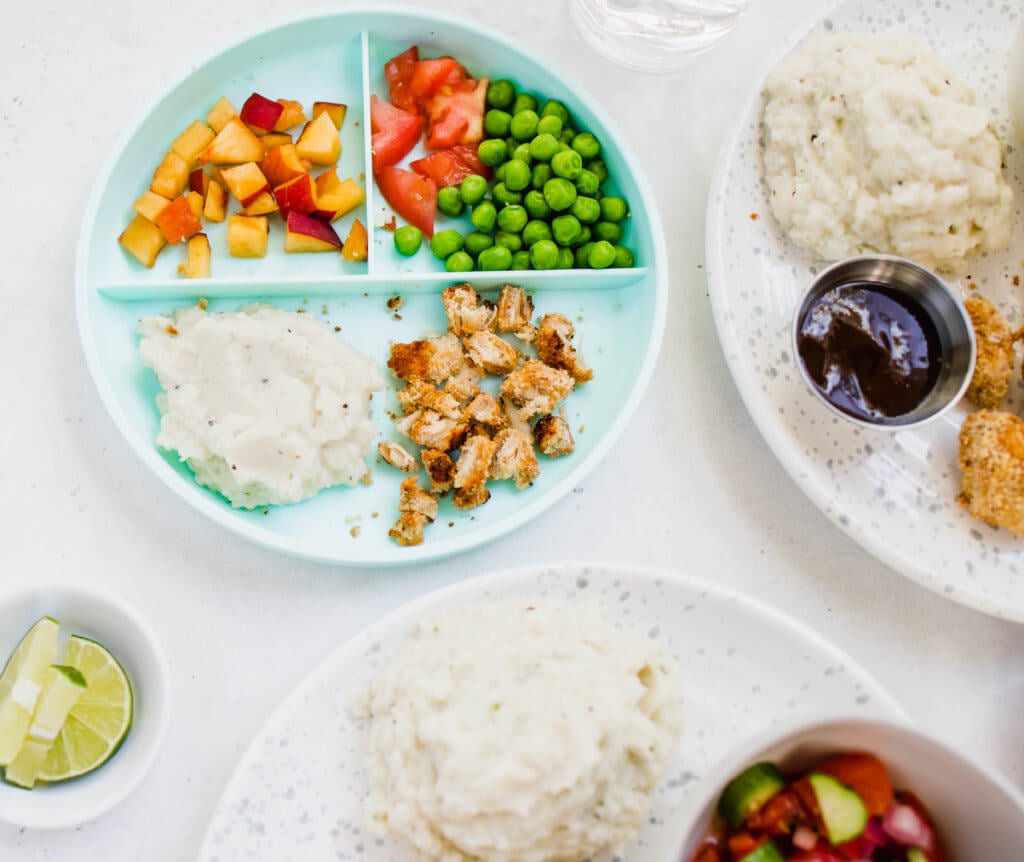 Now that I am in charge, my kids know that they will eat what I cook, or not eat at all. I know this sounds pretty harsh, but I promise it works. It also allows them to branch out and try new foods in a healthy way.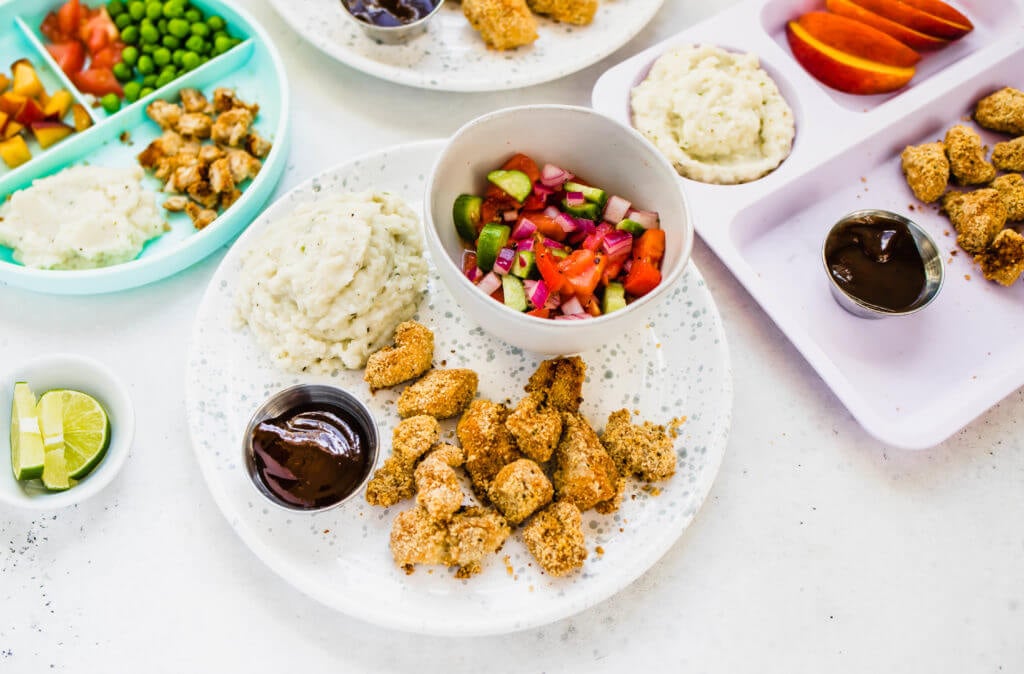 How to build a kid and toddler plate with this chicken nugget meal?
I love adapting adult plates to fit my 18 month old and 5 year old. To get Eloise, who is 5 involved, I will allow her to pick a veggie and a fruit to go with her meal. She loved being apart of the choices and it gives her some say in the foods she is eating. For her plate I added sliced peaches along with the cauliflower mash. As for Miss Nora who is 18 months, I added peas, diced peaches and tomatoes.
If you are interested in the tomato salad, cauliflower mash, or my homemade Whole30 BBQ recipe, be sure to click on the pictures below.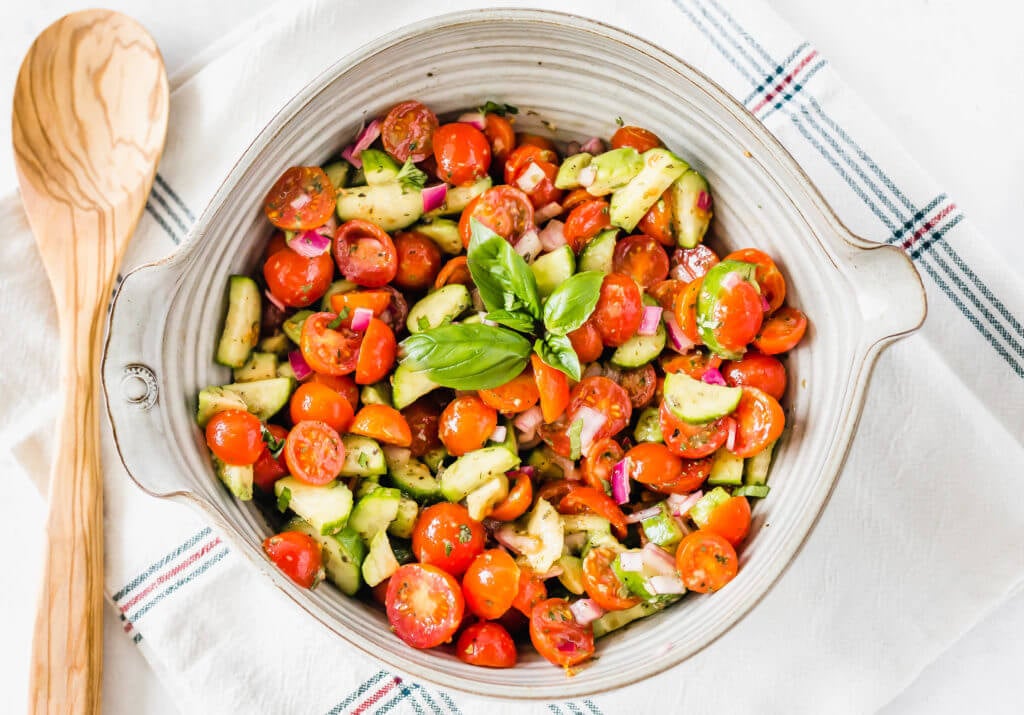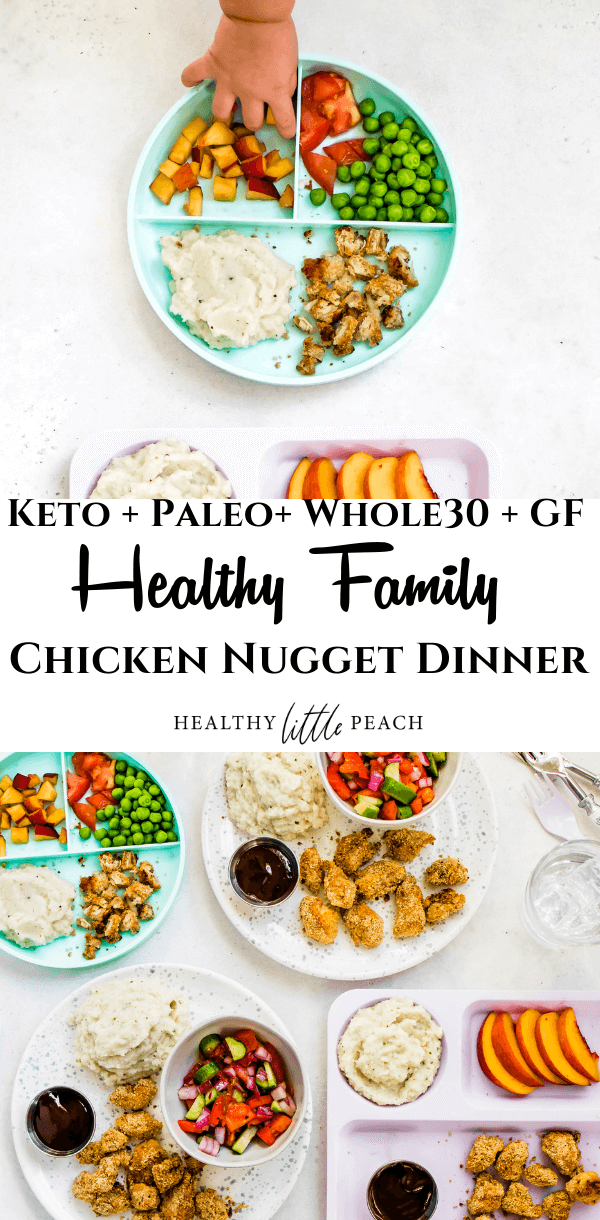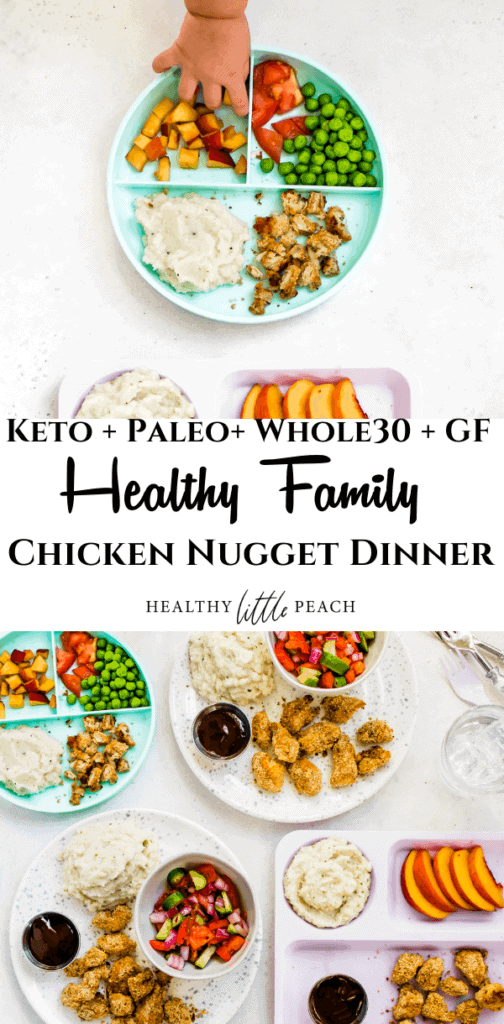 Shop My Post

Print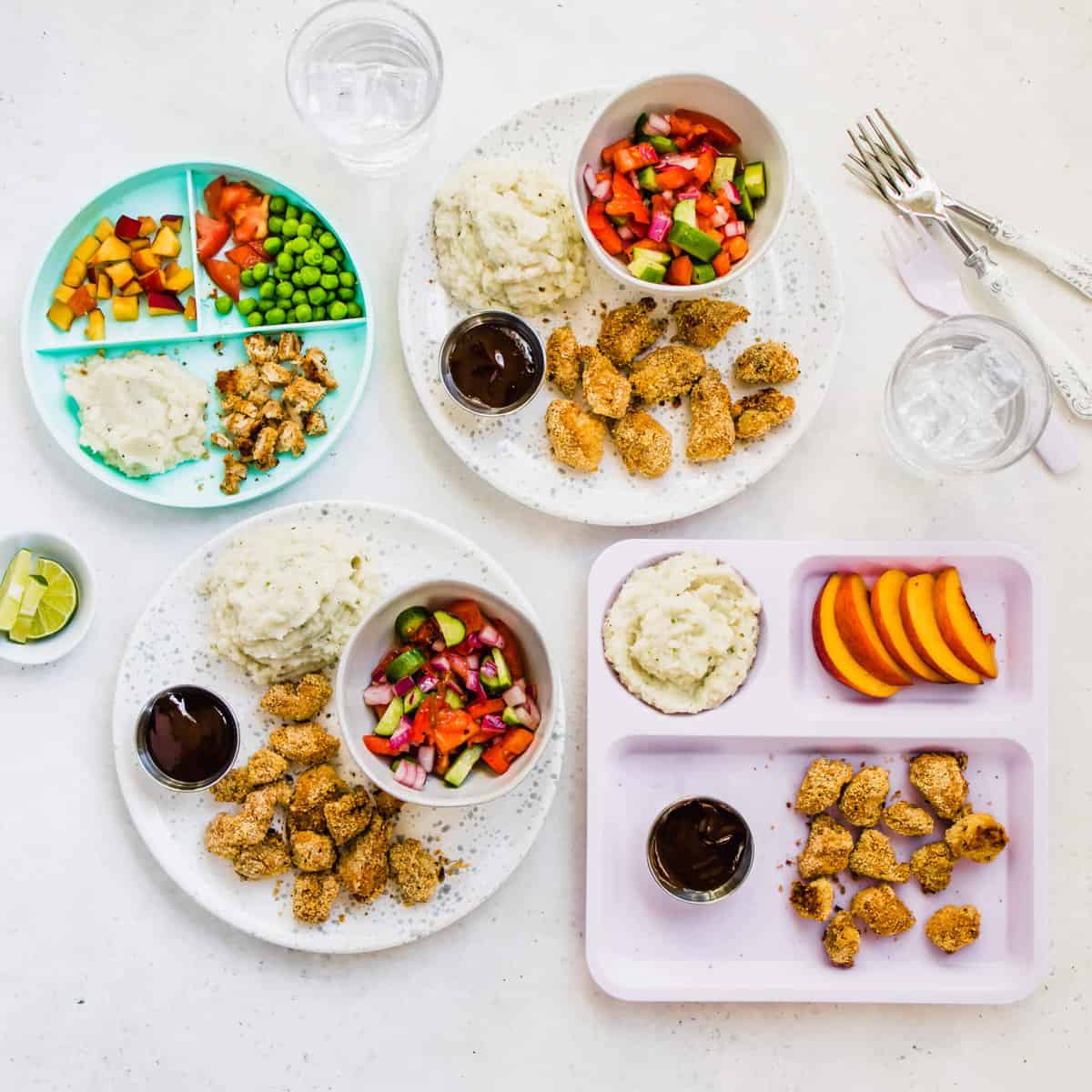 Whole30/Keto Family Dinner: Chicken Nuggets and Cauliflower Mash
Total Time:

45 minute

Yield:

4

servings

1

x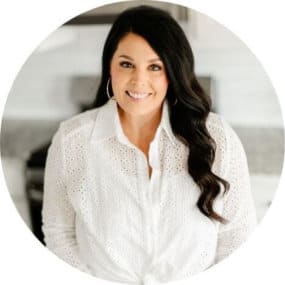 About Me
Welcome to Healthy Little Peach. I'm Mac, the lady behind the recipes. I believe in living a healthy lifestyle that consists of a mix of healthy whole foods, and full-fat comfort meals. Life is too short not to enjoy good food while maintaining a healthy body and mind. Here you will find gluten-free, dairy-free, paleo, keto, and even full-fat comfort recipes. Let's have fun in the kitchen together!