The Best Homemade Paleo Vanilla Ice Cream
Published Jul 11, 2019 Updated Mar 12, 2020
This post may contain affiliate links. Please read our disclosure policy.
I scream, you scream, we all scream for ice cream! Ice cream is good anytime, any place especially if it's my homemade Paleo Vanilla Ice Cream. In my opinion, it taste better than the real thing.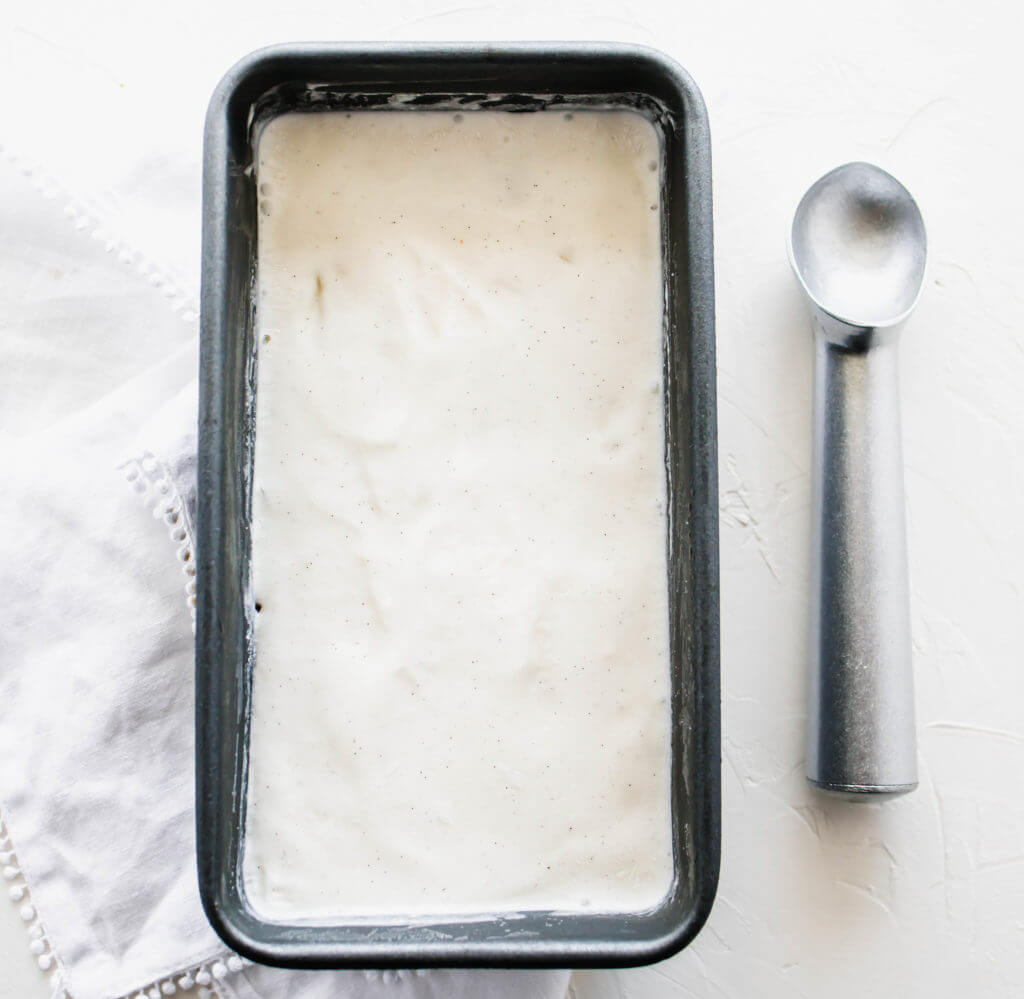 Don't get me wrong, I really love real ice cream on occasion, but dairy doesn't agree with my tummy or lifestyle. Using canned coconut milk as a substitute to real milk delivers the same creamy and thick texture as the real thing.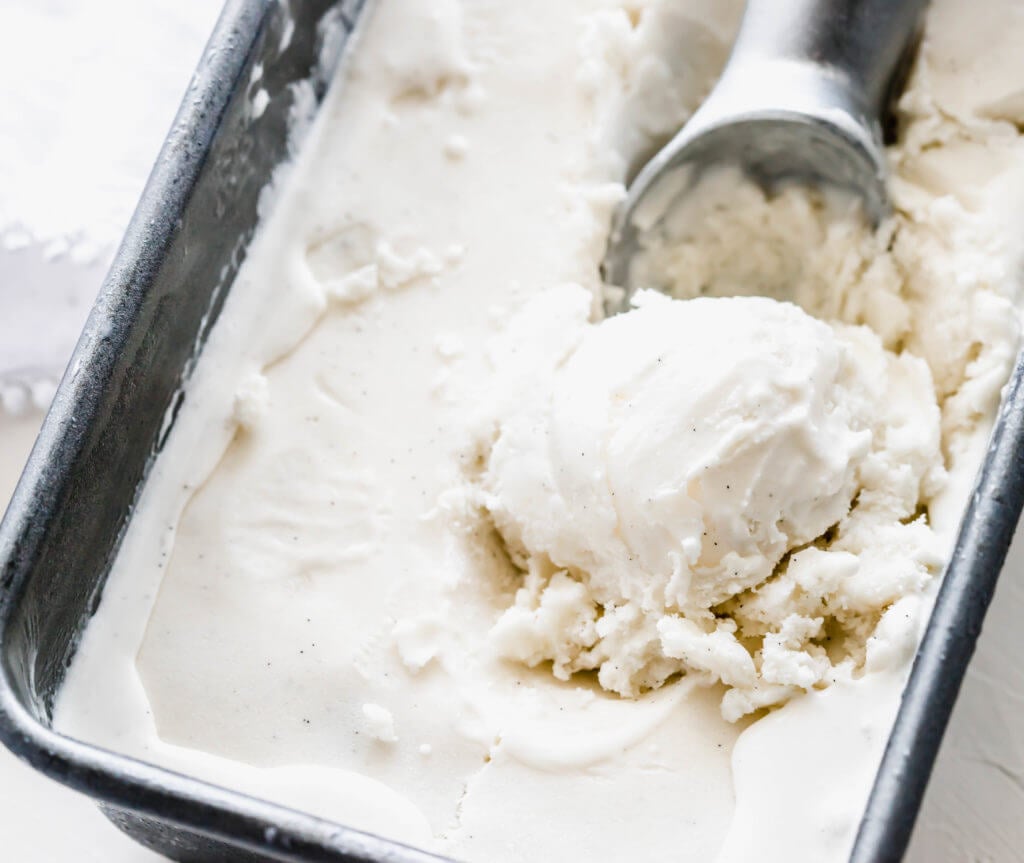 Keeping ingredients super simple and straight forward is my style when it comes to cooking. Some of the best recipes include the least amount of ingredients, and this recipe only has five. Simply add two cans of chilled coconut milk along with the inside of the vanilla bean, monk fruit sweetener (or maple syrup), pure vanilla extract and tapioca flour into a blender and blend until smooth and combined.
How is this Paleo Vanilla Ice Cream recipe considered Paleo, Keto and Dairy Free?
This recipe is a great Keto, Paleo and Dairy-Free sweet treat. Depending on what sweetener used, will determine if it is Keto or Paleo. The Keto sweeteners are going to be the all natural that doesn't include sugar or carbs, such as Monk Fruit. The Paleo version will include maple syrup, honey, or date paste. To make it dairy free, simply switched out cream for canned coconut milk, which has a the same consistency and texture.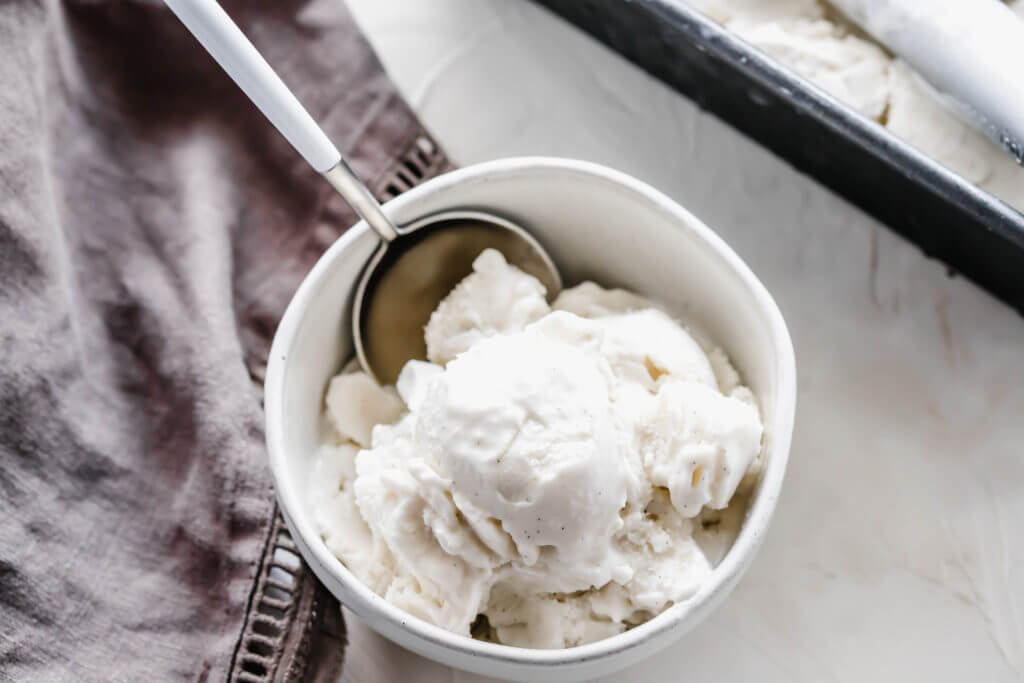 What are the best sweeteners to make this Paleo Vanilla Ice Cream?
I usually try to watch my sugar count most days because I'm insulin resistant and have to take medication to stay on track. However, I still like to enjoy a sweet Paleo or Keto treat every now and then. To remedy my sugar situation, I will incorporate natural sweeteners that won't affect my blood sugar and that doesn't have a high sugar count. Below are my top favorite Paleo and Keto sweeteners. Be sure to click on the links to shop the brands I use and like.
Wait, doesn't tapioca and arrowroot flour have carbs. How is it still considered Keto?
1 tsp of tapioca flour, which is what the recipe calls for, only adds 2.2 grams of carbs the the recipe. If that doesn't fit into your lifestyle, feel free to remove it. The tapioca flour give the ice cream a nice texture and thickness. I follow Keto and the little bit of tapioca flour that I add does not affect me. My suggestion is, listen to your body and do what works for you!
Shop my post:
Click below to save this recipe to your Pinterest Board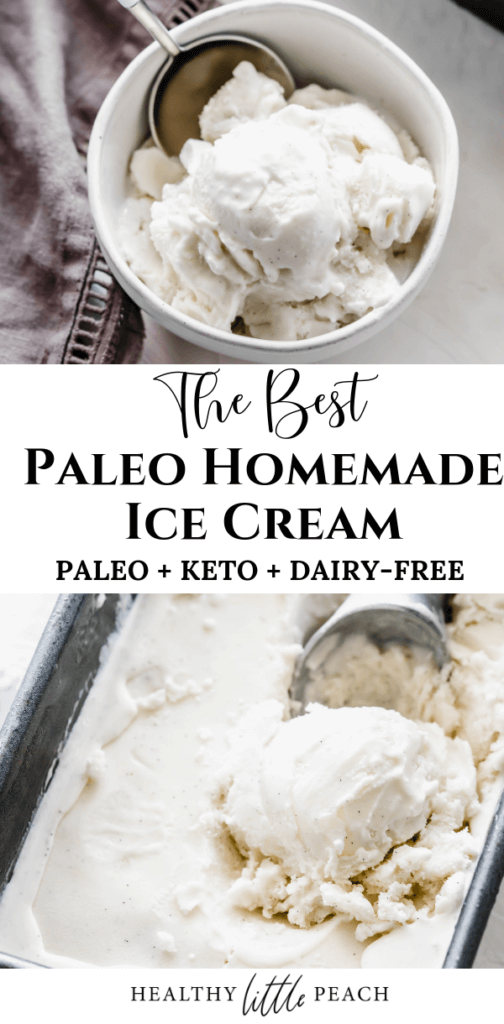 Need another great guilt free treat?
[wpurp-searchable-recipe]Easy Paleo Vanilla Ice Cream Coffee – The most delicious Paleo Vanilla Ice Cream. It's creamy and only includes 5 ingredients. You will never believe it is Keto, Paleo and Dairy Free. – coconut milk ((chilled)), vanilla bean ((scrapped)), natural sweetener (( I used Monk Fruit)), vanilla extract, tapioca flour ((or arrowroot flour)), , Ice Cream Maker Version: 1 hour before making ice cream, add the ice cream canister to the freezer to chill. ; Add the 2 cans of coconut milk, natural sweetener of choice ( I used Monk Fruit), scraped vanilla bean along with the 1 tsp vanilla extract to a high-speed blender. Blend all ingredients on high until smooth and combined. ; Transfer the liquid ice cream mixture to the chilled canister. ; Follow the instruction on your ice cream maker. (I added ice and rock salt around the canister and allowed it to churn for 15 minutes). All ice cream makers are not the same so be sure to follow the instructions of your machine. ; No Churn Version: Add the liquid ice cream mixture to a freezer-safe container and transfer to the freeze.; Allow it to sit in the freezer for 5-6 hours. Remove a couple of times during the 5-6 hours and mix with a spoon. Before serving, allow ice cream to sit 5-10 minutes so it's easier to scoop. ; – <p>Sub 2 tsp of pure vanilla extract for 1 whole vanilla bean. </p>
<p>This ice cream will last 3-4 weeks in the freezer if stored in an air-tight and freezer proof container. </p>
<p> </p> – Dessert – Dairy-Free – Keto – Paleo – Keto – Paleo – Keto Ice Cream – Keto Vanilla Ice Cream – Paleo Vanilla Ice Cream[/wpurp-searchable-recipe]
Print