Stuffed Buffalo Chicken Sweet Potatoes
Published Jan 08, 2018 Updated Nov 15, 2019
This post may contain affiliate links. Please read our disclosure policy.
Eating healthy can sometimes be hard due to busy schedules and lack of time to get in the kitchen to cook. This Buffalo Chicken Stuffed Sweet Potato recipe is great for people who need a healthy lunch or dinner option that is easy and quick. This meal will take no longer than 20 minutes to throw together and will easily become a family favorite. It's so yummy, sometimes I just eat it for breakfast!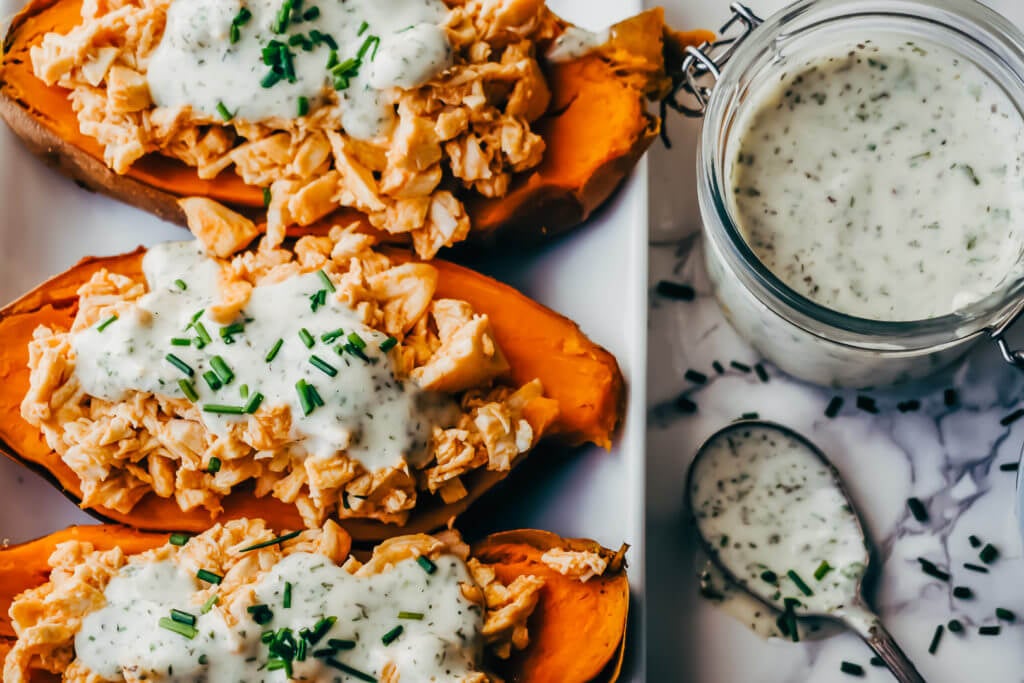 I love cooking my sweet potatoes on low in a crockpot so they are ready to go when I get home. Clean your potatoes and pierce with a fork, wrap in aluminum foil and add to your crockpot on low for 4-5 hours. You can do the chicken the same way, mixed with your compliant buffalo sauce. I am not a big fan of crockpot chicken so for my family, I will either buy a complaint rotisserie chicken, chop and toss with buffalo sauce or simply throw a couple of chicken breasts in a skillet and it will be ready in no time at all.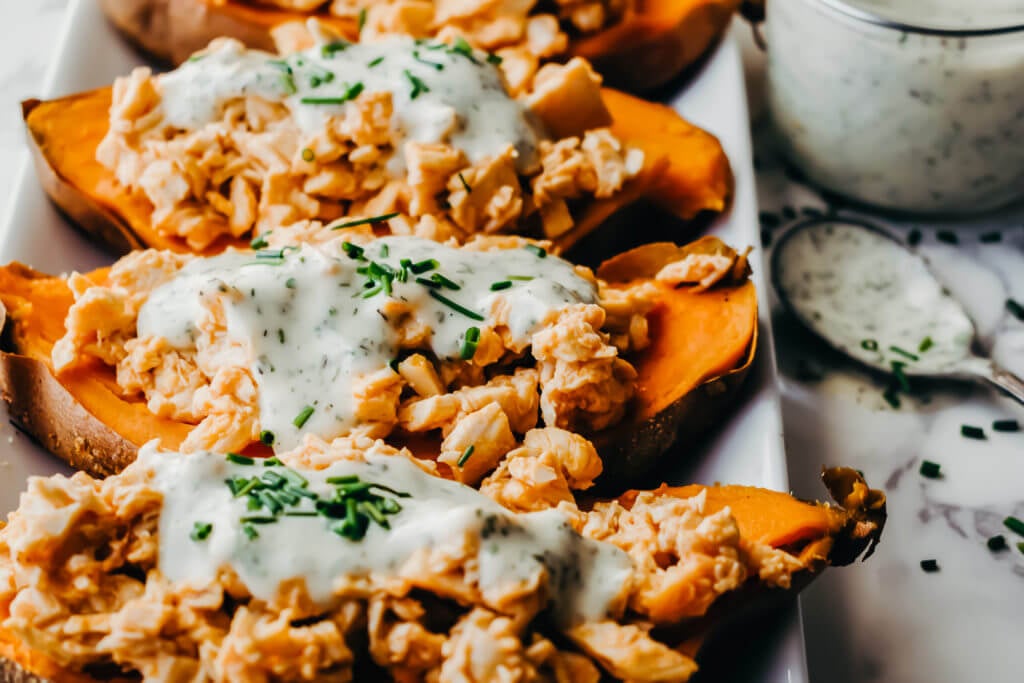 Don't forget to slap some compliant ranch on top of these sweet babies. Homemade mayo and ranch are life at my house, so I don't use a lot of store bought versions. Feel free to use what you can find if you are in a crunch. If you have to use Tessemae's or Primal Kitchen's Ranch, those will work just fine. Feel free to click here to grab my homemade version from a precious blog post. Also, don't be scared to recreate these stuffed potatoes. If you are not of fan of spicy, then try adding new ingredients to make it fit your needs, the possibilities are endless. Now, get your booties in the kitchen and get these babies on the kitchen table in time for dinner tonight.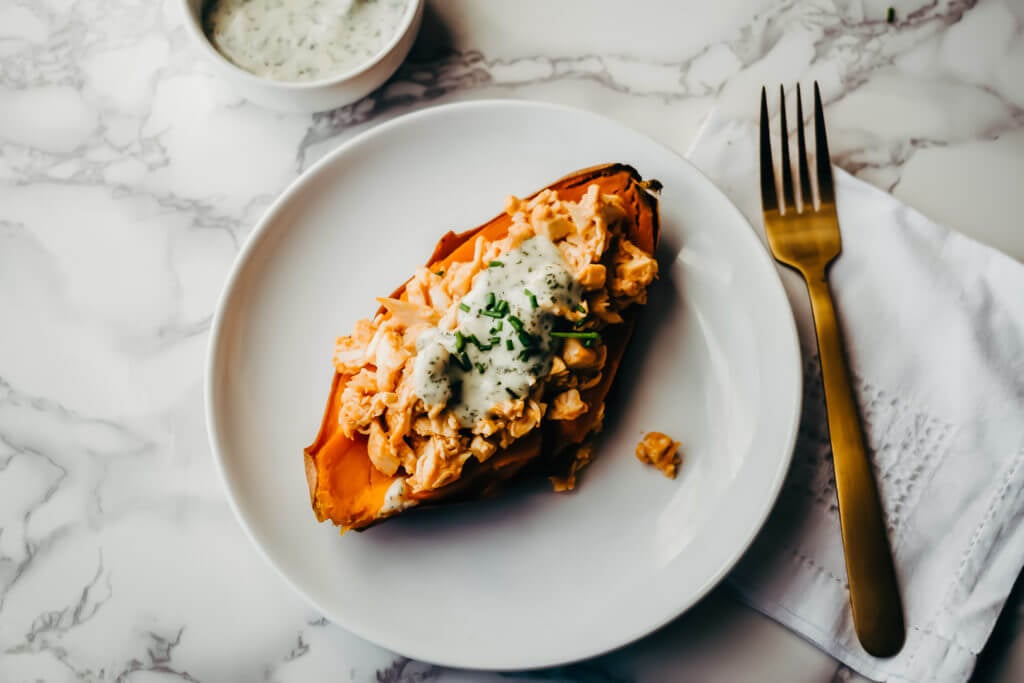 [wpurp-searchable-recipe]Stuffed Buffalo Chicken Sweet Potatoes – A simple and easy shredded buffalo chicken stuffed sweet potato drizzled with homemade ranch. This meal is Whole30, Paleo, and gluten/dairy free. – sweet potatoes, Compliant Rotisserie chicken/or 4 chicken breast (chopped (If you can't find compliant chicken, just throw some in a skillet and chop).), Compliant Ranch (I usually make homemade), compliant buffalo sauce (Tessemaes or see homemade recipe in instructions.), Fresh Chives, chopped, , Rinse and fork sweet potatoes. Fork and rub each potato with olive oil, salt and garlic powder. If you choose to cook in the crock pot, clean your potatoes and pierce with a fork, wrap in aluminum foil and add to your crockpot on low for 4-5 hours. If you prefer to cook in the oven, pre-heat oven to 375 degrees F and cook for 45 minutes. ; Use either a compliant rotisserie chicken or throw a few chicken breasts in a skillet and fry with ghee for 5 minutes on each side or until juice runs clear.
; Chop the chicken into small cubes and add 1 ½ cup of homemade buffalo sauce (Use 1 cup of Franks Hot Sauce, 1 tbsp. ghee,1/4 tsp cayenne pepper, 1tsp apple cider vineagr and 1 tsp of coconut aminos. Heat in small pan until ghee is melted.) ; Add the chopped chicken to a bowl and mix in your buffalo sauce until combined evenly. ; Once sweet potatoes are fork tender, take out of oven and place on cutting board. Cut the sweet potatoes in half horizontally.; Place the buffalo chicken on top of each sliced of potato.; Top with compliant ranch and fresh chives.; ; – Click here for my compliant ranch recipe:
<a href="https://healthylittlepeach.com/recipe/whole-30-ranch/" target="_blank" rel="noopener">Healthy Little Peach Ranch</a>
Click on the following names for links as to where you can purchase.
<a href="http://amzn.to/2m8Cwdj" target="_blank" rel="noopener">Coconut Aminos</a>
<a href="http://amzn.to/2DaIP8i" target="_blank" rel="noopener">Primal Kitchen Ranch</a>
– Appetizer – Main Dish – Chicken – Whole30 – buffalo – buffalo chicken sweet potatoes – healthy – paleo – ranch – sweet potato – whole30[/wpurp-searchable-recipe]
Print